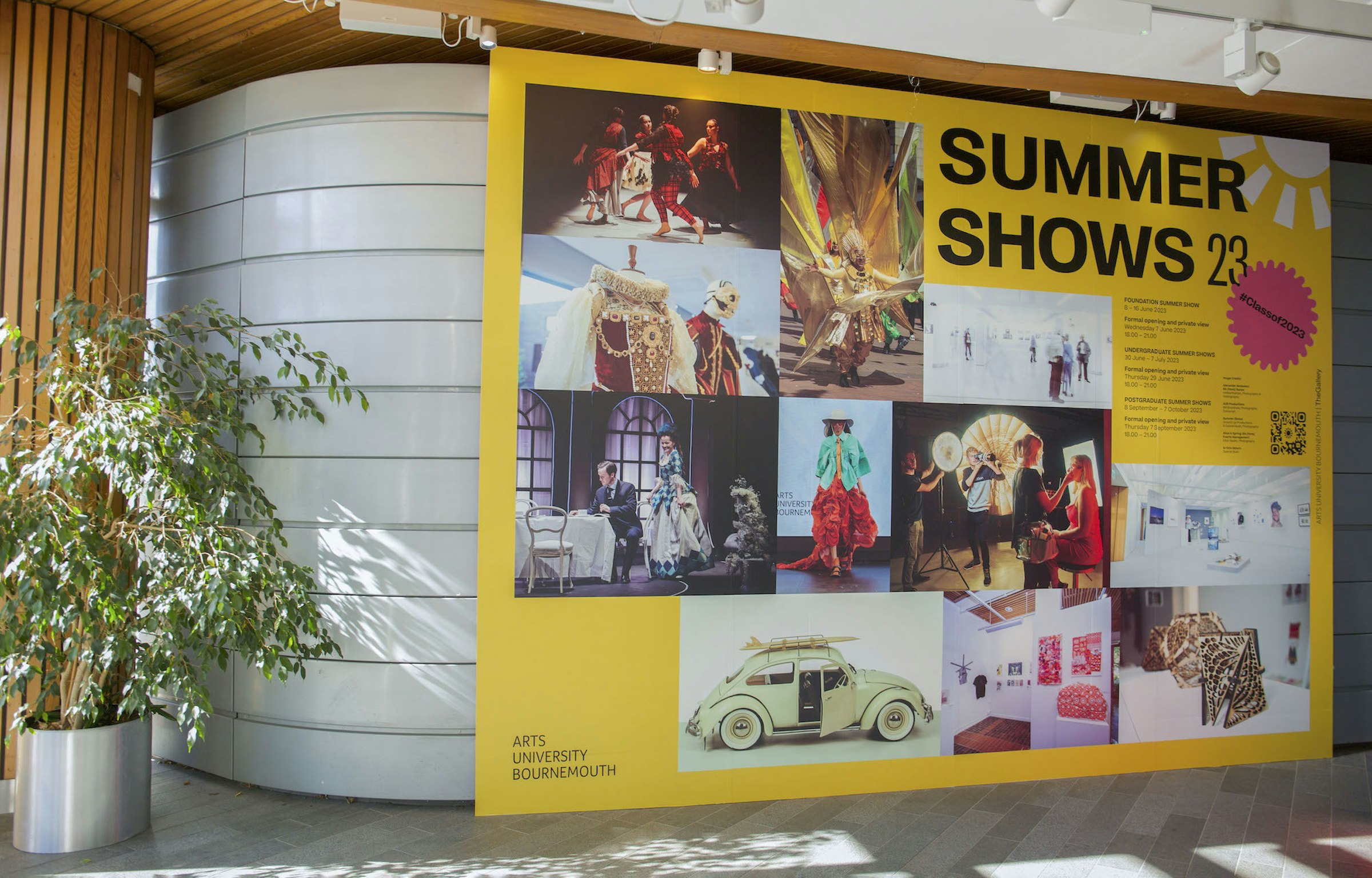 Dates: 7 June – 7 October 2023
Location: Ground Floor, South House, AUB Campus
This poster exhibit was curated by students for students.
Eliza Naden is studying BA (Hons) Photography, while Milly Harvey studies BA (Hons) Interior Architecture and Design. They wanted to curate and create a piece that'd provide a visual overview of AUB Productions, BA (Hons) Modelmaking, BA (Hons) Textiles, BA (Hons) Fashion's catwalk show, BA (Hons) Dance's performance of McQueen – The Maker and the Muse, BA (Hons) Events Management's Alice in Spring project, and work that isn't wall-based but movement-based.
The piece includes images from TheGallery here at AUB and Summer Show installations from last year, including our Foundation Diploma Summer Show. This poster promotes and demonstrates how collaboration is at the heart of everything we do, here at the University, celebrating our Summer Shows of 2023.
The poster features an image from Gabriel Bush, alumnus of AUB's BA (Hons) Commercial Photography course. The image used formed part of his exhibition at TheGallery in March of this year, Gabriel Bush: Lockdown Artists and Artists Returned. This event was an AUB Art Collection exhibition by TheGallery, in partnership with AUB Alumni office. Gabriel's image captures the art of collaboration here at AUB.
The designer of the poster is another AUB alumnus, Joseph Warin, who studied BA (Hons) Visual Communications. Joseph now works here at the University in the Print Room and is also TheGallery's freelance graphic designer.
TheGallery, AUB curatorial projects and a teaching and learning platform for our students
TheGallery works with students, staff and courses and departments right across the University on a variety of exhibitions, events and projects. The Art of Collaboration: Summer Shows 2023 is another example of a collaborative project, this time with the BA (Hons) Photography and BA (Hons) Interior Architecture and Design courses.
TheGallery provides a national and international public platform for the arts within the sub-region, and we promote the University's shared passion for excellence in education, industry, and the art sector.
The work of TheGallery is a testament of our AUB goals and values and is inclusive of all and the ideas of all.
AUB Alumni
Stay connected...
We're proud of our alumni, and rightfully so. Many of you have gone on to do incredible things.
Our alumni community is a continuation of our campus — a home and a network for all of our wonderful graduates. It's a place to find out what everyone's been up to and generally stay a part of our creative community, with some exclusive benefits to be had, too.
This community is open to students who graduated from University, whether under AUB or any of its previous titles (Arts University College Bournemouth, Arts Institute at Bournemouth, and Bournemouth and Poole College of Art and Design).