You are using an outdated browser. Most of this website should still work, but after upgrading your browser it will look and perform better.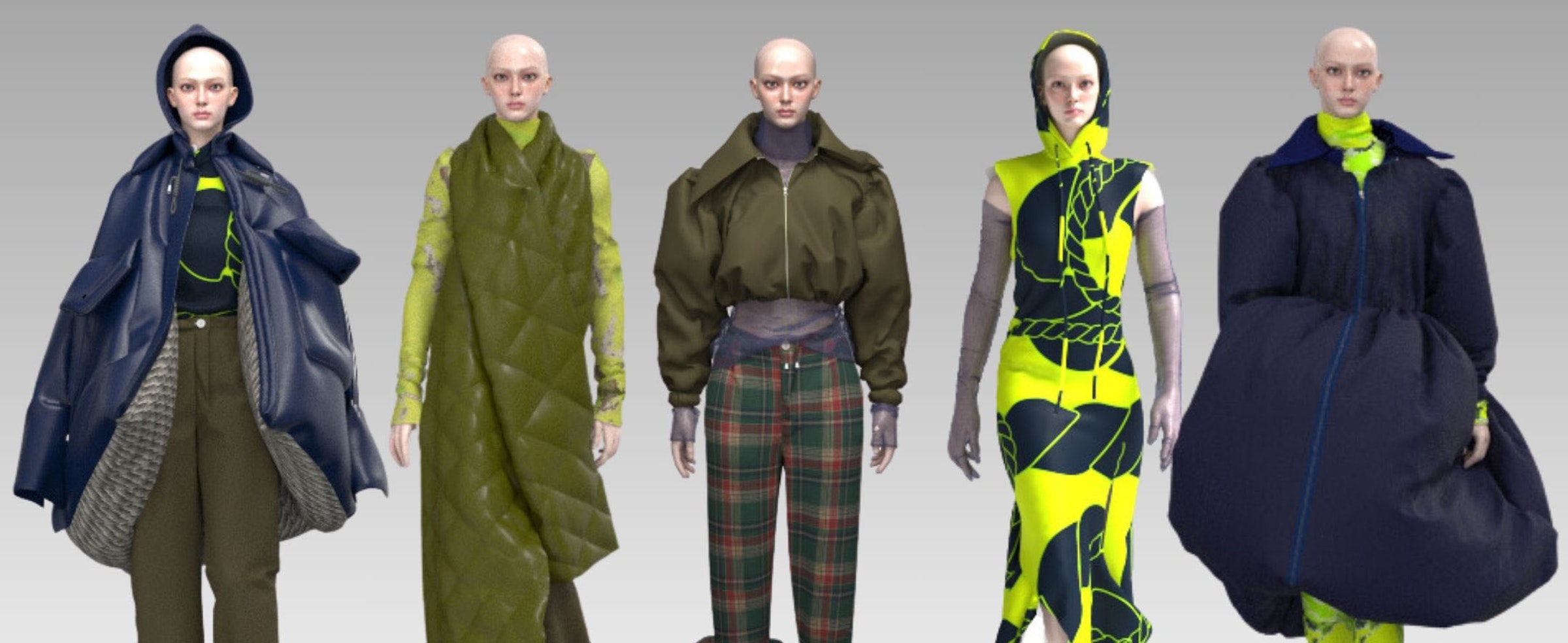 MA Digital Fashion Innovation
MA Digital Fashion Innovation
Mode of study:

Full or part-time

How to apply:

Apply directly to us
Overview
Research is the fundamental driver for creative thinking and innovation. MA Digital Fashion Innovation students will be encouraged to develop this exploration and discovery through a focused and critical approach to reflective enquiry and future design practice.
This course can be studied full- or part-time from September or full-time from January.
Course information
MA Digital Fashion Innovation encourages and supports designers to explore and work with advanced digital technologies, interrogate and question current fashion practice and challenge the ideals around how a product is realised. Fashion is currently recognised as one of the most damaging industries on the planet, abusing natural resources, dumping masses of redundant waste and product into landfill and flushing tonnes of chemicals into the oceans on a daily basis. It is therefore critical the practice of a designer acknowledges and attempts to address and integrate a conscious and considered approach to both the design and realisation of a fashion product.
These design problems will be addressed through applying a process of systematically questioning existing ideas and use innovative design methods to analyse and comprehend problems and behaviours to generate alternative, creative and experimental design solutions.
MA Digital Fashion innovation recognises individuals and their aspirations and celebrates ideas, making, and creative risk-taking. Our guiding principle is to offer distinctive, exciting and challenging opportunities for you to engage in your respective subject disciplines. This will help you critically engage with, and redefine your particular approaches to your practices and position them within your chosen external, creative, economic, and cultural environment.
MA Digital Fashion Innovation represents an exciting opportunity for you to challenge and build on your previous achievements and to study at an advanced level. The course provides specific discipline-focused project work aimed at enabling you to take the right path towards your chosen career in industry or progress to further study at doctorate level.
Unit 1: Strategies for practice
This unit comprises a range of projects that begin with re-visiting the fundamentals of digital fashion. Although some properties are likely to be familiar, you're encouraged to analyse and critically evaluate how and why they are manifested in your practice. If your first degree discipline was not fashion focussed or if you are less familiar with working with digital technology, critical language and debates, these introductions to the digital and practical fashion and related tools required will give you the opportunity to develop skills and adjust to new ways of working. You'll be challenged to articulate and question some of the basic assumptions that may underpin your practice.
This unit may consist of shared sessions encouraging and creating a network for all postgraduate students to attend alongside subject specialist sessions, which are particular to individual MA courses. MA specialist sessions require compulsory attendance for students on specific courses but, could, if space permits, be open to all students in the postgraduate network. You'll identify theories relevant to your emerging study focus and research methods appropriate to these concerns for generating new knowledge and understanding, which will directly inform and identify your Masters Project proposal.
Unit 2: Master's Project 1
Exploration: Requires you to formalise your intentions in a Study Plan, and to interrogate and explore contextual issues relevant to your study focus through your creative design practice.
Unit 3: Master's Project 2
Implementation: Here you'll carry through your plan of action identified in your proposal and establish ways of presenting and disseminating the outcomes of your creative design project, communicating your outcome to both specialist and non-specialist audiences.

Part-time pathway
The part-time pathway is carried out over a period of 90 weeks – rather than 45 weeks as in the full-time pathway.
How to apply
When you're ready to apply, you'll need to head to our online application form to apply directly to us.
We encourage you to apply early so that you have time to organise accommodation and to arrange for a visa (if required) before you enrol.

We encourage applications from students with a broad range of qualifications and experiences. We'll take into consideration the knowledge and skills that have been developed inside and outside the classroom, as well as your previous qualifications. We aim to interview all applicants who demonstrate the potential to succeed on the course. Interviews are used to assess whether you have the necessary skills and capabilities and whether this programme is appropriate to your interests and aspirations.
Student work
Looking to be inspired? Browse our gallery of student work – you can find more in our Student Journal, too.
Fees and funding
The tuition fees you pay will vary depending on the subject area and the type of postgraduate study you're embarking on. The fee that you pay AUB provides the necessary equipment and training for you to complete your course.

We also have a number of progression discounts and bursaries available to go towards paying for your studies.
Computer equipment
You may also choose to buy some items or personal equipment such as a laptop, tablet or computer. This isn't a requirement as desktop and laptop computers are available for you to use in common study areas, including a loan system in the Library.
Studios and resources
You'll have access to industry-standard software including CLO3D, Unreal Engine, Twinmotion and Browzwear.
Our resources include five fashion design studios and three digital studios, as well as workshop resources – 3D printing, industrial sewing, laser cutters, leather machinery and dye room facilities. Our digital print hub includes Mimaki, sublimation and UV. You'll also be able to take advantage of our VR Suite, digital loom and bodyscanner.
Part of the course will be housed in the brand-new purpose-built Innovation Studio, which you'll share with local start-ups. The ground floor is a teaching, studio and meeting space, while the second and third are custom-furnished workspaces. You're encouraged to form businesses as part of your MA studies.