You are using an outdated browser. Most of this website should still work, but after upgrading your browser it will look and perform better.
Celebrating your achievements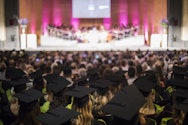 2020 has been an incredibly challenging year for everyone, with sacrifices made by so many – not least by our AUB Graduates.
We're so proud of all of our outgoing students, and we shared in your disappointment as our Graduation 2020 activities were postponed due to Covid-19. Graduation Ceremonies are special occasions that recognise the work that students have put into their studies, and rightly mark their journey onwards to exciting new endeavours, careers and opportunities.
We promised that we'd do our very best to make sure that the Graduation Ceremonies took place when the time was right. We're incredibly pleased to announce that that time has now come.
This year, we'll host six ceremonies across three days – the biggest Graduation we've ever held. We'd like to request your company at our Graduation event at Bournemouth's Pavilion Theatre in July 2021, so please save the dates below.
20 July 2021
21 July 2021
22 July 2021
We'll be in touch to let graduands know exactly which date their course will be taking part, with ceremony bookings going live in March 2021. Emails will be sent to AUB email addresses in January with a course timetable and further information on the registration process.
We kindly ask for your patience while we continue to make these important arrangements and, of course, we'll share how the Ceremony will run – in full compliance with any Coronavirus measures – beforehand.
But for now, pencil these dates in and we'll be in touch with more information.
We look forward to seeing you!

Update: The university is still planning a physical graduation event on 20-22 July this year, but we're aware that will entirely depend on the lockdown and safety measures dictated by the government. At this stage we recommend that you save the date but don't book anything until the situation becomes more clear. We will let you know as soon as we know any changes to this advice.
View pictures from Graduation 2019
Watch the 2019 Graduation Ceremonies
If you missed out on the day, don't worry. You'll find the full videos from each of the three 2019 Graduation Ceremonies to playback below.
Ceremony 1
Ceremony 2
Ceremony 3
Explore more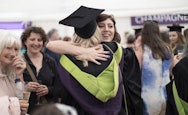 Graduation Archive
We've collected photos and videos of the AUB graduation ceremonies from over the years, which are free for you to download and enjoy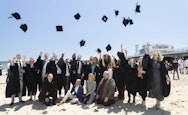 Postponed Graduation FAQs
We've answered some questions you might have about our decision to postpone 2020's graduation ceremonies