You are using an outdated browser. Most of this website should still work, but after upgrading your browser it will look and perform better.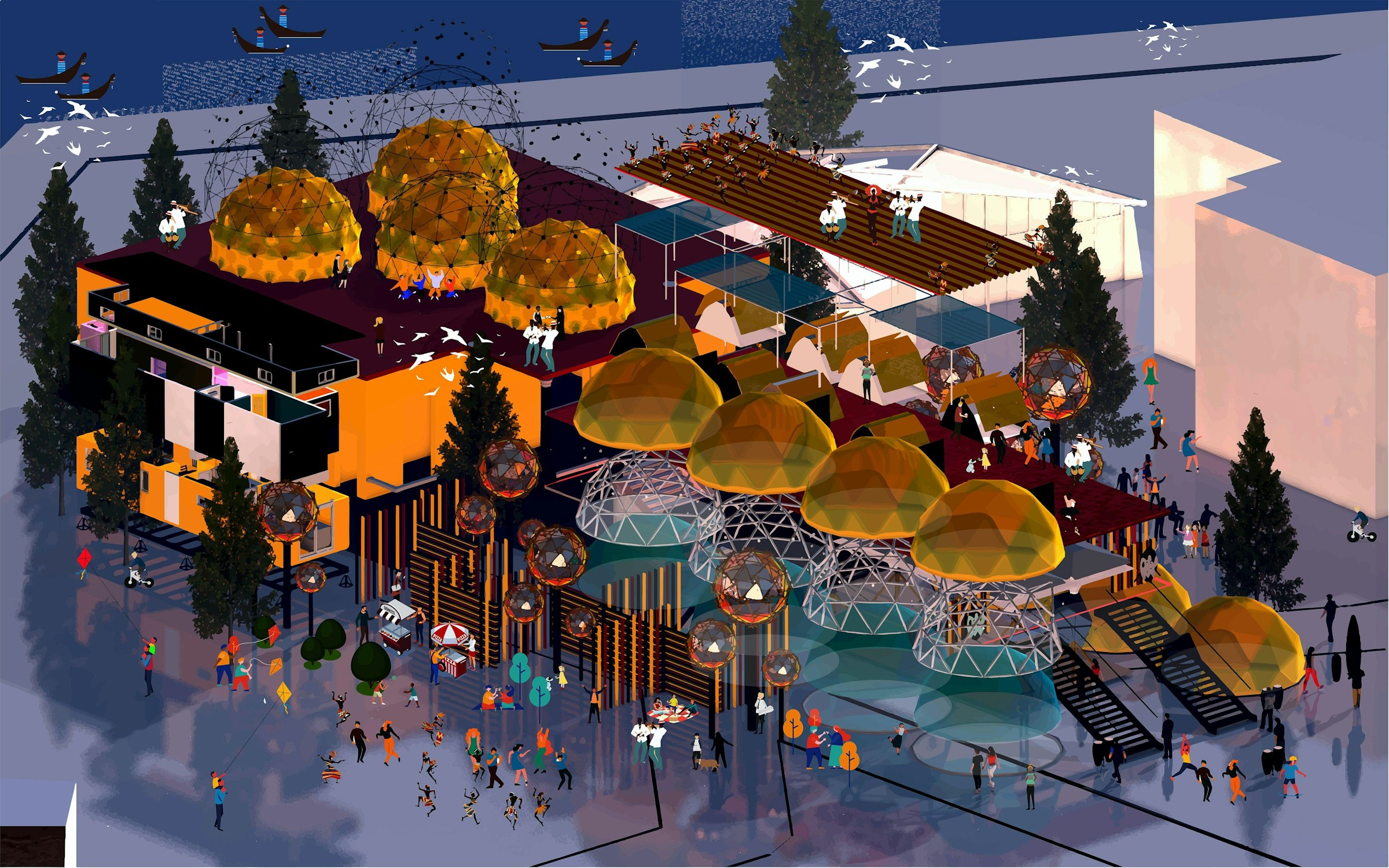 Master of Architecture (Part 2 ARB/RIBA)
Master of Architecture (Part 2 ARB/RIBA)
The Master of Architecture explores new approaches to architectural practice, through making, innovation and collaboration.
Course information
This two-year, full-time, studio-based course, is the second part of the three-part qualification in becoming an architect. This design-based professional qualification, accredited by the Royal Institute of British Architects (RIBA) and the Architects Registration Board (ARB).
You'll work alongside fellow makers, collaborators, and enablers who have come from different schools around the world; you'll have the opportunity to collaborate across the arts. The course philosophy has many connections and develops on from the four key issues identified in the BA (Hons) Architecture (ARB/RIBA part 1).

This course takes its approach from the context of the 'shared studio-based arts university' where all courses are making. This philosophy is applied throughout the taught units by emphasising the role of drawing, models and texts in the making of architecture; the things we make – to think about the things we make.
As a student you'll be asked to develop projects with strong narratives commenting on current social, cultural and environmental issues. In each unit you're encouraged to give architectural expression to your own personal views and visions, whilst aiming to produce tangible propositions, mindful of how they might be realised.

Studio culture
The studio is both professional and exploratory. This educational experience is grounded in a strong studio culture of making and thinking, supported by regular lectures by practitioners, seminars and reviews.

The studio generates an atmosphere in which open, critical and reflective practice supports exploration and risk-taking where we test, discuss and present ideas. We're particularly focused in delivering studio-based and student-centred learning environment.
We offer shared facilities such as the workshop, fab-labs, the print room and the Drawing Studio.
Personal, professional and ecological development
The course will support your personal development towards a creative contribution to architecture and the wider world after graduation. The final Thesis Design year gives you the opportunity to develop your own research design project that integrates making and collaboration through an ecological narrative.
What are the options? What is at stake? Are there really options? How should we choose? At the centre of the investigation is the body: architectural, institutional, corporeal; and the landscape: ecological, contextual, natural and man-made.
The Master of Architecture programme is for you if you are looking for something different and fresh in your route to becoming an architect in a changing world.
The urban density of the AUB campus has seen the insertion of a Drawing Studio by visiting professor Peter Cook. This RIBA award winning building was opened by the late Dame Zaha Hadid in 2016.

You can download the programme specification or you can read more about any course costs.

Course videos
Course leader Ed Frith explains more about what students can expect from studying the M.Arch. (Part 2 ARB/RIBA) course at AUB. Also, find out more about the M.Arch. Research Project in collaboration with Burngate Purbeck Stone Centre and National Trust.
How to apply
When you're ready to apply, you'll need to head to our online application form to apply directly to us.
We encourage you to apply early so that you have time to organise accommodation and to arrange for a visa (if required) before you enrol.

We encourage applications from students with a broad range of qualifications and experiences. We'll take into consideration the knowledge and skills that have been developed inside and outside the classroom, as well as your previous qualifications. We aim to interview all applicants who demonstrate the potential to succeed on the course. Interviews are used to assess whether you have the necessary skills and capabilities and whether this programme is appropriate to your interests and aspirations.
Studios and resources
Studying on the Master of Architecture course you'll work in our dedicated studios and have access to 3D workshops with manual and digital manufacturing equipment.
Our unique location means we're near dramatic, rolling and beautiful landscapes (New Forest and Jurassic Coast) and within a vibrant and energetic seaside town. There's also a proposed urban project by Zaha Hadid Architects which provides a great context and research for projects and interventions.
The campus itself is enhanced by our 'very blue' drawing studio with 'exceptional light' by Professor Sir Peter Cook RA, Honorary Fellow and visiting professor, and opened by the late Zaha Hadid.
You'll be able to make use of our makers lab – a shared creative space also used by Modelmaking students – designed to give you the space to create. In addition, you'll have access to the printmaking room with is located with the Fine Art studios.
Over the years, we've gained a number of traditional presses, including letter press, etching, relief, lithography and silk screen printing. There are dedicated areas for exposure, screen washing and acid etching – and new presses are added all the time. The modelmaking, printing and workshop facilities encourage a culture of making and production.
Wireless computer access will help you integrate digital understanding and outcomes into the way that you work, and our specialised library also provides you with a range of relevant material in architecture and the arts.
Fees and funding
The tuition fees you pay will vary depending on the subject area and the type of postgraduate study you're embarking on. The fee that you pay AUB provides the necessary equipment and training for you to complete your course.

We also have a number of progression discounts and bursaries available to go towards paying for your studies.
Computer equipment
You may also choose to buy some items or personal equipment such as a laptop, tablet or computer. This isn't a requirement as desktop and laptop computers are available for you to use in common study areas, including a loan system in the Library.