You are using an outdated browser. Most of this website should still work, but after upgrading your browser it will look and perform better.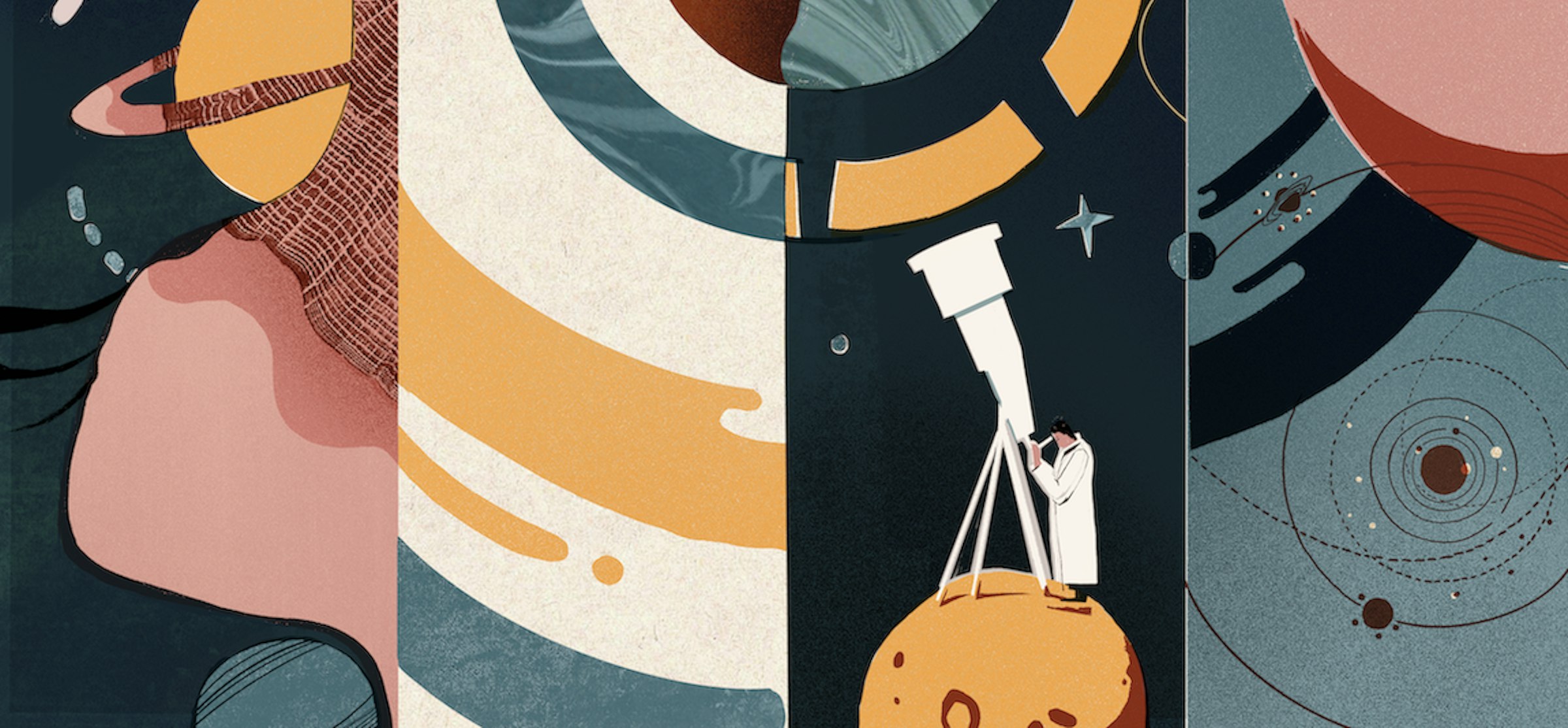 MA Illustration
Overview
The course allows you to further refine your creative identity, offering a bridge between HE and professional illustration practice. It offers a great opportunity for creative professionals to return to university in order to reflect upon their creative practice and change direction.
This course can be studied full- or part-time from September or full-time from January.
Course information
MA Illustration welcomes a diverse range of design practitioners and celebrates a contemporary expansive notion of Illustration. The course offers you an active and dynamic community of practice, critical discourse and debate. Students come to us from a number of educational and professional backgrounds, including Illustration, Graphic Design, Animation, Fine Art, Model-making, Textiles and Photography, or from academic realms outside Art and Design.
This course is designed to appeal to students who are open and excited by a range of innovative possibilities from traditional methods such as drawing and printmaking, to virtual and time-based media. Experimenting with ideas that might culminate in publication, exhibition or new hybrid platforms, you are encouraged to re-imagine, navigate and resolve your practice. Through writing the Contextual Journals alongside studio outputs, you come to understand research and reflection as fundamental drivers for challenging creative thinking.
We encourage you to engage imaginatively with your own contexts and experiences, in order to extend your practice into new arenas. The strong emphasis on career planning enables you to carve your own niche within an evolving global market for illustration materials. Our graduates are supported in addressing the boundaries of the discipline itself through developing new visual perspectives on the world.

MA Illustration will appeal to you if you're open to participating in a broad range of creative strategies, utilising traditional and digital methods.
These include drawing and printmaking, lens and time-based media, with ideas and concepts that might be realised through exhibition, publication or exciting new hybrid forms.
Students studying on the course come from a number of diverse backgrounds including Illustration, Graphic Design, Printmaking, Drawing, Photography and Painting. Others come from outside of art and design, having had experience across other subject disciplines, but demonstrating a passion for illustration.
MA Illustration is structured and delivered in order to encourage and support you in developing your own distinct visual language, recognising an expansive understanding of contemporary illustration through the exploration of relationships between illustrator as author, audience and context.
Ideas are developed through specific individual approaches to research into practice and reflective enquiry. This deeper understanding and commitment to practice assists students in identifying, exploring and achieving your future career aspirations. The course encourages you to engage imaginatively with illustration, in relation to both the academic subject and practice of illustration.
MA Illustration encourages you to question the nature of your practice and its context and position relative to the creative industries. The course encourages you to engage imaginatively with your practice in relation to the evolving academic subject and practice of illustration. Your practice will be considered in a global context, with an awareness of the emergence of new and innovative approaches that interrogate, challenge and advance traditional. As a graduate from MA Illustration, you'll be able to carve your own niche in an evolving market for visual materials.
The course is structured and delivered in order to encourage and support you in developing your own distinct visual language, recognising an expansive understanding of contemporary illustration through the exploration of relationships between illustrator as author, audience and context.
You'll deepen your knowledge and your ability to focus on your chosen field in relation to the key aspects that inform it. The course devises specific discipline-focused project work to enable you to take the right path towards your chosen career in industry or progress to further study at doctorate level.
Unit one: Re-imagining Practice
This unit encourages you to dismantle and deconstruct your own creative assumptions through re-visiting the fundamentals of the subject discipline. It requires you to develop an intellectual depth of understanding of Illustration via the application of critical reasoning. Shared studio activities and workshops enable those of different backgrounds and experience to develop common skill-sets and adjust to new ways of working. Taught sessions divide into three different kinds as described in the Postgraduate Network Model.
As the Re-imagining Practice unit progresses, you are encouraged to survey promising areas of investigation. Your framework of interests, theories and career aspirations are identified. They form the basis of Study Plan 1 as you move into the second unit.
Unit two: Navigating Practice
This unit drives periods of independent study through which you explore, transform and test your findings to date in relation to audience and context. Reflecting on this will help you determine the Body of Work for the final unit, Resolving Practice.
Unit three: Resolving Practice
Resolving Practice supports you in establishing orderly practice-based research methodologies. In Study Plan 2, you formalise your intentions for presenting and disseminating your final outputs. Through editing, selecting and resolving your portfolio, you gain the confidence to embrace the complex and unpredictable challenges of creative industries. In this way, you acquire the strategies needed for agile and sustainable working practice in your chosen field.
The three Contextual Journals reflect upon the Body of Work and integrated research of each unit, enabling you to focus your learning, development and planning. These are ongoing self-referential, reflective documents, updated continuously and made available for assessment at the completion of each unit. In identifying your strengths and weaknesses, your Contextual Journals enable you to take remedial action to improve and/or develop new relevant skills in preparation for the future. As such they evidence a wide range of academic engagement, reflective evaluation, critical analysis, processual thinking, specialist capabilities and professionalism in:
The context that informed your practice: the relevant: theories, subjects, issues, political perspectives, designers, artists, images, literature and so forth.
The research that is 'on', 'for', or 'in' your practice – this includes: research on the ways you practice/the outcomes of your practice; your own research undertaken to enable your practice; and research that is embedded in the practice.
The developmental aspect of the project: both in terms of your own personal development as a creative practitioner, and the processual development of an emerging body of work.
All units include plenty of opportunities to share your work and to develop confidence in presenting your work to an audience, both verbally and visually.
You'll also have the opportunity to attend professional practice workshops, where you will be advised on important skills such as self-promotion, entrepreneurship, approaching clients and pricing your work. We're highly aware of and very responsive to the needs and professional aspirations of graduates as they progress to meet the future demands of the professional work-related environment. In this respect we are constantly alert to the trends within each of the respective, discipline-specific, marketplaces.

Part-time pathway
The part-time pathway is carried out over a period of 90 weeks – rather than 45 weeks as in the full-time pathway.

Watch our course video
Award leader Lisa Richardson talks more about what you can expect from studying MA Illustration here at AUB.
How to apply
When you're ready to apply, you'll need to head to our online application form to apply directly to us.
We encourage you to apply early so that you have time to organise accommodation and to arrange for a visa (if required) before you enrol.

We encourage applications from students with a broad range of qualifications and experiences. We'll take into consideration the knowledge and skills that have been developed inside and outside the classroom, as well as your previous qualifications. We aim to interview all applicants who demonstrate the potential to succeed on the course. Interviews are used to assess whether you have the necessary skills and capabilities and whether this programme is appropriate to your interests and aspirations.
Student work
Looking to be inspired? Browse our gallery of student work – you can find more in our Student Journal, too.
Your interview and portfolio
As part of your application, we require a portfolio of your work. You can find out more about what to include in your portfolio by visiting our Portfolio Guidelines page.
The course attracts a broad range of students, some work at the edges of other disciplines in relation to the evolving practice of illustration. We recognise that the most interesting outputs build on the diversity of culture, literature, visual arts, narratives, contexts, materials and methods that are uniquely rooted in personal experiences, interests and motivations. The creative industries need adaptable and tenacious illustrators to respond to this rapidly changing world with innovation and originality.

Fees and funding
The tuition fees you pay will vary depending on the subject area and the type of postgraduate study you're embarking on. The fee that you pay AUB provides the necessary equipment and training for you to complete your course.

We also have a number of progression discounts and bursaries available to go towards paying for your studies.
Computer equipment
You may also choose to buy some items or personal equipment such as a laptop, tablet or computer. This isn't a requirement as desktop and laptop computers are available for you to use in common study areas, including a loan system in the Library.