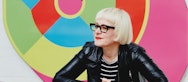 Free Admission.
Booking essential, as numbers are limited.

Join artist and AUB Honorary Fellow (2012) Morag Myerscough to hear all about her practice, work and projects to date.
Morag's strong visual approach is instantly recognisable and elevates every context in which it is placed. Her work is rooted in creating a sense of joy and belonging for all those who encounter it. Morag creates specific local responses to each distinct audience that will see and experience the work, using it to create community and build identity.
Event Format:
Formal "Welcome Address" given by Professor Paul Gough, Principal and Vice-Chancellor, Arts University Bournemouth.
Morag Myerscough in conversation with Curator Sally Hope
How to book
Click register now button below
Scroll down the page
Press red registration button
Fill in form/boxes as noted
On completion, you'll receive a confirmation email
We look forward to welcoming you to our first Gallery Webinar.
Meet the panel
Professor Paul Gough, Principal and Vice-Chancellor
A painter, broadcaster and writer; has exhibited globally and is represented in permanent collection of the Imperial War Museum, London; Canadian War Museum, Ottawa; National War Memorial, New Zealand. Published widely in cultural history, cultural geography and heritage studies, plus a number of books on war artists, peace activism and urban arts interventions, including publications on street artist, Banksy.
Sally Hope, Course Leader, BA (Hons) Visual Communication and Curator
Sally Hope has twenty-five year's experience of working within the design industry, both in professional practice and in education, this provided Sally with many creative challenges and rewards. Sally has been recently focusing on the records of memory and experience found in postcards. Sally has considered how the postcard is a record represented through both image and narrative and has explored the relationship between these subjective and personal records and the factual records represented in archives.
We Make Belonging: Morag Myerscough
Curated by Sally Hope and Violet M. McClean
An exhibition of work by Morag Myerscough, AUB Honorary Fellow (2012).
Morag Myerscough is well known for her large-scale structural installations which bring colour and life to public spaces across the country and internationally.
This exhibition provides an understanding of the creative processes behind Morag's work, with the opportunity to experience her studio space, where fragments of past works sit alongside new projects.