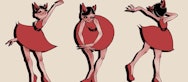 Curated By Sarah Buss and Vincent Larkin
02 March-16 April 2020
Live Project Space
A collaborative project and exhibition with BA (Hons) Costume and Performance Design and BA (Hons) Illustration at AUB, in response to Bournemouth Symphony Orchestra's Unrequited Love concert.
This is TheGallery's fifth year working with the Bournemouth Symphony Orchestra (BSO) and AUB on a collaborative project and exhibition. This year's exhibition will feature work by BA (Hons) Illustration, BA (Hons) Costume and Performance Design in response to the concert featuring compositions by Tcherepnin, Rachmaninov and Berlioz.
AUB were sponsors of the concert that took place on 15 January 2020 at Poole Lighthouse. A selection of the artworks were featured in a pop-up exhibition at the Lighthouse on the night of the concert.
Influenced by the music selected for the Unrequited Love concert, in particular, Nikolai Tcherepnin's Prelude to la Princesse lointaine. Students from both BA (Hons) Costume and Performance Design and MA Historical Costume presented a range of designs exploring the character of Princesse Lointaine, a character in a play of the same name by Edmond Rostand (1895).
Students were asked to research and explore the character of Princesse Lointaine, and to curate an interpretation of this enigmatic character. The designs were produced in both analogue and digital formats reveal the student's conceptualised ideas of 'the ideal but unattainable woman', explored using colour, texture and silhouette.
Alongside designs for Princesse Lointaine BA (Hons) Costume and Performance Design presented a recreation dress inspired by the design of Russian artist and designer Erté, famed for his opulent opera sets, costumes, jewellery and graphic arts. The dress features devoré sleeves and a foiled central pattern inspired by the original design, recreated by staff and students.
BA (Hons) Illustration students and staff presented work focusing on both the life and work of the composers involved. Specifically, the exhibited work took as inspiration Hector Berlioz's strange mixing of his own private life with the imagined narrative of unrequited love as featured in his Symphonie fantastique.
Using this particular mixture of life and art as a starting point, the students as part of their program of study on the BA (Hons) Illustration course were tasked with building a visual narrative that interacts with stories, folk tales or myth originating from the music itself. As well as this, the students were encouraged to visually explore sections of the composer's biographies and the often-extraordinary historical context that the music was created in.
Narrative Unit
Work produced for the BSO collaboration by BA (Hons) Illustration students, who were assessed as a central part of the Narrative Unit.
The priority for this unit was to produce a sequence of illustrations that effectively tells a story.
Exhibiting Artists and Designers
Ruby Enticknap, Sunneva Thomsen Halldórsdóttir, Lauren Ferger-Andrews, Ella Kearvell, Márcia Gomes, Sebastián Domínguez, Katharine Robinson, Jacob Mason, Ebony Howard, Emily James, Louise Kru Vincent Larkinse, Georgina Smart, Juliet Bauermeister, Abigail Winson, Anna Tomova, Silvio Lucas, Bridie Cheeseman–
Sarah Buss
Sarah Buss studied BA (Hons) in Costume and Performance Design at AUB specialising in costume interpretation.
Since the completion of her degree in the summer of 2019, Sarah has undertaken the role of Technical Intern for BA Costume and Performance Design. This role has allowed her to explore new areas of both the course and of wider costume practices whilst supporting the students across the degree.
Originally from the Isle of Man Sarah has been involved and supported by the Isle of Man Arts Council on a number of projects, most recently a historical recreation dress of François Boucher's 1759 Madame de Pompadour painting.
Sarah is also a keen lover of live performance and has relished the opportunity to see a wide variety of performance styles that are easily accessible here in the UK. Alongside the love of watching live performance, Sarah enjoys the buzz of the backstage life and has worked as part of the wardrobe team on numerous productions, both at home in the Isle of Man and in Bournemouth.
Much like her current role as Technical Intern for BA Costume and Performance design, being part of the curation team for this project has allowed Sarah to further explore new avenues of her practice, this time focusing on the performance of exhibition.
Vincent Larkin
Vincent Larkin is an artist, illustrator and an academic at AUB. Despite accidentally being born in Melbourne, Australia, he has lived most of his life in the UK. His practice is based around the idea of the uncomfortable narrative; the overlaps and diversions in the way we tell the story of ourselves. In the pursuit of this, he works with the form of the book, printed media, web-based media and sometimes song.
Through music-based projects and collaborations, Vincent released LPs with labels such as Upset the Rhythm and Gringo Records. As part of the band Spin Spin the Dogs he has performed at venues and arts festivals across the UK, in locations such as the ICA in London and the BALTIC in Gateshead.
In the spirit of such work, Vincent previously took part in a residency program for the V&A. The resulting research into the popular music and performance photography collection cumulated in a handmade illustrated book, together with video work and a live musical performance that took place in the entrance hall of the Victoria and Albert Museum.
Vincent has been involved with the BSO project for the last two years. He Curated "Pictures at an Exhibition" AUB concert programme and exhibition. Last year he curated the BA (Hons) Illustration selection for the "Magical Fairytales" exhibition.
As part of his ongoing practice the BSO project embodies a further opportunity to enquire into the surprising, exciting and sometimes awkward interplay between the visual and the performed, between the cultures of music and visual arts.
Arts University Bournemouth is pleased to support this concert and as part of its academic partnership with the Bournemouth Symphony Orchestra.
The University provides specialist higher education in arts, design, media and performance disciplines. It's recognised internationally for the quality of its provision and the professional standards attained by its graduates. AUB and the BSO were established in 1883 and 1893 respectively. Both have made and continue to make significant contributions to the local and regional culture, extending the reach of this to national and international audiences.
We mark the occasion of this BSO concert with a show of work by undergraduate students in Illustration, Costume and Performance Design, responding to Tcherepnin's 'Princesse lointaine'. We have recreated the costume worn by Sarah Bernhardt in the original production of Rostand's play of the same name. In addition, there is work from Illustration students referring to all three orchestral pieces in the concert.
We continue to be ambitious for our students and the engagement of the academic community in the culture and life of the towns and county of Dorset. To this end, we welcome donations to the Arts University Charitable Foundation, which supports students in their studies and the extension of their work beyond the University campus. Further details of how to contribute to the Foundation may be found on aub.ac.uk/fundraising
The concert this evening is also an occasion to welcome Professor Paul Gough who succeeded me as Principal and Vice Chancellor at the beginning of the year. His keen interest in music will inform future development of the academic partnership with the BSO.
Professor Stuart Bartholomew CBE DL, Arts University Bournemouth
Charitable Foundation
THE ARTS UNIVERSITY BOURNEMOUTH CHARITABLE FOUNDATION WAS ESTABLISHED IN FEBRUARY 2005 (CHARITY COMMISSION NUMBER 1109648)
AUB Fundraising
OUR MISSION IS TO BE THE LEADING PROFESSIONAL ARTS UNIVERSITY, DEDICATED TO TURNING CREATIVITY INTO CAREERS.
From time to time, we engage in fundraising activities
Tcherepnin, Rachmaninov and Berlioz
–
Kees Bakels Conductor
Andrei Korobeinikov Piano
Wednesday 15 January 2020 at Poole Lighthouse
Rachmaninov's Rhapsody is an extrovert and immensely technical demonstration of pianistic wizardry. Wit, charm, romance, rhythmic verve and masterly orchestration combine in what many consider to be his greatest composition. Paganini's theme is ripe for development and Rachmaninov fully exploits this in a freely imaginative and rhythmically energetic sequence of tightly organised variations forged into a continuous and potent drama, composed in a matter of days and brimming with white-hot inspiration.
The opening performances of Victor Hugo's Hernani gave rise to near-riots between Romantic supporters and reactionary opponents. In the same year, Berlioz produced his Symphonie fantastique and thereby conceived a new world of dramatic expression and orchestral colour. It was a rare leap forward in music – an achievement that is almost inconceivable from a 26-year-old student, working in a country with little symphonic tradition.
Nikolai Tcherepnin composed the music to Edmond Rostand's play La Princesse Lointaine whilst he was still under the influence of his teacher Rimsky-Korsakov. The prelude is often played as a concert overture – a gorgeously languid evocation of medieval chivalry, with the most ravishing of central melodies.
Works and composers
N Tcherepnin Prelude to La Princesse lointaine
Rachmaninov Rhapsody on a Theme of Paganini
Berlioz Symphonie fantastique Unrequited Love
Magical Fairytales – April 2019
Curated by Dr James Cole, Lauren Hayhurst and Heidi Steller
This is TheGallery's fourth year working with the Bournemouth Symphony Orchestra (BSO) and AUB on a collaborative project. This year's exhibition will feature work by BA (Hons) Illustration, BA (Hons) Creative Writing, BA (Hons) Costume and Performance Design and BA (Hons) Dance in association with the BSO, with co-curation of the pop-up exhibition by students from BA (Hons) Creative Events Management.
Pictures at an Exhibition – March 2018
Curated by Vincent Larkin
An exhibition by BA (Hons) Illustration in association with Bournemouth Symphony Orchestra (BSO).
The exhibition was a response by staff and students in BA (Hons) Illustration to the concert, Picture Perfect performed by the BSO, sponsored by Arts University Bournemouth.
West Side 360° – April 2017
Curated by Rebecca Pride and Mandy Barrington
West Side 360° exhibition was a response by students in BA (Hons) Costume and Performance Design, to a live brief from the Bournemouth Symphony Orchestra (BSO). The students were asked to design a set of costumes inspired by the concert Song and Dance (Adams, Rachmaninov, Bernstein and Gershwin), sponsored by Arts University Bournemouth.
The Firebird, Diaghilev and the Ballets Russes – March 2016
Curated by Adele Keeley, Wayne Martin and Bunny Winter.
A collaborative project and exhibition with BA (Hons) Costume and Performance Design and BA (Hons) Graphic Design at AUB, Bournemouth Symphony Orchestra and TheGallery.
Students from BA (Hons) Costume and Performance Design produced a collection of designs in response to The Firebird, which was on display at the Lighthouse Poole on the evening of the performance.

AUB make the awards of Honorary Fellowship to persons who have made a significant contribution to the field of arts, design, media or performance in a professional capacity or an educational role.
Dougie Scarfe was awarded an Honorary Fellowship by Arts University Bournemouth in 2019 in recognition of his contributions to orchestral music and music education.
TheGallery works with courses right across the university on a variety of exhibitions, events and projects. Unrequited Love is another example of one of these projects that we have worked on with the curators and students. When working on a collaborative project we provide advice and support for the curatorial and technical aspects of the exhibition, as well as advice on event and project management.
TheGallery provides a national and international public platform for the arts within the sub-region as we promote the University's shared passion for excellence in education, industry and the sector.