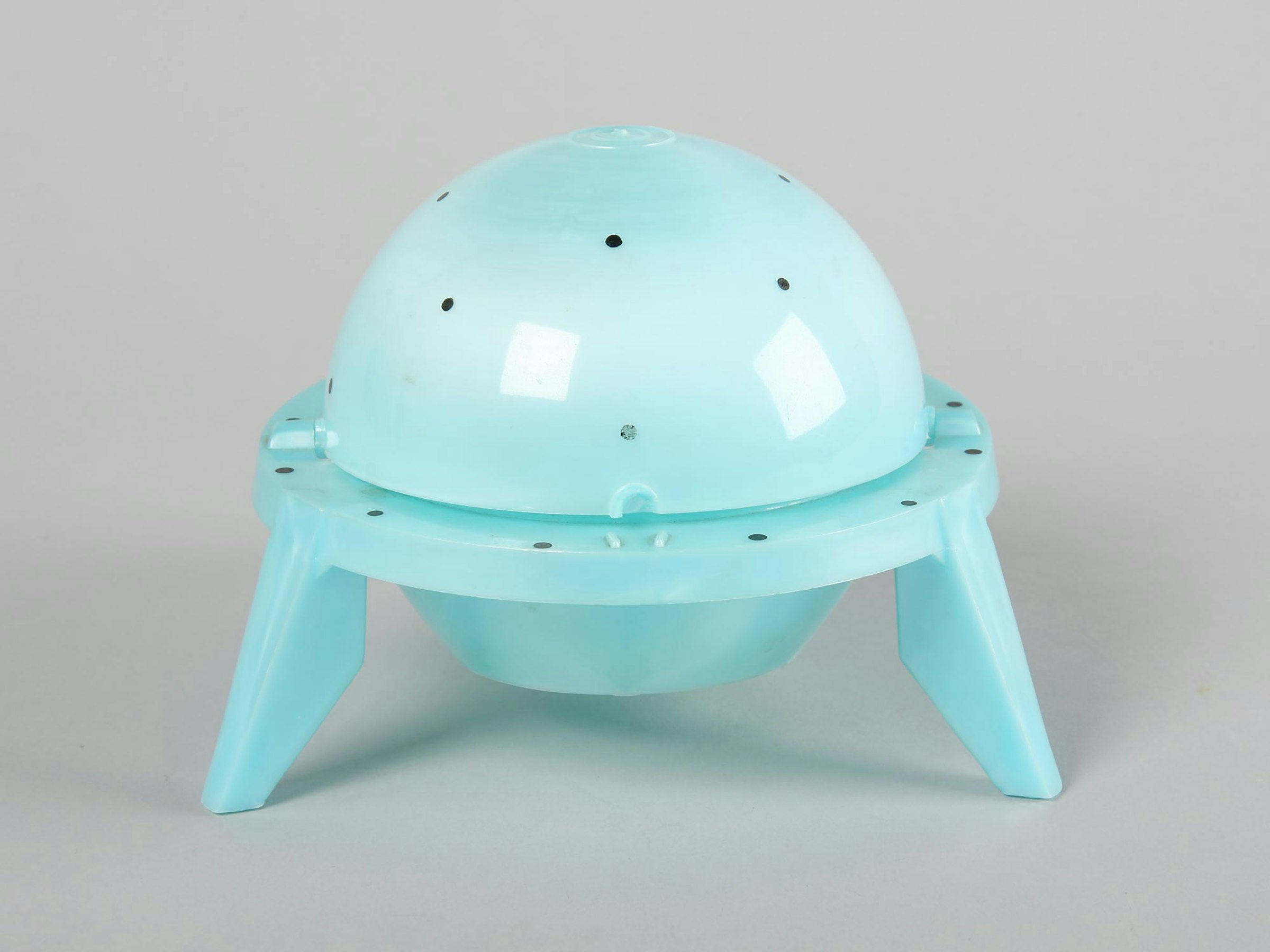 Date: 23 March 2021 - 18 June 2021
Northwest Gallery Entrance, North Building, AUB
2021 marks the 30th anniversary of the first ever British person to enter space and the 5th anniversary of the first ever British spacewalk. The leading pioneer was Dr Helen Sharman, a chemist from Sheffield, in May 1991, followed by British astronaut Tim Peake, repairing the power supply on the International Space Station in January 2016.
Plastics have played a vital role in the advancement of space exploration right from the very beginning. From tubing in the Russian satellite, Sputnik 1 in 1957 to the 21 different types of plastics present in Neil Armstrong's spacesuit when he walked on the moon in 1969, to the 2005 invention of RXF1, a derivative of polythene for shielding against deep space radiation, plastics have become firmly embedded in our quest to explore this extreme and hostile environment.
In celebration, the Museum of Design in Plastics (MoDiP) has put together this exhibition featuring objects from the collection evoking the theme of space.

Meet the Curator
Katherine Pell

Katherine Pell began working in museums in 1998 and has experience in all aspects of collections management as well as exhibitions, visitor services, learning and engagement. She joined the Museum of Design in Plastics (MoDiP) in 2014 and has primary responsibility for providing the care of and physical access to the museum's collections. At MoDiP she has co-curated many exhibitions including What is Tupperware?, Plastics and the home front, Output and Being me: plastics and the body.
TheGallery, Museum of Design in Plastics (MoDiP) and Online Store at Arts University Bournemouth.
TheGallery exhibitions, events, publications and projects; Museum of Design in Plastics (MoDiP) exhibitions and collections contribute to Arts University Bournemouth, Bournemouth and the Southwest Cultural Community and beyond, and are accessible to everyone interested in the galleries and museums.
AUB's two cultural assets work collaboratively to find new ways to connect with communities at and beyond the AUB. Through their own mission and purpose, TheGallery and the Museum of Design in Plastics come together to support learning, teaching, and research for all, as well as provide spaces for inspiration and contemplation.
MoDiP is a learning, teaching and research resource at Arts University Bournemouth. It is the only accredited museum in the UK with a focus on plastics and aims to increase understanding and appreciation of the use and significance of plastics in design during the 19th, 20th and 21st centuries through a wide spectrum of objects which can all be viewed online and in the museum by request.