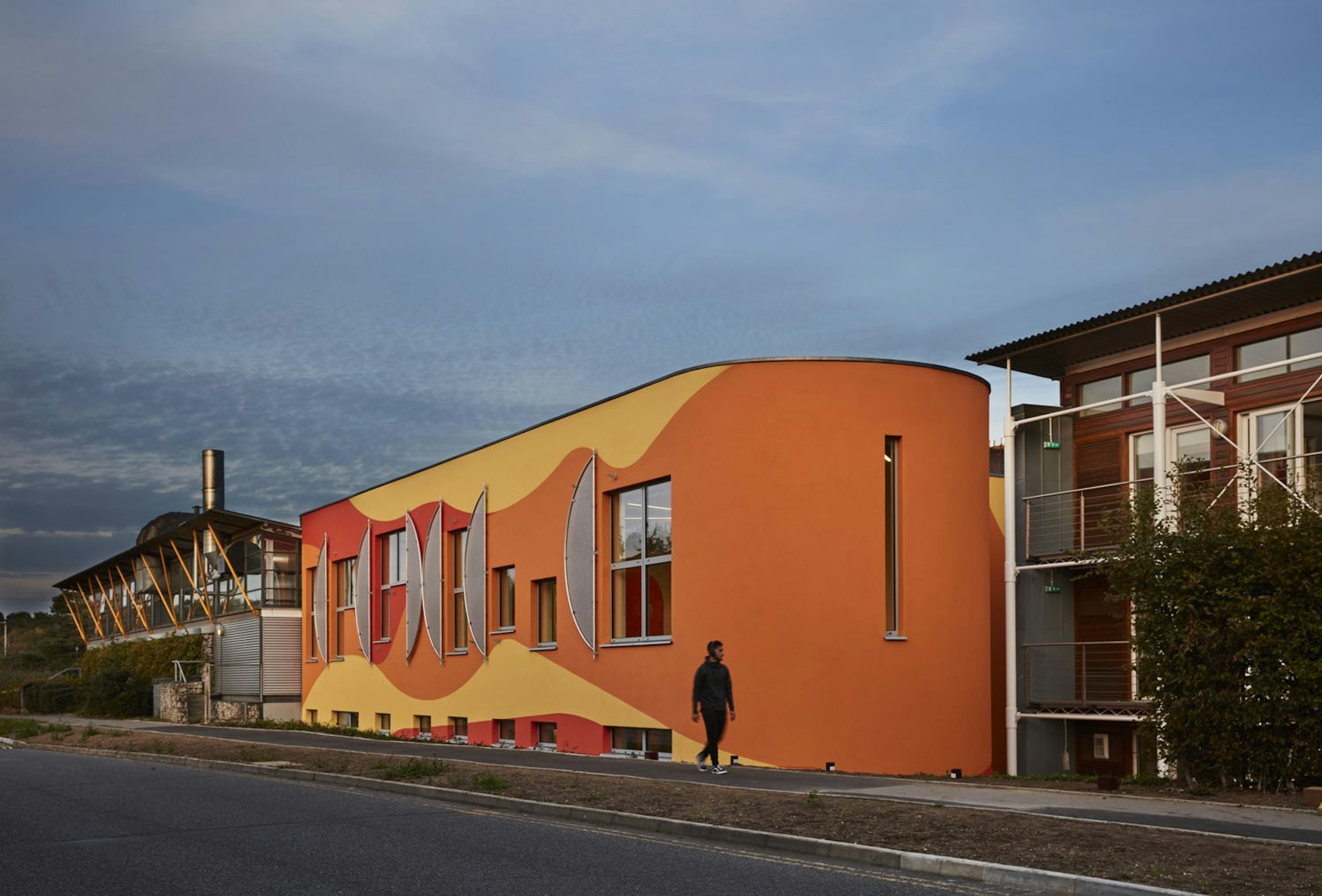 Jane Drew Prize winner Odile Decq, Pompidou Centre Designer Mike Davies CBE, and RIBA Gold Award recipient Professor Sir Peter Cook were among a group of internationally-renowned architects descending on the South Coast to mark the opening of Arts University Bournemouth's state-of-the-art new Innovation Studio.
The specialist arts institution, which recently came second in a ranking of the UK's most creative universities, has welcomed a group of esteemed architects, academics, and urban planners to its Wallisdown campus with a flagship jamboree event looking at The Optimistic Future of Architecture.

Keynote speakers attending AUB's two-day event included French Architect and Urban Planner Odile Decq, recipient of the prestigious RIBA Jane Drew Prize, Lorens Holm, Director of the Geddes Institute for Urban Research, and Gilles Retsin, Associate Professor and M.Arch. Programme Director at the Bartlett School of Architecture.
The Innovation Studio has been developed using approximately £1.5million in funding from Dorset Local Enterprise Partnership (Dorset LEP) to support business research, development, and innovation across the region, acting as a base for small business start-ups and emerging entrepreneurial projects.
The facility will also be home to some of the latest digital and physical manufacturing technologies, including Large Format Additive Printing, CNC milling and waterjet cutting, and VR/AR technologies including projection, 3D body scanning, and a green screen studio.
The Studio will aim to deliver additional benefits to the locality by encouraging employability between the university and local business users, providing a catalyst for growth and industry.
The Studio's launch event was hosted by university Vice-Chancellor Professor Paul Gough, alongside alumni Professor Sir Peter Cook, the project's architect, who celebrates his second building at AUB following 2016's Drawing Studio, the first purpose-built drawing studio in Britain for more than 100 years.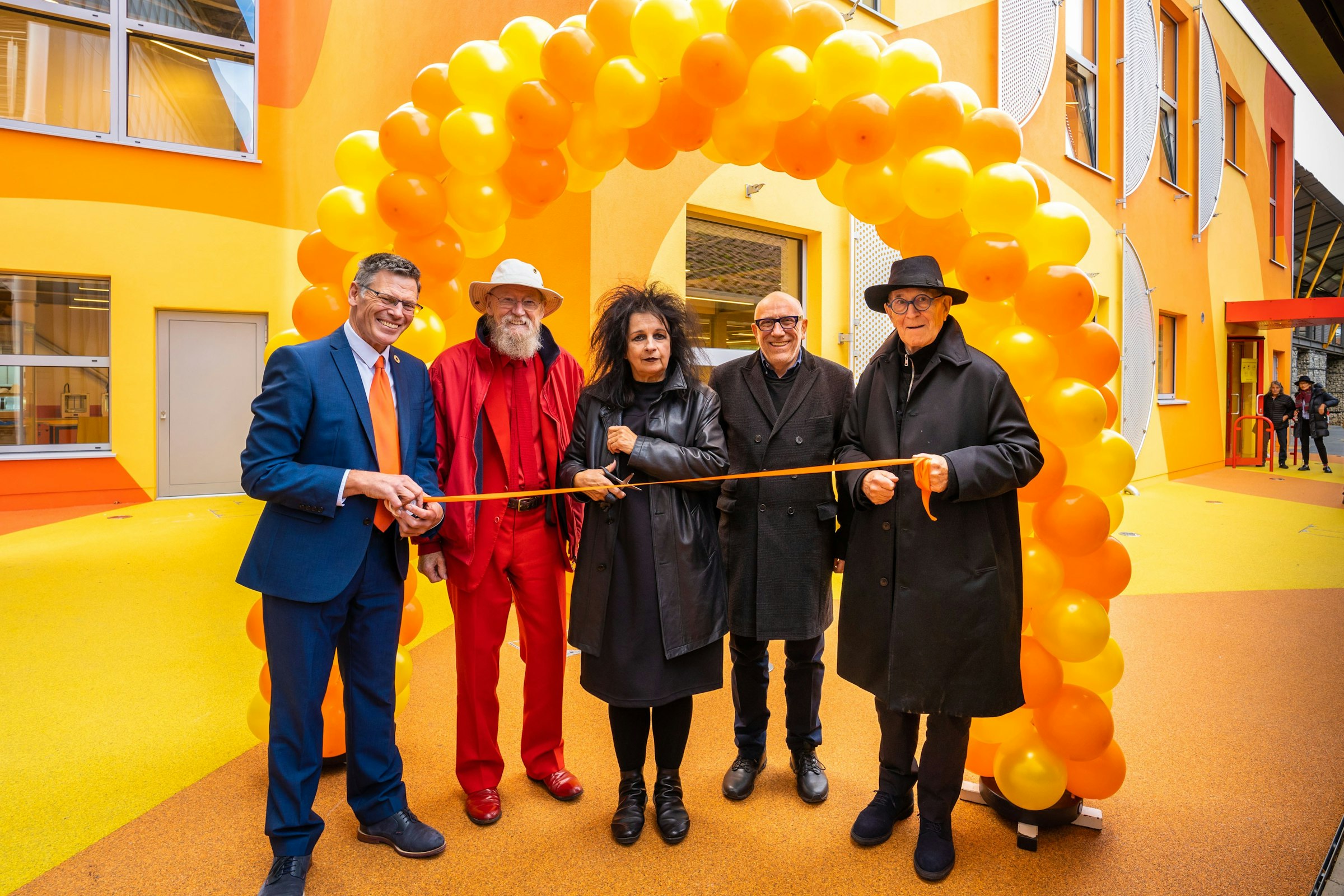 AUB Vice-Chancellor Professor Paul Gough said: "The university is humbled by the presence of leading figures from across the world of architecture, who've assembled on our campus to mark the opening of our new Innovation Studio.
"Architecture is often seen as the cradle of the creative arts; and perhaps as a most visible and impressive expression of art, it is wholly appropriate that this studio stands proud as a space to harbour the genesis of innovative new concepts, designs and thinking."
Visiting speaker and acclaimed French Architect Odile Decq, said: "I'm very proud to be here at AUB to launch the Innovation Studio, designed by my good friend Sir Peter Cook.
"Being an architect is about changing and helping the world; sometimes providing shelter for people as a minimum but also giving joy to people, helping them to forget about the world outside.
"For students, going to the Innovation Studio means forgetting the limits in their brain – from their education and from where they were before – to be free to think about the world."
Dorset LEP Chair Cecilia Bufton said: "Dorset LEP aims to drive local prosperity through skills support, business growth and innovative projects. The Innovation Studio touches on each of these key areas, enabling AUB to support student ambitions, allowing them to collaborate with local enterprises in a truly creative space.
The recently published Dorset Local Skills Report describes how Dorset's people and economy will thrive if we focus on attracting and retaining individuals with the skills we need to meet current demand and fuel future growth. The Studio provides a locus for innovation from which we expect to create over 80 business and graduate start-ups, generating more than £13million in GVA to the local economy by March 2025."
Professor Sir Peter Cook, an esteemed architect and Royal Academician who graduated from AUB in the 1950s, addressed students, industry professionals and artists at the event. He said: "It's been my pleasure to speak to students from across AUB's many disciplines and welcome them to the university's exciting new venture, the Innovation Studio."
"The space is a rich vessel for creativity and innovation, and those creating within these walls will almost certainly working towards solutions to some of mankind's greatest challenges; from climate change to transport, and connectivity to infrastructure."
The jamboree forms the first of two flagship events held by the university to celebrate the Innovation Studio; with industry and business community members being invited to hear from speakers and experience a tour of the new facility later this year.