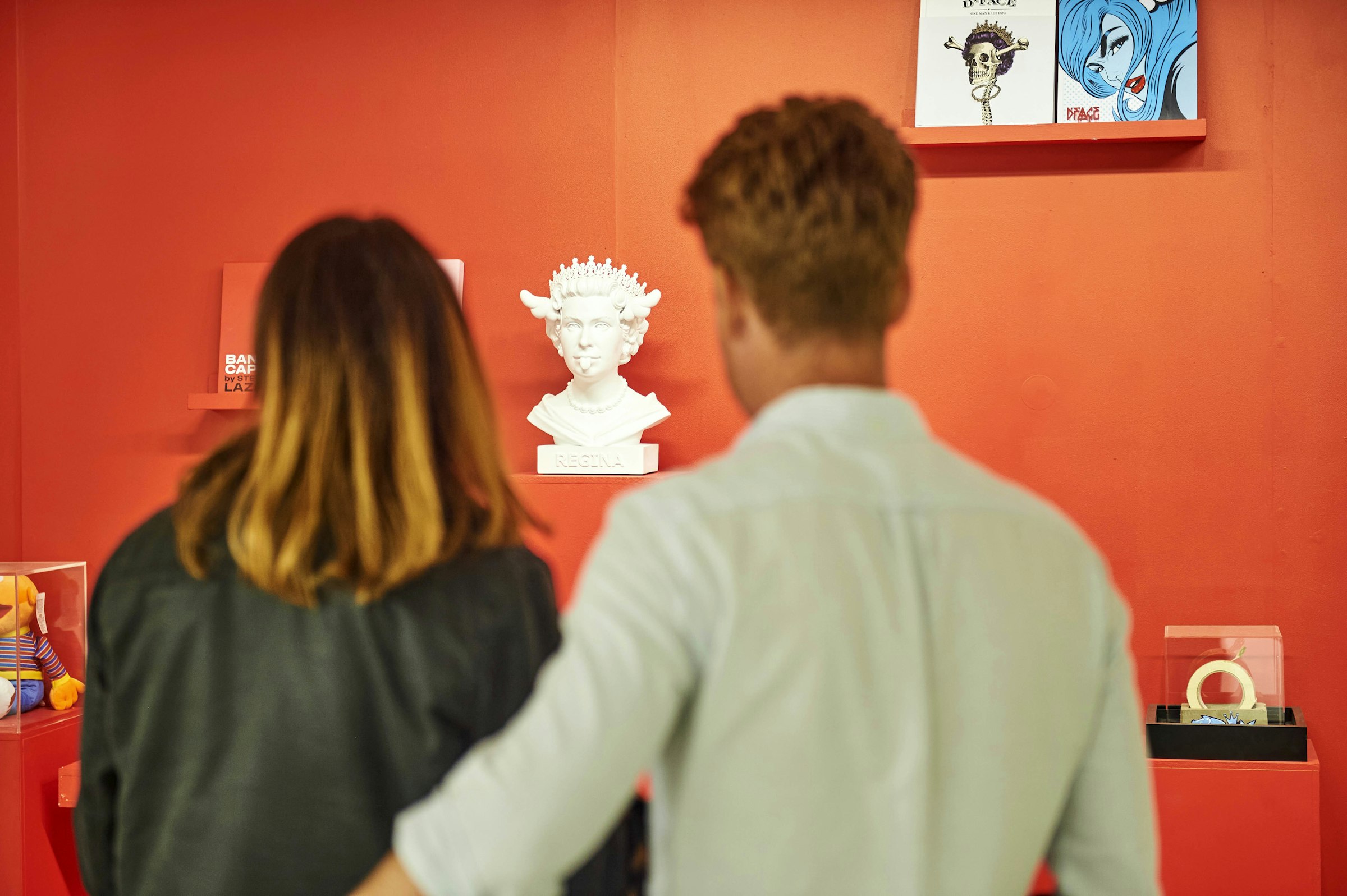 Crossing the Line
Brought to you in partnership with GIANT and TheGallery, AUB
Date: 2 April–26 April 2022
Location: GIANT, Bournemouth

The "Crossing the Line" exhibition at GIANT Gallery, Bournemouth is a curated selection of artwork from the AUB "Crossing the Line" exhibition which took place at TheGallery, AUB in November 2021.
Where does street art now belong: in the back alleys of our urban centres or on the white walls of the gallery? Can it belong in both? What happens when the urban calligraphy of tags and stencils is subsumed by the auction house, and why do we feel a sense of loss when the raw energy of street art, of urban writing, is absorbed by the mainstream media, and effectively tamed. Why is it that some of our best illicit art is promptly ripped off the wall, taken out of its context and seized into private hands?
One of our best public artists argues that to remove a piece of authentic street art from its location is like domesticating a wild animal, neutering its intensity and robbing it of the potential to challenge the status quo.
And we have more questions: how do you actually monetise public art? Why is some street art regarded as illegal and some revered as a national icon? How can any urban artist retain their street cred as well as maintain their credit in the bank?
Drawing on private collections, street photography, and the imagery of brandalism and subvertising, this exhibition offers some provocations for debate and deliberation; there will be artwork, originals, fakes and counterfeits.
Disclaimer: The curators acknowledge all the urban artists whose work is in the public domain and has been recorded and reproduced for this exhibition: credits are given where possible and thanks are extended to those who made their work available for public appreciation.
Meet the curators: Joshua Read and Professor Paul Gough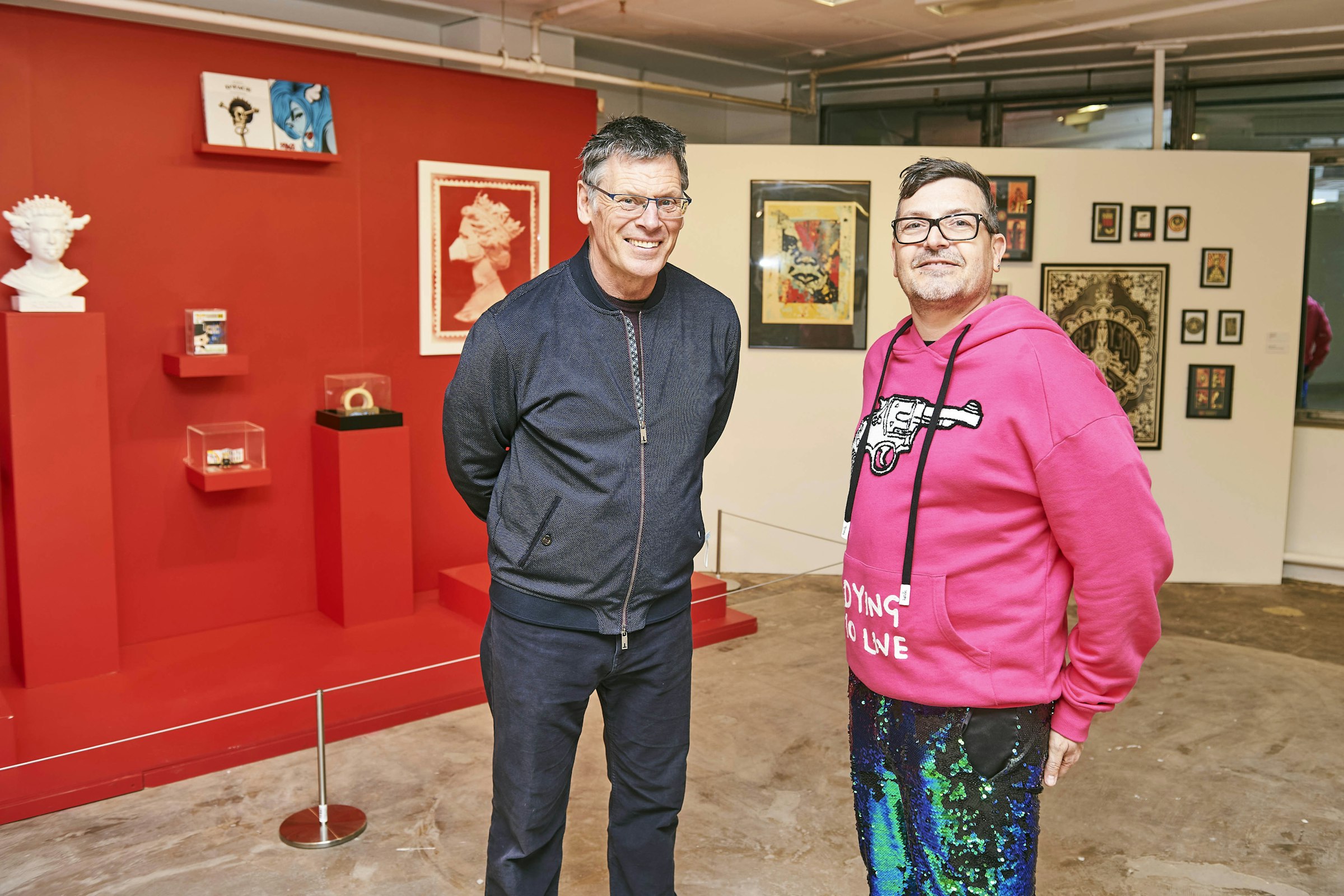 Joshua Read is the Course Leader for Foundation Diploma (Art and Design) specialising in Graphic Communication. He is a senior academic that has taught for 20 years on a wide range of academic levels. Before becoming a teacher he worked on games magazines, informative PC and Windows magazines as well as flyers, posters and specialist literature for a variety of well-known names such as Sony, Nintendo and Universal Studios, which has given him a wide base of practical and real world of skills to pass on to others.
Joshua has a passion for urban art, fashion and typography and has run several community events in graffiti and graffiti stencilling. This led on to an interest in screen printing and how images can be used over reclaimed waste materials to create beauty in the mundane, work which he exhibited in the Metamorphosis exhibition in 2018.
Joshua's interest in graffiti started in the '90s whilst working in a Cambridge music venue. He later moved to Exeter and took up painting graffiti manga pieces and canvases for commissions. His passion for graffiti has since seen him becoming an art collector and building an extensive collection of street art and memorabilia, including a piece by Banksy. As a lecturer, Joshua has led many discussions on graffiti as an art form and its place in the art world, and he continues to support the street art community by collecting new works wherever possible.
Professor Paul Gough is the Vice-Chancellor at Arts University Bournemouth, UK. Paul is a painter, broadcaster and author he has exhibited internationally and is represented in the permanent collection of the Imperial War Museum, London, the Canadian War Museum, Ottawa, and the National War Memorial, New Zealand. Along with leading roles in international higher education and global research assessment, his research into the representation of war and peace has been presented to audiences throughout the world.
He has published nine books, including monographs on the British painter Stanley Spencer, Paul and John Nash and several comprehensive studies of art from both world wars. Over the past decades, he has curated many exhibitions including 'Shock and Awe': Contemporary Art at War and Peace, and 'Brothers in Arms' an exhibition of John and Paul Nash. He worked in television for ten years, appears regularly on UK and global media, and is currently writing his second book about the street artist, Banksy.
Featured publication: "Crossing the line — From Alley to Gallery"
Building on TheGallery's text+ work philosophy, this publication moves beyond the conventional exhibition catalogue format and adds much greater depth to the subject of street and urban art. It explores issues of ownership, collecting, and the transition of a transgressive art form into an acceptable one.
It includes essays from Paul Gough and Sarah Newman, Museum Manager of the Russell Cotes Art Gallery and Museum in Bournemouth, excerpts from our Conversations event that opened the exhibition (led by Associate Professor Dominic Shepherd and Vincent Larkin) and an overview of the exhibition itself.
This collection of analytic and investigative writing continues to promote TheGallery as a forum for dialogue between innovative art in all its forms and its relevant theoretical contexts and histories.
Published 2021
By text + work, TheGallery, Arts University Bournemouth.
ISBN: 978-0-901196-82-8
Project partner
GIANT'S vision is to position art as central to society through accessible and challenging programming across artist projects, exhibitions, publications, education programs, and events.

GIANT Founder and artist Stuart Semple, said: "I've become close with everyone at AUB, and I thought that the Crossing the Line show was really amazing, so it seemed like a really good opportunity to bring it into the project space at GIANT and share it with the wider public.
"It's really exciting to bring street art to the gallery because quite often we show quite high brow contemporary art, and sometimes you can alienate an audience with that.
"What we've seen already is that people are really engaged with street art; they've heard of Banksy, D*Face and Miss Van and it's really nice to bring a younger new crowd into a space like this."

TheGallery and External Engagement (TheGallery Partnerships)
In addition to our permanent spaces, we host a number of projects and events, collaborating with different creative organisations, forging important links with arts organisations including Russell Cotes Art Gallery & Museum, Pen Gallery, Poole, GIANT Gallery, Bournemouth, Bournemouth Symphony Orchestra, Pavilion Dance, The Trinity Buoy Wharf Trust and Bournemouth Arts by the Sea Festival.
Find out more about TheGallery's Partnerships.