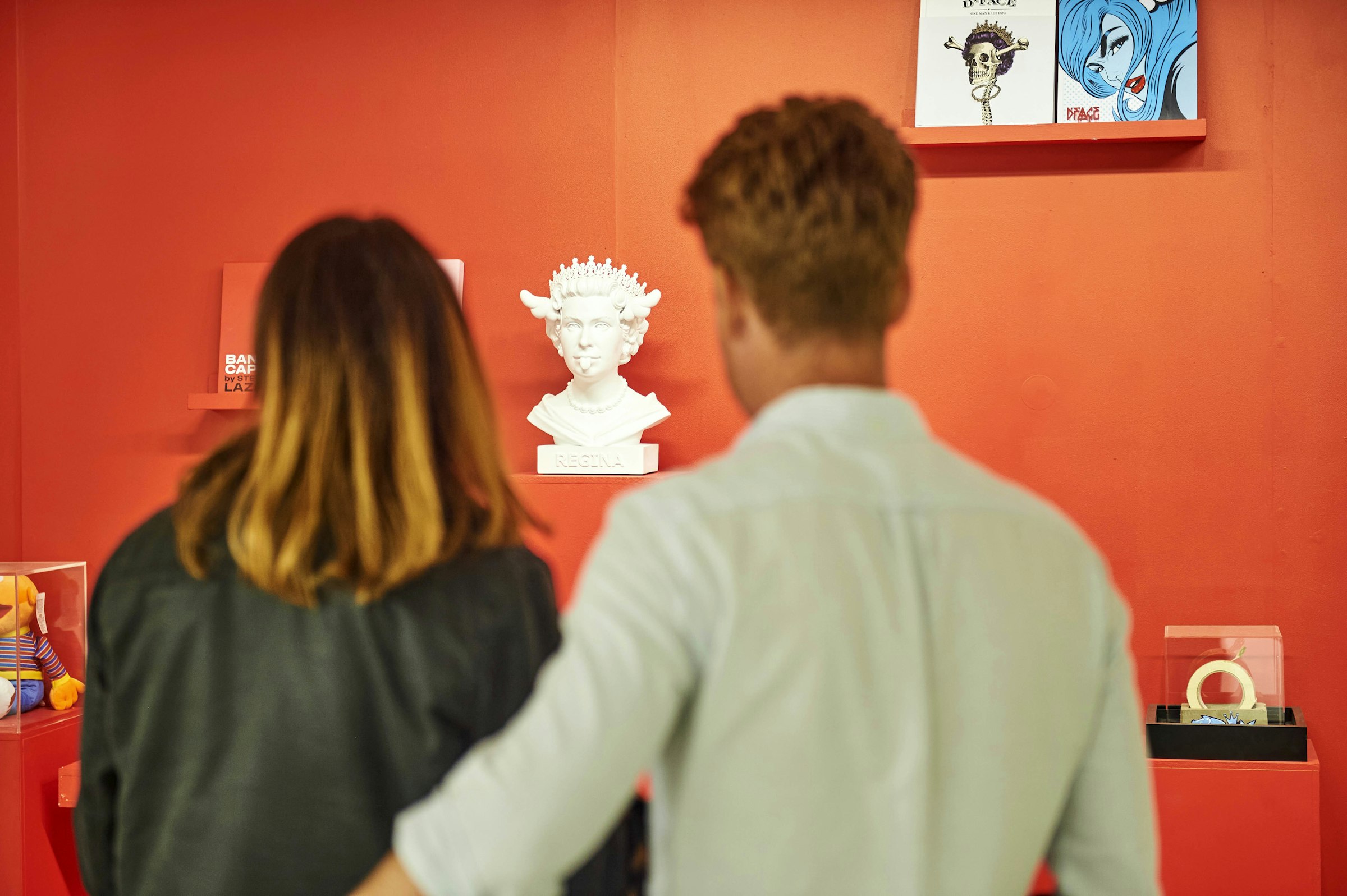 A street art exhibition brought together by two Arts University Bournemouth (AUB) academics has launched at the GIANT Gallery in Bournemouth town centre.
Crossing the Line has been curated by Joshua Read, AUB's Foundation Course Leader, and Professor Paul Gough, the University's Principal and Vice-Chancellor. The show brings together a diverse collection of street art items, and features work from Stic Orange, D*Face and Banksy.
The collection includes a number of items from the personal collection of AUB Foundation Diploma Course Leader Joshua Read, including a Banksy original piece purchased from a Bournemouth store almost 20 years ago.
Josh said: The exhibition was born from conversations between myself and Paul Gough, we were asking "where does art start and graffiti stop?" It's become a bit more commercial and mainstream, and Banksy is probably the person to blame for that.
"I love Banksy's work and what he is saying through it, but on the other side of it, he's taken graffiti and made it more commercial than it was ever supposed to be. Can it still have the edge, is it still an illegal naughty activity? Or is it something being done to be famous?"

The GIANT Gallery, which opened in August 2021, boasts more than 15,000 sq ft of gallery space and once renovations are complete, the space will be able to host Q&As, film screenings and live music.
The exhibition opened alongside celebrated avant garde street photographer Martin Parr's show Life's A Beach, which brings together thirty of Parr's most famous seaside images, made over the course of his fifty-year career.
Stuart Semple, Artist and GIANT Gallery Director, said: "I've become close with everyone at AUB, and I thought that the Crossing the Line show was really amazing, so it seemed like a really good opportunity to bring it into the project space at GIANT and share it with the wider public.
"It's really exciting to bring street art to the gallery because quite often we show quite high brow contemporary art, and sometimes you can alienate an audience with that.
"What we've seen already is that people are really engaged with street art; they've heard of Banksy, D*Face and Miss Van and it's really nice to bring a younger new crowd into a space like this."
The exhibition will run throughout April and June at GIANT Gallery art space in the Bobby's Building in Bournemouth town centre.