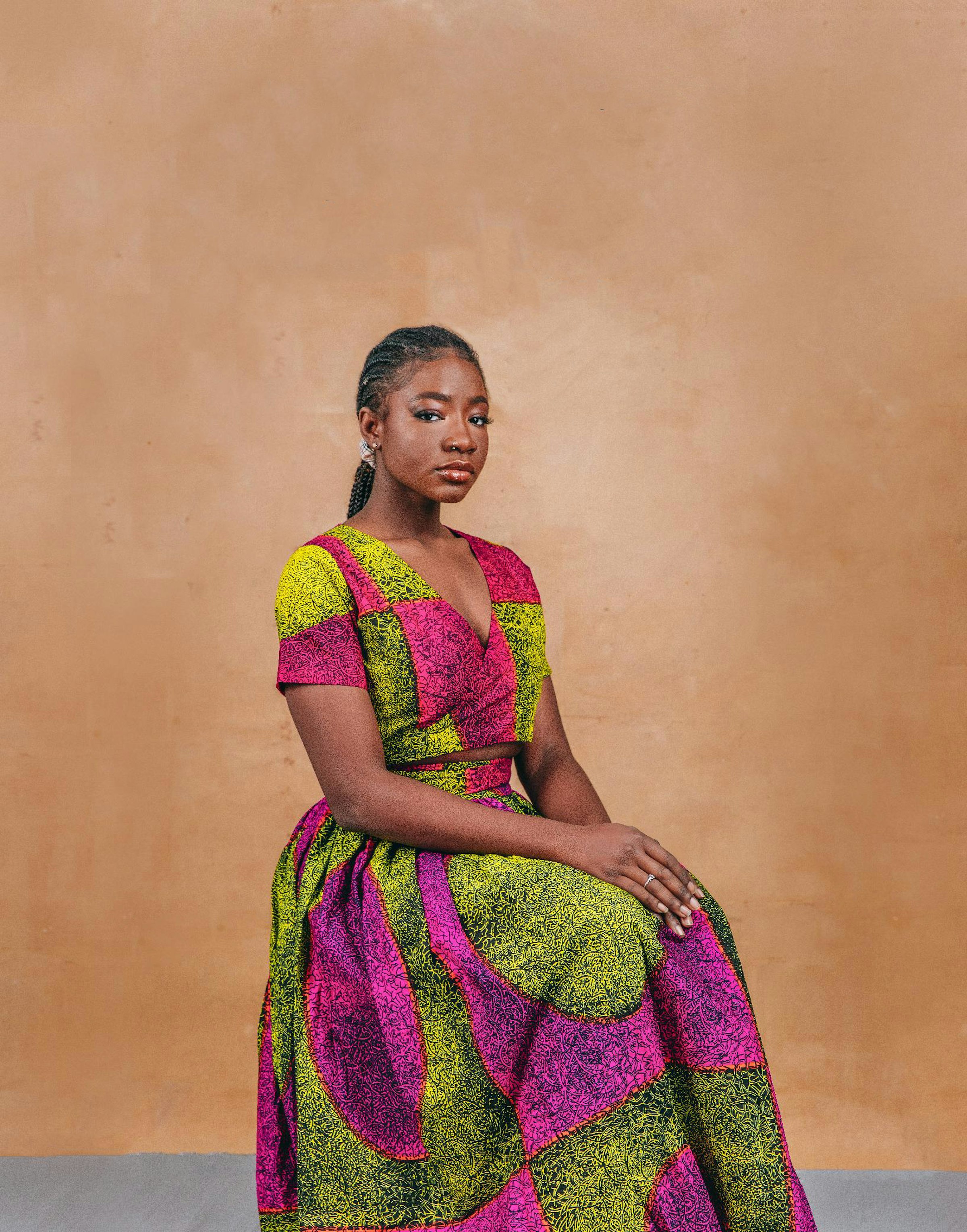 MA Photography graduate Aderopo Afolabi's imagery has been selected to lead the book's fifth volume from thousands of entrants taking part in the annual celebration of British portrait talent.
Aderopo's image of model Natalie wearing Ankara, a traditional African print fabric woven in cotton and produced using a wax-resist dyeing technique, was chosen as one of 99 portraits that feature in the book.
Helmed by the British Journal of Photography and produced by Hoxton Mini Press, Portrait of Britain was created to highlight national diversity, with subjects demonstrating a myriad of different cultures, social groups, identities, and minorities.
Included within the volume are celebrities too: actor Alan Cumming, campaigner Tommy Jessop, and fashion designer Dame Zandra Rhodes.
Speaking about his award-winning image, Aderopo says: "The Ankara fabric is advancing both locally and internationally, and we can conclude that this style or fabric is making drastic waves across the world, and this wave is going to be present in the fashion industry globally.
"I am grateful to God, and I am super grateful for this great achievement. My heart was filled with joy when I received the emails that I was selected on the front cover and being a Portrait of Britain 2022 award winner.
"To be sincere, this is a great win for me, my photography career, my image, and the project This is Black Women and Afrocentric Fashion. My Project explores African women's fashion in relation to the African textile Ankara and highlights the emergence of African fashion across the globe.
"The image was shot in AUB's studio, using four to five lights. One main light on a big-sized soft box, two fill light, one hair light. My image's canvas background was imported all the way from Nigeria, inspired by popular and prestigious Nigerian Photographer TY Bello."
Introducing the volume, British Journal of Photography states: "From a north London cowboy and a Scottish football fan to familiar faces such as Grayson Perry and David Attenborough, the photographs act as vignettes of Britain, taking viewers on a ride across generations, geographies and genders."
Winners have been selected by judges drawn from across the photographic community, including Sabina Jaskot-Gill, Curator of Photographs at the National Portrait Gallery, Martin Usborne, Founder of Hoxton Mini Press, Misan Harriman, Chair of London's Southbank Centre, Renee Mussai, Senior Curator at Autograph, and Sian Addicott, Director of Ffotogallery.
Professor Paul Wenham-Clarke, a previous Portrait of Britain Winner, and MA Photography Course Leader, adds: "Whilst on the course, Adi applied his knowledge and appreciation of Nigerian fashion to his photographic studies, creating a unique series that helps educate our Western eye. Not surprisingly, this exciting approach has led to him to be noticed at the highest level."
From train stations to bus stops, featured works will now also be exhibited on JCDecaux-owned 'Out-of-Home' digital screens across the country, in a campaign the advertising giant hopes will 'celebrate and champion the many faces of our communities, underlining the resilience and diversity of our nation.'
Mark Bucknell, Chief Commercial Officer at JCDecaux continues: "We are delighted to be working with the British Journal of Photography once again to bring this wonderful exhibition to a national audience, turning our digital channel into a national portrait gallery throughout January and reaching people when they are out and about in cities across the UK."
Previous volumes of Portrait of Britain have included works by BA (Hons) Commercial Photography graduates Michael Farra and Udochukwu Emeka-Okafor, and MA Photography graduates Kate Wolstenholme, Gianluca Urdiroz and Camilla Murray.