You are using an outdated browser. Most of this website should still work, but after upgrading your browser it will look and perform better.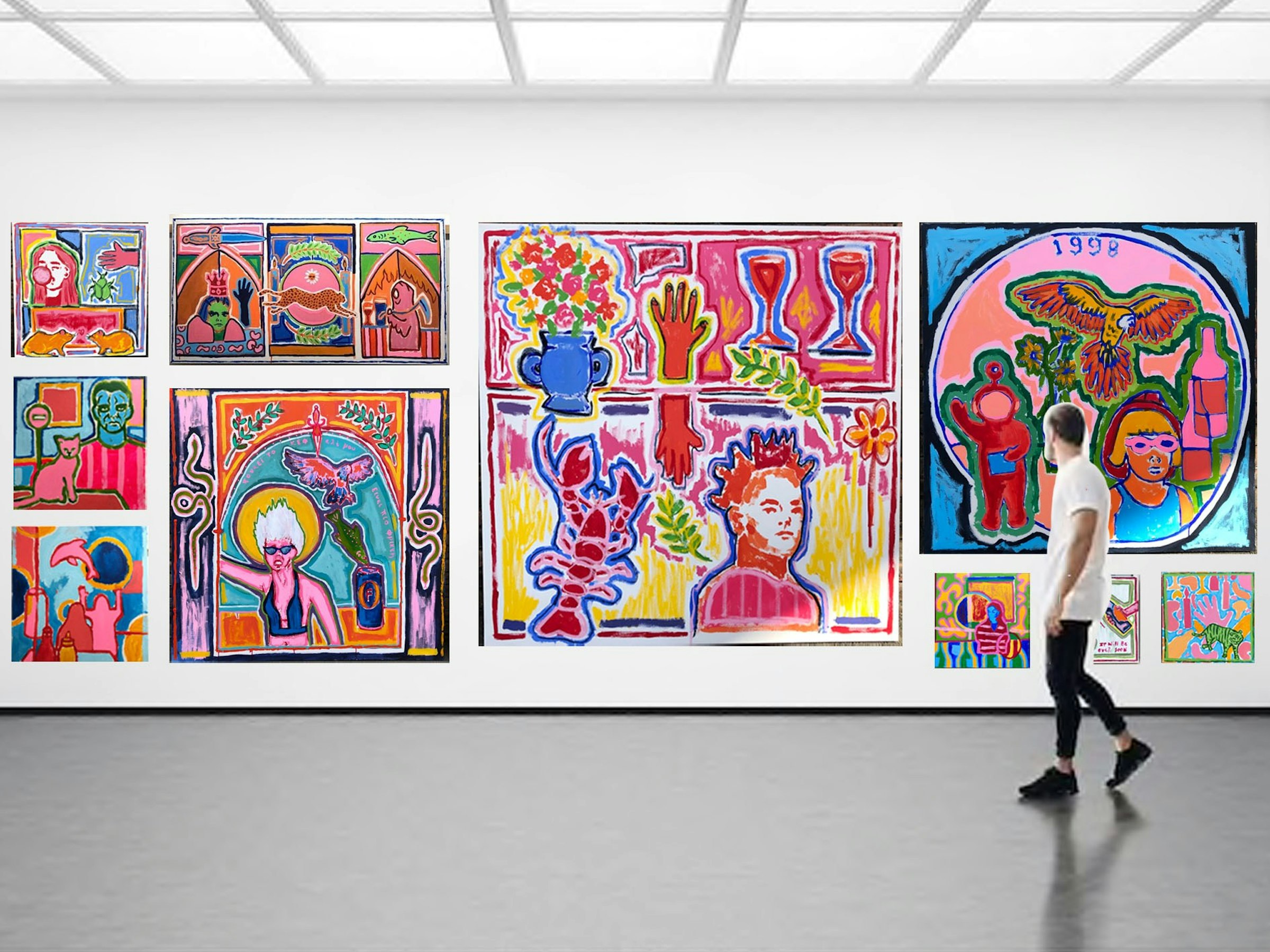 BA (Hons) Fine Art
Duration:

3 or 4 years full-time

Placement year:

Optional 1 year

Course code:

W100 (UCAS)

Institution code:

A66 (UCAS)
Overview
Be part of an exciting, multi-discipline Fine Art course, set within our dynamic culture of making in our purpose-built studios.
We take great pride in our course to create a thriving fine art community.
Explore current student artwork on our course Instagram: @aubfineart
Fine Art Course information
This course considers fine art in its widest sense, which means you can test out many different approaches or choose to specialise in one. Experimental workshops in painting, drawing, printmaking, sculpture, video, digital media and sonic arts provide you with a solid foundation in testing the physical and conceptual potential of materials that you can then develop further.
Our course is designed to provide you with a high-quality education in contemporary art practice, and is delivered by highly respected tutors, acclaimed artists and excellent technicians.
Over the duration of the course you will develop your individual artistic voice, informed through your own research and critical evaluation, peer and tutor's feedback and a deep understanding of your chosen materials. When you graduate, you will be fully equipped to contribute and add something new to the UK's art scene as an emerging artist.
Exhibiting and being enterprising is a key part of our course. We offer many opportunities for you to exhibit your work with an emphasis on site-specific locations thanks to our unique partnerships with local museums, councils and research centers. We also have a series of international student artist residency placements and worldwide partner university study exchanges. All these experiences are specially created by our tutors to give you a real sense of what it means to be a professional artist - both in the studio and the broader world.
In the first year you will work in open plan studios and participate in collective workshops to find what inspires and excites you as an artist. In the following years you will develop your practical, theoretical and critical skills within your self-defined study plans. The course culminates in two exhibitions of your work for your final major project, one on campus at Bournemouth and the second in London.
We support and encourage experimentation and development of skills, and workshops are offered as a continual part of the course over the 3 years. These are conducted in painting, drawing, printmaking, sculpture, video, digital media and sonic art as well as seminars to foster your conceptual development and understanding of curation / how exhibitions are put together.
You will have additional access to the latest technology, such as laser cutters, CNC (computer numerically controlled) machines and 3D printers. Our aim is to provide you with a solid foundation so that you can create contemporary artworks with high technical skill combined with solid conceptual grounding.
Above all we offer a welcoming and inclusive course, set in a vibrant campus dedicated to creative practices of all kinds.
| | |
| --- | --- |
| Course duration | 3 years (full-time) |
| Placement | Option of a 1 year placement |
| UCAS course code | W100 |
| UCAS institution code | A66 |
Placement year
All undergraduate courses at AUB offer an optional placement year, to be taken between your second and third years of study.
If you're unsure about this optional placement, you don't need to decide now. Once you're here and studying with us, the course team will discuss the placement options with you, so when the time comes, you can make a decision that's right for you.
If you're required to have a Student Visa to study in the UK, it won't be possible to undertake the one-year placement option; there'll be other opportunities for you to engage with industry during your study at AUB.
Level 4 (first year)
Your first year builds upon your previous learning; you'll experiment broadly and acquire new skills and knowledge, from a combination of both practice and theory sessions.
You'll attend various workshops, learn about curating and exhibit your work. An important part of the first year is helping you to confidently speak and write about your work. In the final unit of this year, you will define your practice and determine which areas you wish to specialise in.
You'll work in a mixed practice studio.
Level 5 (second year)
Your second year encourages you to examine the positioning of your work within the Fine Art industries and to consider its relationship to audiences.
At the beginning of Level 5, you'll decide where to locate your practice and which practical working zone of the course to locate yourself in. You can also move between zones.
You'll continue to improve your practical skills whilst simultaneously clarifying the research questions you are investigating.
You'll have opportunities to study abroad and participate in challenging projects. We encourage work experience in this year if you decide to opt for the independent study unit. Your research into career options and professional practice will also begin.
Level 6 (third year)
In your third year, you'll continue to develop and refine your understanding of your own practice, specifically the Fine Art discipline, the language it operates within and how it's interpreted by viewers.
This is the crucial year when you consolidate your previous experience and experiments and pursue a focused practice. This is celebrated in your two degree exhibitions, one at AUB and one in London, allowing your work to be viewed by hundreds of people and giving you a springboard into professional life.
All students are registered for the award of BA (Hons); however, exit awards are available if you leave the course early, having successfully completed one or two levels. If you successfully complete a level of the course, you will automatically be entitled to progress to the next level.
For the award of a Certificate of Higher Education (CertHE), you must have achieved a minimum of 120 credits at Level 4. This qualification may be awarded if you leave the University following successful completion of the first year of your course.
For the award of a Diploma of Higher Education (DipHE), you must have achieved a minimum of 240 credits of which a minimum of 120 must be at Level 5. This qualification may be awarded if you leave the University following successful completion of the second year of your course.
For the award of a BA (Hons) you must have achieved a minimum of 360 credits of which a minimum of 240 must be at Level 5 or above, of which a minimum of 120 credits must be at Level 6. This qualification will be awarded upon successful completion of your course.
A BA without Honours may be awarded if you have achieved 300 credits, at least 180 of which are at Level 5 or above, and at least 60 of which are at Level 6.
Students studying this course achieve great things and have won prestigious and high profile awards, such as:
National 'Lynne Stainer Painting Prize'
Solo exhibition at Aspex Gallery Portsmouth
Two graduates selected for inclusion in the Dangerous Women exhibition, which included Tracey Emin
Two-week long artist residency in Milan
Five students selected for Hans Brinker Painting Prize exhibition in Amsterdam
Student gallery
Looking to be inspired? You can browse our gallery of student work and take a look at some of the projects that our current students have been working on.
Course team
On the BA (Hons) Fine Art course, you'll benefit from the expert guidance from our experienced teaching staff. You can read more about their specialisms by exploring their profiles below.
Watch our course videos
Course leader Richard Waring talks about what to expect from studying BA (Hons) Fine Art here at AUB. And Associate Professor Dominic Shepherd unpacks what fine art exactly is.
Our course challenges visual culture through the creation of new paintings, sculptures, videos and performance. We offer you many opportunities to explore materials and their application in new and exciting ways. A broad team of experienced practising artists will help you to progress and refine your art, testing it in real-world situations through the many international study and exhibition projects.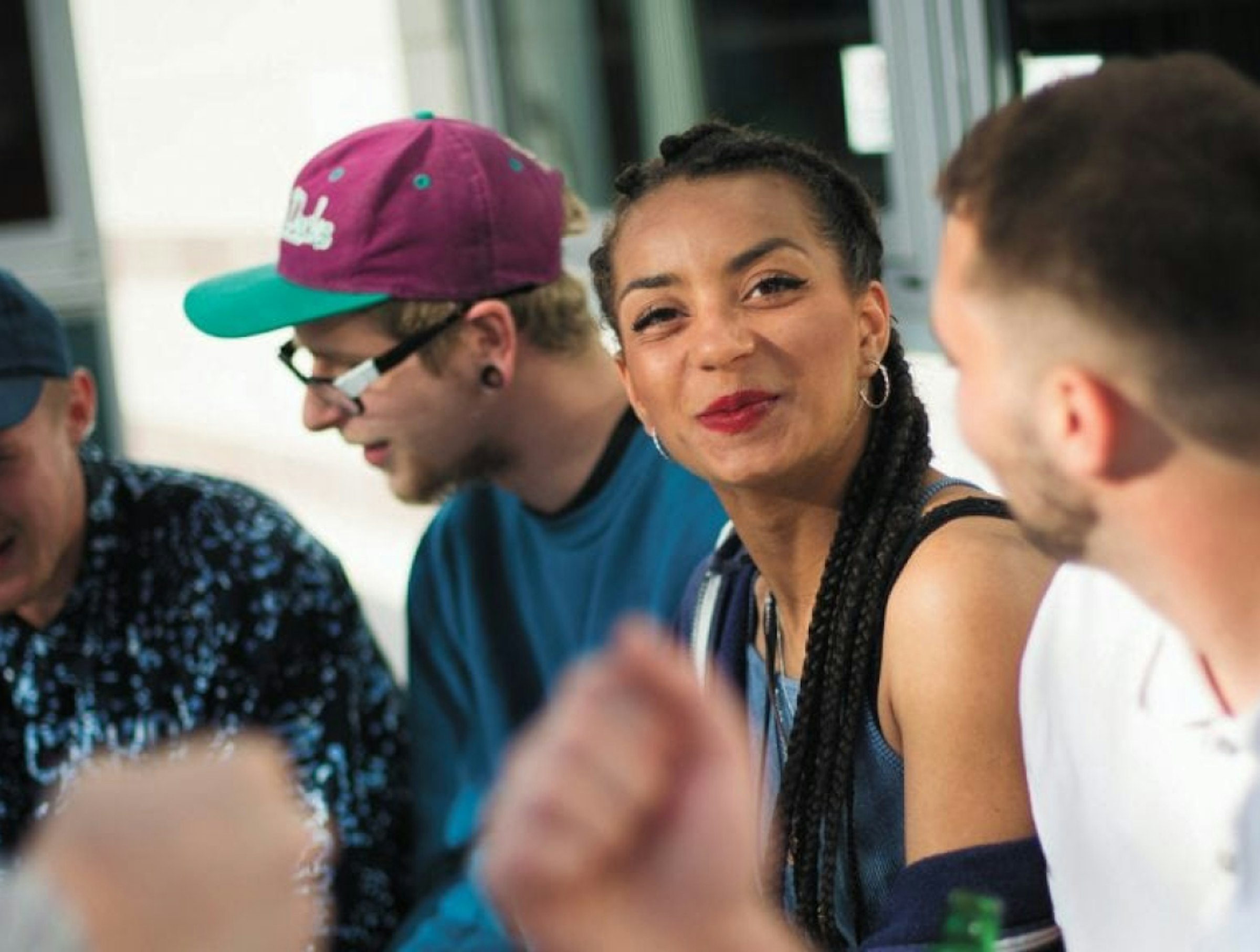 Chat to a student
Our student ambassadors are here to answer any questions you might have on university life, our courses and all things AUB.
Chat on Unibuddy
Application process
Once you've found the perfect Undergraduate course, you can apply to study via UCAS, including direct entry applications to second and third year.
When applying through UCAS, use the institution code A66 for courses taught at Arts University Bournemouth. For courses based at Bournemouth and Poole College, use code B49. We'll then use your completed UCAS form to make decisions about your application. You can find out more on entry requirements in our apply section.
When you apply to one of our courses, it's important that you help us get a good picture of both you and your work – so you'll need a great personal statement. We want to know more about why you're interested in the course, your key influences, and what you hope to do after your studies.

If you're invited for an interview, many of our courses will ask to see a portfolio of your work so we can get more insight into your ideas and abilities. To help you, we've created guidelines outlining what we expect from your portfolio for each course.
The fee that you pay the Arts University Bournemouth provides the necessary equipment and training for you to complete your course.
You may also choose to buy some items of personal equipment such as a laptop or tablet computer, but this is not required; desktop and laptop computers are available for you to use in common study areas, including a loan system in the Library.
For the majority of our courses, we'll ask you to digitally submit a portfolio as part of the application process.

Portfolios should show examples of your work – both finished and work in progress – that demonstrate your interests and skills. We expect to see around 20 slides/images in your portfolio that shows your identity as an artist
If we ask for a digital portfolio then we'll give you 30 days to submit it. Sometimes we'll need a portfolio submitted quickly if there's a UCAS set deadline approaching, but if you need more time, just let us know and we'll try to help.

We've created specific portfolio guidelines for each of our courses, you can take a look at these below.
If you've applied to study an online postgraduate (MA) degree, please refer to the AUB Online portfolio guidelines.
None of our courses currently require an interview.
The only course requiring an audition is BA (Hons) Acting and if you're invited to one you'll have at least 10 days notice.
Studios and resources
Our purpose-built North Light Studios offer a bright open plan feel yet also allow for personal workspaces for each student. Our studio layouts operate in a flexible way and we adapt the space for each incoming first year group. In the second and third year you can choose to be sited in studio zones dedicated to painting, sculpture and media and Performance (MaP). We offer a messy space/'setting up area' for building larger structures, a casting/plaster space as well as a dedicated canvas stretching area. We have several large and bookable project spaces to test ambitious ideas out, they are also useful to document your work. A large fine art green screen studio with specialist lighting is also available for video/film/photography/performance.
Because the studios are sited on a specialist Arts Campus there are fully equipped state-of-the-art workshops on hand for you to work in printmaking, metal, casting, Laser Cutting, Computer Numerically Controlled machines, plastic manipulation and vacuum forming.
Students can also book large drawing studios, such as the crab drawing studio, for themselves or groups when other courses are not using them.
The Fine Art studios are open until 21.00 Monday–Friday and until 17.00 on the weekends.
Teaching, learning and assessment
The course contains a rich mixture of taught activities that incrementally build practical and theoretical skills during the levels of the course.
Each unit is assessed separately, and the assessment forms part of the unit. Assessment both provides a measure of your achievement, and also gives you regular feedback on how your learning is developing.
For every unit of your course, we will inform you of what you are expected to learn; what you have to submit; how your work will be assessed; and the deadline for presenting your work for assessment. This is made available through Unit Information, which is on your course blog.
Demonstrations: Making skills are learnt
Workshops: Practical or theoretical projects
Individual tutorials: Discuss academic progress
Group seminars: Talk about art work, practice and ideas
Group critiques: Discuss art work critically and respond to questions
Presentations: Present art work or a slide show to peers
Lectures: Critically engaged visual presentations
Study visits: To local, national or international cultural places
External projects: Testing art practice through exhibition
These activities can take place both on and off campus and occur over all three years.
Independent study time is of fundamental importance for learning. We facilitate strategies to help students develop and manage independent learning.
Independent study time consists of two main activities:
1. Studio Practice (Praxis)
The skills and knowledge gained from the taught activities help inform individual work. Speculative material investigations take place. Uncertainty must be managed.
2. Contextual Research and Reflection
This can take place simultaneously in the studio and elsewhere, such as the AUB library or other off campus research centres that the student individually selects. We advocate that students conduct primary research.
It is also a time to be critically and analytically reflective about all types of work, and to decide on study plans.
The course promotes individual learning and teaching opportunities by adopting a student-centred ethos.
Elective choices can be made within each year of study. These include practical workshops, lectures, seminars, study visits and international university exchanges.
Contact hours include all scheduled teaching sessions, but also supervised time in the workshop or studio. In line with national guidance, we include in our calculation of contact hours all the time which is scheduled in the studio for independent study which is also supported by staff (either academic staff, or technicians).
The information provided below gives the proportion of your study time which constitutes contact hours. Where there are optional routes through the course, we have used the figures for the most popular option.
| Year 1 (% time) | Year 2 (% time) | Year 3 (% time) |
| --- | --- | --- |
| 60 | 60 | 60 |
Assessment feedback is designed to enhance learning. We consider assessment to be part of the learning process, and promote deep learning through encouraging students to reflect and discuss their assessment feedback.
There are two main forms of feedback:
1. Formative feedback for learning.
This is developmental, takes place during a unit and can be verbal or written. It is used to help improve learning and to enhance academic performance.
2. Summative feedback on learning.
This is written and specific to the learning outcomes of a unit and takes place when a unit is completed. It is used to give grades for each unit.
Our feedback is constructively critical, helping determine how the student work might progress academically.
You will receive a final mark for each unit in the form of a percentage, which will be recorded on your formal record of achievement (transcript). Each component of assessment is graded using a notched marking scale, whereby only certain marks are used within each grade. The only marks available within any ten-point band are *2, *5 and *8 (e.g. 62, 65, 68). These marks correspond to a low, mid, and high level of achievement within each grade band.

All learning outcomes must be passed to successfully complete the unit.
On successful completion of your Honours degree course, you will be awarded a degree classification based on your unit marks. The final classification is determined using all unit marks at Levels 5 and 6 using two different algorithms, which are detailed in the HE Student Regulations. If the two algorithms produce different results, you will be awarded the higher class of degree.
If you have joined Level 6 through either the Recognition of Prior Learning (RPL) route or having completed a Foundation Degree (FdA), the final classification is determined using only your unit marks at Level 6.
For further information on assessment, progression, awards and classifications, please visit https://viewpoint.aub.ac.uk
What our graduates are doing
Highly motivated graduates from this course go on to be leading contributors in a variety of fine art disciplines, whether as the next generation of contemporary artists, inspiring teachers, curators, or as assistants to renowned artists.
Our students go on to a broad range of destinations, these include:
HackelBury Fine Art – Gallery Manager
The Pineapple Group Ltd – Creative Project Manager
SpearWorks Jewellery – Jewellery Designer/Maker
James Glancy Design Ltd – Production Fabricator
Weston College (MA) – Art Tutor
Picture Production Company – Head of Editing
White Cube – Client Registrar
Adidas – Project Manager
Seen Displays – Senior Creative Project Manager
Museum of Art and Photography (MAP) – Associate Director
The Arts of Change – Art Therapist
Pinewood Studios – Prop Maker
Gloss – Gallery Manager
V&A – Internship
Digital Arts Organization – Assistant
Damien Hirst and Ian McKeever – Studio Assistant
ArtSway – Research Assistant as part of a Knowledge Transfer Catalyst Scheme
White Cube Gallery – Intern
Artworks artists studios – Founder
Goldsmiths College – PGCE study
You can find out more about our alumni by exploring their profiles.

Trips and visits
As part of your course you may also get the opportunity to take part in course trips, previous trips have included:
International:
Venice
Milan
Copenhagen
Kraków
New York
Madrid
Amsterdam
National:
Southampton
Salisbury
Somerset
London
*These trips are optional and some may incur additional costs
This year, we invited a number of industry experts professionals into our classes to give our students a valuable insight into Fine Art and industry. Guest lecturers have included:
Otobong Nkanga – Visual artist and performer. Her work explores the tension between exploitative extraction processes and structures of care and repair.
Jasmina Cibic – Film and installation artist. Her installations explore 'soft power' – how political rhetoric is deployed through art and architecture, particularly by the state.
Ingrid Pollard – Mixed-media artist and researcher. Pollard uses digital, analogue and alternative photographic processes, printmaking, image-text and artist books, installation, video and audio.
Caragh Thuring – London-based painter, originally from Belgium. Her paintings often examine the speed at which images are consumed, asking how much information is required and how slowly the process of looking can unfold.
Jennet Thomas – MILM, media and installation artist. Her work can look like an experimental film, children's drama or performance art - it's a call for complexity that collides genres, experimenting with collective constructions of meaning.
Sean Edwards – Turner Prize winner and represented Wales at the Venice Biennale
Hardeep Pandhal
Arts Catalyst
The motivation behind Global Networks is to cultivate inspirational and experimental learning environments and open up a world view for both student and tutor through exciting international projects. These optional projects, with one of our international partner organisations, aim to stretch and challenge the student's art practice and critical faculties whilst simultaneously increasing their awareness of broader social contexts.
Latest from BA (Hons) Fine Art
---