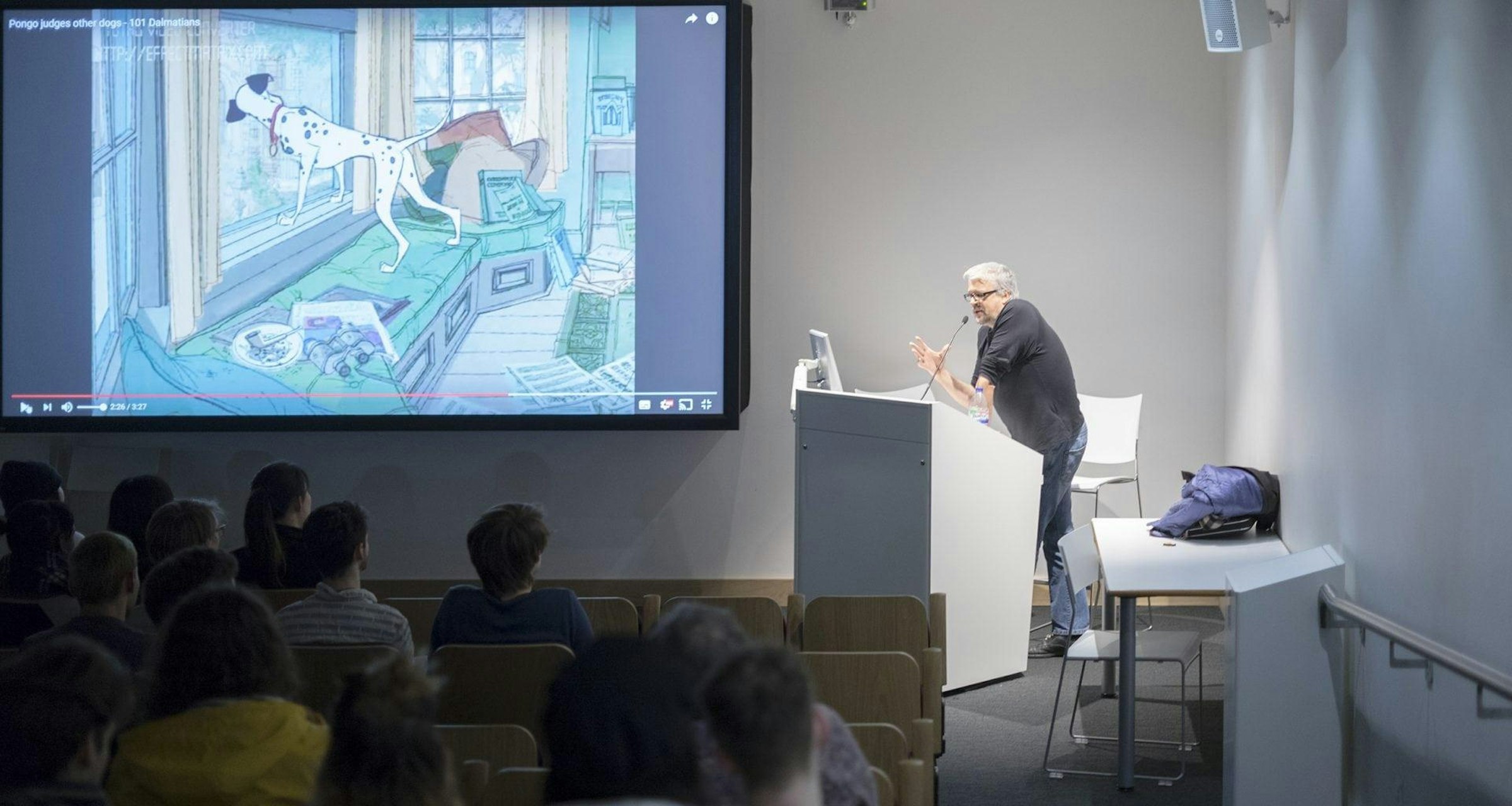 Chomet's impressive showreel includes the Oscar-nominated Belleville Rendez-vous (2003) and The Illusionist (2010). And in 2014, the Simpsons' couch got a satirical French makeover in Chomet's signature style.
Born in 1963, Chomet was raised in Seine-et-Oise, France and studied Art in high school. By the late 1980s, he up and left for London's Soho where his Animation adventure truly began.
Fervently enthusiastic about drawing as a whole, Chomet spent a week tutoring and lecturing MA and BA (Hons) Animation Production students in all things '2D' – his dedication to his craft was evident. We caught up with the self-proclaimed 'bad boy' of animation in the fitting locale of AUB's Animation Studio.
Did you always know you wanted to work in the animation world?
No, I never wanted to work in the Animation world. I wanted to tell stories and I had been drawing since I was two years old, so I wanted to tell stories through drawing. But being French, the natural [medium] was going to be comic books. So, after I graduated from school, I went to England to find some illustration work. At that time, in the late 1980s, there were a lot of animation studios in London – especially Soho. It was kind of a network of studios and everybody knew each other – it was really nice. As soon as you were part of that network you would find a job.
The first job I did was with Michaël Dudok de Wit. I was hired as an Inbetweener and Michael was a Senior Animator. That was when I decided to tell stories with drawings and animations, instead of comic books. There was one [Animation] school in France, but they basically trained people to work for Disney in the United States. It was very much a 'one style' kind of school. It was nice [working] in Soho as every commercial had a different style, so you could play with a lot of different techniques.
How did you find your personal style and approach to animation?
It's a hybrid really because my style is a 'French comic book' – the Belgian/French kind of comic books – Asterix & Obelix and more adult comic books. And that's my style really – Franco-Belgian with English techniques.
Also – I hope – the sense of humour [in my work] is a bit British because when I was in England I fell in love with Television shows like Blackadder, Fawlty Towers, French and Saunders, Monty Python – I wanted to have that kind of sense of humour.
What or who has influenced you the most?
My first inspiration was when I was a child. The only animation you would see going to the cinema was Disney. So the films at my time were The Aristocats and The Jungle Book – although The Jungle Book was before, it was one of my favourites. Everything is hand-drawn – the characters but also the backgrounds.
It was also a time when techniques were changing, they started to Xerox drawings. So, you would have a proper pencil drawing and you didn't go through a phase of tracing with ink, you basically lost the line. So it was pure animation. Visually, that's what influenced me the most. I wanted to do something as sophisticated as that.
Do you use any new technological advances in your creative process, or do you prefer a more traditional approach?
No, I don't prefer a traditional approach. At the end of the 1980s, I started to work in a studio where, at the time, we were still working with rostrum cameras and 35 mm. Some of the jobs I had to do were with the rostrum camera. It was dreadful because you couldn't use as many celluloid layers and you would have to compensate for the colour of a layer on top because it looked grey. The rostrum camera was a very complicated system.
But then in the meantime, there was a big progression in Digital. The second film I did was done digitally. It was hand-drawn but then it was scanned and all the colour was completed in Photoshop. So you could have a million layers if you wanted, which was fantastic.
These days, I've moved forward and I'm not using paper anymore, I draw directly onto the screen using TVPaint. It's much easier, but it's still a hand-drawn piece of work. I showed the [AUB] students a film that was done in a classical technique but with part of it completed in TVPaint and they didn't see any difference.
In your career, what has been your proudest moment?
In the big theatre at the Cannes Film Festival, I had a 20-minute standing ovation, you can't really beat that. Everybody was wearing tuxedos – that was really something. And then I won a BAFTA – I didn't even know I was nominated. I've also won a César Award, the first César featuring an Animation which was nice as well because it's a French award. But Cannes Film Festival was different because they screen the film and have a ceremony – it was quite a special moment.
What advice would you give to future animators looking to follow in your footsteps?
That they keep the fun of it – keep Animation as a fun [medium], and they are not doing it because they can't do live-action [films]. Having fun [is important] because most of the films we see these days at festivals are really serious. With all the heavy stuff happening [in the world] at the moment, try and make something humorous.
And what are your thoughts on the decline of 2D and stop-motion animation in favour of 3D?
The thing that's actually in decline is not 2D/Stop Motion but 3D Animation. It's become too expensive to make a CGI movie and the technique has now got to a point that most [3D Animation] films have the same characters – they all look the same!
It started with Toy Story; it was declared that 2D Animation was dead because we were going to move into CGI. CGI was supposedly going to be a lot cheaper. However, today it's actually more expensive as you need to render some really heavy pictures, and sometimes rendering takes more time than actually drawing it.
Also, I don't think anything is original coming from CGI Animation, and it should be. 2D Animation still has a lot of variety. I got a lot of happy faces when I said to the students 'you made the right choice' [choosing 2D Animation] because there are more and more films being done and it's getting cheaper. I feel that the 3D technique has got to a point that if you make it realistic it's going to just look like real life. It might look fantastic but it's not Animation. For me, it's reached a dead end, and people are getting fed up with always seeing the same style of the film.
Finally, what is your main message for aspiring Animators everywhere?
The main thing – as I was saying to the students – is to enjoy and have fun [with animation]. And be politically incorrect, that's what Animation is great for. Animation is for 'bad boys' and 'bad girls'.
Got the Animation bug? Discover more about our MA and BA (Hons) Animation Production courses.
Images left to right: Sylvain in the AUB Animation studio, Chomet's drawing, photos from his lecture to BA (Hons) Animation students