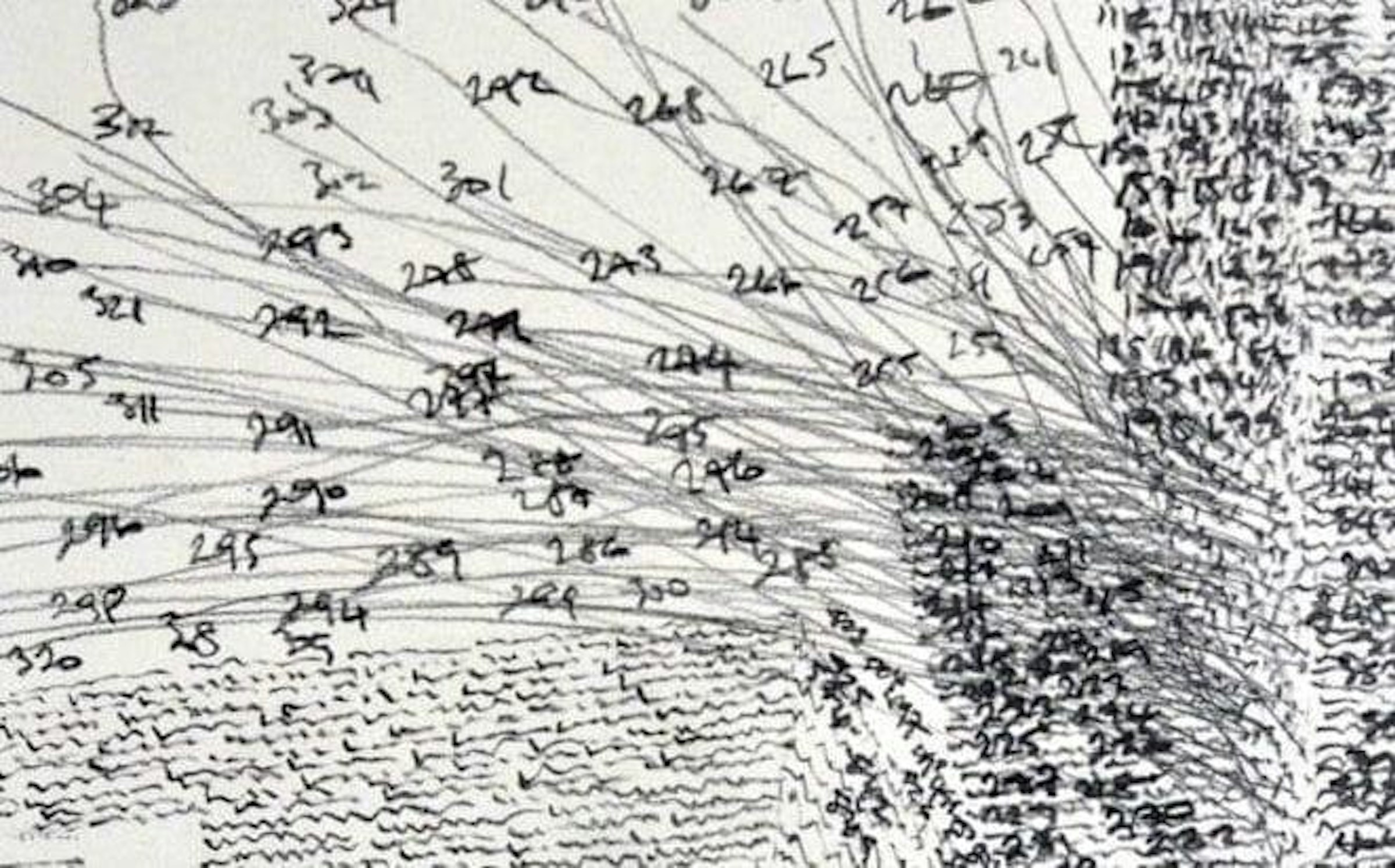 Transformative Matter Research Group.
Mechanical Human Matter aims to explore the complexities of material transformative processes within the human/machine spectrum using innovative approaches to drawing.
AUB Transformative Matter, Material Trace research group engages in practice-based research relating to innovative approaches to drawing. Operating within and across discipline-specific boundaries, it facilitates investigations into the capacity of materials to change or to be changed – and, in turn, to signify meaning, articulate ideas, convey knowledge and encourage reflective experimentation.
Activities build on the ongoing series of staff and student workshops, exhibitions and discussions, Collapsible Spaces; Places of Temporary Refuge, Camouflage and Ritual led by Professor Siân Bowen. Mechanical Human Matter takes place against a backdrop of increased interest in drawing as a means to understand processes of change and ever-shifting intellectual, cultural, and social landscapes – and to concerns relating to the materiality of form as an intermediary between the senses and the intellect.
Members of the Research Group engage with aspects of transformation through a wide spectrum of means ranging from the intimacy of direct touch to the almost total reliance on machines for creative realisation. Yet these varied means continue to extend concerns, which interrogate the unpredictability of the ephemeral and the impermanence of form and space.
This exhibition aims to explore the complexities of material transformative processes within this human/machine spectrum. It has evolved from a project of the same title devised for the group by Harry Meadows and Dominic Shepherd in order to interrogate these questions through practice. Each member of the group, together with AUB alumni and MA and BA students, placed themselves on the human/machine spectrum in terms of the processes used for the production of their work. They then exchanged drawings in order to experiment how the work might be taken in new directions.
The exhibited pieces are thus the co-production of an object formed through layered processes, which have been implemented by different members of the group. The exhibition poses questions about the roles of touch and mechanisation in artistic production and where we can collapse the human/machine binary.

List of exhibitors
Siân Bowen, Gideon Bohannon, Anthony Dixon, Simón Granell, Juliette Losq, Harry Meadows, Justine Moss, Denise Poote, Fran Norton, Lisa Richardson, Dominic Shepherd, Peter Symons, Preeti Sood, Andy Weir.
AUB Alumni
Brian Callinan, Ilona Skladzien, Clare Baskerville, Carrie Mason, Anna Moss, Alex Wilson.
Meet the Curators
Siân Bowen studied Fine Art at University of Newcastle and Edinburgh College of Art and spent four years in Japan having been awarded a Monbusho Scholarship to Kyoto University of Arts. Working across drawing, video and artist's books, ongoing interests relate to the transitional nature of material matter, light as an exploratory vehicle and boundaries between damage and the creative impulse.

As Resident Artist in Drawing at the V&A, London, 2006-8, she developed a body of site-specific works relating drawing to the multi-sensory nature of museum heritage – and which led to a solo show at the V&A. From 2010-12, as Guest Artist in Drawing at the Rijksmuseum, Amsterdam, she examined relationships between materiality and the ephemeral: prints conserved after having been discovered frozen in the Arctic for three centuries provided the framework for a new body of works that formed a solo exhibition at the Rijksmuseum. In 2013 she established a unique facility, PSN, for research and teaching relating to the material and conceptual aspects of paper at Northumbria University, Newcastle where she was Professor of Fine Art.
She is currently producing a new body of work in response to rare plants in Oxford and Edinburgh herbaria and in their natural habitats – as part of this project she carried out an artist's residency at Gurukula Botanical Sanctuary which is based in a remote area of the moist deciduous rainforest, South India. (Leverhulme Research Fellowship, Sensing & Presencing Rare Plants through Contemporary Drawing Practice, 2017-19). A major solo exhibition of these works, After Hortus Malabaricus, will be staged at Inverleith House, Edinburgh in 2020. Large-scale drawings and video works formed a recent solo exhibition in Changchun, China, and her work has been widely exhibited in Austria, France, Germany, India, Italy, Japan, Netherlands, Russia, Slovakia, USA and the UK. It is held in major public collections including the British Museum, London; Stanford University Special Collections, USA; The V&A, London: National Libraries of Germany and the Netherlands and the Rijksmuseum, Amsterdam.
As Professor of Drawing at AUB, she has been developing a series of interconnected drawing projects with students and staff, Collapsible Spaces: Places of Temporary Refuge, Camouflage and Retreat. She also leads the AUB research group, Transformative Matter, Material Trace and is Director of Studies for two practice-based PhD projects in drawing.
Peter Symons is a Fine Artist and currently a Senior Lecturer on the BA (Hons) Animation Production course at Arts University Bournemouth. His work for AUB has included: Course Leader for the BA Animation Production course (11 years to June 2018), Visiting Tutor, Senior Lecturer and Co-Director of the (Creative Skill Set) Screen Academy.
He has been a practising artist since graduating from the Slade School of Art (UCL), and also has an MA from Wimbledon College. His practice includes film installation, painting and drawing and he has exhibited in the UK and abroad.
Peter has Chaired Panel for the Trinity Wharf Drawing Prize including panel members Professor Anita Taylor and Professor Tania Kovats, November 2018.
He has also Presented academic research Papers including:
"Collecting from the Collectors" at the Salford University/MAF Educating Animators conference November 2018.
'The continuing importance of collecting research through direct observational drawing on location in museums' in June 2018 at the RAI/British Museum/SOAS Art, Materiality & Representation conference at the British Museum and SOAS.