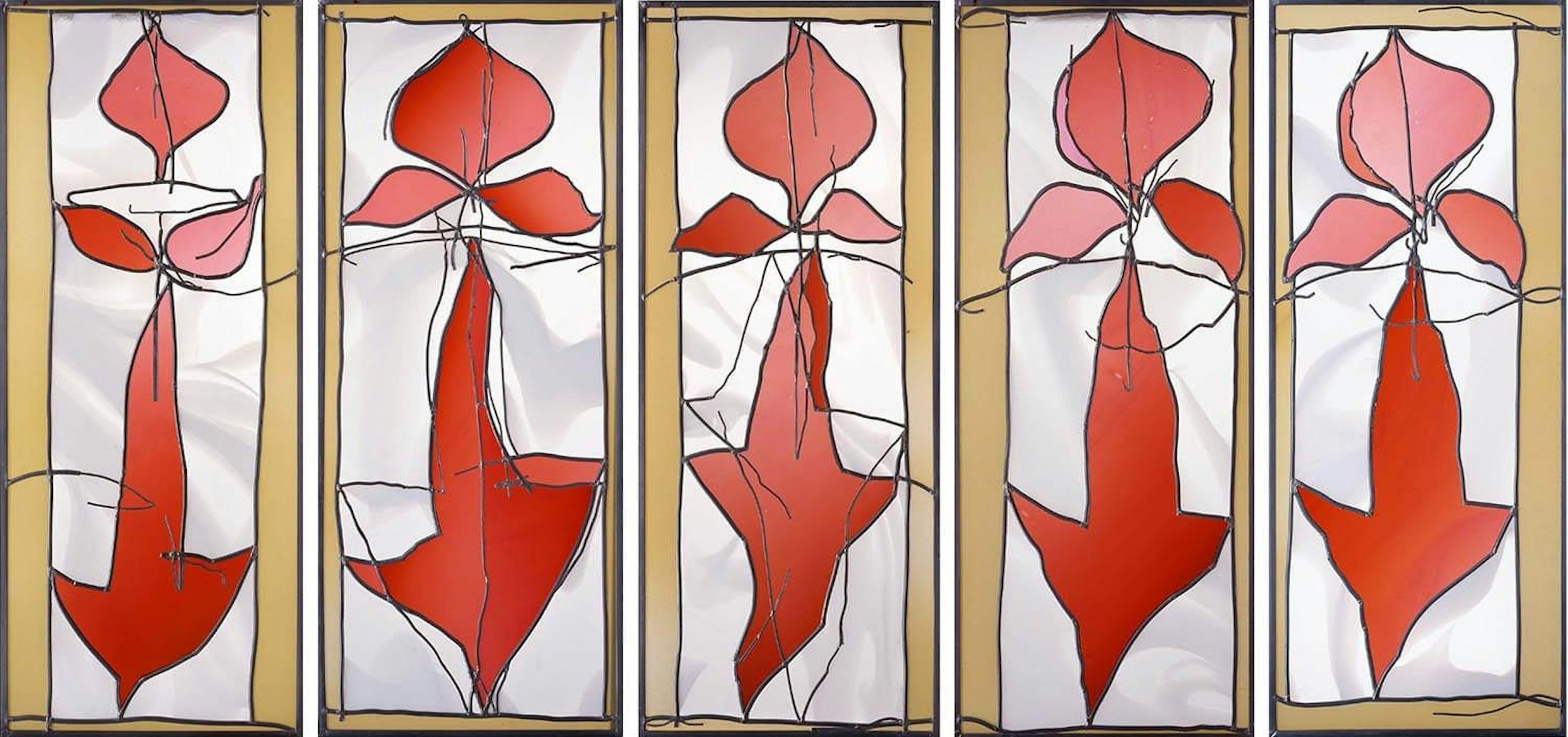 This exhibition is about the role of drawing and the line in the work of Brian Clarke.
TheGallery is proud to present the exhibition Brian Clarke: On Line. Having been a major figure in contemporary art and architecture for over four decades, Brian Clarke is renowned for his large-scale architectural stained glass work often created in collaboration with leading architects such as Norman Foster, Oscar Niemeyer and the late Zaha Hadid.
This exhibition showcases a selection of his stained glass, works on paper, paintings, and sculpture that highlights Clarke's commitment to drawing that is used as a tool for all his practice from stained glass to paintings.
Throughout his career, Brian Clarke has continually pioneered new directions in stained glass while also extending his practice to painting, sculpture, and ceramics. Practising in both secular and sacred spaces, Clarke has created stained glass designs and art installations for hundreds of projects worldwide, working with leading figures in both contemporary art and architecture.
The Brian Clarke exhibition takes place in TheGallery, which is a unique space set within the Arts University Bournemouth that helps to inform student learning, inspire creativity, and develop connections within both the student body and our external community.

Brian Clarke: Collection
His work encompasses a variety of mediums including paintings, stained glass, screenprints, collage, constructions, ceramics, mosaic, furniture, sculpture, tapestry, jewellery, and ironmongery. These works can be found in architectural settings and private and public collections internationally, including the Tate, Victoria and Albert Museum, the Bavarian State Painting Collections at Museum Brandhorst, Munich, the Sezon Museum of Modern Art, Tokyo, and the Corning Museum of Glass, New York.
Brian Clarke was born in Oldham, Lancashire, in 1953. A lifelong exponent of the integration of art and architecture, and celebrated for his work on canvas, in sculpture, ceramics, mosaic, tapestry, and his radical innovation in stained glass, Clarke is a major figure in the contemporary art of the last four decades. Practising in secular and sacred spaces, his architectural collaborations include work with Zaha Hadid, Norman Foster, Arata Isozaki, Oscar Niemeyer, I. M. Pei, Future Systems and other leading figures of modern and contemporary architecture, creating stained glass designs and art installations for hundreds of projects worldwide.
A selection of projects include: the Pyramid of Peace in Kazakhstan; the Al Faisaliyah Centre in Riyadh, Saudi Arabia; AGM HQ in Kassel, Germany; Apax Partners HQ, London; the Hôtel du Département des Bouches-du-Rhône, Marseille; the Lake Sagami building, Japan; the Dutch National Ballet, Amsterdam; Pfizer World Headquarters, New York; the Stamford Cone, Connecticut; Paul McCartney's World Tours; the Royal Mosque at King Khalid International Airport in Riyadh; NorteShopping, Rio de Janeiro; the Victoria Quarter, Leeds; Abbaye de la Fille-Dieu, Switzerland.
Paul Greenhalgh trained originally as a painter before organically drifting into being a writer/historian. He has worked in a number of countries and is Director and Professor of Art History at the Centre for Visual Arts at the University of East Anglia, UK. Previous roles include Director and President of the Corcoran Gallery of Art, Washington, DC President of NSCAD University, Halifax, Canada; Head of Research at the Victoria and Albert Museum, London. He has published many books and articles and is currently working on books about skill in the modern period, and the history of ceramics.