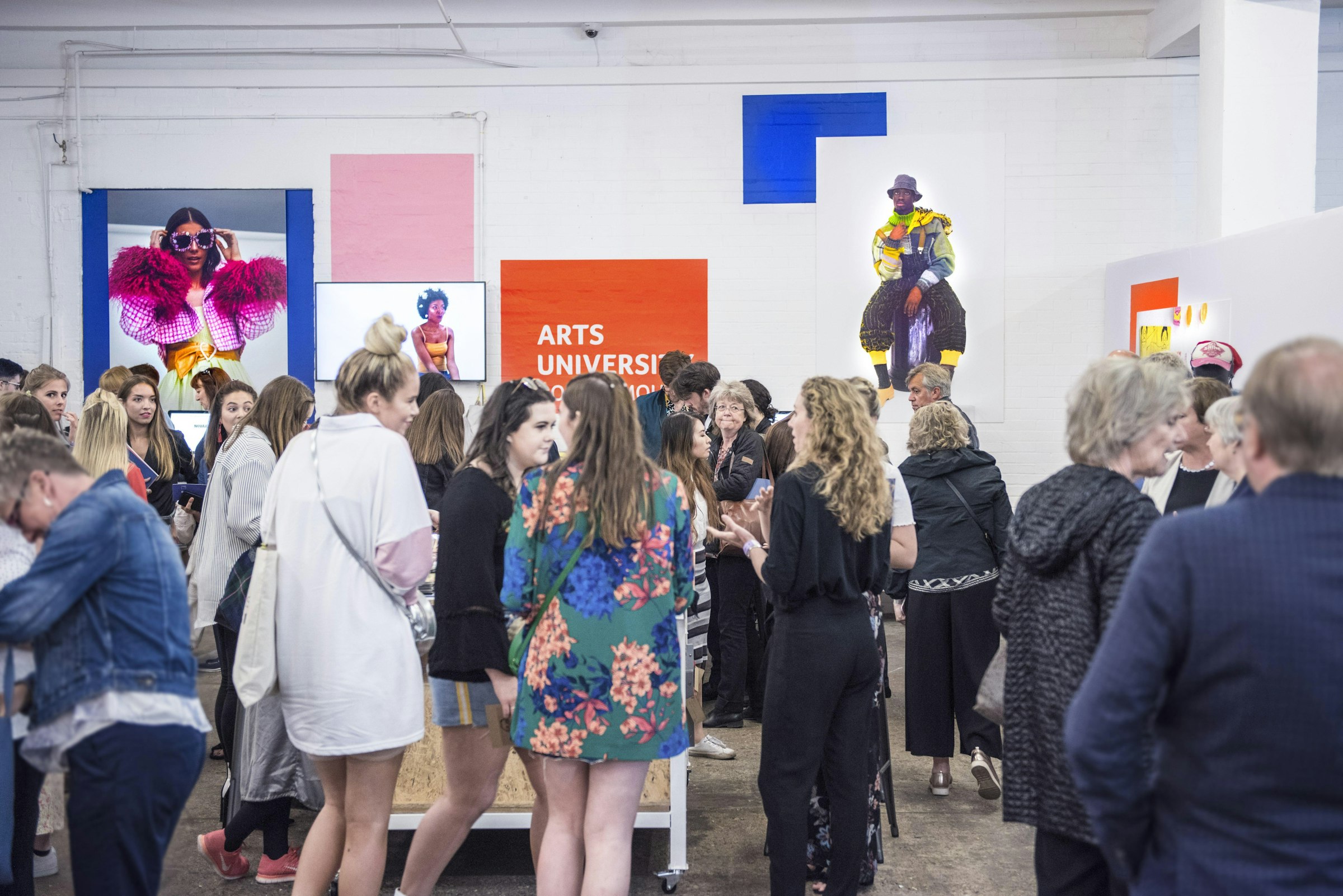 Each year Graduate Fashion Week takes over London's East End Truman Brewery to host the biggest and most exciting catwalk showcasing student talent. Four days of catwalk shows featuring each university take place, followed by a Gala Awards ceremony with categories judged by industry leaders.
The highly sought-after Christopher Bailey Gold Award was this year awarded to AUB graduate, Rebecca Wilson for her menswear, womenswear and childrenswear collection. A prize of £10,000 for Rebecca and £2,000 to the university has been awarded for her collection inspired by Victorian working class clothing and family portraits, looking at beauty in the wear-and-tear of garments. On the back of her Graduate Fashion Week success, the 22-year-old has a bright future ahead of her and is now in discussion with major fashion houses regarding future employment.
On winning the event's most prestigious award, Rebecca said:
"Graduate Fashion Week is an amazing opportunity and platform for talented students, not just in the UK, but across the globe, to showcase their skills and work. This week has allowed me to connect with industry experts that I would never have had the chance to meet without the event. Never in my wildest dreams did I expect to win such an admired and respected award.
"I remember watching last year's winner, Halina North receive the prize and thinking what an incredible achievement, and now to have experienced it myself, I am totally overwhelmed. The guidance and encouragement from my tutors and technicians at AUB has been incredible. A fashion degree is both mentally and physically challenging, but having constant support and tutorials has allowed me to reach my full potential. By winning this award, it has presented me with opportunities beyond my expectations and I am excited to see what the future holds."
Seven awards were won in total by AUB graduates as they showcased a diverse range of collections, including, womenswear, menswear, childrenswear, footwear and print-design:
AUB Graduates' Seven Awards
Christopher Bailey Gold Award: Rebecca Wilson, Winner
Vivienne Westwood & Lectra Award: Alice Kiernander, Winner
Mothercare Kidswear Award: Sarah Fielden, Winner
Clarks Footwear Award: Charlie Mein, Winner
Publication Award: Emma Dearling, Winner
Debenhams & Henry Holland Design Award: Elizabeth Welland, Winner
Bon Marche Fashion For All Award: Sakara McShane, First Runner-up
"Arts University Bournemouth's catwalk show captures the commitment and innovation that the university strives for!" – Graduate Fashion Week tweeted following the AUB show.
Iain Archer, Course Leader BA (Hons) Fashion and BA (Hons) Fashion Branding and Communication, commented:
"As a team of staff we are beyond proud of the multiple achievements and accolades the 2018 graduates received. With over 5,000 graduate bodies of works shown at Graduate Fashion Week across multiple fashion disciplines, their talent, dedication, commitment and endless hours of hard work has paid off and they can now start to reap their rewards, which are well earned and deserved.
"For Becky, winning the GOLD award is acknowledgment of her incredible talent, commitment, creativity and dedication. This award will open endless doors for her and elevates her career opportunities at another level. We are very excited to follow her future."
The Christopher Bailey Gold Award, named after the first winner of the award in 1992, Christopher Bailey, had an esteemed panel of judges, including Diane Von Furstenberg, GFW Global Ambassador Christopher Raeburn, Kevin Carrigan, Senior Vice President and Creative Director of Ralph Lauren, Gillian Wilkins, Fashion Director, Elle, Gena Smith, SVP, Head of Global Creative Recruitment, LVMH, Mandi Lennard, Fashion PR and Founder, Mandi's Basement, Nathan Jenden, Chief Design Officer& VP Creative at DVF, Duro Olowu, Senior Fashion Director at LOVE Magazine and Tim Blanks, Editor-At-Large, Business of Fashion.
The judges based their decision on a multidisciplinary selection of factors, focusing on a collection that demonstrated an exceptional ability in its creative process, design, cut and craftsmanship, as well as the colours and fabrics used. Both innovation, creativity and concept development were noted, as the judges selected from the top 25 collections.
With a 98% graduate employment rate, AUB has the joint highest graduate employment rate of any English University, according to results released in a recent DLHE (Destinations of Leavers from Higher Education) Survey. AUB Fashion graduates have gone on to work with leading fashion brands, including: Burberry, Missoni Italy, Celine, Ted Baker, COS and Hackett.
Congratulations to everyone in AUB Fashion!

Find out more about our BA (Hons) Fashion and BA (Hons) Fashion Branding and Communication courses.