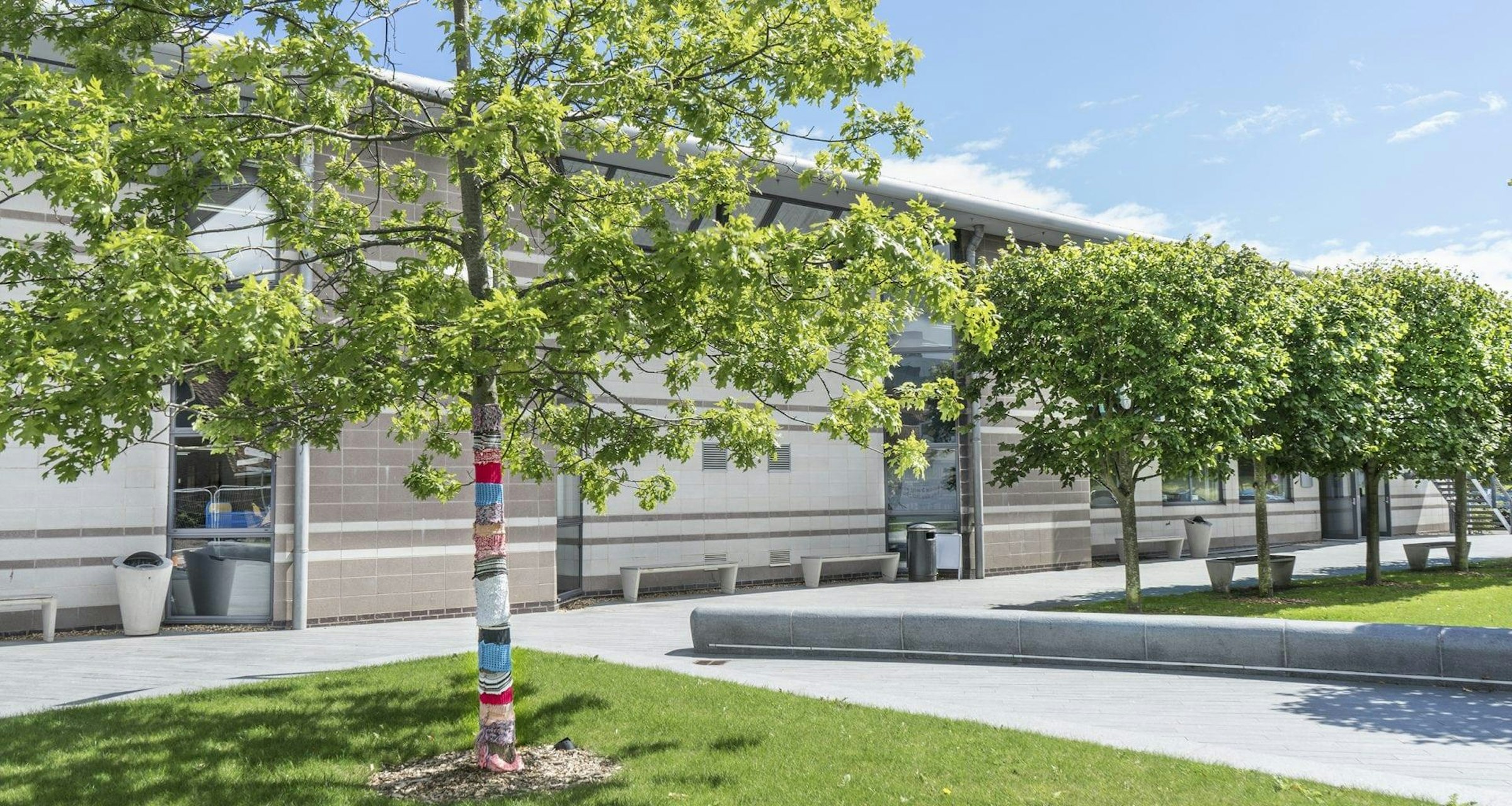 Staff and students from Arts University Bournemouth (AUB) have been celebrating the awarding of a top environmental standard after a rigorous two-year auditing process by international standards body ISO.
The international standard ISO14001:2015 specifies the requirements for an environmental management system that an organisation can use to enhance its environmental performance by managing its environmental responsibilities in a systematic manner. AUB will also gain EcoCampus Platinum, a national environmental management system award scheme for the further and higher education sector.
The awarding comes after a year of efforts to minimise environmental impact through a number of campus and university-wide initiatives. In 2019, AUB produced less waste than it did in 2013 despite campus growth and development, with a record-high campus recycling rate of 59 per cent and record low carbon dioxide equivalent emissions and energy use, in line with the university's sustainability plan.
AUB's Sustainability Awards has celebrated final-year student work with an innovative approach to sustainability, and AUB Students' Union has continued its 'Pack for Good' initiative which sees students recycle and donate their unwanted clothes through a national charity. The Students' Union have also worked to achieve a rating of excellent in Green Impact, a United Nations award-winning programme designed to support environmentally and socially sustainable practice.
AUB will also install a dedicated Beryl-bike bay at its Wallisdown campus, continuing to encourage sustainable travel for both staff and students, and has removed plastic cups from the campus completely, piloting a scheme to subside the purchase of metal water bottles for its staff and students.
Bournemouth Film School, the University's award-winning department for film, TV, media and performance has also committed to the environmental certification body, Albert, which ensures that productions actively reduce their carbon footprint.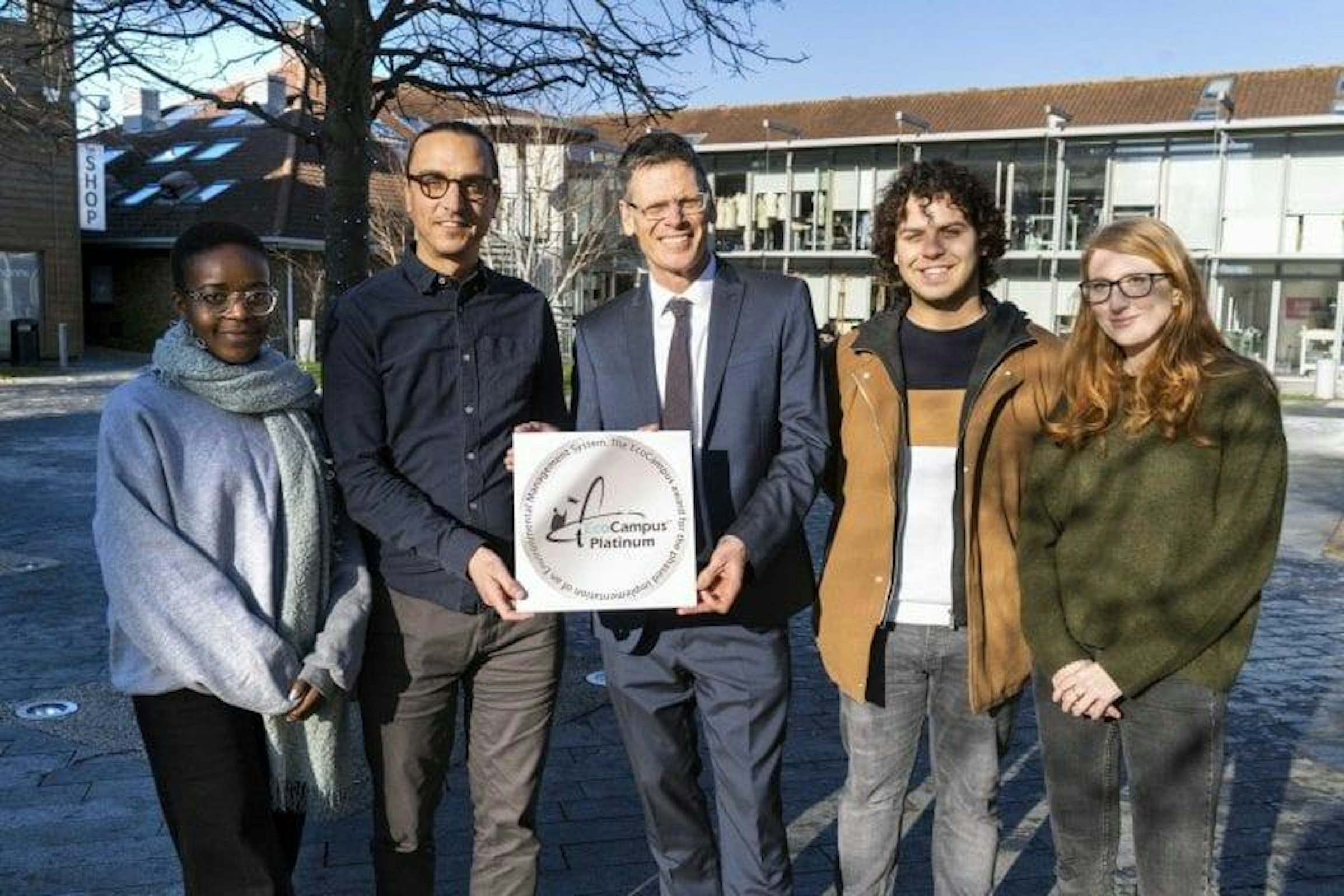 Professor Paul Gough, AUB Principal and Vice Chancellor (centre), joins James Jackson, Senior Campus Services Officer, and members of AUB Students' Union Executive Team to celebrate the awarding of EcoCampus Platinum.
New building developments at the campus have strong focus on sustainability in their design, using a mixture of solar panels, air source heat pumps, natural lighting and heating systems powered by electricity from renewable energy sources that is supplied to the whole campus. The university will also purchase green energy to power its electric heating systems used in the new student halls building, which will be completed later this year.
These new projects are aligned with the introduction of new cycling facilities and improvements to local infrastructure to enable sustainable travel to and from the campus.
James Jackson, AUB's Senior Campus Services Officer, who oversaw the auditing process for the standard, said: "We're really pleased to have gained such invaluable accreditation for our work to enhance environmental performance across our organisation and campus.
"The auditing process and accreditation is a landmark moment of a two-year project to embed sustainability in the University, backed by the new Strategic Framework and that draws further attention to a number of initiatives that the University community has run over the past year.
Professor Paul Gough, AUB Principal and Vice Chancellor said: "The awarding of both the ISO standard and EcoCampus Platinum further recognise our continued commitment to the environment."
He added: "Our new buildings will be consistent with the standard and its role in minimising impact and maximising management that places our environment at the heart of everything we do."