Architectural designs from students at Arts University Bournemouth offer a glimpse into the future of Poole town centre.
Students at Arts University Bournemouth, in collaboration with local stakeholders and Poole BID, have unveiled architectural designs which re-imagine Poole town centre and have the potential to save Poole High Street by introducing brighter, more vibrant space for residents to enjoy.
Taking inspiration from the town's heritage in craft, the ground-breaking designs are the result of an ongoing collaboration between AUB's BA (Hons) Architecture course students, stakeholders and Poole BID to tackle the decline of Poole High Street and reconnect the two sides of Poole's town centre. The long-term project is a demonstration of the students' real passion for not only design but the local community they are living in.
The works are part of the Poole 2058, an initiative which explores alternative future ways of living and working in Poole over the next 40 years, as well as tackling how the town's heritage and memories can be woven into this future vision.
This month, people will also be able to see the designs on display in two exhibitions which form part of the Light Up Poole Festival from 21 – 23 February. The first exhibition, Poole alternate living and working, will explore how illuminating Poole at different times of day can create a sense of openness and includes some work from the AUB Architecture Master's students. The second, Poole atmospheres, tones and experiences, will look at bringing the history of the town into its future, through tonal colours and materials relating to Poole. The exhibitions will be held in AUB Architecture's Containers from 21 – 23 February: the first container is situated on the High Street and the second at Poole Quay.
BA (Hons) Architecture course leader Simon Beeson said:
"The designs of the students offer the chance for the people to take a glimpse at the potential futures of Poole and how the town may evolve over the next four decades.
At AUB we pride ourselves on working closely with regional organisations and stakeholders, not only to offer opportunities to our students but to also give back to the community and the time and dedication from our students involved in this activity demonstrates how much they care about the community they are living in, improving it for themselves and others.
There is a wealth of skill being nurtured at AUB, and this project is an example of how young creative talent can be harnessed and shared to maximum effect."
Justin Hundley-Appleton, Poole Business Improvement District Manager, said:
Poole BID is independent of the local council, Borough of Poole. A BID manager is responsible for working with local businesses who are levy payers that fund the BID. BID projects generally aim to increase footfall and dwell-time in a town or city and this includes producing marketing and events to promote the district.
What makes Poole BID special however is that in addition to this, it is leading the development of strategies to regenerate the High Street. This includes looking at creating the High Street as an attractive place to spend time within and is about building communities. In relation to this, a creative opportunity arose in the latter part of 2016 where the AUB Architecture course started to collaborate with Poole BID to realise some of these ideas. Resultantly, AUB Architecture students and Poole BID are able to create special projects including accurate large-scale models of Poole, architectural drawings and exhibitions promoting alternative thinking and ideas about the area.
With Poole BID, the architecture students engage with the public, town councillors, stakeholders and the borough's planning department to help regenerate the High Street.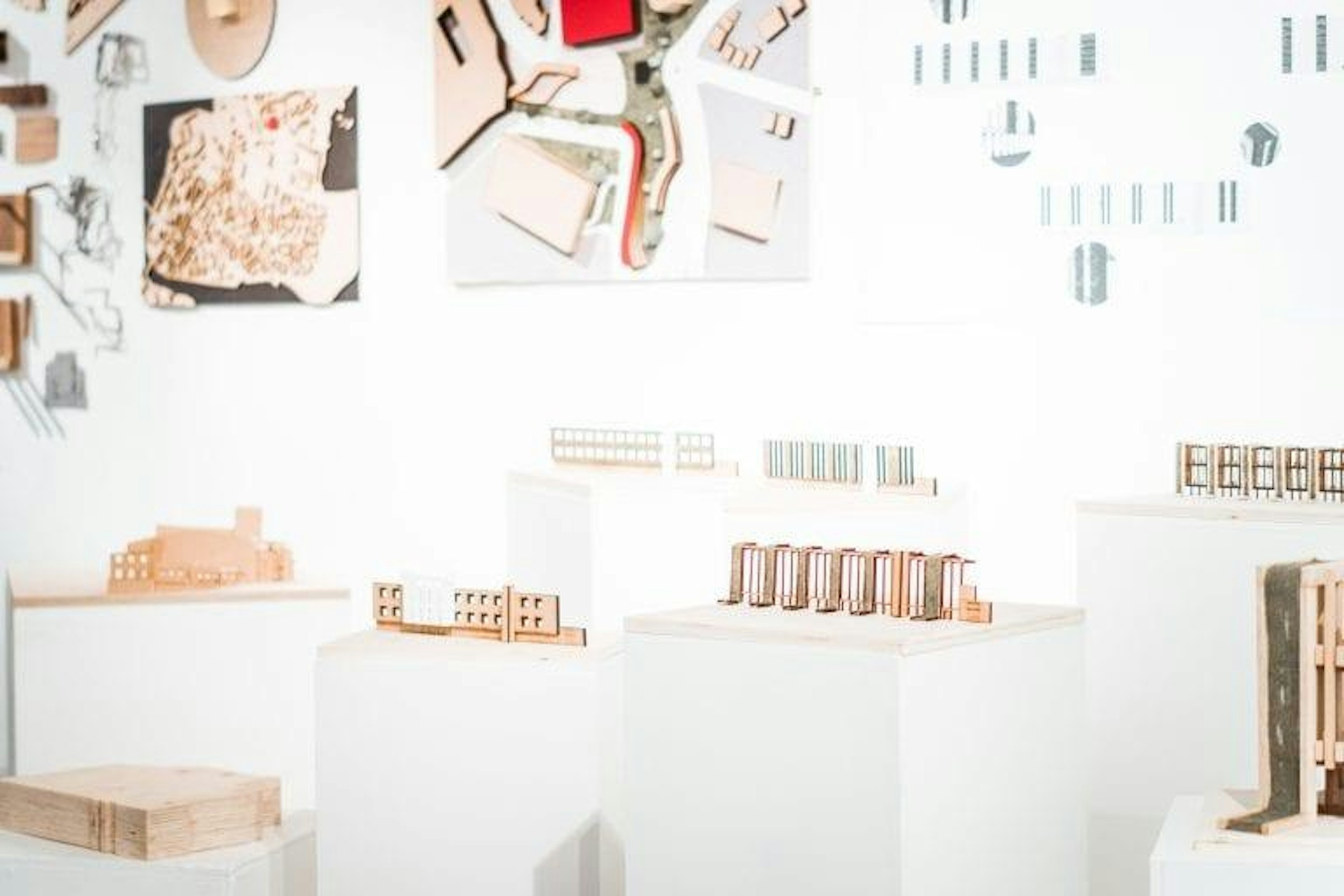 Student projects include designs of Poole Park which have been illuminated in distinct ways to create public squares and facilitate community moments. Other sketches include re-worked elevations of the high-street which build on existing structures and make subtle but impactful changes that fully maximise the spaces.
The work of AUB's Architecture students have not only been exhibited on a regional level at Light Up Poole Festival and in the Lighthouse, but the work of three of the undergraduate students – Alex Weston, Adam Stanford and Ben Palmer – has also been displayed in the British Pavilion at the 2018 Venice Architecture Biennale, Italy, with funding by the British Council, along with their Master's student cohort, who led the project.
Find out more about BA (Hons) Architecture here.
As daylight fades, Poole will provide a dramatic backdrop to series of interactive digital Light Art installations designed to inspire, delight and enchant locals & visitors. Both emerging and International artists will showcase their ground-breaking work in a celebration of Poole's cultural diversity, rich heritage and unique location.
Interactive public spectacles and intimate installations positioned at key locations both indoors and outdoors, will challenge perceptions that art is elitist and allow more people to engage and experience great art, technology and culture.