You are using an outdated browser. Most of this website should still work, but after upgrading your browser it will look and perform better.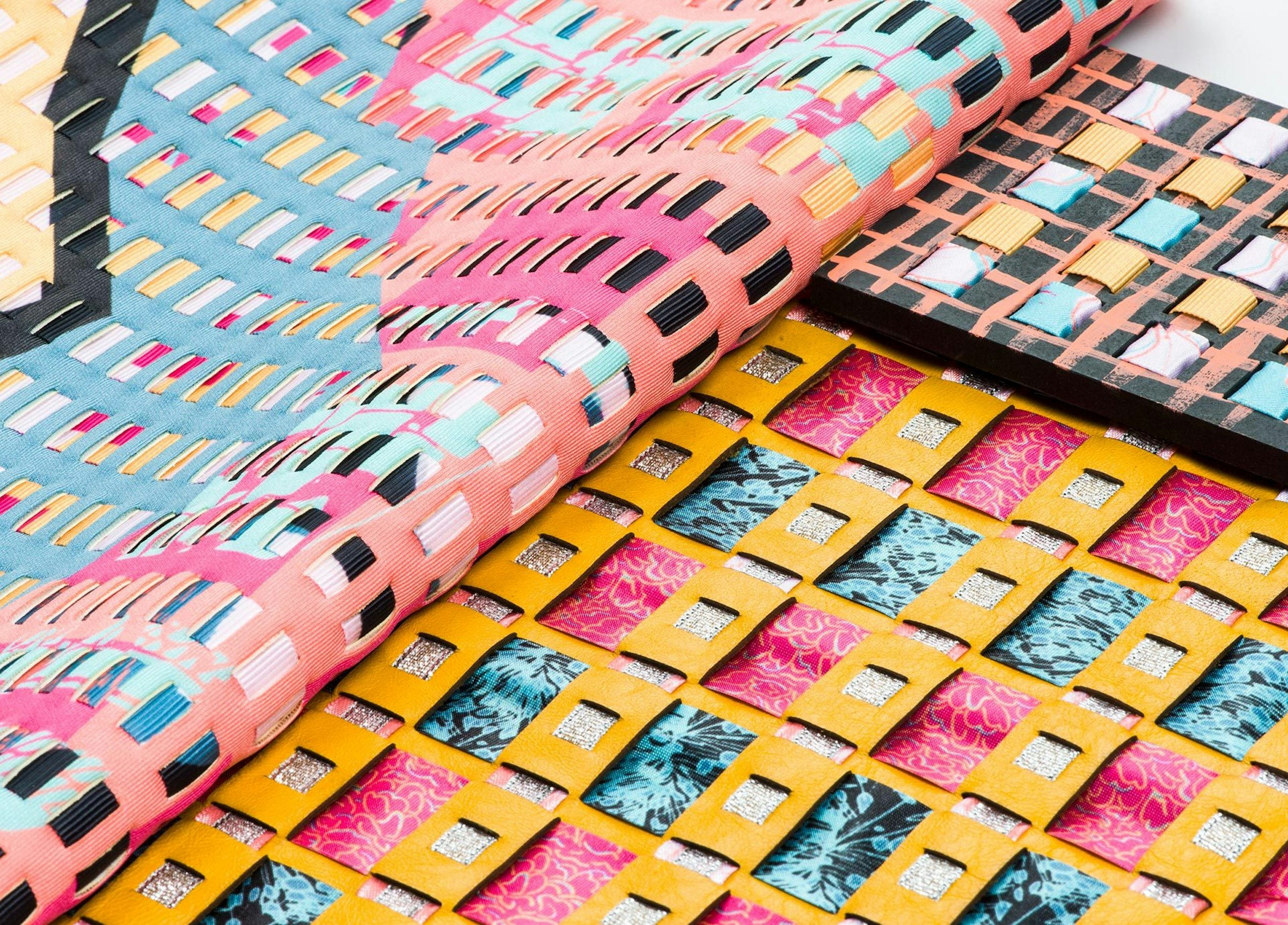 BA (Hons) Textiles
Duration:

3 or 4 years full-time

Placement year:

Optional 1 year

Course code:

W236 (UCAS)

Institution code:

A66 (UCAS)
Overview
On this course, you'll learn the practical, professional and entrepreneurial skills to work as part of a team, or even set up your own business in Textiles.
Course information
This course is perfect for you if you have a love of colour, pattern, texture, fabric, materials, surface design, making, decorative drawing, decoration, constructing, manipulating, and practical engagement.
Textiles is a huge global industry that constantly surrounds us, on floors, walls, furniture, clothing and fashion, gift-wrap, cards, and even car interiors. It is one of the largest design skill sets used globally.
On this course you'll learn practical, professional and entrepreneurial skills that equip you to work as part of a team, or even set up your own business in textiles.
You'll study textiles in its widest sense and learn many skills, from print, stitch embellishment to dyeing and mixed media construction. You'll have the opportunity to focus on a variety of specialist areas, including textiles for fashion, textiles for interiors and textiles as design/crafts.
Traditional skills are taught together with expertise in modern design development, production, and contemporary invention. Whether you go on to work for a retail brand, or an international design house, we will prepare you for the challenges that the creative textile industry holds.
We've also formed an AUB textiles Agency to promote student work at Premier Vision Paris and London Print Textile Trade Fairs. Students have engaged with industry – experiencing how the business buys and sells textiles.

| | |
| --- | --- |
| Course duration | 3 or 4 years (full-time) |
| Placement | Option of a 1 year placement |
| UCAS course code | W236 |
| UCAS institution code | A66 |
Placement year
All undergraduate courses at AUB offer an optional placement year, to be taken between your second and third years of study.
If you're unsure about this optional placement, you don't need to decide now. Once you're here and studying with us, the course team will discuss the placement options with you, so when the time comes, you can make a decision that's right for you.
If you're required to have a Student Visa to study in the UK, it won't be possible to undertake the one-year placement option; there'll be other opportunities for you to engage with industry during your study at AUB.
Level 4 (first year)
Your first year provides you with a sound practical base for the study of the subject, contextualised by parallel study of aspects of contemporary, historical and visual culture.
Projects, lectures, seminars, practical demonstrations, visits, case studies, guided reading and tutorials will be used to disseminate information and develop the necessary skills. This will provide you with the opportunity to learn through experimentation and discovery, and develop skills within a personal context.
You'll be introduced to a variety of applications and to the fundamentals of critical theory and professional studies that will underpin your knowledge of textiles and their design, production and creative usage.
Work placements are run during the end of the first year of study, for a minimum of ten days and up to a maximum of one month. On your return, you'll present a report based on your experience.
PREVIOUS PLACEMENTS OBTAINED BY STUDENTS:
Matthew Williamson Fashion
Mary Kantranzou Fashion
Mirijam Rouden Fashion designs/print
Ralph & Russo Couture embroidery
Mollie Regan Textiles Couture Hand embroidery
Peter Pillotto Fashion
Tatty Devine Accessories
Custhom Wallpapers and interiors
Alexander McQueen Fashion
Zandra Rhodes Printed textiles/fashion
Timorous Beasties Wallpapers
Hallmark Gift
Bay and Brown Interior Print
Julien Macdonald Fashion
Mina Perhoven Fashion print
Fat Face Fashion
Debenhams
MissPrint Interiors
House of Holland Interiors
Designers Guild Interiors
Kit Miles Interiors
Burberry Fashion
Jane Bowler Fashion
Level 5 (second year)
Your second year will focus on your individual interests and ensure that your professional and technical skills mature through first-hand experience with industry specialists.
The units anticipate that you will be able to apply the knowledge, concepts and skills addressed in your second year to fully exploit the range of opportunities for your personal creative development.
You'll work with fellow students on live industry briefs and enter major national and international competitions.
Previous briefs have included: Hand and Lock, live fashion studio briefs Style Council NY, and live Gallery briefs.
Level 6 (third year)
Your third year allows you to refine your existing creative practice, develop your skills and reflect upon your experience and direction formed from previous study.
The course nurtures students to develop into original, mature and autonomous textile practitioners, encouraging them to lead rather than respond to industry trends.
The integration of theory and practice is promoted and reinforced through a team teaching approach. Lectures, seminars and tutorials may be delivered by team members, as appropriate, in the creative environment of the studio.
You'll be encouraged to formulate and identify your particular skills and potential. Risk and ambition within the field will be crucial to your individual development. Intellectual and academic integrity will be further encouraged, both through written content and 'thinking through practice'.
External experiences are highly prized throughout, from course trips to textile trade shows e.g. Premiere Vision Paris, to New York visits, to London exhibitions e.g. New Designers, Islington.
This year also focuses on employability, building professional portfolios and gives students the opportunity to participate in mock interviews.
All students are registered for the award of BA (Hons); however, exit awards are available if you leave the course early, having successfully completed one or two levels. If you successfully complete a level of the course, you will automatically be entitled to progress to the next level.
For the award of a Certificate of Higher Education (CertHE), you must have achieved a minimum of 120 credits at Level 4. This qualification may be awarded if you leave the University following successful completion of the first year of your course.
For the award of a Diploma of Higher Education (DipHE), you must have achieved a minimum of 240 credits of which a minimum of 120 must be at Level 5. This qualification may be awarded if you leave the University following successful completion of the second year of your course.
For the award of a BA (Hons) you must have achieved a minimum of 360 credits of which a minimum of 240 must be at Level 5 or above, of which a minimum of 120 credits must be at Level 6. This qualification will be awarded upon successful completion of your course.
A BA without Honours may be awarded if you have achieved 300 credits, at least 180 of which are at Level 5 or above, and at least 60 of which are at Level 6.
Overall Winner - One Year On New Designer of the year
Winner – New British Design Award for Furnishing Fabrics
Winner – Homebase Wallpaper Design Competition
Winner – Mamas and Papas Design Award
Winner – Who's Next Paris Award for Fashion Fabrics
Selected by the Design Council – One to Watch
2022/23

2023: New Designers Winners:

New Designers Romo award for Innovation, Colour and Design – Georgia Dunn
New Designers Clothworkers Company Award for Printed Textiles – Hayden MacKenzie
New Designers Decorex Sustainability Award – Georgia Johnson
New Designers (Second Prize) for Tu; Fashion creative pattern and colour award – Sophia Shorrock

2023: Batsford Applied Arts and Textiles Prize – Pia Elliott
2023: Robin and Lucienne Day Foundation Prize – Hannah Lyness
2023: Issy Hamilton and Emily Garbutt – exhibitions at the Festival of Quilts NEC, shortlisted for the student prize
2021/22

2022: New Designers Winners:

Liberties of London Print Prize – Winner
Wilko Surface pattern Prize – Winner
Contrado Print - Winner
OPPO Prize – shortlist

2022: Batsford Applied Arts and Textiles Prize – Winner and two shortlisted
2022: Hand & Lock Prize – London Exhibition Nov 2022 – one shortlisted
2022: Hand & Lock Wilcom Prize – London Exhibition Nov 2022 – two winners
2022: Robin and Lucienne Day Foundation Textiles Award – Winner – Fleece to Floor and three Highly Commended
2022: Bradford Textiles Society – Luxury Fabric Award and two commendations for Campaign for Wool and Wool Prize
2022: Embroideries Guild Graduate Sponsorship Award three shows (Alexandra Palace and Harrogate Stitch and Knit shows)
2022: Quilters Guild Festival of Quilts and four NEC Student shows
2018/19
2019: Winner – New Designers – W'innovate Prize for Print
2019: i-Dott – Print Prize
2018/19: Hand & Lock Embroidery winners/runners-up – Bishops gate
2018/19: Quilters Guild – Student Bursary Award NEC Quilt exhibition
2018/19: Robin and Lucienne Day Foundation and AUB Prize for Textiles
2018/19: TexSelect Prize Winner
2018: Winner – New Designers – Wilcom Prize for CAD embroidery – (fashion)

2018: Winner – New Designers – Bianco Turner prize for Homeware
2018: Runner-up SBID Design for Business Student Design Competition
2016/17
2017: Winner – Roces Graphic Competition
2016/17: Quilters Guild – Student Bursary Award
2016/17: Robin and Lucienne Day Foundation and AUB Prize for Textiles
2016: Winner – Textiles Society Student Bursary Award (fashion fabrics)
2016: Winner – Costume Society Award (writing)
2016: Winner – Creative Pool Award (product design)
Course team
Our team is made up of specialists in disciplines that span the industry. You can read more about their experience by browsing their staff profiles below.

Textiles is a hidden design form. You get up in the morning, you get out of bed — your duvet is covered in pattern and colour. You go down the stairs — the wallpaper is the same, and the curtains, the clothes that you are wearing every day are designed with colour and pattern, even down to the patterns for gift wrap and on the front of the book you're reading. An absolute love and passion for colour, detail and craft are the core traits of a fantastically inventive and creative textile designer.
Watch our videos
Watch BA (Hons) Textiles course leader Anne-Marie Howat explain what makes a great textiles designer. You can also preview student work from this course.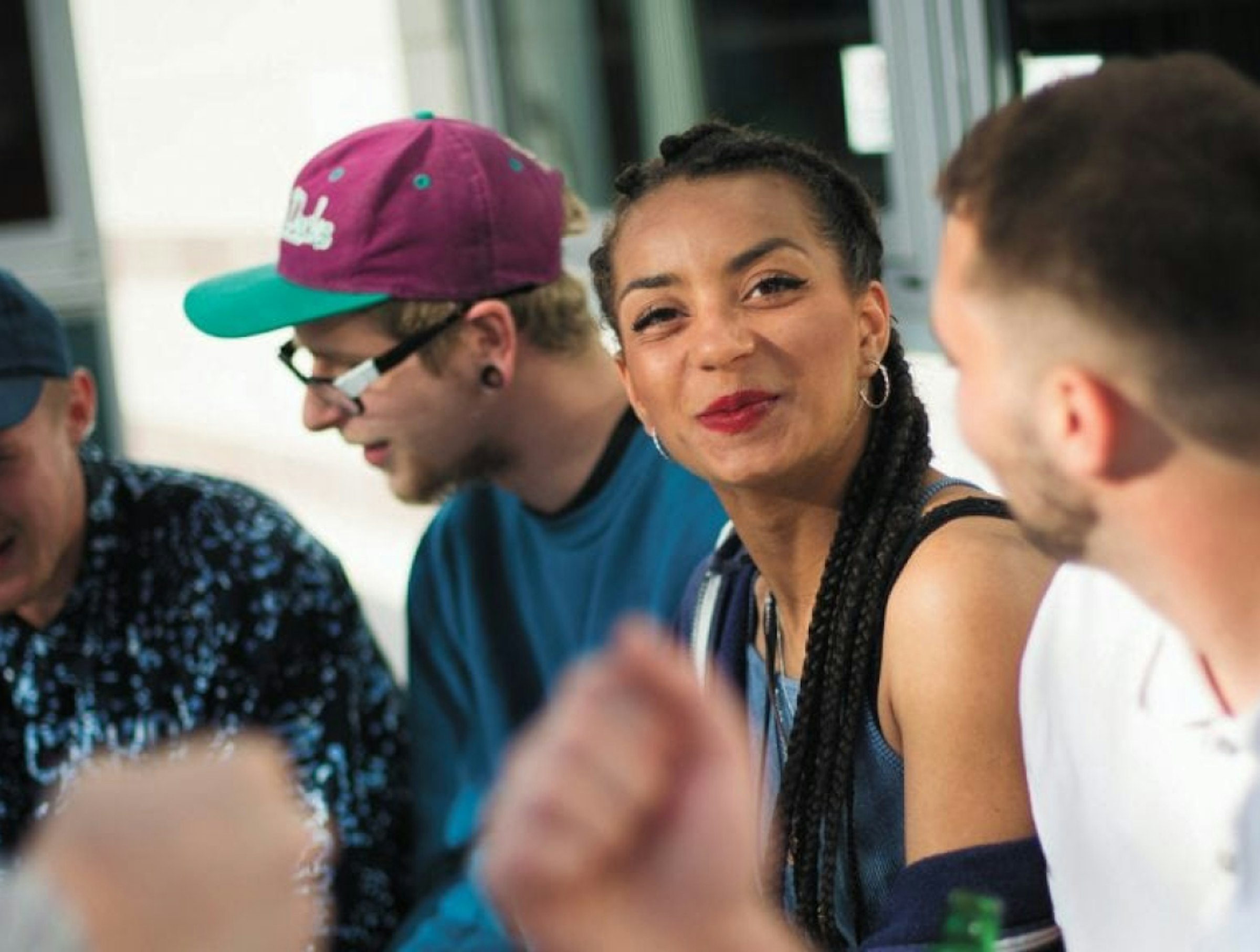 Chat to a student
Our student ambassadors are here to answer any questions you might have on university life, our courses and all things AUB.
Chat on Unibuddy
Application process
Once you've found the perfect Undergraduate course, you can apply to study via UCAS, including direct entry applications to second and third year.
When applying through UCAS, use the institution code A66 for courses taught at Arts University Bournemouth. For courses based at Bournemouth and Poole College, use code B49. We'll then use your completed UCAS form to make decisions about your application. You can find out more on entry requirements in our apply section.
When you apply to one of our courses, it's important that you help us get a good picture of both you and your work – so you'll need a great personal statement. We want to know more about why you're interested in the course, your key influences, and what you hope to do after your studies.

If you're invited for an interview, many of our courses will ask to see a portfolio of your work so we can get more insight into your ideas and abilities. To help you, we've created guidelines outlining what we expect from your portfolio for each course.
The fee that you pay the Arts University Bournemouth provides the necessary equipment and training for you to complete your course.
You may also choose to buy some items of personal equipment such as a laptop or tablet computer, but this is not required; desktop and laptop computers are available for you to use in common study areas, including a loan system in the Library.
For the majority of our courses, we'll ask you to digitally submit a portfolio as part of the application process.

Portfolios should show examples of your work – both finished and work in progress – that demonstrate your interests and skills. We expect to see around 20 slides/images in your portfolio that shows your identity as an artist
If we ask for a digital portfolio then we'll give you 30 days to submit it. Sometimes we'll need a portfolio submitted quickly if there's a UCAS set deadline approaching, but if you need more time, just let us know and we'll try to help.

We've created specific portfolio guidelines for each of our courses, you can take a look at these below.
If you've applied to study an online postgraduate (MA) degree, please refer to the AUB Online portfolio guidelines.
None of our courses currently require an interview.
The only course requiring an audition is BA (Hons) Acting and if you're invited to one you'll have at least 10 days notice.
Studios and resources
Our studios work in a way that mirrors industry. Students working together in a high-energy environment, with industry-standard facilities and excellent tools and equipment.
As well as dedicated studios for each year, we have a dedicated print room, stitch room and dye room with specialist, industry–standard equipment.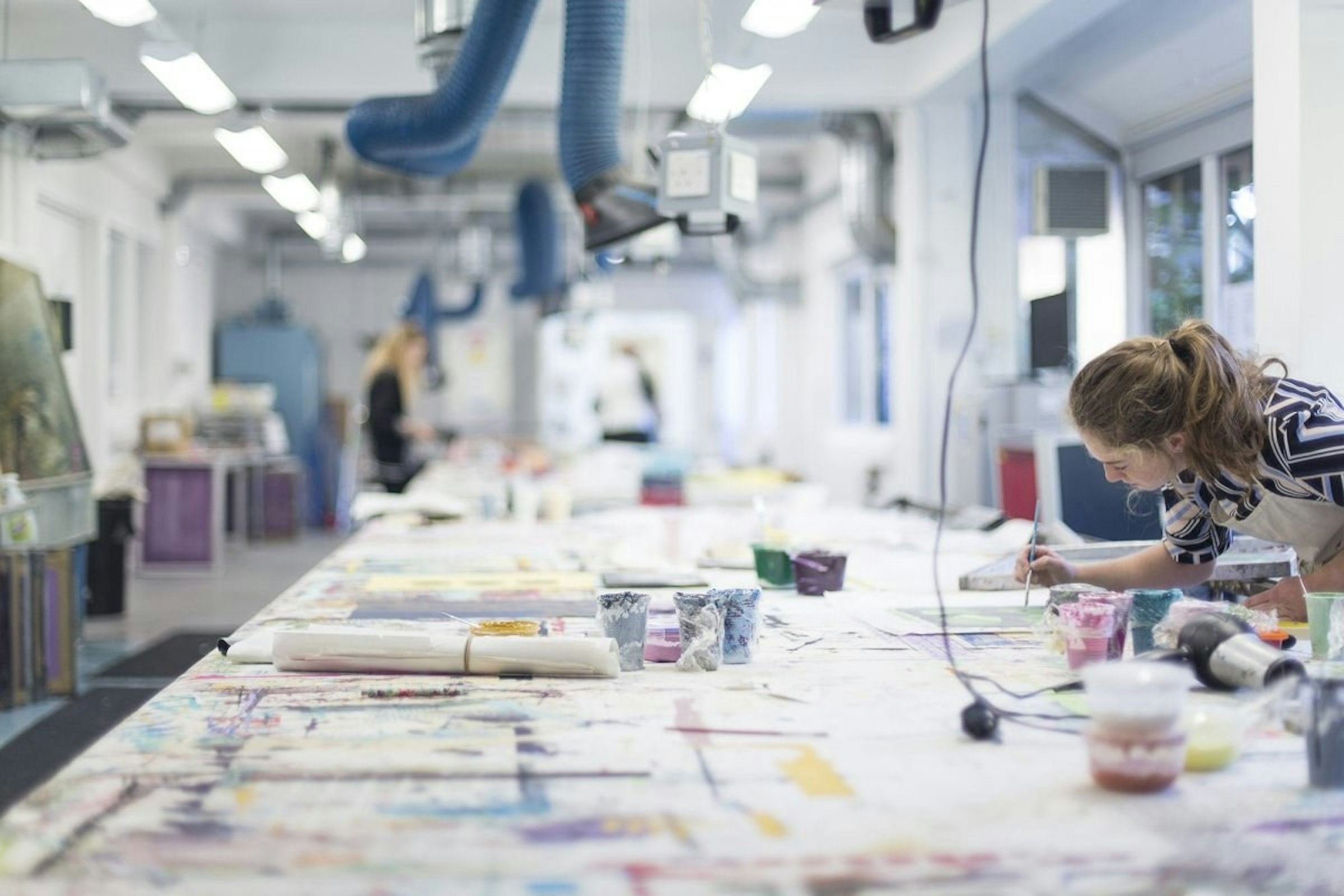 Textiles Studio
Students will be working together in a high-energy studio, with industry-standard facilities and excellent tools and equipment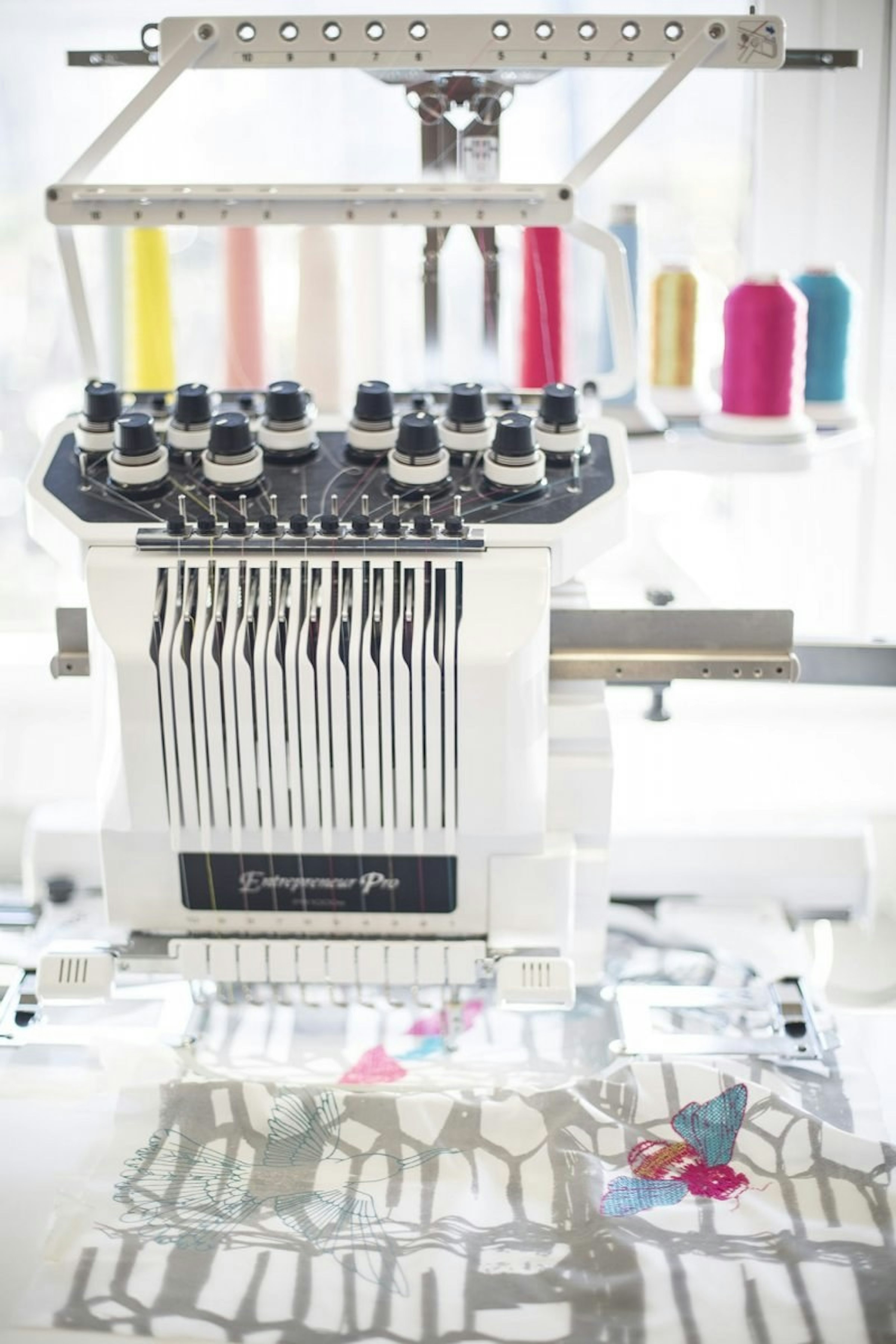 Textiles Resources
Students will have access to a dedicated print room, stitch room and dye room with specialist, industry-standard equipment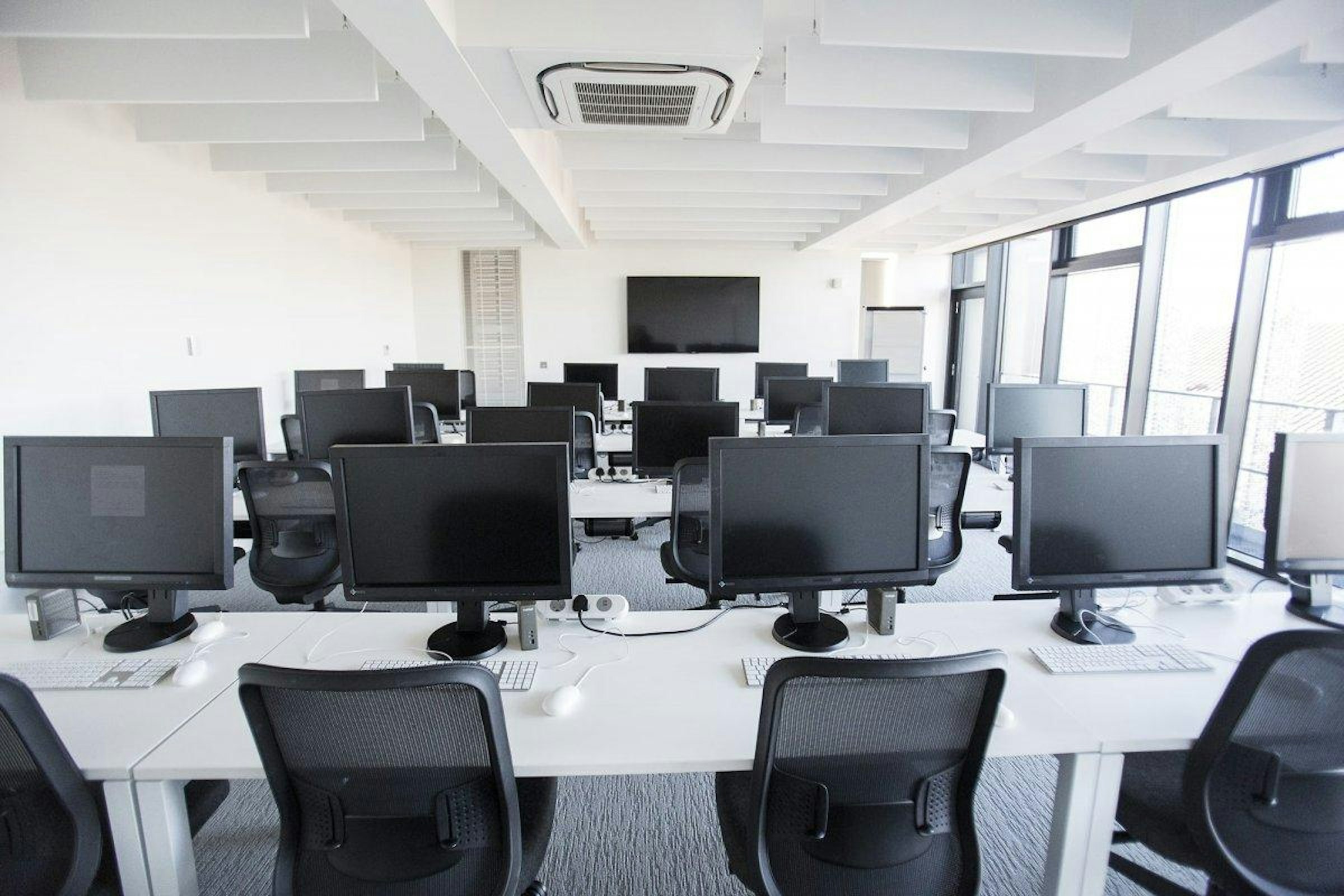 Digital Suites
Our Digital Suites offer a dedicated digital post-production facility and digital teaching space.
Teaching, learning and assessment
The course objectives will be met by deploying a wide variety of teaching and learning methods including workshop/studio practice, lectures, seminars, group critiques, guided reading, tutorials, projects, demonstrations, learning teams, personal planning and reflection, work related learning and independent study.
Each unit is assessed separately, and the assessment forms part of the unit. Assessment both provides a measure of your achievement, and also gives you regular feedback on how your learning is developing.
Unit tutors in consultation with the Course Leader will be responsible for co-ordinating the course for individual units of study and for selecting appropriate methods of delivery according to the subject matter and student experience.
The methods employed will, wherever possible, induct you in the disciplines required of a creative practitioner in textiles design and making along with transferable skills (managing self, professional skills and team working), and value and credit any relevant previous experience. A key method will be the promotion of work related learning, including work placements; visits to the workshops or studios of relevant practitioners or organisations; guest lectures or workshops led by visiting practitioners; 'live' or simulated project briefs; and the mentoring of individual students or small groups by practising designers and other industry professionals. Your learning and career planning will be consolidated through the encouragement of skills in personal planning, reflection and development.
The study time allocated to each unit in the course incorporates a balance of teaching support and learning. The progressive promotion of student–centred learning reflects the anticipated maturity of students and allows you to direct your learning towards individual goals. The teaching in Level 4 is directed at providing you with the knowledge, concepts and skills to take increasing responsibility for the management of your own learning.
Teaching is directed at supporting individual engagement in learning, although there will be opportunities for you to work in teams to enable you to learn the value of peer co-operation. Also, it is anticipated that, due to the professional orientation of the degree and to enable you to benefit from the range of resources and disciplines within the University, opportunities will exist for you to collaborate in teams with peers in, for example, fashion or architecture. It is also envisaged that live project work may benefit from the collaboration of students from all levels of the course.
Guidance and counselling to help you in realising your learning potential will be provided at the start of each term.
Contact hours include all scheduled teaching sessions, but also supervised time in the workshop or studio. In line with national guidance, we include in our calculation of contact hours all the time which is scheduled in the studio for independent study which is also supported by staff (either academic staff, or technicians).
The information provided below gives the proportion of your study time which constitutes contact hours. Where there are optional routes through the course, we have used the figures for the most popular option.
| Year 1 (% time) | Year 2 (% time) | Year 3 (% time) |
| --- | --- | --- |
| 49 | 49 | 49 |
For every unit of your course, we will inform you of what you are expected to learn; what you have to submit; how your work will be assessed; and the deadline for presenting your work for assessment. This is made available through Unit Information, which is on your course blog.
You'll receive a final mark for each unit in the form of a percentage, which will be recorded on your formal record of achievement (transcript). Each component of assessment is graded using a notched marking scale, whereby only certain marks are used within each grade. The only marks available within any ten-point band are *2, *5 and *8 (e.g. 62, 65, 68). These marks correspond to a low, mid, and high level of achievement within each grade band.

All learning outcomes must be passed to successfully complete the unit.
On successful completion of your Honours degree course, you'll be awarded a degree classification based on your unit marks. The final classification is determined using all unit marks at Levels 5 and 6 using two different algorithms, which are detailed in the HE Student Regulations. If the two algorithms produce different results, you'll be awarded the higher class of degree.
If you've joined Level 6 through either the Recognition of Prior Learning (RPL) route or having completed a Foundation Degree (FdA), the final classification is determined using only your unit marks at Level 6.
For further information on assessment, progression, awards and classifications, please visit https://viewpoint.aub.ac.uk
Digital catalogue
Introducing the 2023 graduating cohort from BA (Hons) Textiles. The work presented in this book demonstrates the enthusiasm, determination and diligence that the students have employed over the past three years.
You can also explore the work of our 2022 graduates, too.
What our graduates are doing
BA (Hons) Textiles graduates have gone on to diverse career destinations, including designers, designer-makers, buyers, trend forecasters, researchers, teachers and stylists. Others have set up their own businesses or gone on to postgraduate study including renowned institutions such as The Royal College of Art, Kolding University DK, AUB etc.
Previous AUB Textiles graduates now have careers in the following:
Textile Print designers for fashion and interiors – Topshop, Blendworth Interiors, Victoria Beckham, Bay and Brown textile print and Alexander McQueen.
Embroidery designers – Ralph and Russo, Hand & Lock, Pretty Green
Trends – WGSN
Freelance designers and Self employed -Sharon Marston Lighting, MOOD, Mixmag, NEC
Design collection of interior fabrics and products sales to Liberty's, Heals London
Postgraduate internships – Hand & Lock, WGSN, Sandersons's, Next etc
PGCEs and art/textiles teachers.
Visual merchandisers and buyers – for fashion/interiors e.g. (Ikea, House of Fraser)
Textile Designers – Working within other disciplines e.g. Clarkes shoes, Rolls-Royce, McLaren cars, DeClux
Graphic Designers – Spec Saver, Clarkes Shoes
MA and PhD – Royal College of Art, Glasgow, Gothenburg, Kolding University Dk
Trips and visits
As part of your course you may also get the opportunity to take part in course trips, previous trips have included:
Paris
Florence
Barcelona
New York
London
Brownsea Island
*These trips are optional and some may incur additional costs
As a course, we invite industry professionals to share their knowledge, practice and design journey with our students on a regular basis. Recent contributors have included Jenny King Embroidery, Hand & Lock, Ralf & Russo and Stoff Studio.
Collaborations and creative events are held across the three years also, e.g. cross-course collaboration projects with BA (Hons) Architecture and Commercial Photography.
We also run Creative Match Night events with BA (Hons) Fashion, Make-up for Media and Performance, and Commercial Photography to encourage students to set up independent collaborative projects and to listen to our industry guest advise for their futures.
Latest from BA (Hons) Textiles
---