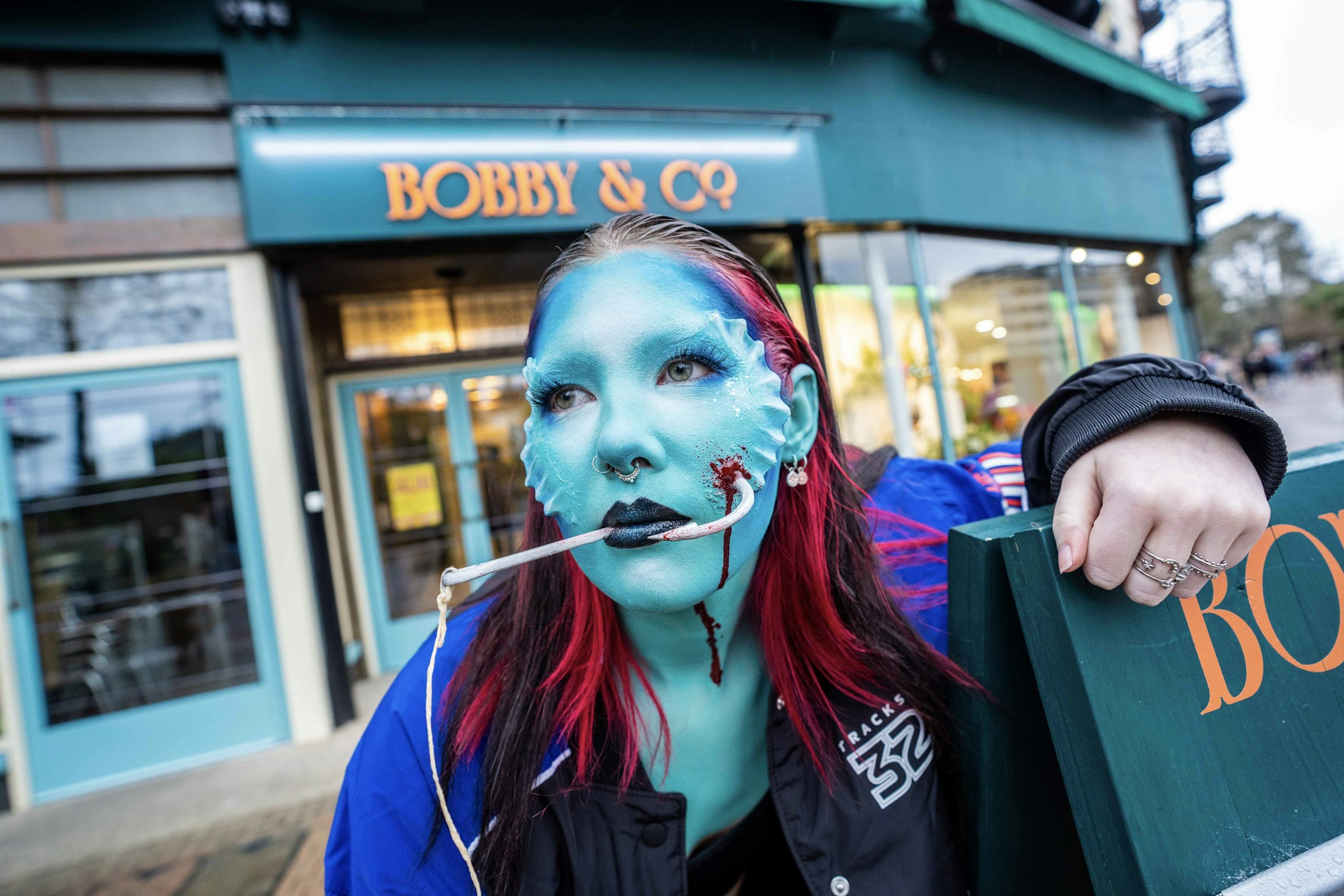 Staff and students from Arts University Bournemouth (AUB) are hosting a four-day town centre takeover, bringing a wide range of creative arts experiences to local people and visitors across Bournemouth, Christchurch and Poole, and a breath of early Spring energy to banish the blues during a normally quiet time of year.
WAKE UP TO AUB's immersive programme of events will encompass live performances, public lectures, screenings, Open Mic sessions, demonstrations of prosthetics and visual effects and several new exhibitions.
The events will take over venues across the conurbation, ranging from Bournemouth's theatres, shopping centres and parks, to pubs on the Poole quayside and Christchurch Priory.
Many of the University's courses are taking part, including, events management, acting, costume, makeup, stage design, creative writing, painting, film, visual effects and dance. All will be sharing their talents, and providing opportunities for then public to get involved.
At the Russell-Cotes Museum, students will be immersing audiences in the evening event Museum Late: The Art of The Love Letter, a step back in time that captures the real-life love story between Merton Russell-Cotes and his wife Annie through love letter writing, themed talks, cocktails, dance, and live music.
In the theatre at Pavillion Dance South West, an AUB production of the play Road, by Jim Cartwright, will take audiences back to the industrial turmoil of the 1980's, exploring British attitudes towards isolation, love, laughter, and the changing environments of Thatcherite Britain.
Meanwhile Bobby's Department Store will be playing host to prosthetic makeup demonstrations, Selfie Walls will be popping up at Picnic Park Deli by the aviary opposite Westover Road, and at The Avenue Shopping Centre, an exhibition and pop-up green screen will invite visitors to both view and step into the picture.
Poole and Christchurch are not forgotten, with musical events ranging from a music festival Float To Love at Poole's quayside pubs to a classical music concert at Christchurch Priory.
There will also be opportunities to visit The Exploratorium at the University's recently acquired Palace Court Theatre. Join an Open Lecture, visit an exhibition of stage and costume design, see a screening of Dance theatre film McQueen: The Maker and the Muse, or step on stage for a Creative Writing Open Mic including monologue Be My Lennon, delivered by James Oliver Cole.
The Exploratorium at the Palace Court Theatre introduces a unique new venue that opens up parts of the building for creative experimentation. The Exploratorium welcomes local creatives and the public to join in and embark on a programme of imaginative adventures, becoming part of the history of this beautiful but as yet un-refurbished 1930's playhouse.
Visitors are asked to wrap up warm, bring an open mind and, when booking, let organisers know if they may need assistance.
Speaking about Bournemouth's cultural context, Dr Anna Farthing, AUB's Director of Civic and Cultural Engagement, said: "Bournemouth's history is filled with creative inspiration, springing forth from the Victorian era, when the town became a magnet for famous names, including authors JRR Tolkien and Mary Shelley, and the leading actors of the day, Henry Irving and Ellen Terry.
"When the Palace Court Theatre opened in 1931, it was surrounded by theatres, concert halls, cinemas, ballrooms and nightclubs. Although some of those buildings may have closed, the staff and students of Arts University Bournemouth make a significant contribution to ensure the cultural calendar of the conurbation stays vibrant.
She added: "In this WAKE UP TO AUB four-day festival of events, we are shining a light on just some of that activity and introducing more ways that people can get involved".
As part of the programme, Dr Farthing will be giving an Open Lecture at Palace Court Theatre on how culture and shared creativity can support the recovery of coastal communities and develop new year-round visitor destinations.
Events will run at locations across Bournemouth, Christchurch, and Poole from 16-19 February 2023. Read more: www.aub.ac.uk/wakeup