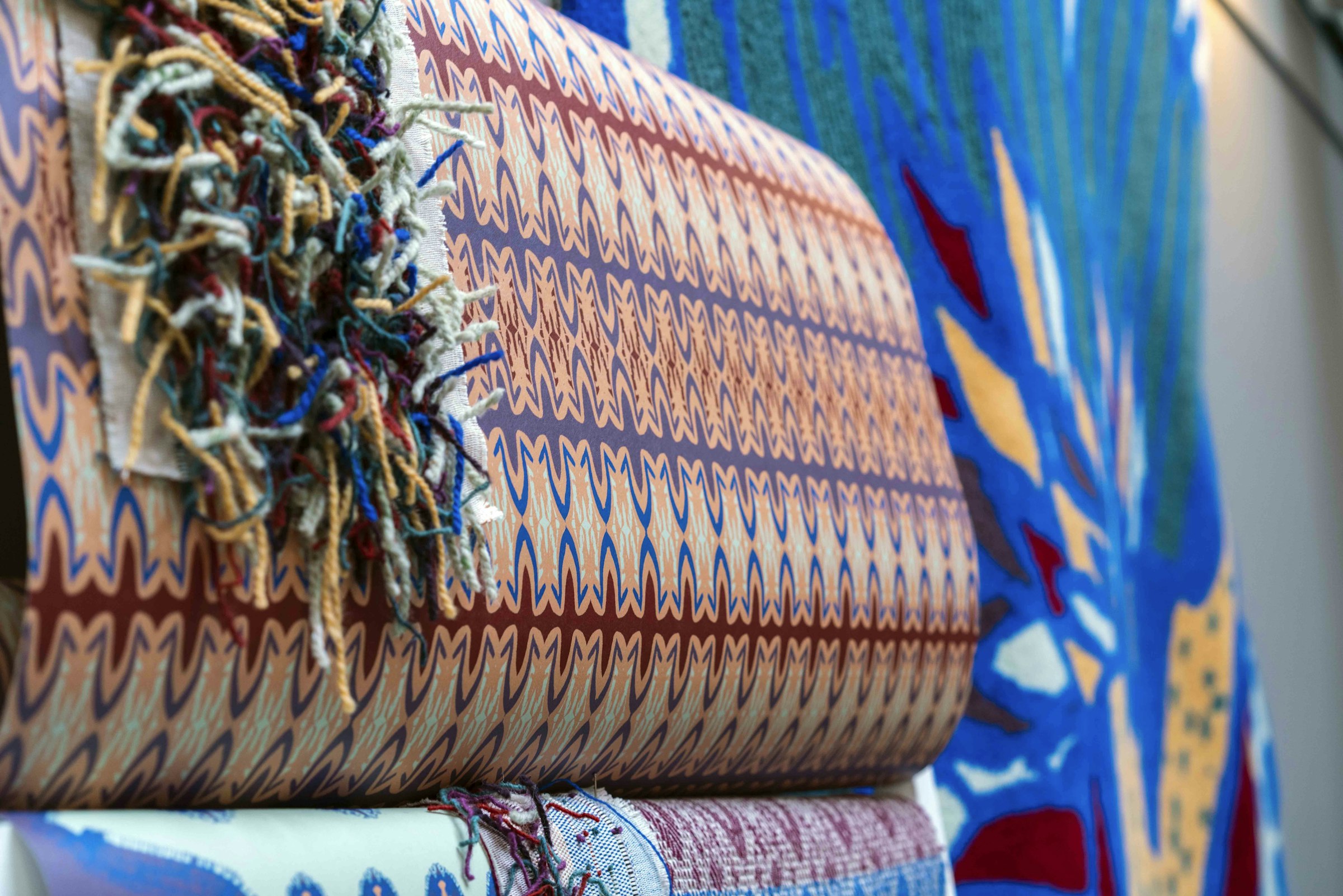 BA (Hons) Textiles student Niamh Wright has been named the winner of the Robin and Lucienne Day Foundation Prize for Textiles 2022.
Niamh's project Fleece to Floor was shortlisted by Anne-Marie Howat, AUB's BA (Hons) Textiles Course Leader and Kelly Bailey, Senior Tutor for BA (Hons) Textiles, with Mary V. Mullin, Trustee of the Robin and Lucienne Day Foundation as adjudicator.
Fleece to Floor has been inspired by game birds and their intricately detailed feathers, which have informed the designer's drawing, colour, and pattern. The collection incorporates a range of processes and applications including tufting, digital printing and digital jacquard weaving to create furnishing fabrics and surfaces for luxury residential spaces.

Niamh said: "Sustainability and reducing waste where possible has been central to my making. I've used yarn from the sheep on the family farm, which I hand scoured, and saw the production through to finished product via collaborating with local companies to both dye the yarn and then create bespoke rugs."
She added: "In addition to this fleece-to-floor method, deadstock yarn for all my hand tufted samples has been utilised, as have the offcuts of the tufting to create woven fabrics. I am honoured to win this award and I plan to keep sustainability central to my design ethos moving into my career in textiles."
BA (Hons) Textiles Course Leader Anne Marie Howat said: "Niamh's collection demonstrates an outstanding commitment to sustainability, using digital processes to create fabrics and surfaces with minimal environmental impact.
"We particularly enjoyed Niamh's sourcing of materials from her family farm, which added a personal and intimate feel to the work, as well as maintaining green and sustainable sourcing for materials used in the collection."