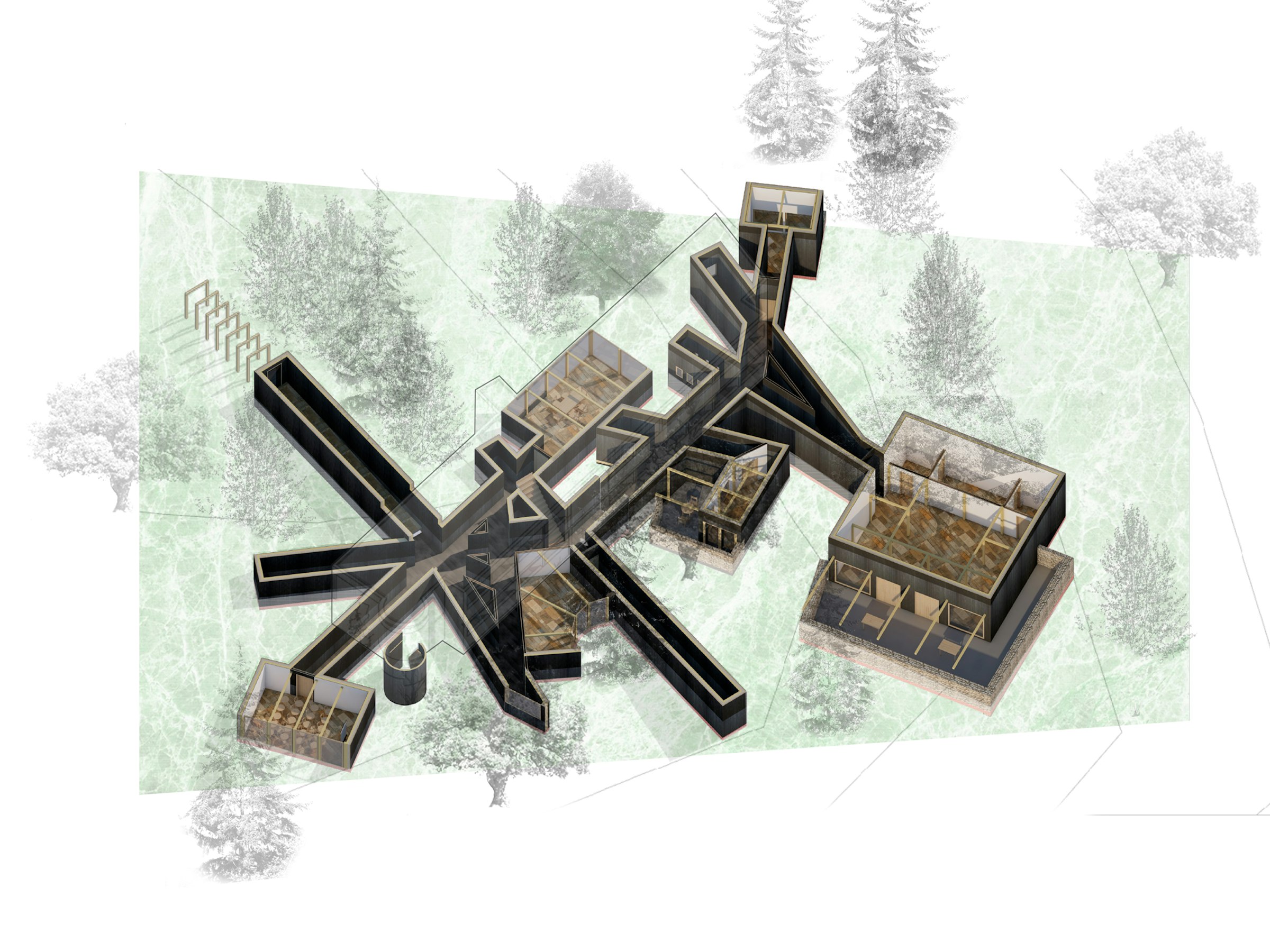 AUB student Jack Cooper has used his final postgraduate project to explore how architecture itself could help those suffering with clinical depression.
The 25-year-old, originally from Bicester in Oxfordshire, recently won a LionHeart Prize for Emotional Depth and Wellbeing and appeared on BBC Radio London to talk about his thesis project and experiences with depression.
Jack's student work, which also featured in Dezeen's Virtual Design Festival, is designed to help people with depression through experiential relief. For two to four weeks, students would stay at a purpose-built building to gain a better understanding of their condition and ways to relieve it. The building's floors reflect the symptomatic areas of the users psyche in physical form, providing a visual representation for those affected to rationalise their inner feelings and better understand them.
Jack's project also poses important questions about architectural elements, including materials, lighting, views and atmospheric qualities, and how these can affect the emotions of those moving through the space, leading to a cognitive experience and journey for those experiencing it.
Jack said: "It is normal to feel depressed, but depression brings on strong emotions, and emotions often hard to identify with. My thesis doesn't aim to 'cure' depressed students but provide a space to better understand it."
"Having a mental health problem is probably as common as a physical injury. According to my research, one in three people will get a mental health issue at some point. It is pretty normal to get some form of mental health condition, so why should there be a stigma?"
He added: "The more we speak, the less prejudice and stigma there will be and the more 'normal' it will become, and we can help one another. We can find commonality within each other's experiences with mental health and tackle it together, which is essential as mental health often isolates people to suffer in silence."
Jack studied his Part I undergraduate Architecture degree at AUB before getting a job at BGS Architects in Oxford and working in-industry for two years, honing his skills on a number of projects for Oxford University, including the St John's Auditorium refurbishment which was shortlisted for the 2018 AJ Retrofit award for Higher and Further education.
Becoming an AUB graduate once again, Jack completed his RIBA Part II qualification at AUB this year and now begins a new role as an assistant with Buckinghamshire-based HollandGreen Architects in August.