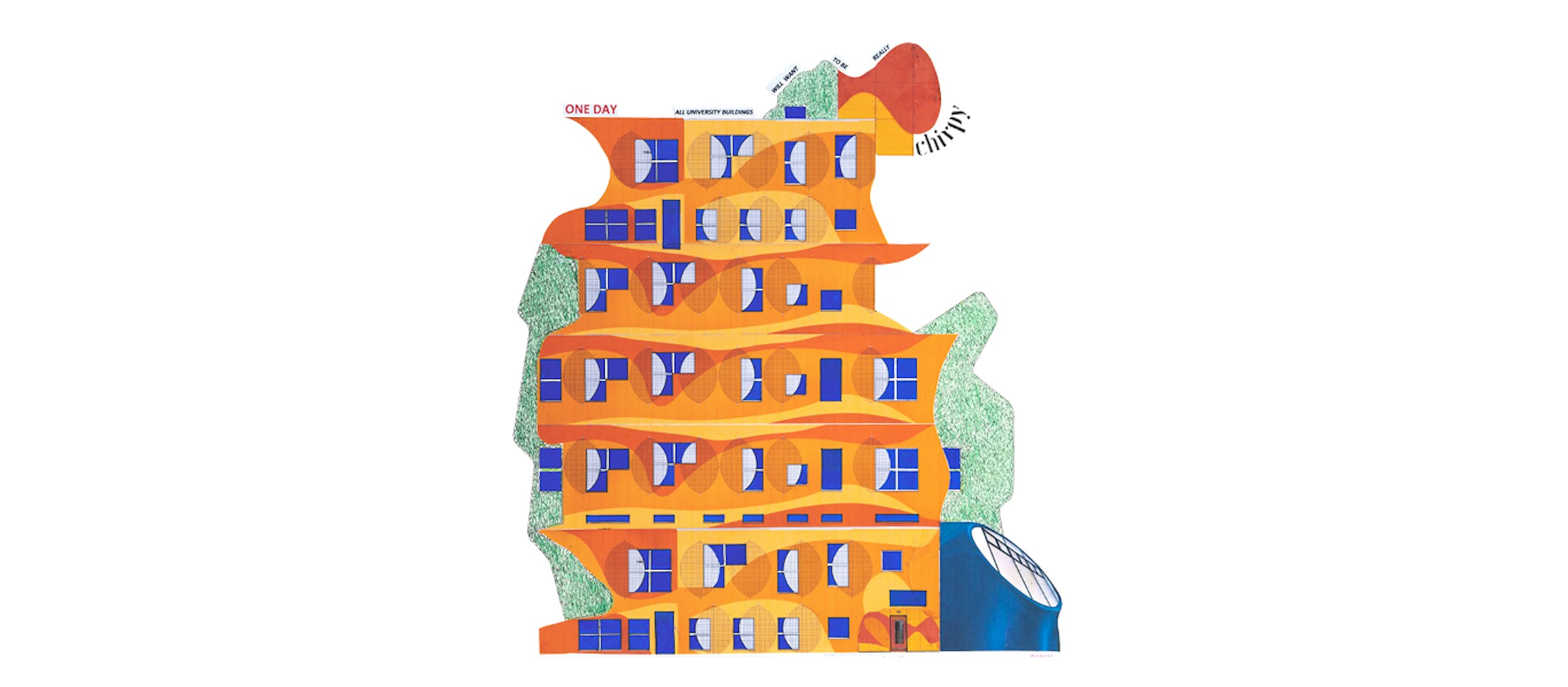 Join us for an architectural jamboree to celebrate the opening of the new Innovation Studio with our two-day livestream event.
The event is free and you don't need to register – click the link in the timetable below to join the livestream.
Speaker biographies
As a founder member of the visionary group Archigram in the early 1960s, Sir Peter Cook helped to project radically new possibilities for architecture.
But it wasn't until 2003, with the opening of the Kunsthaus in Graz, designed with Colin Fournier, that these visions were manifested in large and prominent building. In the meantime he had become the pre-eminent architectural educator in the UK, run the Institute of Contemporary Arts (1969-71), established and directed Art Net from 1972-9, and continued to expand the techniques and redefine the imagery of architectural drawings.
Archigram mixed Pop Art's fascination with found objects with emerging technical possibilities to imagine an architecture where the necessary guts of a building determined its imagery. The influence on buildings like Piano + Rogers' Pompidou Centre was obvious, though several Archigram members declared themselves disappointed that it didn't move. Transience and impermanence were other interests, and although the Kunsthaus is a large and permanent structure, it has the possibility of almost endless redefinition through a varied exhibition programme.
With the flamboyance of a showman, Cook turns his fascination with "the puzzlement of the strange thing" into spectacles. As an art-impresario at the ICA and Art Net, he introduced new ideas and people to London audiences, and stimulated discussions about the nature of art and contemporary culture which has a modern counterpart in the RA Forum. His drawings at Archigram and since have captivated people with their depictions of an architecture freed from conventions of style and construction, and students who came under his influence include Zaha Hadid and Rem Koolhaas. Discussion and collaboration lie at the heart of his creative practice, and he is an articulate advocate of cross fertilisation between architectural schools and offices. "Before it is too late, let's get the creative architects back into schools."
As professor of architecture at the Bartlett School, part of UCL since 1990, he brought in staff and attracted students from across the world, turning an academically solid school into a leading centre of creative design. London, he announced, was now a centre for "concepts, metaphors, images and design". Before that he was long associated with the Architectural Association in London, where he had completed his studies after starting at the Bournemouth College of Art. He was also a professor at Frankfurt's Städelschule from 1984-2002 and visiting professor at various universities across the world.
Odile Decq is a French architect and urban planner. International renown came in 1990 with her first major commission: La Banque Populaire de l'Ouest in Rennes, France. Since then, she's been faithful to her fighting attitude while diversifying and radicalizing her research. Being awarded The Golden Lion of Architecture during the Venice Biennale in 1996 acknowledged her early and unusual career. Other than just a style, an attitude or a process, Odile Decq's work materializes a complete universe that embraces urban planning, architecture, design and art.
Her multidisciplinary approach was recognised with the Jane Drew Prize in 2016, and she was honoured with Architizer's Lifetime Achievement Award in 2017 for her pioneering work, but also her engagement and contribution to the debate on architecture. In 2018, she received an Honorary Fellowship from the Royal Architectural Institute of Canada, in recognition of her outstanding contributions in building science, design and education. The same year in October, she received the ECC Architecture Award 2018 for her contribution both as an architect and educator, and in November an Honorary Fellowship from The Royal Institute of the Architects of Ireland.
Odile Decq has been teaching architecture for the past 25 years. She has been invited to be a guest professor in prestigious universities such as the Bartlett (London), the Kunstakademie (Vienna & Düsseldorf), SCI-Arc (Los Angeles, CA), Columbia University (New York, NY), and more recently at Harvard's Graduate School of Design (Cambridge, MA). In France, she was Head of l'École Spéciale d'Architecture (ESA) in Paris from 2007 to 2012, after teaching there for 15 years. Following this experience, she created her own school in 2014 now located in Paris : the Confluence Institute for Innovation and Creative Strategies in Architecture, accredited by the Royal Institute of British Architects.
In 2018, Odile Decq has been invited to create two installations ("Phantom's Phantom", "Time-Space- Existence") during the 16th annual Biennale of Architecture in Venice, and an ongoing tour exhibition about the studio's work "Horizons", started at the House of Arts in Ostrava (Czech Republic). Among other projects, she currently works on a luxury residential high-rise in Barcelona ("Diagonal 0 / Antares"); an office building in Paris ("Twist"); and an experimental house in China ("Flying Horse House"). Recently finished projects include; Le Cargo (Paris, France, 2016); La Résidence Saint-Ange (Seyssins, France, 2015); Fangshan Tangshan National Geopark Museum (Nanjing, China, 2015); GL Events Headquarters (Lyon, France, 2014); FRAC Bretagne (Rennes, France, 2012); Phantom: restaurant of Opéra Garnier (Paris, France, 2011) and the MACRO Contemporary Art Museum (Rome, Italy, 2010).
Associate Professor and Programme Director, M.Arch. Architectural Design, The Bartlett School of Architecture, University College London (UCL)
Originally from Belgium, Gilles Retsin is an architect and designer living in London. He studied architecture in Belgium, Chile and the UK, where he graduated from the Architectural Association. His design work and critical discourse have been internationally recognised through awards, lectures and exhibitions at major cultural institutions such as the Museum of Art and Design in New York, the Royal Academy in London and the Centre Pompidou in Paris. He recently edited an issue of Architectural Design (AD) on the Discrete and has co-edited the book Robotic Building: Architecture in the Age of Automation, with Detail Verlag.

Gilles Retsin is an Associate Professor at UCL the Bartlett School of Architecture, where he directs the M.Arch. Architectural Design. He is co-founder of UCL AUAR Labs, which does high profile research into new design and fabrication technologies and its spin-out company AUAR ltd, a start-up working towards an automated platform for affordable housing.
Nat Chard is Professor of Experimental Architecture at the Bartlett, University College London, following professorships at the Royal Danish Academy, Copenhagen, the University of Manitoba and the University of Brighton. He taught at the Bartlett throughout the nineties and has also taught at other Uk architecture schools. He is an architect registered in the UK and has practiced in London.
His work has been published and exhibited internationally. In his research he develops methods and instruments to construct tacit knowledge particular to architecture, especially in relation to indeterminacy and uncertainty.
Ricardo de Ostos creates speculative fictions that envision architectural projects in shifting environmental and cultural contexts. He lives, works and teaches in London at both the Architectural Association (AA) and The Bartlett School of Architecture, UCL. He is the co-director of NaJa & deOstos studio and co-author of 'The Hanging Cemetery of Baghdad' (Springer Wien/New York, 2006) 'Ambiguous Spaces' (Princeton Press, 2007) and 'Scavengers and Other Creatures in Promised Lands' (AA, 2017).
His research interests – in both his practice NaJa & deOstos (run alongside German architect Nannette Jackowski) and his architectural design units at the AA – lies in the intersection of fiction, arts, environment and technological experimentalism, all with a deep focus on culture.
Reader in Architecture and Director, Geddes Institute for Urban Research, University of Dundee
Dr. Lorens Holm is Reader in Architecture and Director of the Geddes Institute for Urban Research at the University of Dundee. At Dundee he runs the Rooms+Cities design research unit, which uses architectural theory to open up a space for designing new forms of city and social life. He has taught at the Architectural Association, the Bartlett, the Mackintosh, and Washington University in St. Louis. He is a registered architect in the UK and the State of Massachusetts.
His teaching/research focuses on the thought threads that link architecture to philosophy, history, psychoanalysis, and machines. Publications include Brunelleschi Lacan Le Corbusier: architecture space and the construction of subjectivity (Routledge 2010) and, with John Hendrix, Architecture and the Unconscious (Routledge 2016). His papers have appeared in The Journal of Architecture, Perspecta, Critical Quarterly, Architecture Theory Review, and Assemblage. He has his PhD in Humanities from the London Consortium Doctoral Program, University of London; his Masters of Architecture from the Harvard University Graduate School of Design; his degree in Philosophy from University College Cardiff.
Co-founder and director, ecoLogicStudio
Claudia Pasquero is an architect, curator, author and educator; her work and research operates at the intersection of biology, computation and design.
She's founder and co-director of ecoLogicStudio in London, Lecturer and director of the Urban Morphogenesis Lab at the Bartlett UCL, Professor of Landscape Architecture, founder of the Synthetic Landscape Lab and Head of Institute for IOUD (Institute of Urban Design) at Innsbruck University.
Claudia has been Head Curator of the Tallinn Architectural Biennale 2017, and she's been nominated in the WIRED smart list in the same year.
She's co-author of "Systemic Architecture – Operating manual for the self-organising city" published by Routledge in 2012. Her work has been published and exhibited internationally: at the FRAC Centre in Orléans, the Venice Architectural Biennale, ZKM Karlsruhe and the MilanoExpo2015, among others.
ecoLogicStudio has in recent years completed a series of photosynthetic architectures, such as the BIO.Tech HUT Pavilion for Expo Astana 2017, HORTUS Astana 2017, Urban Algae Folly Aarhus 2017, PhotoSynthEtica Dublin 2019, HORTUS XL 2020 for the Center Pompidou in Paris, PhotoSynthEtica Helsinki 2020, among others.
Co-founder and director, ecoLogicStudio
Marco Poletto is an architect, educator and innovator based in London. He's co-founder and Director of the architectural practice ecoLogicStudio and the design innovation venture PhotoSynthetica, focussed on developing architectural solutions to fight climate change.
In the past 10 years ecoLogicStudio has designed and built several living installations and architectures, demonstrating how microorganisms such as algae can become part of the bio-city of the future.
Marco holds a PhD Degree from RMIT University, Melbourne. His thesis on the "Urbansphere" argues that the increased spatial integration of non-human systems within architecture is crucial to evolve higher forms of urban ecological intelligence.
He's also co-author of "Systemic Architecture" a book published by Routledge in 2012.
Marco has been Unit Master at the Architectural Association in London, Visiting Critic at Cornell University and Research Cluster leader at The Bartlett, UCL. He currently Lectures at the University of Innsbruck and the IAAC in Barcelona.
Marco's work has been exhibited internationally, more recently in Paris (Centre Pompidou, 2019), Tokyo (Mori Gallery, 2019), Vienna (MAK, 2019), Karlsruhe (ZKM, 2019) and Astana (EXPO 2017).
ecoLogicStudio is an architecture and design innovation firm specialized in biotechnology for the built environment. Co-founded in London in 2005 by Claudia Pasquero and Marco Poletto, the studio has built a unique portfolio of biophilic sculptures, living architectures and blue-green master plans.
In 2018, it has joined the Synthetic Landscape Lab and the Urban Morphogenesis Lab to create the PhotoSynthetica venture. Together they are developing scalable, nature-based design solutions to the imminent impact of climate change and to our contemporary quest for carbon neutrality.
The Innovation Studio
The Innovation Studio, which will act as base for small business start-ups, many of which will be AUB graduates. These businesses will also be assisted by leading experts who work at the University and from contacts in the wider industry.
The Innovation studio was:
Opened by Odile Decq
Designed by Peter Cook
Job Architect: Tim Culverhouse,
Initialisation: Jenna De Leon
Consultant: Stefan Lengen
CRAB-LAB Architects