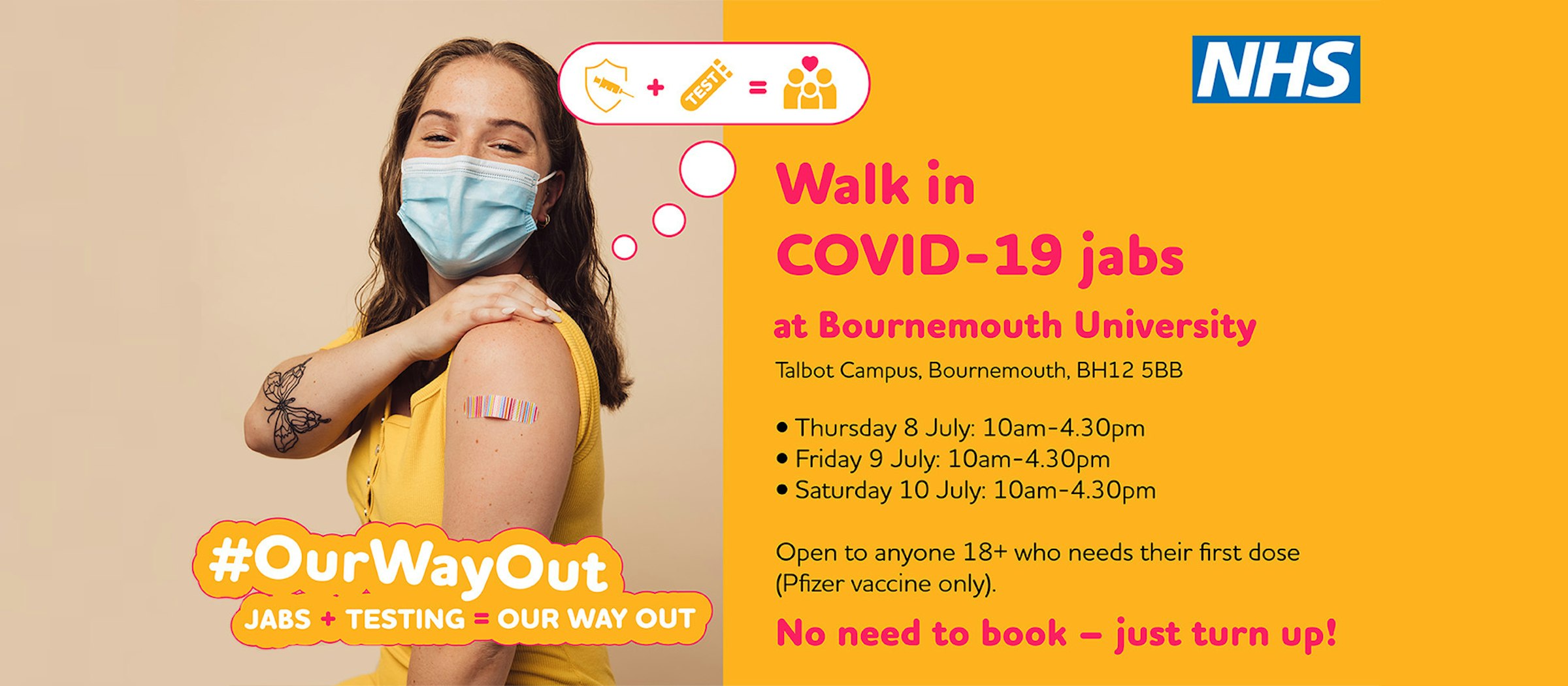 AUB staff and students will be offered COVID-19 vaccinations at a walk-in clinic on Talbot Campus from Thursday 8 July to Saturday 10 July (10.00 to 16.00).
Due to storage requirements, the sessions are limited to 400 jabs per day, and will be offered to staff, students and community members to give them an opportunity to receive their first dose of the Pfizer COVID-19 jab.
Run by Dorset HealthCare as part of a wider vaccination programme across the county, staff at the clinics will administer the Pfizer vaccine on a first-come-first-serve basis to people over 18 who need their first dose.
No appointment is needed for the sessions at Kimmeridge House on the Bournemouth University's Talbot campus on:
• Thursday 8 July, 10.00-16.30
• Friday 9 July, 10.00-16.30
• Saturday 10 July, 10.00-16.30
Further walk-in opportunities will also be available at Bournemouth International Centre (BIC) from Wednesday 14 July. Normal booked appointments will then resume at the BIC from 19 July – slots can be booked on the National Booking System.
Anna Chainey, Dorset HealthCare's COVID-19 service manager, said: "We were delighted at the response to our walk-in clinics in Winton – we were able to vaccinate around 400 people across the three days.
"Many people told us how convenient it was to go to a venue very local to them so we hope that this next set of clinics is also popular. We're also delighted to be back in the BIC soon - we've had such a fantastic response to our service there with 98% of visitors saying they're satisfied with their experience."
Staff will also be on hand to support people to book an appointment on another day if preferred. Dorset health and care organisations are continuing to investigate other opportunities and locations to vaccinate as many local people as possible.
The number of doses given in Dorset has now topped one million and around 80% of local people have now had their first jab. Vaccinations can still be booked at other locations through the National Booking System – including local pharmacies – or accessed via many GP networks.