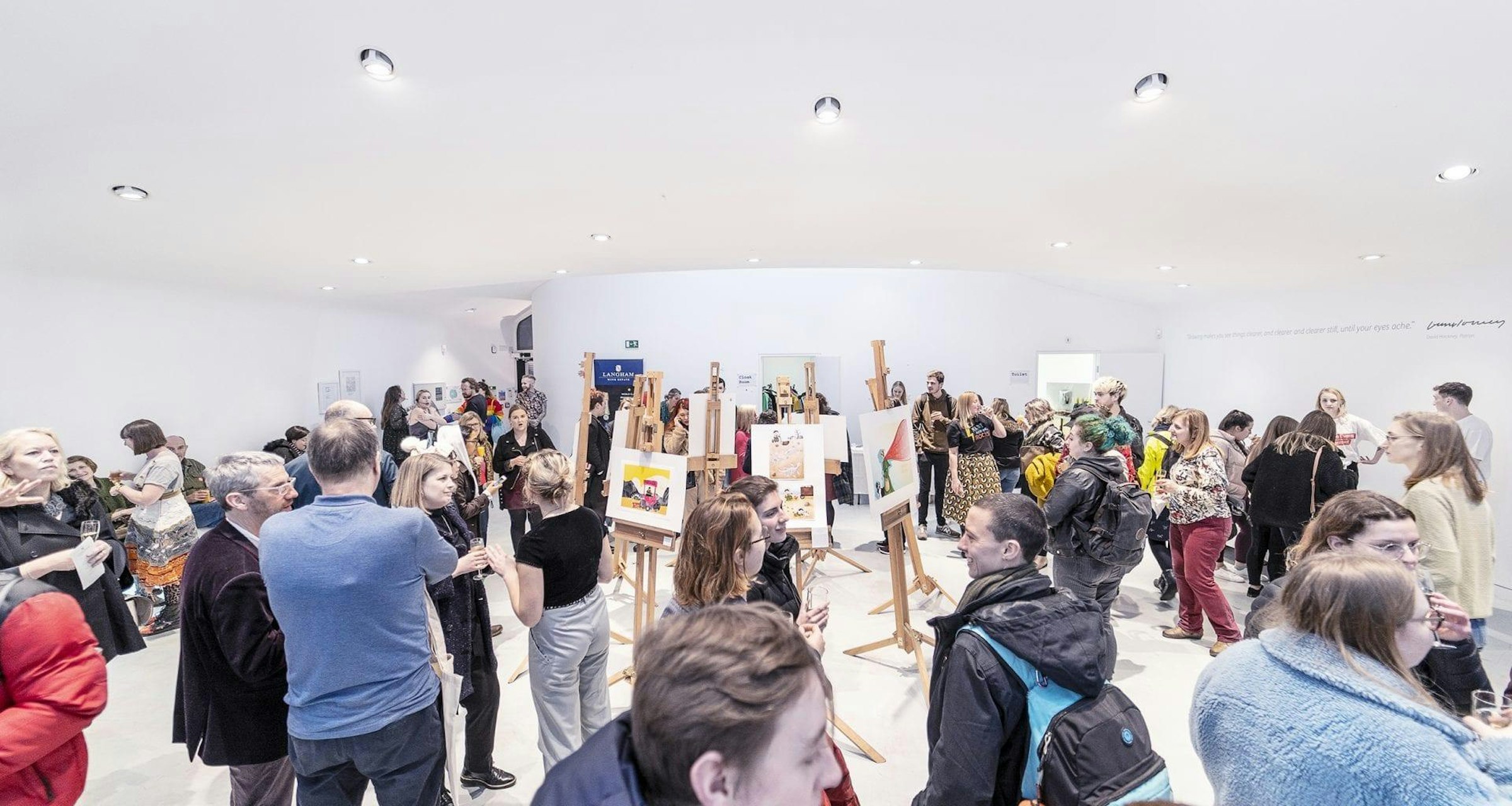 BA (Hons) Creative Events Management students host a rocking Science and Arts themed event in the CRAB Drawing Studio.
As part of their Live Event Brief, Level 5 Creative Events students worked with the Mary Anning Rocks, a charity set up to remember the palaeontologist, Mary Anning and raise funds to install a statue on the Jurassic Cost.
The event provided the opportunity for collaboration between art and science, with guest speakers discussing the charity, fossils and the Jurassic Coast, with artwork by AUB students exhibited.
The event was organised by BA (Hons) Creative Events students Flora, Charlie, Darcy, Nicola and Jess.
Flora explained: "Anya Pearson, Co-founder of Mary Anning Rocks, asked us to raise awareness for their campaign to build a statue of Mary Anning in Lyme Regis. The campaign was set up when Anya's 11-year-old daughter, Evie, questioned why Mary Anning hadn't had a statue built in her honour yet.
"We felt strongly that we wanted to raise awareness for the campaign in a creative and stimulating way. By merging Arts with Science, we hoped to acknowledge the scientific achievements of women in STEM (Science, Technology, Engineering and Mathematics) who have not received the recognition they deserve for their discoveries."
"The main aspect of our 'Arts and Science Soirée', was an exhibition consisting of art from students and local artists in a range of media, which related to Mary Anning and/or geology. Our client, Anya Pearson was a key contact for the event and helped source champagne from Langham Wine as well as inviting women from scientific and feminist backgrounds to speak.
"Most of the art in which we presented was from AUB students from BA (Hons) Illustration, Fine Art and Modelmaking courses. We also exhibited some pieces from Dorset-based artists, one of whom was Lorna Rees, who performed her Mary Anning song in a 'sedimentary skirt' to close the evening.
"We managed to raise over £200 towards the campaign through art, donations merchandise sales" Flora said.
Guest Speakers included:
Anya Pearson – Co-founder of Mary Anning Rocks Campaign
Dr Anjana Ford – Jurassic Coast Trust
Caroline Gitsham – Langham Wine
Naomi Wilcox-Lee – Sheroes from History