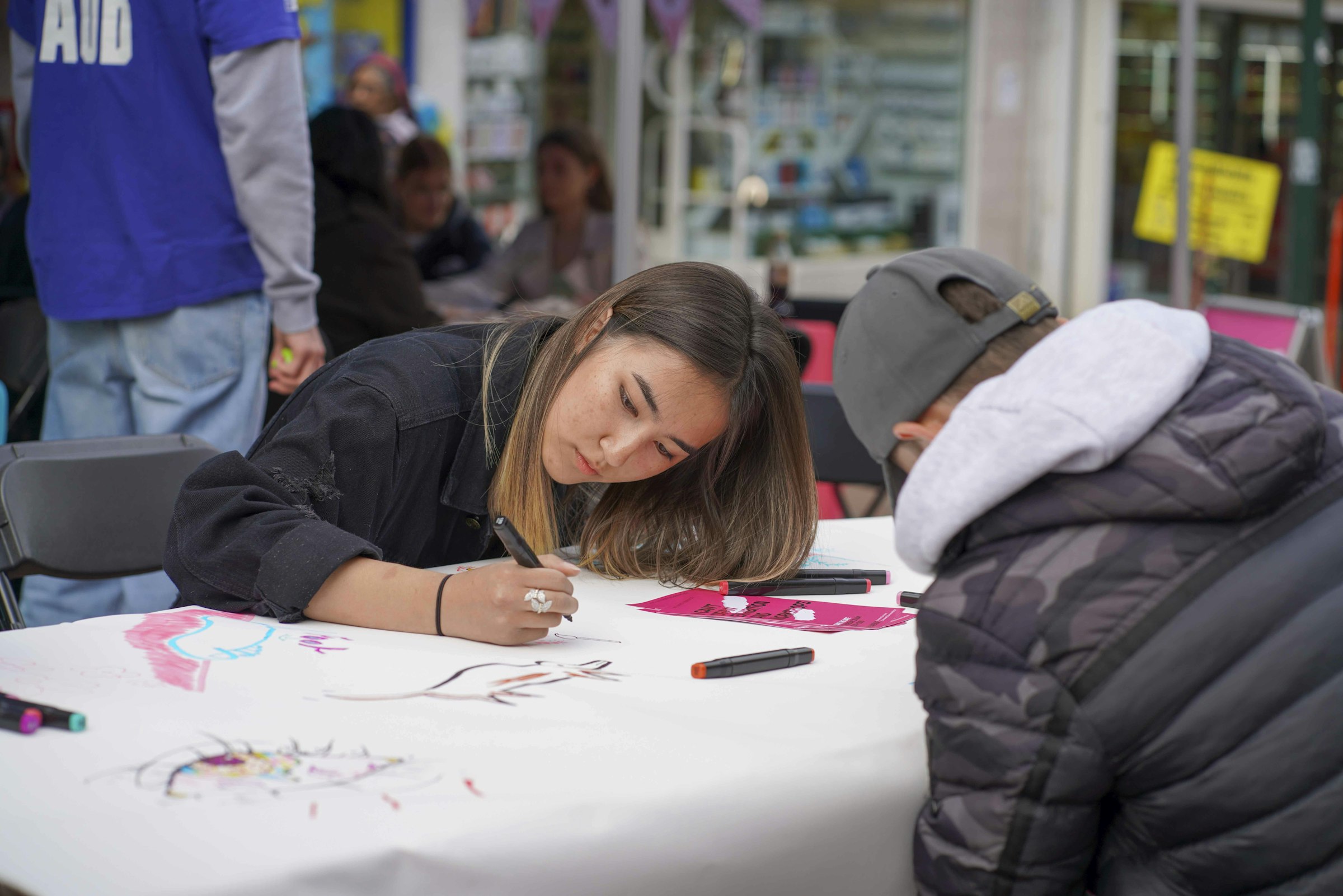 Pupils from across local schools in Dorset have seen their work displayed in public at Bournemouth's The Avenue Shopping Centre.
The prominent town centre location was transformed by artwork created by local students as part of Arts University Bournemouth's I Can't Draw campaign, which celebrates young people's engagement with drawing.
In collaboration with outdoor media owner Ocean Outdoor, AUB's Access and Participation and Marketing teams have been working with local pupils to tap into creativity in schools, regardless of drawing ability. The project encourages school students from all over the country to look at drawing in a new way, experiment with media and find different methods of expressing themselves.
Artwork produced by this year's participants was exhibited on the screen outside The Avenue in Bournemouth town centre, with attendees and members of the public invited to try their hand at creating art through mark-making, collage and textiles, supported by students from AUB's BA (Hons) Events Management and BA (Hons) Textiles courses.
Simon Pride, Head of Recruitment and Marketing at AUB, said: "It was inspiring and humbling to see such a brilliant group of young people working together to create artwork that explores such a wide range of themes and techniques, while challenging the widely held misconception that people simply can or can't draw.
"I Can't Draw came about in response to art teachers in schools requesting help to attract students to GCSE art and other creative options, and it is a big issue, with a 27% decline in the last seven years.
"Often the reason given for not taking art GCSE is as simple as 'I can't draw' – a reflection of preconceptions about the draughting skills required to 'do art'. This project is all about breaking down those preconceptions and building students' confidence and sense of their own creative ability through exciting, non-traditional approaches to drawing."
I Can't Draw is co-funded by SUN (Southern Universities Network), a collaborative partnership comprised of higher education providers in Hampshire, Dorset and the Isle of Wight that provides outreach activities for schools and colleges.
Dr Anna Farthing, Executive Director of External Engagement at AUB, said: "It's wonderful to see the town centre alive with creativity via this collaborative project that brings together AUB staff and students, local schools and businesses, and the wider community.
She added: "By continuing to engage with enthusiastic partner organisations like Ocean Outdoor, we hope to deliver many more exciting projects across the conurbation in due course."
Outdoor media owner Ocean Outdoor gifted the project use of its large format city centre digital site which is situated outside The Avenue for the celebratory screening, and work from I Can't Draw's participating students will also be curated and hosted on AUB's website.
Keith Crisp, Regional Sales Director at Ocean Outdoor said: "Creativity sits at the heart of Ocean. Our Art of Outdoor proposition guides and informs everything that we do. We are delighted to be able to support this project and all the partners involved by taking students' artwork to the streets."
Teachers can get their students involved with I Can't Draw by using the form on the AUB website to order an I Can't Draw pack. Each pack comes with six creative lesson plans that explore drawing and can be easily modified to suit the class or adapted for online delivery.
A pack of resources can be downloaded at aub.ac.uk/i-cant-draw.