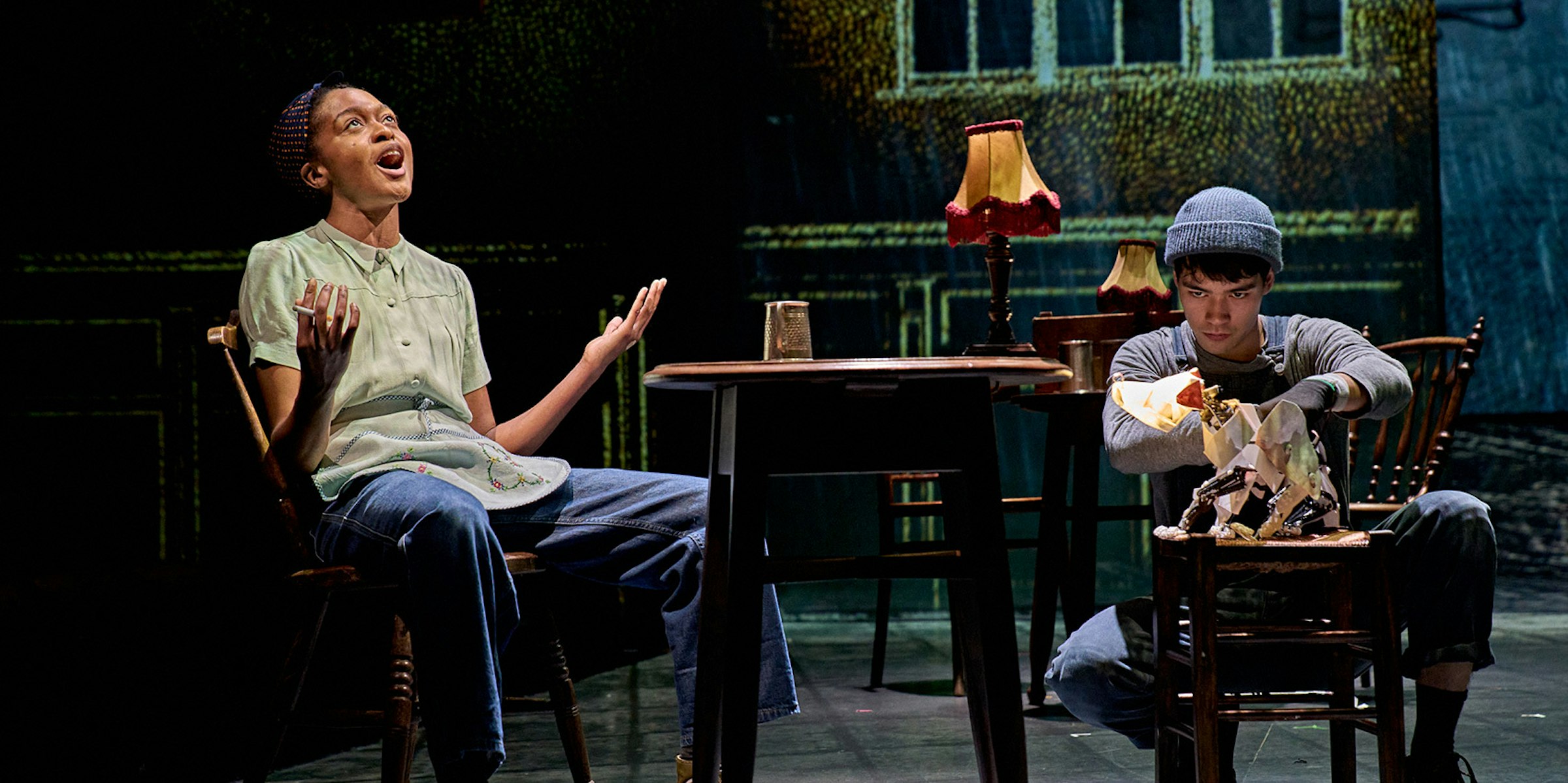 Setting up his new London performance space The Bridge Theatre, director Nicholas Hytner commissioned innovative young puppeteer Barnaby Dixon to create puppets for his new Christmas show, The Book of Dust – La Belle Sauvage.
But not long after, the COVID-19 pandemic struck across the globe, leaving Barnaby without a team of professional modelmakers to prepare and build his incredibly lifelike puppet models.
Reaching out to fellow industry contacts, Puppetry Team Producer Glenn Holberton was able to quickly commission the skills of a talented group of Arts University Bournemouth (AUB) graduates to ensure that the show must go on, using state-of-the-art facilities in the university's new Innovation Studio to create the puppets.
The production team comprised of four AUB Modelmaking graduates and a Costume graduate and was tasked with delivering more than thirty 'daemon' puppets for the first instalment of Nicholas Hytner's adaptation of Philip Pullman's The Book of Dust trilogy.
The Book of Dust – La Belle Sauvage, which debuted at London's The Bridge Theatre this Christmas, expands Philip Pullman's iconic fantasy His Dark Materials universe, and uses incredibly realistic stage puppets, brought to life by puppetry geniuses Barnaby Dixon and Saskia Tomlinson.
The build team, who were housed on-site at the university's new Campus Halls throughout the project, used a mix of technical skills supported by AUB's cutting-edge additive manufacturing technology, which makes puppets move more realistically.
Working closely with specialist staff from the university workshop, the team used AUB's specialist facilities throughout Summer to fabricate parts for the CAD-designed puppets which were 3D printed, assembled, skinned and tested on site at the university's Poole-based campus.
Glenn said: 'Working with the talented staff and graduates at AUB on the Book of Dust production made the project not only viable, but very enjoyable; their contribution and facilities were invaluable."
AUB's Innovation Studio was designed by architecture alumni Professor Sir Peter Cook and was developed with more than £1.5million from Dorset LEP's Local Growth fund. French Architect Odile Decq led an international group of creatives, including Pompidou Centre Architect Mike Davies and Architectural Artist Brian Clarke, to officially open the facility in October 2021.
The facility is described as a 'new state-of-the-art incubation facility studio to support digital and creative industries in Dorset' and will encourage employability between the university and local business, creating more than 65 jobs and 40 graduate start-ups and injecting more than £13million into the local economy over the next four years.
Daniel Cox, AUB's Acting Head of Open Campus, said: "This was a fantastic project to be involved with, and a brilliant pilot group through which we could test the capabilities of our new Innovation Studio.
"There are many people to congratulate, including six outstanding AUB alumni who have contributed to a huge show so soon after graduating.
"The project was delivered to a large degree by Claire Holman and our highly-esteemed BA Hons Modelmaking course, who were approached by industry collaborators from the Bridge Theatre who shared a bold vision to connect with our university and excellent graduates in order to develop these astonishing models."
The Book of Dust – La Belle Sauvage will run at The Bridge Theatre in London until 26 February 2022.
To read more about AUB's new Innovation studio, visit aub.ac.uk/innovation-studio.