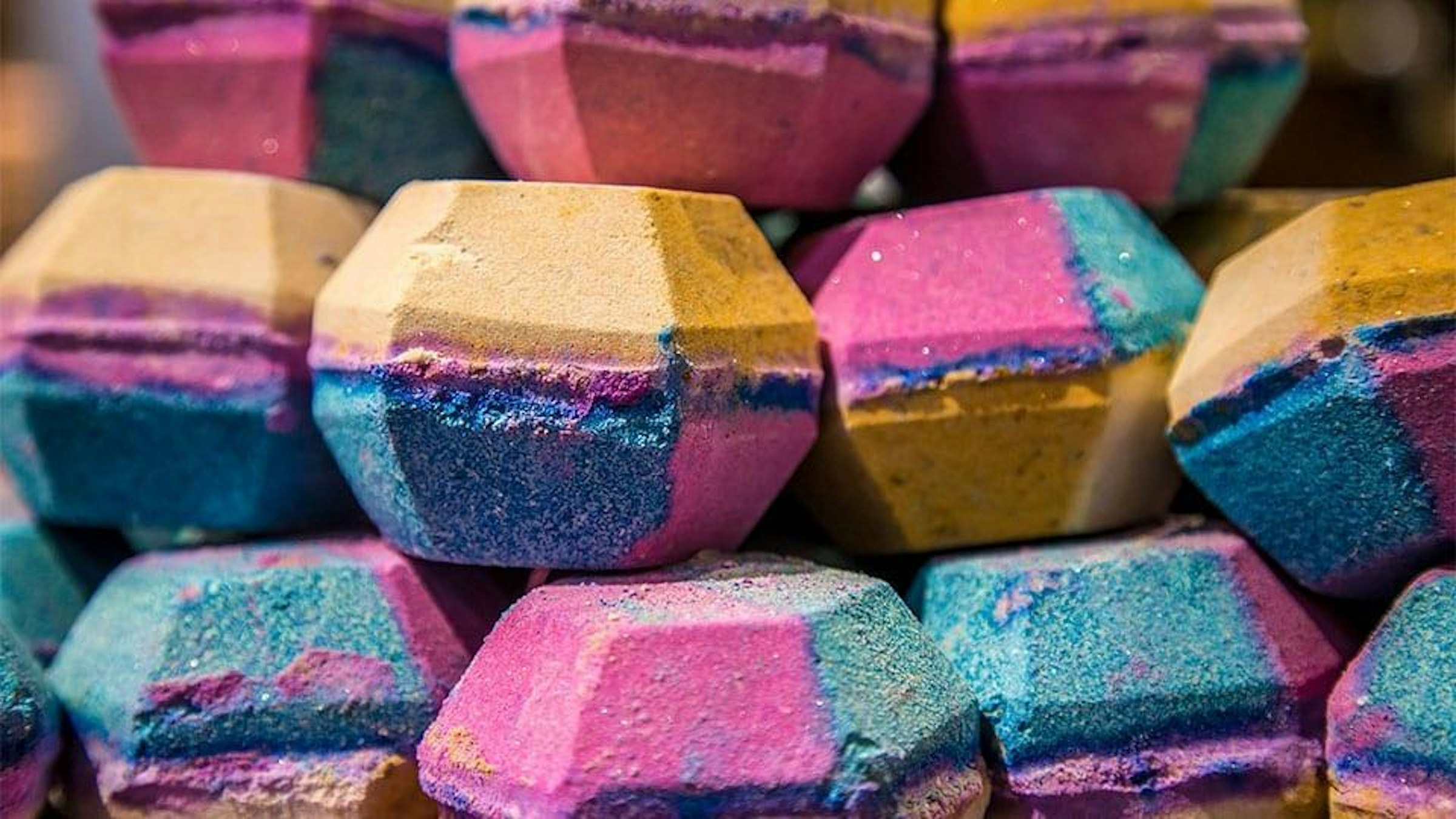 Our students have been collaborating with Lush to improve accessibility and sustainability in packaging across their product range.
More than 170 students from across our Undergraduate and Postgraduate courses have taken part in a unique collaboration with ethically driven cosmetics retailer Lush, based in Poole, Dorset.
Last year, the university began collaborating with the global cosmetics brand's research and development packaging team on a commercial project looking into the future of packaging, with a focus on areas of accessibility and sustainability. The challenging brief asked students to look into better product access for users with motor and/or visual impairments and the reuse of packaging waste within the brand's existing supply chain.
Mentored by practitioners from AUB, researchers from the Museum of Design in Plastics as well as AUB alumna, Kym Cox, the students shortlisted their ideas to a panel of Lush experts, with three teams invited to develop concepts further. Two AUB graduates have since received offers of paid internships with the brand, alongside a summer residency at the university's upcoming Innovation Studio.
Simon Allen, Lush R&D Creative Production Senior Support said: "It was an absolute pleasure to work alongside AUB staff and students to tackle some profound issues surrounding motor and visual impairments while remaining within our packaging ethics.
"The students tackled this with great energy and enthusiasm and the results were staggering. I could not have asked for a better outcome. It's elevated our ways of thinking and opened the doors of AUB into the Lush world for future collaborations."
Dan Cox, Knowledge Exchange Manager at AUB, said: "As a sustainable and ethical producer of cosmetics, there are clear synergies between AUB and Lush, and for students, this brief has been a really exciting opportunity to showcase their creative thinking and problem-solving skills to come up with innovative ideas that can be adopted by a real-world organisation with a continually strong emphasis on sustainability and ethics."
He added: "Two AUB alumni who were among 20 graduates that took part have been offered internship positions at Lush, and we're pleased to be able to also offer them a summer residency at our new Innovation Studio, which is due to open later this summer."
The university has recently been recognised in a government report for its commitment to local business growth and regeneration and has recently been awarded funding by Dorset LEP in the development and promotion of its new Innovation Studio.
The purpose-built structure will invite current students, recent graduates and members of the local and regional business community to access specialist equipment, facilities and expertise to enhance and develop their products and businesses.