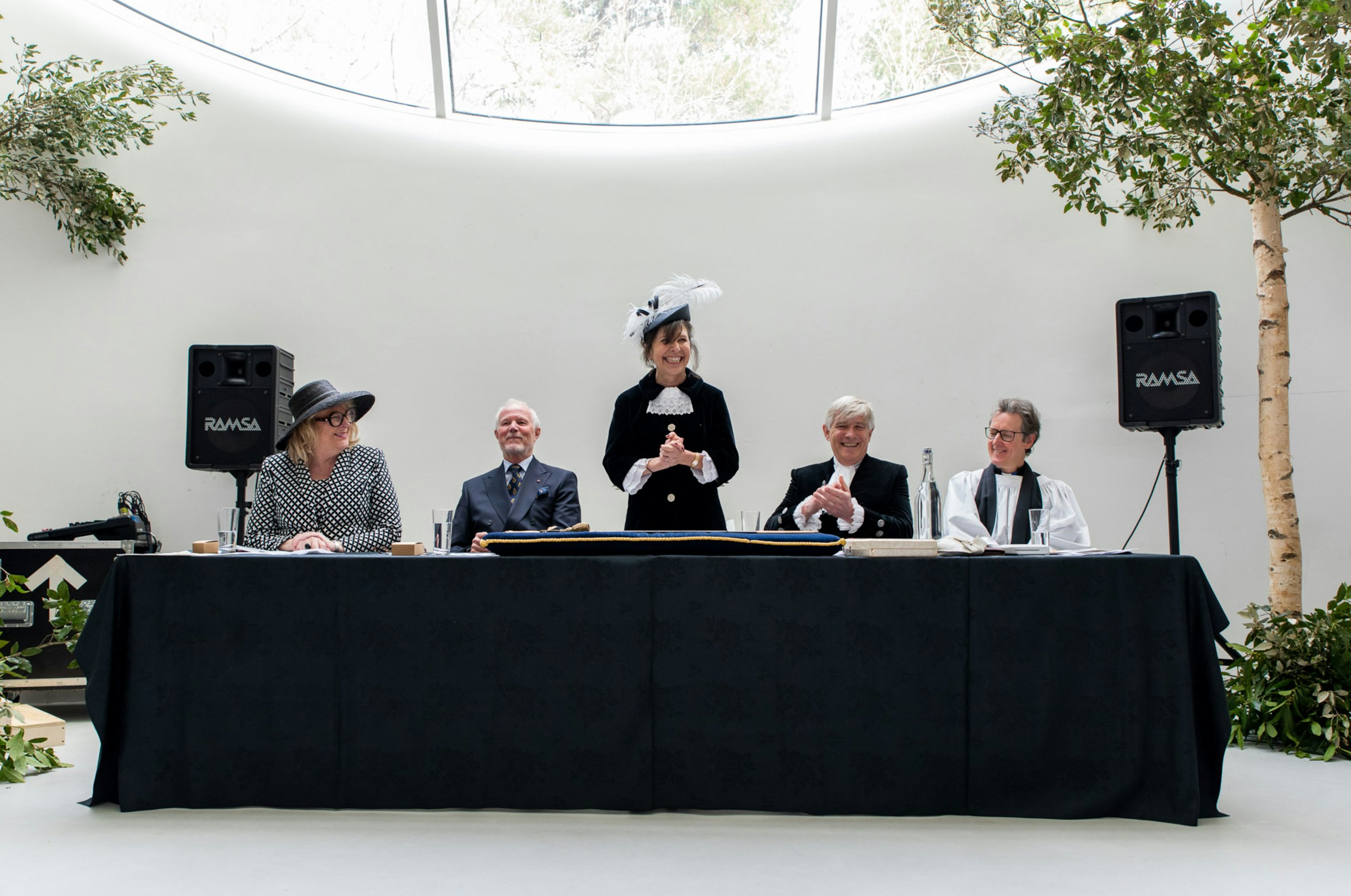 Sibyl Fine King has made a declaration to become Dorset's next High Sheriff at a ceremony held in Arts University Bournemouth's Drawing Studio.
An historic occasion to mark the appointment of Dorset's new High Sheriff Sibyl Fine King DL has taken place at Arts University Bournemouth's Drawing Studio.
Dignitaries and community leaders from across the region have gathered with friends and family to take part in the event, with students from AUB's Dance and Creative Writing courses performing to guests. The ceremonial panel included Chaplain to the High Sheriff The Reverend Charlie Boyle, Justice of the Peace Colin Weston MBE, JP, Under Sheriff of Dorset Katharine Jones and Mr Michael Dooley, High Sheriff of Dorset in 2021/22.
The assembly, which takes place under royal prerogative, is drawn together after HM The Queen 'pricks' her new High Sheriff's name on a parchment roll with a long needle called a bodkin. Also present at the event were Angus Campbell, Lord-Lieutenant of Dorset, AUB Vice-Chancellor Professor Paul Gough, Mayor of Bournemouth Cllr David Kelsey, Chairman of BCP Council Cllr Nigel Hedges and Mayor of Poole Cllr Julie Bagwell.

All images provided courtesy of Sam Rose, MA Photography
Vice Chancellor Gough said, "Arts University Bournemouth is immensely proud to hold this dedication to the High Sheriff of Dorset Sibyl King, and we look forward to seeing how Sibyl will take the role forward in support of communities across the Dorset region.
He added: "Sibyl's championing of the visual arts and support for education in Dorset is something that we greatly admire and feel a strong affinity towards; we wish her all of the very best as she enters into this exciting and historic role."
Originally from Pittsburgh, Pennsylvania in the United States, Ms King came to the UK in 1986, working as a Health Promotion Manager in Dorchester before becoming Founder and Director of the Fine Family Foundation in 2007.
Sibyl is the supporter of many good causes around Dorset. Her love of Dorset has fuelled her energy and creativity to initiate and encourage projects all over the county, primarily in the natural environment, the arts, and with community involvement.
She has supported a number of visitor centres along the Jurassic Coast including centres at Kimmeridge, Durlston, Chesil Beach and Charmouth, with exciting new projects in the near future for Brownsea and Poole Museum in the Old Town.
Established before the Norman Conquest of 1066, the role of the High Sheriff was established by Royal appointment, and in contemporary times, plays an active role in supporting work being done across the county, both in areas of emergency services and public sector bodies such as probation and prison services.
The High Sheriff is the monarch's representative in all things related to the legal system, including people and organisations connected to the courts, prisons, police, fire service, ambulance, and voluntary organisations.