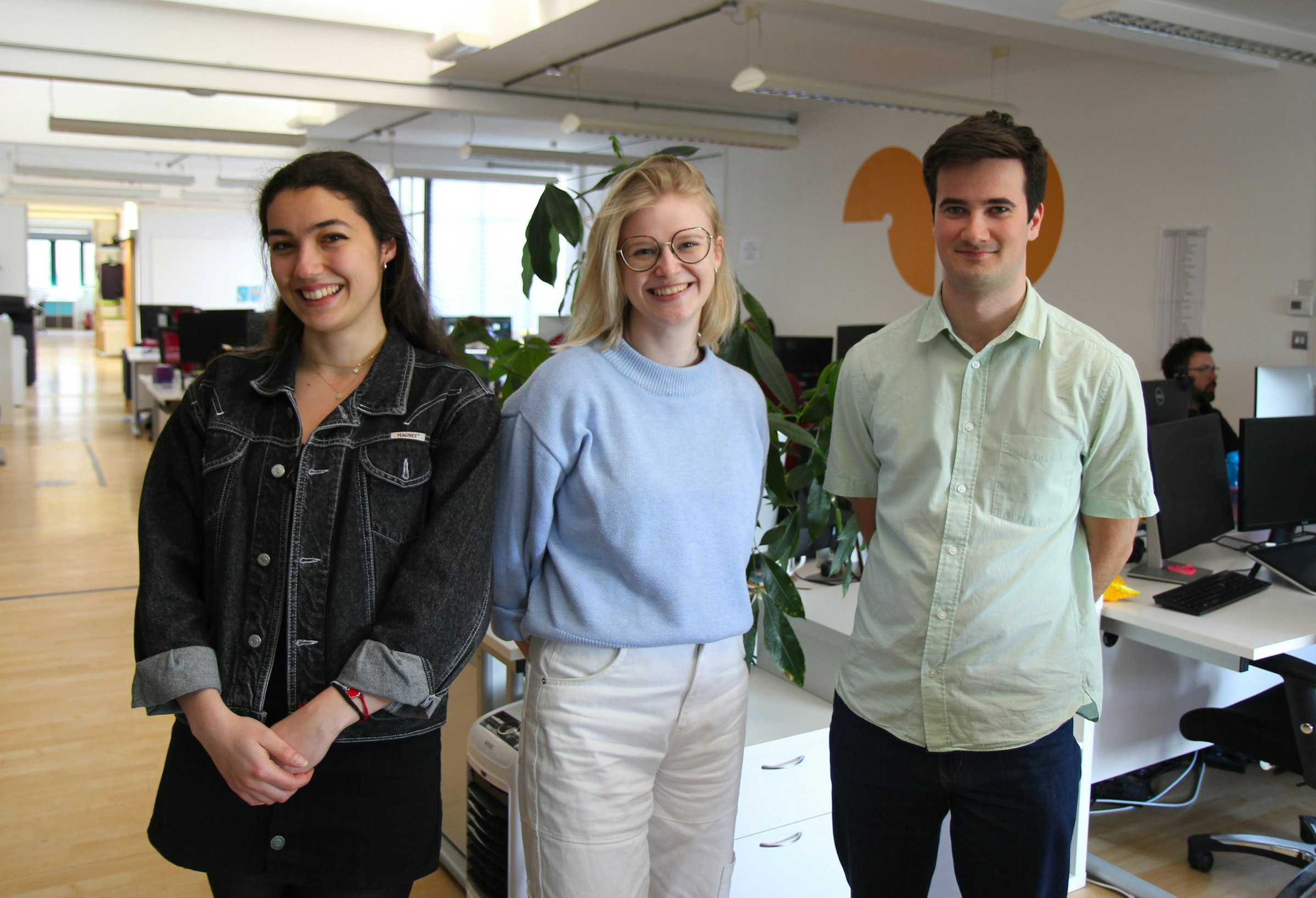 When Lotta Kokko was nine years old, she used to make films on her Nokia phone with her Bratz dolls and Pokémon toys. 15 years later, after completing an Animation Production degree at Arts University Bournemouth (AUB), she's animating a new series for Sesame Workshop at A Productions.
"I always loved storytelling", says Lotta, "And I'm passionate about art and detail, so animation was a natural career choice. The Animation Production degree at AUB gave me a chance to explore all the different techniques and gave me an opportunity to find out which part of the process I enjoyed. I quickly realised it was character animation."
Lotta's one of three AUB graduates working at A Productions on Bea's Block, a new animated preschool series that draws on the ubiquity of toy blocks to bring the diverse and inclusive neighbourhood of Blocktown to life, which will premiere on Cartoonito soon.
A Productions is an internationally recognised animation production studio that produces award-winning children's content for broadcasters and subscription video on-demand services (SVoDs). The studio is trusted to work with some of the world's most iconic characters with notable productions including JoJo & Gran Gran, Love Monster and The Tweenies – all for CBeebies – and the Monster at the End of this Story, an award-winning Sesame Street animated special from Sesame Workshop. Part of Cyber Group Studios, its 150-strong team works from two offices in central Bristol.
On the Bea's Block production, Lotta is animating facial features, making the eyes, eyebrows and mouth move and lip-syncing the dialogue. She says, "I've always been fascinated with faces and how you can read someone's thoughts through their features, so this is a great first job for me. Each character has a different personality; shy or outgoing, pet-loving or sporty, and it's interesting to find ways to portray those traits in their faces and gestures."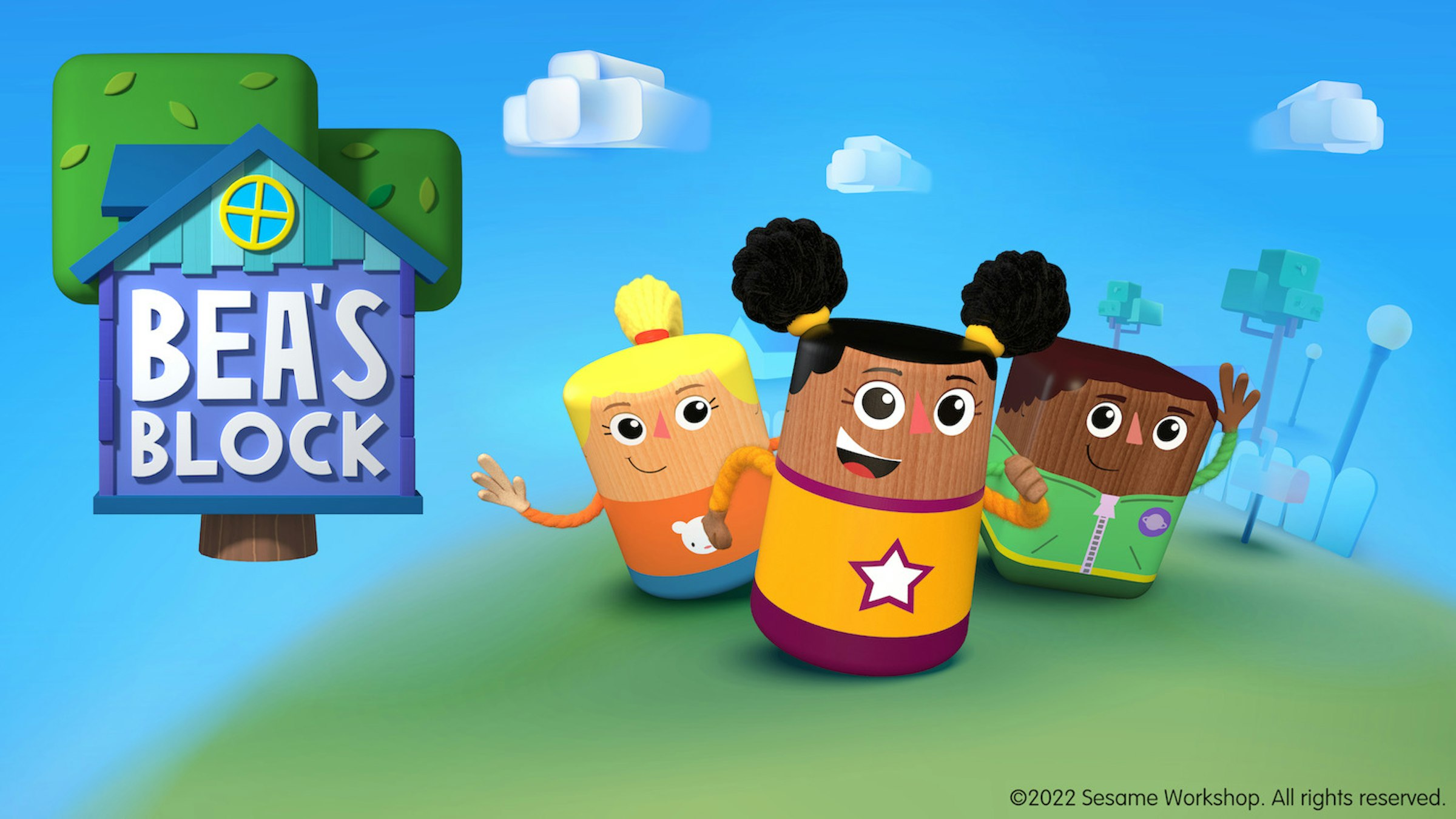 Lotta and co-worker Iva Borisova both graduated from AUB in June 2021 and found out about the job opportunities at A Productions via their animation tutor who maintains strong links with the industry.
Iva Borisova was attracted to the AUB course because it is very arts-focused, with an emphasis on character design and drawing rather than coding and technology.
She says, "I really enjoyed the course, working with so many talented people doing what they love was great. The only drawback was having to complete our final film during lockdown. But because it was a team project, it gave me really useful experience that I could use at work. When I came to A Productions, I soon realised that the process is all about teamwork."
Iva is also a 2D animator working on facial features, and she says, "The A Productions team gave me training on the job, so I picked it up fast. I've also had the chance to try some 2D animation on Furry Friends Forever: Elmo Gets a Puppy, so I was able to practise animating the whole body, which was fun. Working out how an animal's body would move in different scenes was challenging."
Furthermore, Iva has also signed up for A Productions' new mentoring programme, which'll give her the opportunity to try more 2D animation and design, enabling her to expand her skill set.
Sam Griffiths is working in the rendering and lighting department. He chose AUB for his animation degree because it has such a good reputation in the industry. After leaving the university in 2019, he concentrated on making his own animated short, which was selected by Film Hub Wales to be included in their Made in Wales animation catalogue.
At A Productions, Sam uses 3ds Max to prepare scenes for lighting and rendering. He started working there in November 2021 and, after some training, jumped straight into the role. He says, "After the animators have finished their scenes, I add lights and change the untextured sets for textured versions, occasionally doing set dressing and animation fixes along the way before sending it to be rendered. Rendering is essentially what makes the whole picture more aesthetically pleasing to the audience."
All three animators are keen to progress in the industry, but for now, they are focusing on finishing the new show, which is due to be shown later this year. Lotta says, "It's cool to work on a TV show that hundreds of kids are going to see and that will be meaningful for them."
Visit A Productions' website and find out more about their work.