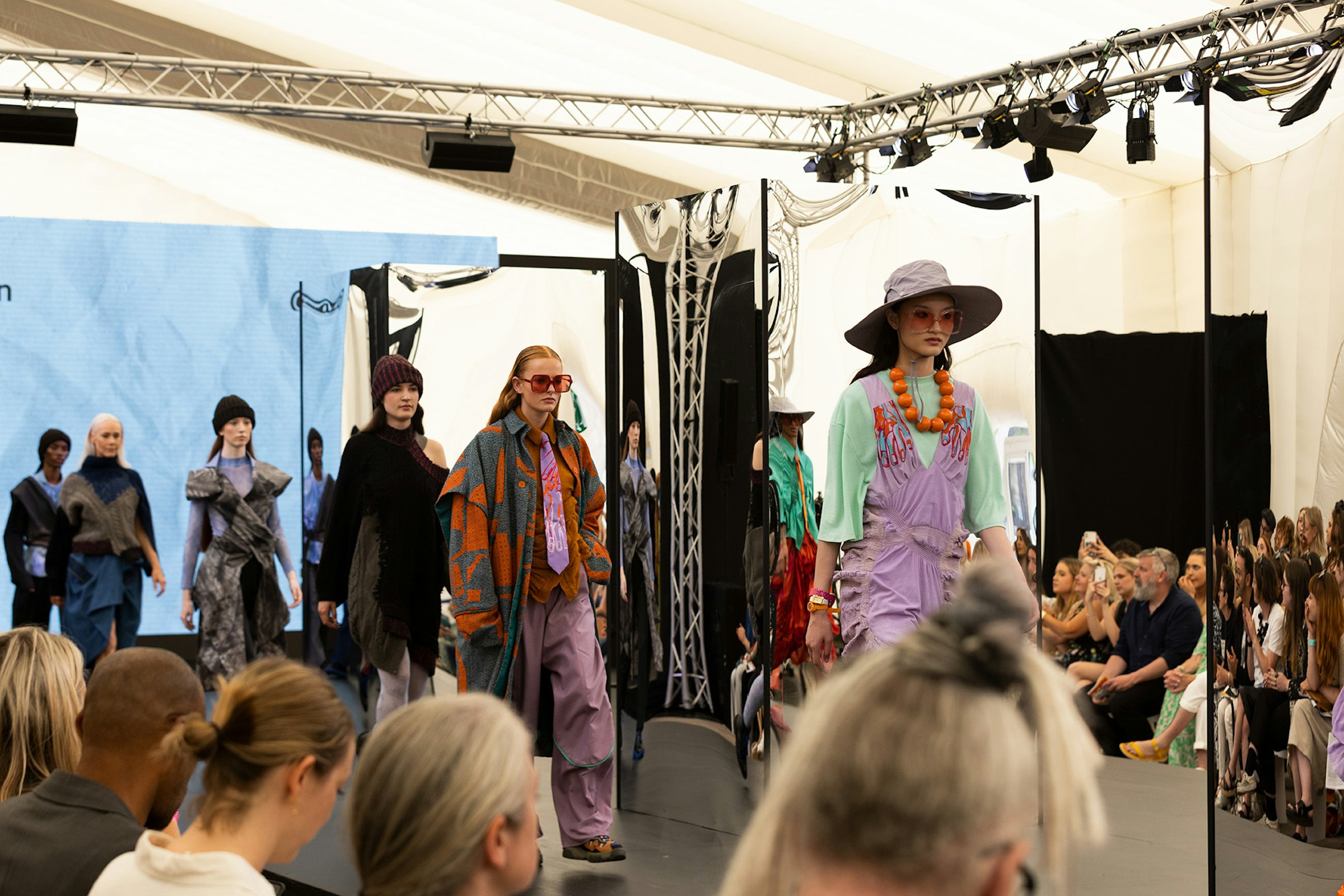 A collection by AUB Fashion student Russia Prior, which debuted at Graduate Fashion Week 2022, has been selected by The Guardian for their 2022 'ones to watch' list.
The work, which was developed by Russia while in her final year of study at AUB, features bold block colours, constructed textiles, accessories and contrasting materials.
The aspiring designer, who graduated from AUB this month, developed new and innovative approaches to smocking, digital and screen print and painstakingly hand-sewed knitwear creating a visual and textural feast. Russia's work was shortlisted for the GFW Fashion Concept Award 2022 and has also won the Director of Schools Endowment Prize at AUB Graduation 2022.
Russia said: "STOP & STARE is a womenswear collection unbound by gender norms and unrestricted by time of day. The concept draws inspiration from my grandma whose style is curious and undefined. With her spirit as my muse, I integrate furniture designers and architects to inform silhouette and colour.
"The collection further responds to a fascination with interiors, furniture, and the home. Furniture designer Charlotte Perriand's modular and functional design philosophy is juxtaposed with Le Corbusier's desire to create fun abstractions within his paintings."
Speaking of her work in their 'ones to watch' list, The Guardian said: "If the collection is a house, each outfit is a room that collectively lays floor plans for a whole narrative. If you like bold and quirky, then Prior is one to watch."
Russia was selected for GFW's Opening Night Catwalk Show alongside classmates Ella Clow and Zach Fornelius, who won GFW's Fashion Innovation Award, with her collection being announced as Winner of the GFW AUB Catwalk Show by GFW Judges.
The show featured the work of 18 fellow final year students; Vera Gezti was awarded 'Highly Commended', with both Russia and Vera's collections joining the Best of GFW22 collections.
Speaking about her cohort's successes at GFW2022, BA (Hons) Fashion Course Leader El Crehan said: "Our students continue to contribute outstanding work to GFW, It was wonderful to return to a live Catwalk this year, showcasing a wide range of fashion out puts, from virtual and augmented reality, to accessories, womenswear and menswear. Each collection is individual to the student, demonstrating their personal style, work ethic and creative handwriting; something we are so proud of on the BA (Hons) Fashion Course at AUB.
"Featuring in The Guardian's 'ones to watch' list for 2022 is an incredible bonus for Russia, whose powerful collection STOP & STARE continues to gain a huge amount of interest and attention from across the industry."
She added: "It's a great launch to a fashion career and we will be watching Russia's next steps with interest!"
Full BA (Hons) Fashion GFW Awards List
WINNER Zachary Fornelius : GFW Fashion Innovation Award
WINNER Russia Prior : GFW AUB Catwalk Show
HIGHLY COMMENDED Vera Geszti : GFW AUB Catwalk Show
SELECTED Russia Prior : GFW Opening Night Catwalk Show
SELECTED Ella Clow : GFW Opening Night Catwalk Show
SELECTED Zach Fornelius : GFW Opening Night Catwalk Show
SHORTLISTED Alex Petrou : GFW Fashion Innovation Award
SHORTLISTED Zachary Fornelius : GFW Hilary Alexander Sustainability Trailblazer award
SHORTLISTED Jack Pluckrose : GFW Sports and Leisurewear award
SHORTLISTED Zachary Fornelius : GFW Fashion Range Plan Award
SHORTLISTED Alex Petrou : GFW Fashion New Media Award
SHORTLISTED Russia Prior : GFW Fashion Concept Award
SHORTLISTED Freddy Woodroffe : GFW YKK Accessories award
SELECTED Alex Petrou : GFW Shop Trail; Samsung X
SELECTED Jessica Horton : GFW Brands' Portfolio Day; Burberry
SELECTED Ella Clow : GFW Brands' Portfolio Day; Asos
SELECTED Alice Fraser : GFW Brands' Portfolio Day; Asos
SELECTED Russia Prior : GFW Brands' Portfolio Day; Asos