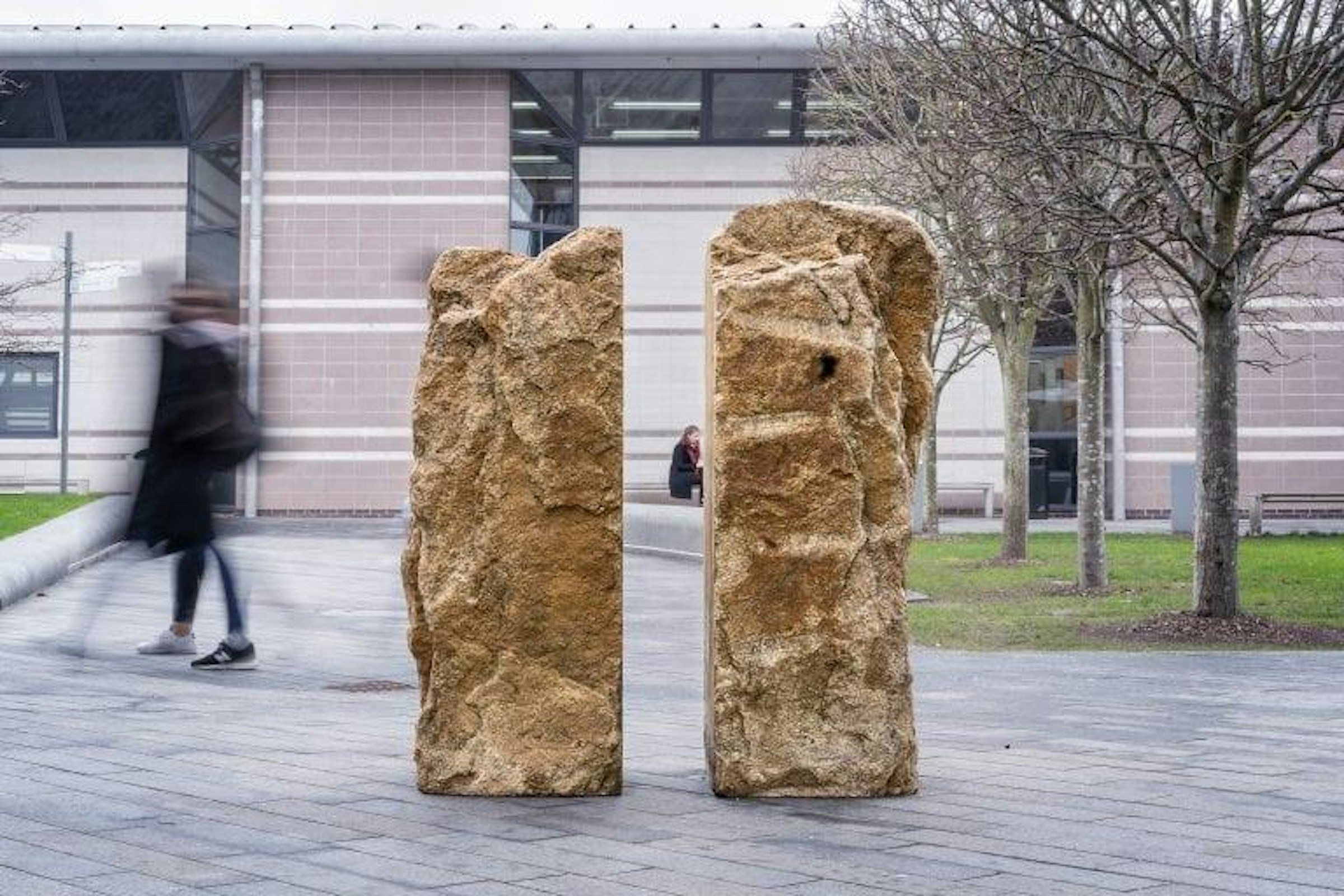 British artist and sculptor Tim Harrisson visited AUB on Thursday 14 March to provide a lecture about his practice.
The talk was introduced by Professor Simon Olding, Director of the Crafts Study Centre, University for the Creative Arts and Honorary Fellow of AUB, with Tim speaking about the meaning of his works donated to AUB.
In January we were delighted to have 'End Piece' and 'Duo', by renowned artist Tim Harrisson installed on campus. 'End Piece' can be found outside South House and 'Duo' inside the Library.
Sculptor Tim Harrisson has been working with stone for the last thirty years. He provided insight into his work with special reference to the two recent works: 'End Piece' (Ham Stone, 2015) and 'Duo' (St Bee's Cumberland Sandstone and Carrara Marble, 2018), now installed on the AUB campus. Tim Harrisson offered the sculptures on long-term loan to AUB in 2019.
Tim Harrisson and Professor Simon Olding are long-term colleagues and friends having known each other since Simon worked as Museum Director at the Russell-Cotes Art Gallery and Museum in Bournemouth. Simon commissioned Tim to make the sculpture 'Horizon' for the museum's garden which was completed in 1995 and has followed Tim's exhibitions and developments ever since.
Tim Harrisson was born in Essex in 1952 and lives and works in Hindon, Wiltshire, He studied at Hammersmith College of Art, Norwich Art School and Byam Shaw School of Fine Art.
In 1988 he was Sculptor in Residence at Red House Museum, Christchurch, organized by the Hampshire sculpture Trust. He has exhibited widely in both group and solo exhibitions, including the Rabley Drawing Centre, Marlborough, 2011, Bournemouth University, Atrium Gallery and Creswell Crags Museum. He shows work regularly at the New Art Centre, Roche Court, near Salisbury. Recent commissions include, West Park House, Southampton City Centre, the Russell-Cotes Art Gallery and Museum Bournemouth, Chatsworth House, Derbyshire and Southampton Airport, Eastleigh. Recent solo exhibitions include: Land/Stone/Colour, Canary Wharf London, 2018; As It Was Now, Messums Wiltshire, 2018.
In 2013 a selection of his works on paper were acquired by the British Museum, and in 2014 Creswell Heritage Trust in collaboration with the Art Fund and the V&A Museum purchased a series of six drawings. He was elected to the Royal West of England Academy in 2013 and 2015 and was a member of the selection panel for the RWA's biennial open exhibition, Drawn.
Professor Simon Olding is Director of the Crafts Study Centre and Professor of Modern Craft at the University for the Creative Arts. He held the post of Head of Arts and Museums and Director of the Russell-Cotes Art Gallery and Museum, Bournemouth in the 1990s commissioning Tim Harrison's sculpture 'Horizon' there. His writing and research interests are in studio ceramics and craft organisations, with a special focus on craft in South West England. He is an Honorary Fellow of Arts University Bournemouth and curated the exhibition 'Martyn Brewster: The Nocturnes' for The Gallery, AUB in 2018.