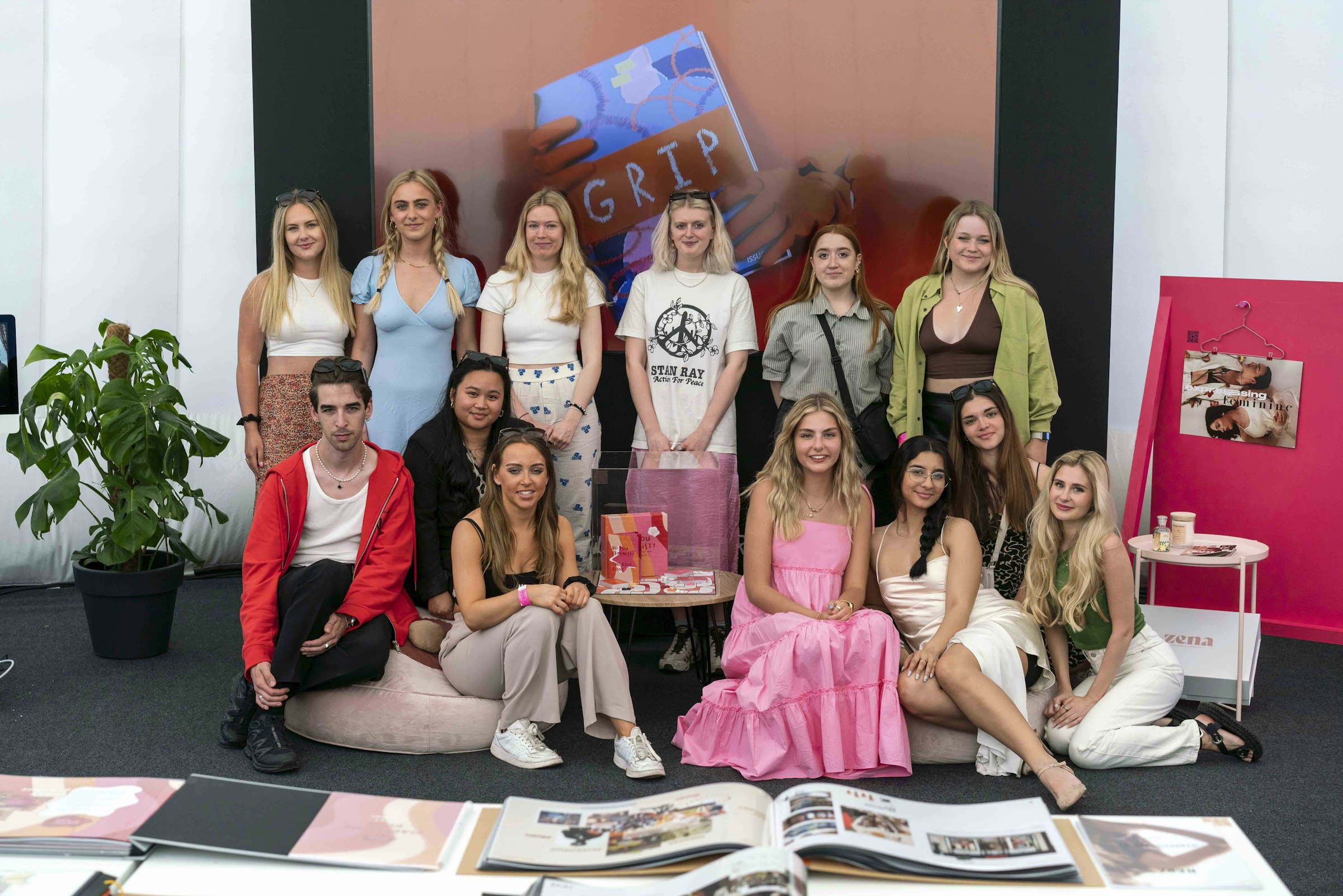 Students from across AUB's BA (Hons) Fashion and BA (Hons) Fashion Branding and Communication courses have won top awards at this year's Graduate Fashion Week Awards, which celebrate emerging talent in the fashion industry.
The Graduate Fashion Week Awards, which are held annually by Graduate Fashion Foundation during the Graduate Fashion Week from 20-24 June, attract industry talent and share exciting new ideas and innovations.
BA (Hons) Fashion Branding and Communication student Megan Boister was crowned winner of the Terry Mansfield Fashion Publication Award, after being judged by panellists Namal Lanka, Creative Director at Rebel Magazine, and Claudia Croft, Editor-in-Chief at 10 Magazine.
For a second year running, The New Fashion Media Award has been claimed by an AUB student, after BA (Hons) Fashion Branding and Communication's Paige Armstrong impressed an assembly of industry experts.

The judging panel included Hannah Ngakane, Strategic Partnerships Manager at Pinterest; Freya Murray, Creative Lead and Global Program Manager at Google Arts and Culture Lab; Robyn Blake, Head of Digital Marketing at Victoria Beckham; and Michelle Capp, UK Retail Fashion at Facebook/Instagram EMEA.
Final year BA (Hons) Fashion student Zachary Fornelius won the Fashion Innovation Award, after being judged by designer Jack Irving, Patrick McDowell, Designer in Residence at PINKO and Jimmy Choo Academy, and Philippa Nixon, CEO of ERDEM.
BA (Hons) Fashion Branding and Communication student Tanje Zimba was awarded Runner Up for the FACE Excellence Prize, and BA (Hons) Fashion student Russia Prior was announced Winner of the GFW AUB Catwalk Show, with Vera Geszti being awarded Highly Commended. These collections will be joining the 'Best of GFW22 Collections'.
Speaking about AUB's GFW award success, AUB Fashion Course Leaders, El Crehan and Esther Yarnold said: "We're always proud of all our students who showcase and demonstrate their work at a range of events, including those taking part in Graduate Fashion Week. After all the hard work that takes place throughout the academic year the opportunity to showcase collections on the Catwalk and Fashion Branding and Communication work within the Dome Pop-Up exhibition, is an important celebration and a springboard for their future careers.
"The Graduate Fashion Week Awards are a great opportunity for our students to engage with designers, creators, and innovators within the industry, as well as demonstrate their fantastic work to an audience of course colleagues, peers, family, and industry experts."
The wins build on a raft of previous AUB successes at Graduate Fashion Week, including last year's Fashion Range Plan Award Winner Abigail Wall, whose work impressed GFW Judge Fiona Lambert, MD at Jaeger, and New Fashion Media Award winner Jordy Mawhood whose work impressed the sponsors and judges from TikTok for its handling of challenging subject matter.
In 2020, fellow graduates Stephanie Ransom won the Adaptation Award, and Olga Petrusewicz won the Fashion Digital Communication Portfolio Award.
Full list of Graduate Fashion Week 2022 successes

BA (Hons) Fashion
WINNER Zachary Fornelius : GFW Fashion Innovation Award
WINNER Russia Prior : GFW AUB Catwalk Show
HIGHLY COMMENDED Vera Geszti : GFW AUB Catwalk Show
SHORTLISTED Alex Petrou : GFW Fashion Innovation Award
SHORTLISTED Zachary Fornelius : GFW Hilary Alexander Sustainability Trailblazer award
SHORTLISTED Jack Pluckrose : GFW Sports and Leisurewear award
SHORTLISTED Zachary Fornelius : GFW Fashion Range Plan Award
SHORTLISTED Alex Petrou : GFW Fashion New Media Award
SHORTLISTED Russia Prior : GFW Fashion Concept Award
SHORTLISTED Freddy Woodroffe : GFW YKK Accessories award
SELECTED Alex Petrou : GFW Shop Trail; Samsung X
SELECTED Jessica Horton : GFW Brands' Portfolio Day; Burberry
SELECTED Ella Clow : GFW Brands' Portfolio Day; ASOS
SELECTED Alice Fraser : GFW Brands' Portfolio Day; ASOS
SELECTED Russia Prior : GFW Brands' Portfolio Day; ASOS
BA (Hons) Fashion Branding and Communication
WINNER Paige Armstrong New Fashion Media Award
WINNER Megan Boister The Terry Mansfield Fashion Publication Award
WINNER Charlotte Hares GFW Tag Your Talent
RUNNER-UP Tanje Zimba The FACE Excellence Prize
SHORTLISTED Natasha Dobbe Fashion Styling and Creative Direction Award
SHORTLISTED Paige Armstrong Fashion Illustration
SHORTLISTED Molly Donohue Considered Fashion Award
SELECTED Alexander De Guzman Brands' Portfolio Day; Dr Martens
SELECTED Molly Donohue Brands' Portfolio Day; Dr Martens
SELECTED Megan Boister Shop Trail; Earl of East
SELECTED Alexander De Guzman Shop Trail; Earl of East
SELECTED Charlotte Hares Shop Trail; Earl of East
SELECTED Auriol Symons Shop Trail; Earl of East
SELECTED Tanje Zimba Diversity and Inclusion Pop-Up
Read more about Fashion and Fashion Branding and Communication at AUB