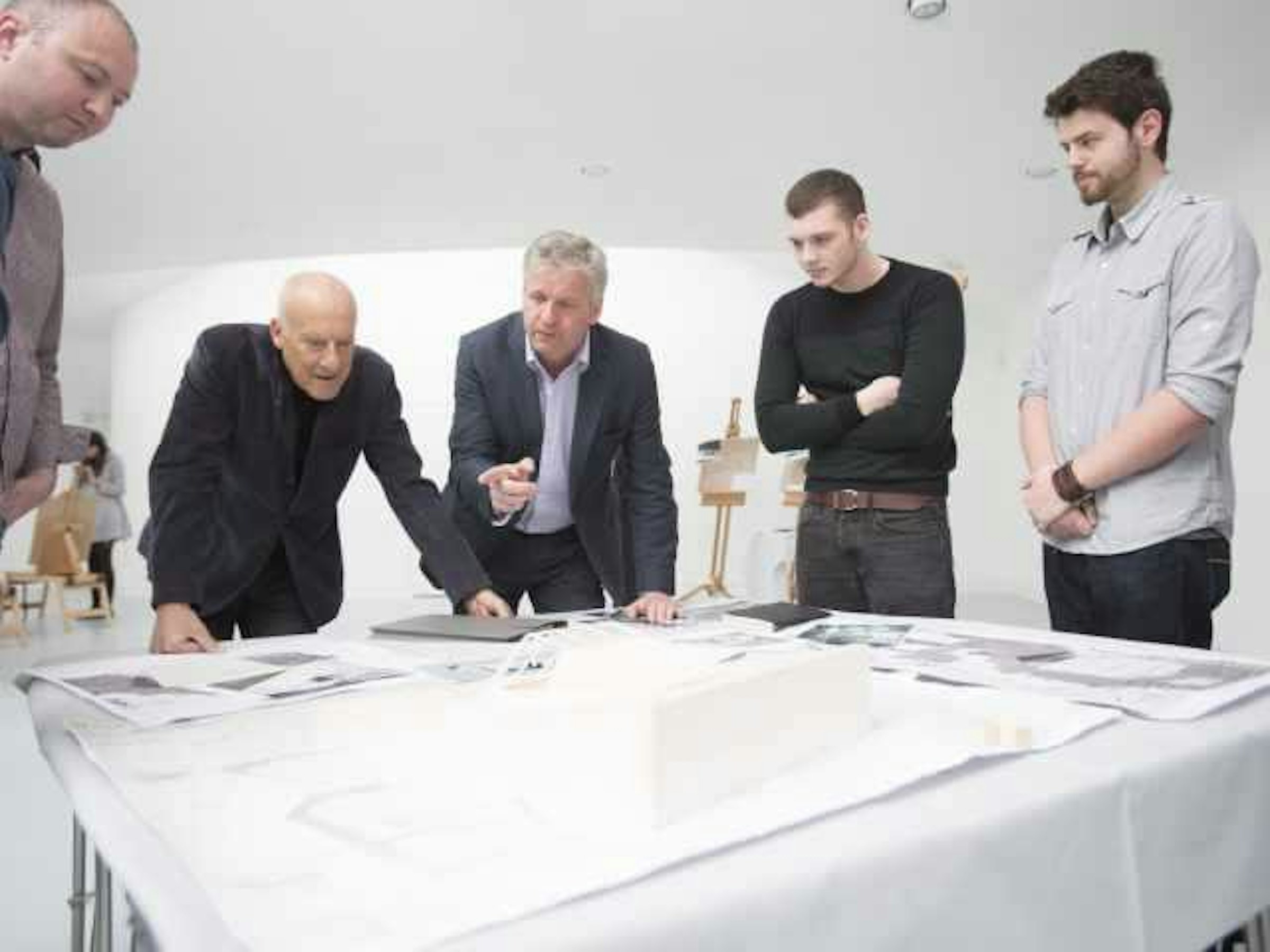 Seven second year students on AUB's BA (Hons) Modelmaking course were tasked by Lord Foster to build a replica of the original model of the Reichstag dome for The Norman Foster Foundation. The dome was designed by Lord Foster in 1993 to symbolise the reunification of Germany and the original model was lost.
Lord Foster then visited the AUB campus to take a look at the models and to give a lecture to BA (Hons) Modelmaking, Architecture, and Interior Architecture and Design students.
The students have also been recreating models of Lord Foster's early designs from the 1960s, using original tools and techniques.
One of the students, Tom Oliver, said: "Recreating the Reichstag model has been fantastic. It's our first experience of working to such a prestigious deadline and managing a big team project. We haven't built anything on this scale before."
Paul Johnson, Course Leader for Modelmaking at AUB said: "AUB has been collaborating with Foster + Partners for 20 years now. They are strong advocates of the use of models in their work and have the biggest model shops in London. They have a great demand for architectural models and our relationship has really grown out of that. We are one of the few courses in the UK able to deliver a commission like this.
"Foster + Partners offer work experience opportunities to our students and most of them spend time there learning from the team. They also sponsor our graduate show, New Blades, each year."
Lord Foster was accompanied by Lady Foster and members of his Modelmaking team at Foster + Partners: Head of modelmaking Neil Vandersteen, Diane Teague, Simon Windebank, Ed Bartlett and Rob Turner, Assistant Head of Modelmaking. Diane Teague is an alumna of AUB. The group took a tour of the University's new purpose-built modelmaking studio spaces, which opened in February this year.
Foster + Partners was founded in London in 1967 and over the past four decades has been responsible for a strikingly wide range of work, from urban master plans, public infrastructure, airports, civic and cultural buildings, offices and workplaces to private houses and furniture design.
Notable buildings by Lord Foster include the Hong Kong International Airport, American Air Museum, Hearst Tower in New York City and Torre de Collserola in Barcelona. He also designed many of London's most famous buildings, including the Imperial War Museum, Wembley Stadium, the Millennium Bridge and the Gherkin building.
Lord Foster was awarded the Royal Gold Medal for Architecture in 1983, the Gold Medal for the French Academy of Architecture in 1991 and the American Institute of Architects Gold Medal in 1994.