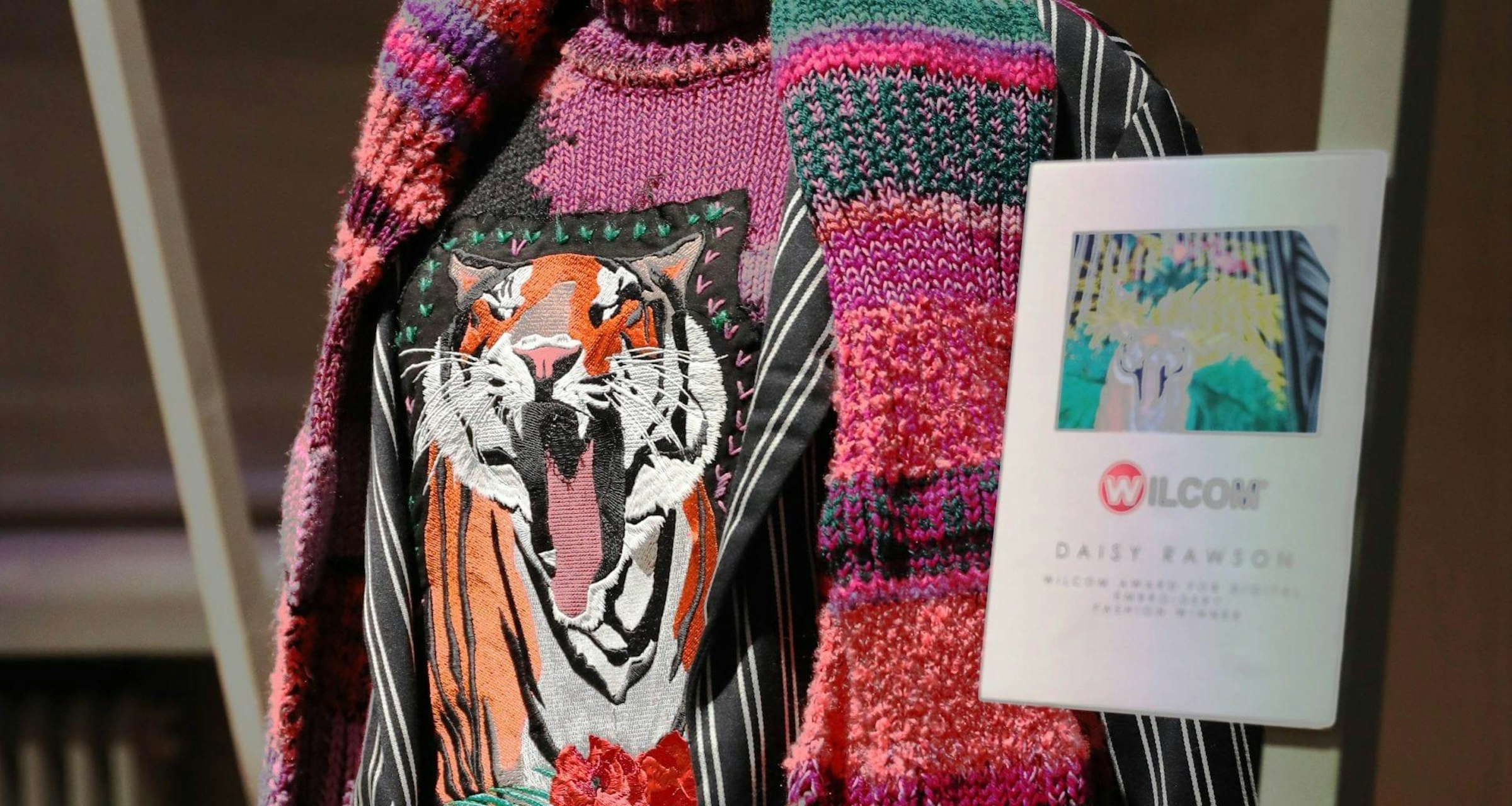 Daisy Rawson, who graduated from AUB's BA (Hons) Fashion course last year, has won the Wilcom Award for Digital Fashion Embroidery at the Hand and Lock Prize for Embroidery 2019.
Daisy's detailed embroidery work features tigers, bright colours and elaborate motifs across blazers and jumpers. Before graduating, Daisy worked on placement as a Fashion Intern at One BC, before heading to Graduate Fashion Week in June this year to exhibit her final year collection.
As the first-ever winner of the Digital Fashion Embroidery Award at Hand and Lock, Daisy will receive a 12-month sponsorship from Wilcom, as well as a range of software, online support and training.
Daisy said: "Being a winner for the Wilcom and Hand and Lock award was a fantastic opportunity and very special occasion for me to showcase my work I created through my degree at University. It has opened up another door in the industry and I look forward to further exploring the world of embroidery."
The annual Hand & Lock Prize for Embroidery is held at the Bishopsgate Institute and began in 2000 to give new embroidery designers the chance to showcase their skills, as well as meet a range of industry professionals keen to both share their experience and hear about new and emerging practices within embroidery.
Elena Crehan, Senior Lecturer in Fashion at AUB, said: "We loved attending the evening to see Daisy collect her award – it's fantastic to see our students achieve such success so soon after graduating as they head into the fashion world and begin forming their careers."
"A lot of our students are using Digital embroidery as a technique which is fully integrated into their design process. It's a very exciting to see the creative use of textiles techniques within their designs rather than just as a surface decoration. It's wonderful to see our students pushing these technologies and winning awards for using them creatively."
With growing interest from the fashion and textiles industry and with thousands of entries from fashion students and embroiderers across the world; Lock and Hand Embroidery Prize winners go on to start own successful businesses as well as work in the industry for top design houses.