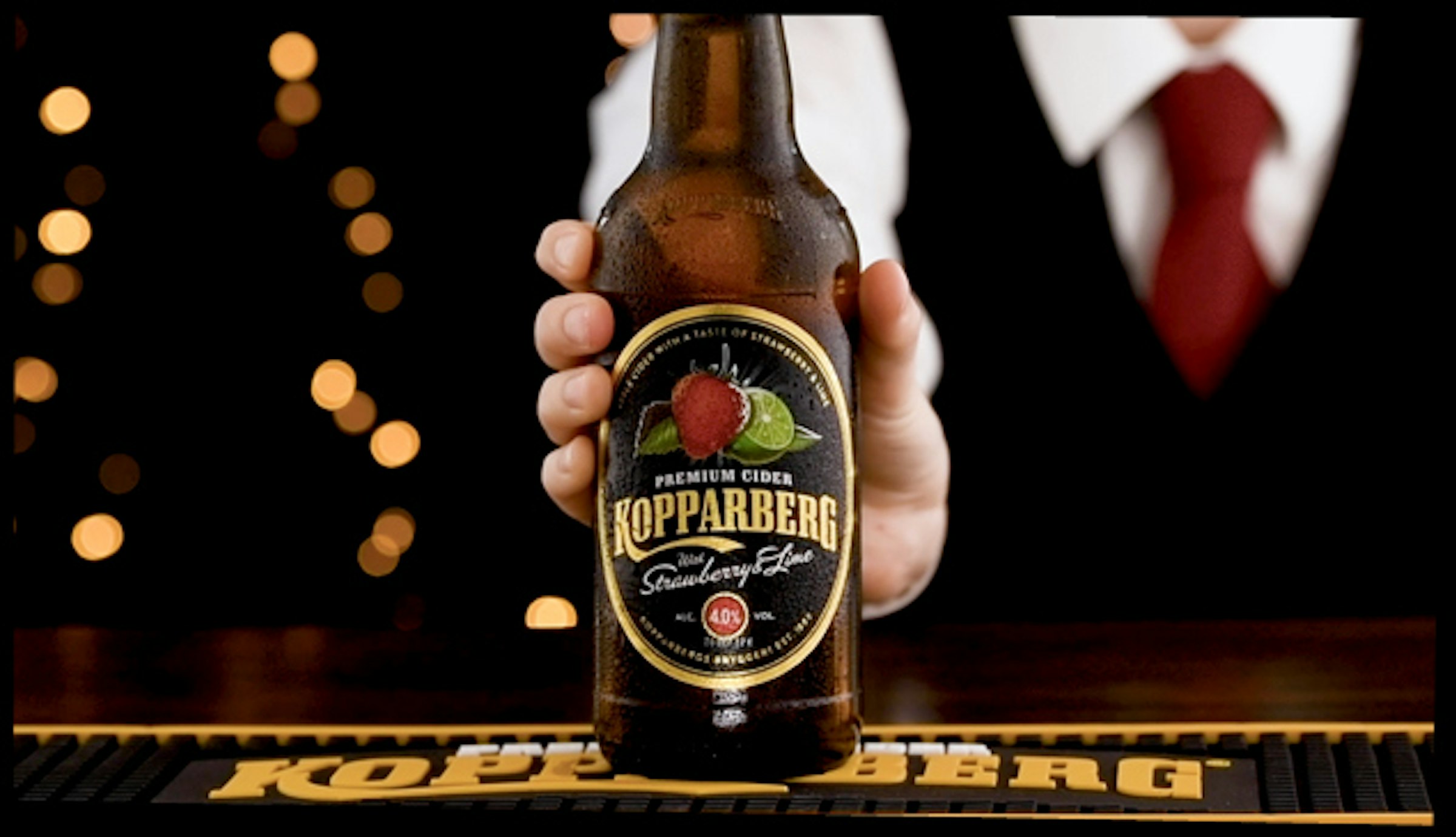 Swedish cider giant Kopparberg will be using the work of a 21-year-old Arts University Bournemouth (AUB) student to advertise its products to millions of consumers across the country later this month.
BA (Hons) Commercial Photography graduate Emily Mills is the creative force behind a new primetime TV advert for popular cider brand Kopparberg, shot on a shoestring budget in her garden and a nearby industrial mill.
The first-class honours student, who'll sit beside fellow AUB graduates later this month at AUB's first Graduation Ceremony since 2019, created the work for her final year project during the second national lockdown earlier this year.
Discovering an increased demand for video-trained photographers, Emily's final year photography research revealed that more than 60% of commissioned visual work now incorporates video. Keen to delve deeper into the evolving role of photographers and maximise future commissions, the budding product photographer then branched into moving image herself; creating a speculative video for Kopparberg during the COVID-19 lockdown to demonstrate how photographers could adapt to meet a shifting demand for video.
Emily said: "I purchased a specialist slow-motion camera and extra equipment to shoot a moving image advert that required use of some of the skills I've developed in product photography, like lighting, visual aesthetic and a close attention to detail.
"Spurred on by enthusiastic university tutors, I contacted Kopparberg's Marketing Team, but I didn't hear back, so I decided to put my video out over social media to see what people thought of my work."
With more than 2.5 million views, Emily's TikTok video advert went viral and a raft of companies reached out to her, including a popular restaurant chain an international creative agency, and talent-led production house Agency At Large, who now represent the emerging filmmaker.

Among those getting in touch were Kopparberg themselves. Rob Salvesen, Head of Marketing at Kopparberg, said: "At Kopparberg, we're all about celebrating firsts that last. When we saw the TikTok community get behind Emily's amazing creativity, we knew we had to show our support and create an unforgettable first for Emily.
It's not every day that someone can see their work shown on ITV2 - and we're sure that there is a bright future ahead for Emily."
Kopparberg recently launched its To Firsts That Last campaign celebrating the unforgettable firsts that make a lasting impact, and decided to adopt Emily's advert in order to launch the career of their talented fan.

Conrad Tracy, Course Leader of BA (Hons) Commercial Photography at AUB, said: "We're really excited to see Emily's Major Project work being recognised by Kopparberg and used as a national TV advertisement campaign. It's amazing to think that through the power of social media, her work has been discovered so quickly, and that opportunities are flooding through, including being signed by Agent At Large, who are now representing Emily for commercial work, before she has even graduated!
It's also no great surprise to us that Emily has received such interest as her work is of a highly creative and technical standard, and clearly demonstrates her commercial intent as a photographer. Emily has been an excellent student on the course; demonstrating a clear focus, ingenuity and a great work ethic, which has been particularly impressive during this difficult year.
He added: "We wish her continued success, and look forward to following her career, as she joins the long list of successful BA (Hons) Commercial Photography alumni within the creative industries."
Speaking about home-grown techniques used in the advert and move into motion picture, Emily said: "If I can't adapt, I won't survive, and I like to think that all photography is about problem-solving and understanding what goes on behind-the-scenes to create captivating visuals.
"A lot of work goes into the detailed shots, which are filmed at around 1,000 frames per second. For example, I used a modified glass bottle, compressed air, water and squash to create a fountain effect of cider firing out of the bottle, and I used an acrylic rod and drill to animate the spinning motions on limes and strawberries."
Emily will now be waiting for her advert to go live on ITV2, where it will run between segments of the hugely-popular show Love Island: Aftersun, and will continue her professional work with an upcoming project for Sky TV.