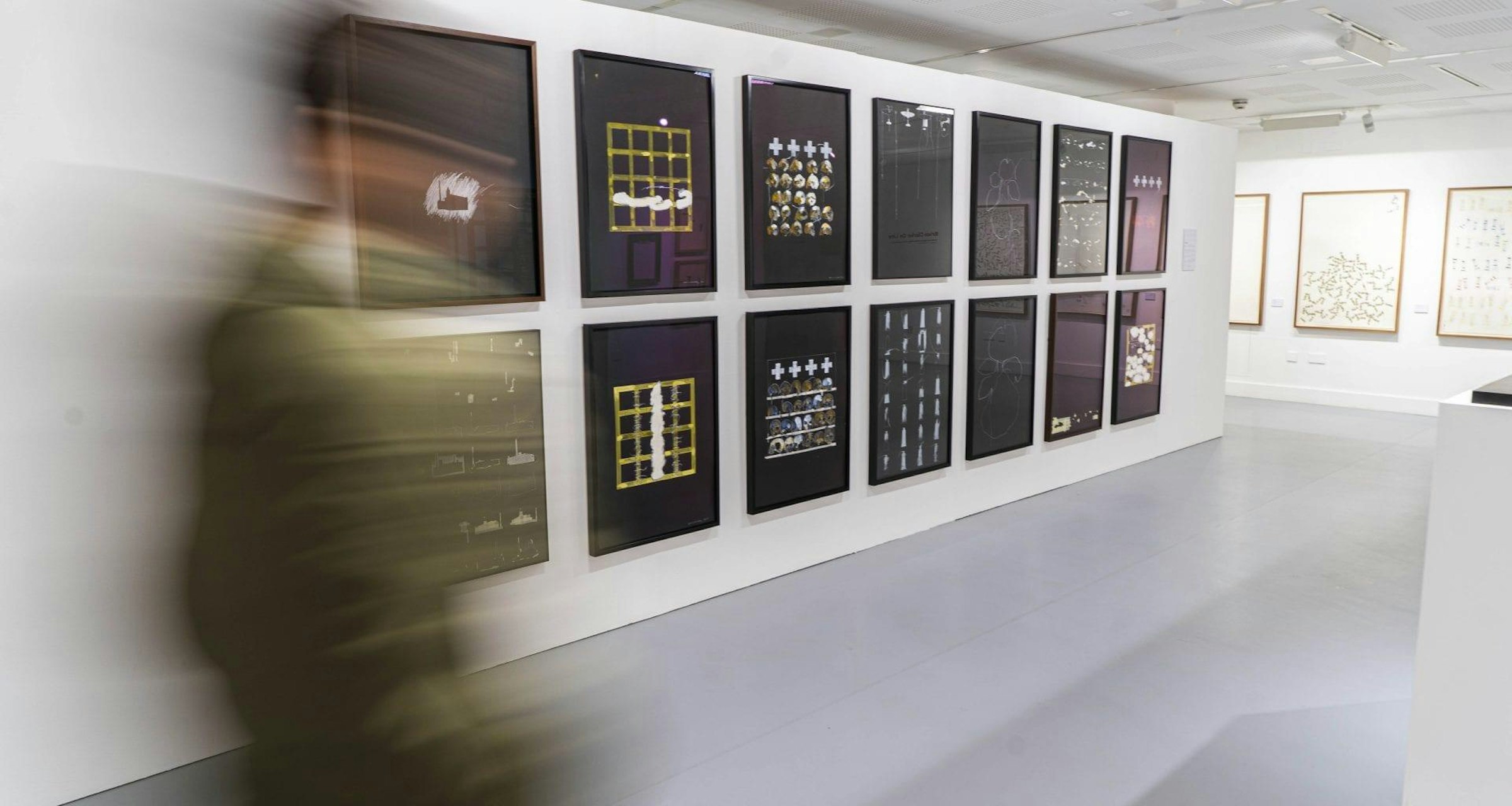 Jointly curated by Professor Paul Greenhalgh and Francesco Brusatin, Brian Clarke: On Line at Arts University Bournemouth (AUB) features more than 50 of Clarke's most distinctive works including paintings, works on paper and stained glass that trace his love of drawing, of 'line', and the pivotal role it plays in his life and work.
Perhaps best known for his frequent collaborations with architects including Norman Foster, Zaha Hadid, Arata Isozaki, Oscar Niemeyer, I. M. Pei, and Future Systems, Clarke is also noted for working with art dealer Robert Fraser, fashion photographer David Bailey, and Sir Paul McCartney, for whom he designed stage sets for two world tours.
Clarke has collaborated with the Dutch National Ballet, and with director Hugh Hudson, designing stage sets for the Robert Ward opera The Crucible, adapted from the play by Arthur Miller.
Clarke's work has been exhibited in many of the world's most prestigious galleries, and is held in public and private collections including those of the Tate, the Victoria and Albert Museum, the Bavarian State Painting Collections at Museum Brandhorst, Munich, the Sezon Museum of Modern Art, Tokyo, and the Corning Museum of Glass, New York.
The artist, who has close links to Arts University Bournemouth, has previously visited architectural students at AUB, and employs a graduate of the university's BA (Hons) Modelmaking course at his studio.
AUB Deputy Vice Chancellor Professor Emma Hunt will host an In Conversation discussion between Brian Clarke and Paul Greenhalgh at the university's Wallisdown campus in Poole on Tuesday 14 January.
Professor Hunt said: "Brian Clarke: On Line is a great way to introduce the 2020s as the decade of creativity, innovation and collaboration, not just between artist and art school, but between universities and the regions in which they're located – something we're keen to highlight in Dorset, where our culture is rich in arts, architecture and performance."
"AUB is honoured to be hosting this exhibition of Brian Clarke's work. Clarke is an artist who is well known for his stained glass practice with leading architectural firms, but also for his paintings, works on paper, and sculpture, and it's a delight to see this range represented in the exhibition."
Professor Hunt added: "Brian Clarke is a national figurehead of contemporary arts, working with some of the country's most prominent architects and artists, but he also shares the commitment to innovation and collaboration that is predominant across our curriculum, so we're delighted to be hosting his work at TheGallery."
"AUB has drawing at the heart of all its courses, exploiting both hand techniques and new technologies, and its value is felt throughout our creative environment, either through exhibitions such as this, by a leading contemporary artist, where 'the line' is celebrated, or the physical spaces for drawing such as the highly acclaimed drawing studio built by AUB honorary fellow, and friend and collaborator of Clarke, Sir Peter Cook."
Speaking about his own work, Clarke said: "Learning to draw is like learning to speak. Line can carry the shorthand of every human emotion, mathematical axiom, or spiritual longing. One can try to conceal the truth of character by being slick or clever or academic but you can always read past artifice to the real person through their line. This makes it the most liberating language at the disposal of the artist. Drawing is my most loyal ally and most faithful friend. "
Follow Brian Clarke on Facebook, Instagram, and his website.