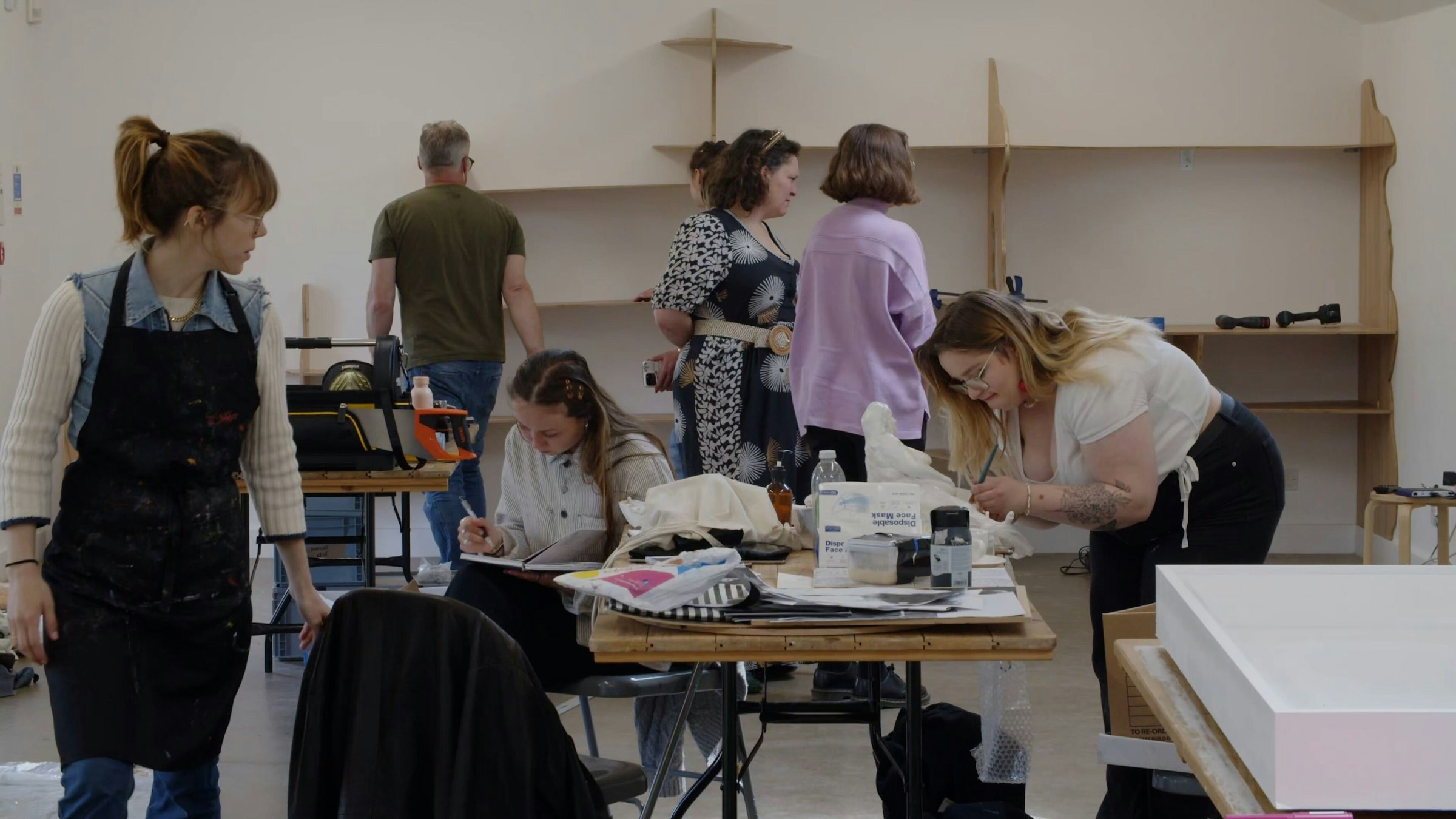 Six undergraduate BA (Hons) Fine Art students from Arts University Bournemouth have worked with renowned contemporary modern art gallery Hauser & Wirth, based in Bruton, Somerset.
The group of students have worked with Hauser & Wirth to open an inaugural Education Lab, as part of the gallery's commitment to inclusive learning programmes that instigate dialogue between, art, artists and a diverse audience.
The Education Lab supports students by offering a short period of professional experience, giving visibility to creative approaches to collaborative learning and mentoring.
BA (Hons) Fine Art students Clara Begliardi Ghidini, Jovita Bhengra, Charlotte Illingworth, Annabel Miller, Lisa Moro and Leigh Williams undertook research at the gallery's Henry Moore: Sharing Form exhibition before working independently to create a new space, with support from the Hauser & Wirth team as well as external arts professionals.
Third year Fine Art student Clara Begliardi Ghidini said: "Responding to Henry Moore has been a very big challenge as an artist, but it's been one of my favourite things. With time, researching and experimenting manually and physically, I've found there to be a lot of connections with the way that video captures the body in movement and how sculpture can do the same thing.

Harry Meadows, Senior Lecturer in Fine Art at AUB said: "Arts University Bournemouth create opportunities for students that encourage collaboration, creativity and innovation. The Education Lab partnership project embodies this approach to education while providing valuable experience working on a live public facing brief.
"Aligning the university curriculum with research on Henry Moore, the selected artists from the Fine Art undergraduate course benefitted from academic and professional mentoring. This process has been transformative for the students who have been given license to become actively involved in the interpretation, production and dissemination of the exhibition, shifting their position from gallery visitors to cultural stakeholders."
The Education Lab is part of Hauser & Wirth's global learning platform that runs projects for individuals, schools, students, special interest groups and families, through a series of meaningful partnerships. The outcome is not only a curated multidisciplinary display of the student's research and practice, but a space for interaction and exploration, activated by Hauser & Wirth's exhibition audience.
Debbie Hillyerd, Director of Education at Hauser & Wirth, said: "Learning at Hauser & Wirth is concerned with quality and ambition. Our relationship with academic institutions is a very important component, respecting the work of our educator colleagues and fusing new dialogues. In this context, the gallery and its artists can provide an additional space for learning that runs alongside traditional formats."
"The Education Lab in Somerset is a unique iteration of this, embedding the student's experience at the gallery directly into the assessment for their BA Fine Art at AUB. The result demonstrates how working together, Hauser & Wirth and its partners can impact on emerging careers at grass roots level, bringing our artists and gallery team closer to the next generation of young professionals."
The Education Lab partnership with AUB was incorporated into the students' final third year project for the BA (Hons) Fine Art, with final pieces on display in the AUB Undergraduate Degree Show, 24 June to 1 July 2022.