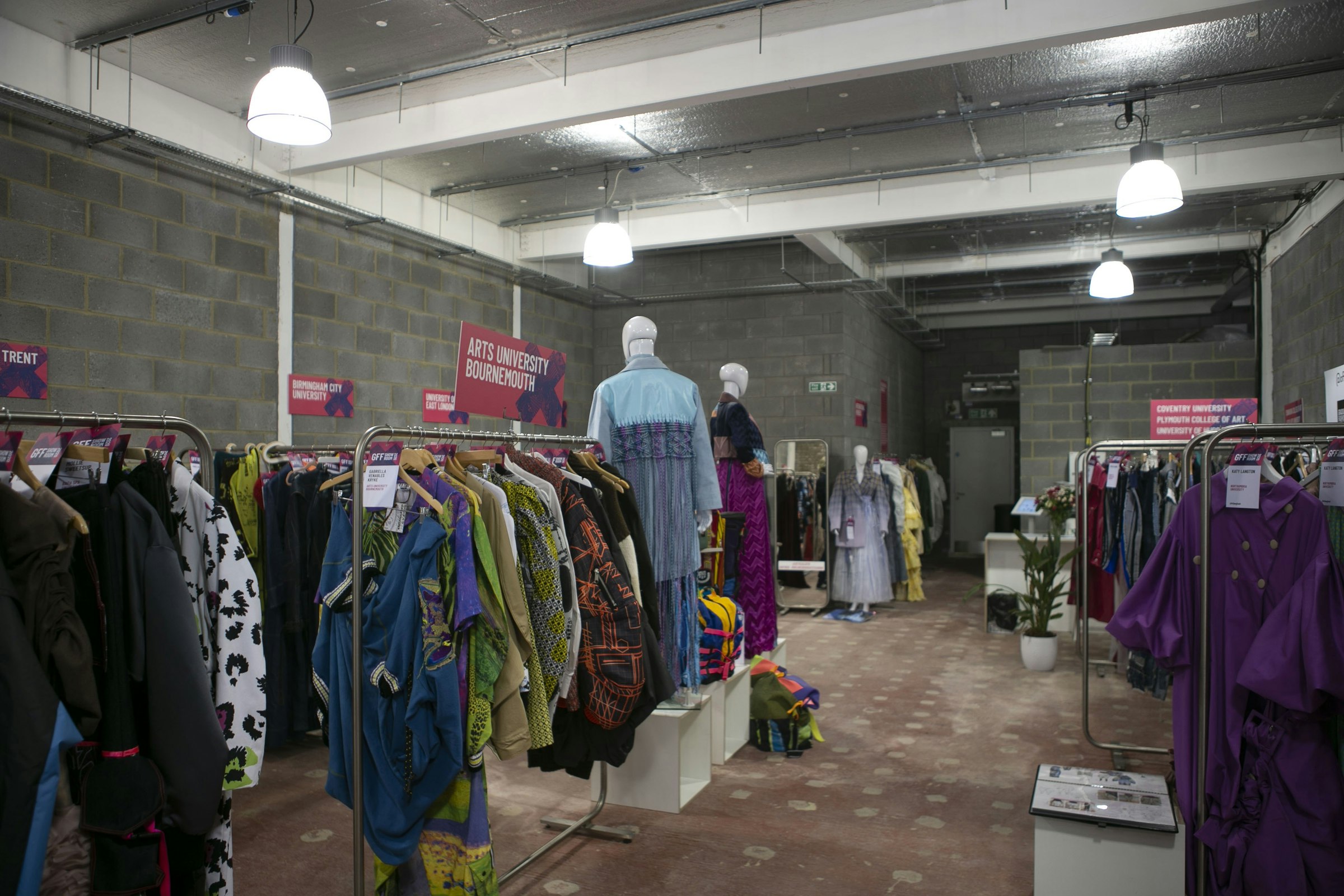 AUB Fashion students Olga Petrusewicz and Stephanie Ransom have both picked up top award wins at this year's Graduate Fashion Week Awards. The pair, who competed against more than 5,000 other students, were part of a group of 13 shortlisted students and five finalists from AUB.
Coinciding with London Fashion Week, the Graduate Fashion Foundation Awards recognise and highlight skills and talent across a variety of fashion disciplines, from communication to fashion design, and everything in between.
BA (Hons) Fashion Branding and Communication graduate Olga Petrusewicz, who graduated from AUB this year picked up the organisation's Fashion Communication Digital Portfolio award for her work; praised as 'well-executed, stylish, and professionally presented' by judges including Henry Holland, Hilary Alexander, designers Christopher Raeburn, Priya Ahluwalia, Bianca Saunders, David Koma, Patrick McDowell, and stylist Rebekkah Roy.
Olga's work, based on a concept of youth, adulthood, nostalgia and childhood, uses vibrant and playful detail and motifs to link audiences to touch and interactivity. Olga said: "I wanted to make my publication a bit more direct with the audience. Luxury fashion can be quite intimidating and exclusive, but I wanted my fashion publication to be able to a bit more consumer-directed, fun and exciting.
"AUB and my tutors have been a huge help to me, and I wouldn't be here if it wasn't for them! I'll miss the AUB community and it's really, really square trees. It was great to collaborate with students from other courses like Make-Up and Photography. With my focus on image production, styling and working in teams, it's so easy to put my skills to the test in real-life now in London as I begin an internship here in events for luxury brands.
She added: "It's so amazing to have been at such an exciting event. We've had a year of cancelled exhibitions and shows, so it's great to have had attended a real event to win an award!"

Meanwhile, AUB BA (Hons) Fashion graduate Stephanie Ransom picked up the newly-introduced Adaptation Award, which celebrates student resourcefulness and problem-solving skills during this unprecedented time.
Speaking about her work, which features in The Guardian, Steph said: "My work is based on the biker subculture; it's rough and rugged, nothing is pristine, and the fabrics are aged. I really wanted to bring that look into a modern collection. It's been inspired by my dad and his biker past.
"I started using virtual design software CLO3D at the beginning of my project, but through the progression of my designs and with COVID, I needed to complete my collection at home with a digital platform. I was able to get all of the textiles that I was using onto the software and it really brought my collection to life."
She added: "It doesn't feel real to be exhibiting with GFW at London Fashion Week. With COVID, things have been uncertain, but for this to happen, it's been a lovely end to my studies and start to my career where I'm currently working as a design intern at Liam Hodges."

Fashion Course Leader Iain Archer said: "Our graduates are going out into the fashion industry and achieving fantastic things. It's been wonderful that despite the pandemic we have had this opportunity to celebrate and show what the graduates have achieved this academic year!
"Olga and Steph's wins come at such a pivotal time for the fashion industry. Software like LECTRA and CLO3D has made it possible for our fashion students to work remotely to create a wide virtual range of garments and collections, which is enabling our industry to lessen its impact on the environment. And it's fantastic to see that working in this more digital way has been such a success for our students' portfolio work, allowing them to connect with industry in a new instantaneous and engaging way."
AUB's shortlisted students included Ffion McCormick Edwards for YKK's Accessories Award, Caolum McCabe for the Fashion Digital Portfolio Award, and Ella Chick for the Sportswear and Leisurewear Award.