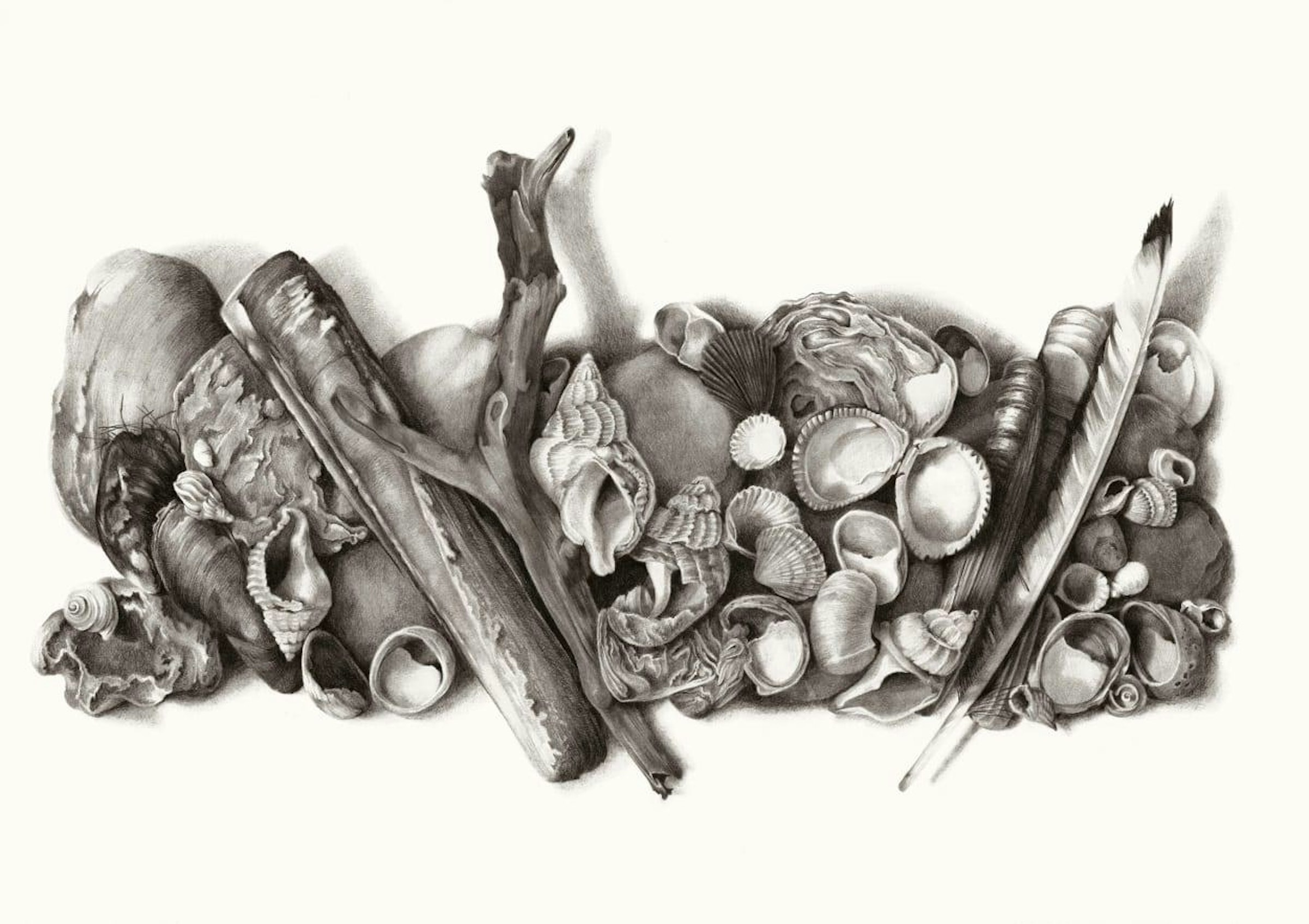 Printmaker Robin Mackenzie and his partner, artist Katy Harrald, who graduated from AUB in 2013 and 2014 respectively, have taken top prizes at this year's Dorset Art Prize.
Established in 2014, the Dorset Art Prize aims to reward and celebrate excellence in art from across the county of Dorset. It offers both emerging and established artists the opportunity to showcase their work to a wider audience. Since its launch in 2014, the Prize has given away more than £33,500 in prize money, and this year focused on interpreting and exploring the theme of reflection.
Based at Walford Mill Crafts in Wimborne, Robin's illustration and printmaking focuses around wood engraving, lino-cutting and printing using a traditional iron Albion Press.
Robin said: "It's an honour to have been selected as a prize winner for my large linocut, 'The Pinnacles at Old Harry.' The standard of work was extremely high and I feel very privileged to have been able to show my work alongside such a wealth of talent.
After graduating from his BA (Hons) Illustration degree at AUB in 2013, Robin has gone on to create prints for products, books, magazines such as The National Trust Magazine and a range of exhibitions, including Durlston Castle's Jurassic Coast Solo Show and the Annual Society of Wood Engravers exhibition at North Wall Gallery in Oxford. He was also recently commissioned to make a series of large scale prints for SAGA's new liner 'The Spirit of Discovery.'
The couple, who won second and third at the Awards Ceremony at Poole Museum, met through their shared love of the south coast, and thought that it would be interesting to take part in the contest as competitors.
Katy said: "I was delighted to have my drawing 'Shell Bay' selected amongst such stiff competition. I would like to extend my deepest thanks to the Dorset Art Prize and Poole Museum for their support and a wonderful exhibition and awards ceremony."
She added: "I adore creating finely detailed work responding to my home, and the ever-inspiring, south coast. The passion I have for my craft allows me to spend extra time and care on each piece, paying homage to the small details, and creating highly detailed works celebrating British nature and coastal treasures."
Katy studied a Foundation diploma at AUB in 2010 before pursuing a passion for illustration through her undergraduate studies from 2011 to 2014. Katy creates traditional pencil illustrations for national and international publications and is currently exhibiting work in both the USA and UK, Katy's artwork will also be heading for exhibition at the Antler and Talon Galleries in Oregon, USA in 2020.
Christian Edwardes, Illustration Course Leader at AUB, said: "We're very proud of our alumni at AUB, and it's especially unusual to hear of a graduate couple winning awards beside one another at an Art Prize. Congratulations to both Robin and Katy for their superb work."