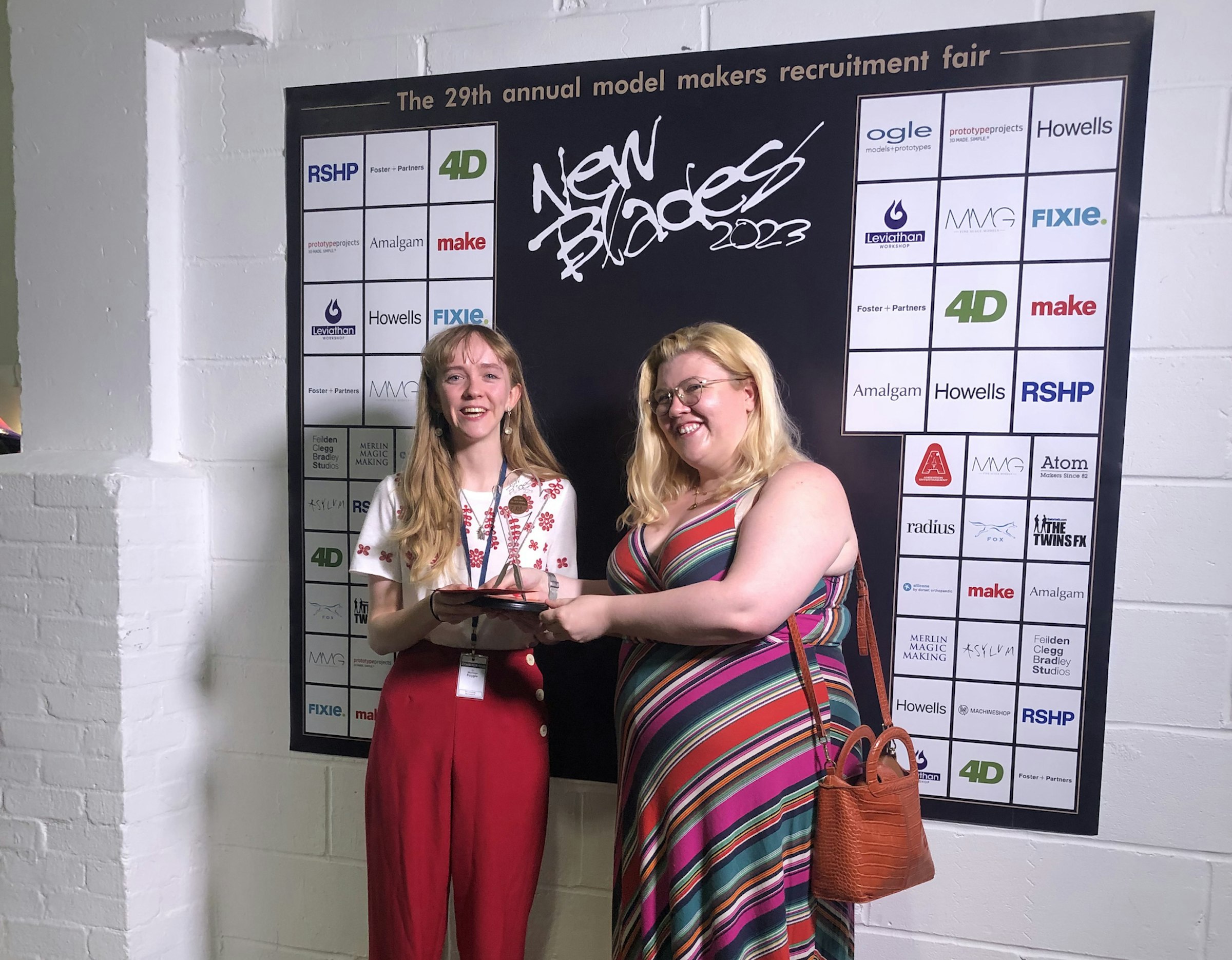 This year's New Blades recruitment fair ended with a major triumph for Arts University Bournemouth (AUB) as seven of its BA (Hons) Modelmaking students came away with awards in a variety of categories.
This year, the 29th New Blades show at Holborn Studios, Hoxton, featured the work of nearly 80 students from six universities and colleges in the country. Including AUB, which brought home a massive haul of 12 awards.
"This year's third years have overcome many challenges on their journey towards our end-of-year exhibition," says Paul Johnson, Course Leader for BA (Hons) Modelmaking. "They've worked really hard to express their creative talents, culminating in a showstopping body of work.
"Our success at New Blades recognised the individual talents of so many AUB Modelmaking students but is also a reflection on the qualities of the whole cohort and the course team that has supported them."
Maddie Fuggle took home four of the 12 awards, including Best in Show. Her models included an eye-catching large-scale model Nintendo DS, as well as a model yacht, a beetle and a telephone. She also picked up three industry awards: Best Product Model, Best Finish, and Best Use of 3D Printing.
Runner-up Best in Show was taken by AUB's Jamie Lord, who produced a detailed model of an opening scene from The Hobbit: An Unexpected Journey. Jamie also took home the Best Use of Creative Materials award.
Another AUB award-winner is Jack Wase, who picked up the Out of the Box award for a Willy Wonka sweet dispenser.

"The purpose behind the model was to demonstrate the diversity in skills we learn on the Modelmaking course," explains Jack. "I aimed to showcase the diversity in machinery, materials and processes available to the students and what we can learn in a short space of time.
"It was a real privilege to be recognised by industry professionals for my work, especially those that specialise in projects similar to mine."
Jack has gone on into a job in the film industry, making props and set pieces for the big screen.
Fellow AUB students Holly Bignell, Anna Rumary, Sam Teanby and Christianna Altani also took home awards after the New Blades show.
"We're enormously proud of the students' achievements, both individually and as a cohort," says Paul. "Supporting each other, working together and sharing knowledge.
"Modelmaking at AUB is very much a family with many interests, spread out amongst the many professional careers that modelmaking can lead you to.
"Our students' achievements extend well beyond surface-level accomplishments as we foster and support research-based practice that embodies academic rigour – a critical tool for adaptability that our graduates carry with them into the industry."
Maddie Fuggle – Best in Show, Best Product Model, Best Finish, Best Use of 3D Printing
Jamie Lord – Runner-Up Best in Show, Best Use of Creative Materials
Holly Bignell – Model Maker Group Fine Scale Model Award, Asylum Best Modelmaking
Christianna Altani – Leviation Workshop Award
Anna Rumary – Sustainability Award
Sam Teanby – Howells Award
Jack Wase – Outside the Box Award