You are using an outdated browser. Most of this website should still work, but after upgrading your browser it will look and perform better.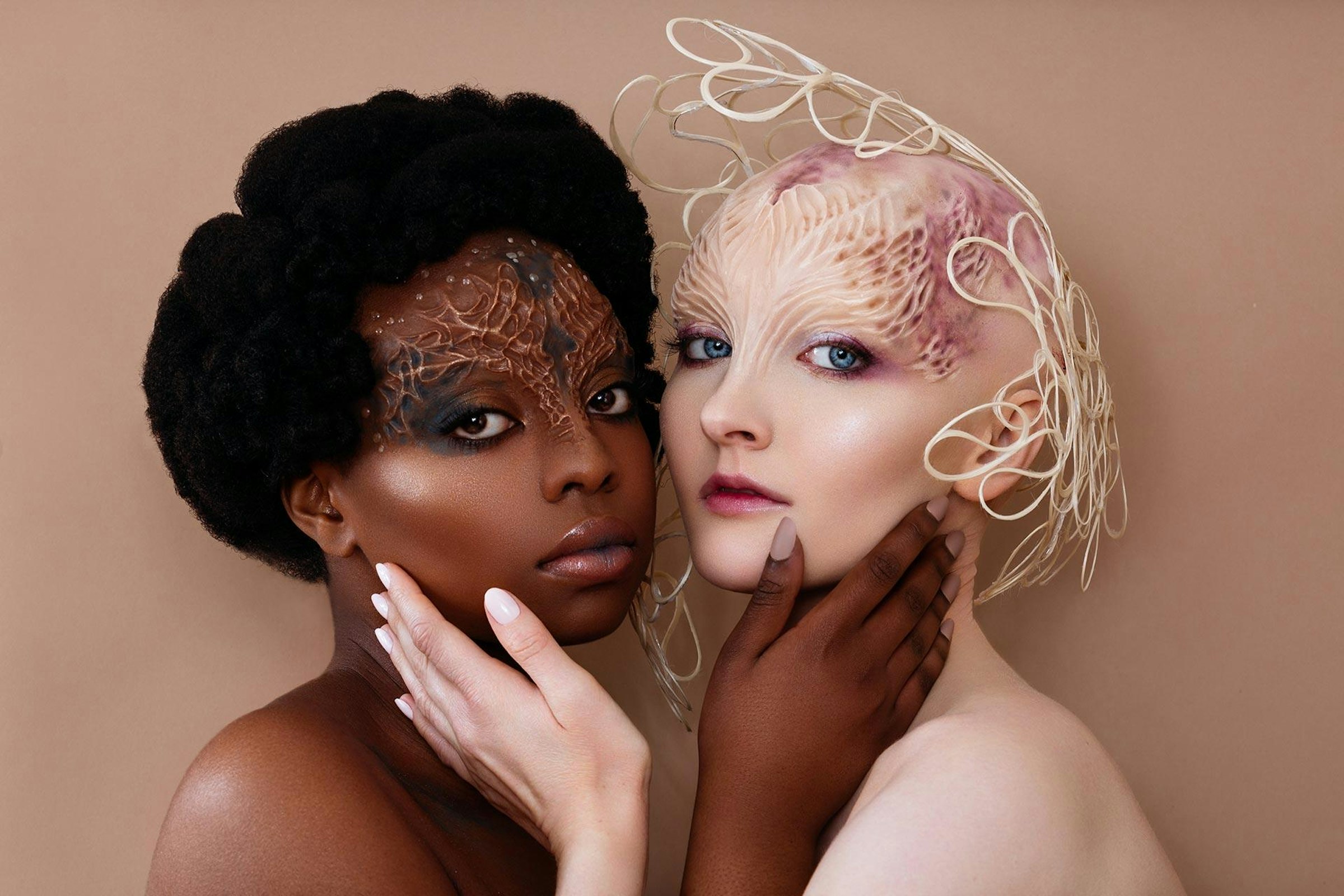 BA (Hons) Make-up for Media and Performa...
BA (Hons) Make-up for Media and Performance
Duration:

3 or 4 years full-time

Placement year:

Optional 1 year

Course code:

W45G (UCAS)

Institution code:

A66 (UCAS)
Overview
Spectacular make-up and dramatic special effects can transform a production.
Make-up for Media and Performance course information
Our BA (Hons) Make-up for Media and Performance course gives you the skills you need to play a key creative role in performance, fashion, film or television. The make-up artist is an important member of any production team and you'll work with students studying acting, film production, costume and fashion to create 'live' collaborative projects.
Make-Up for Media and Performance gives you the skills that you need to play a key creative role in performance, fashion, film or television.
Our recent graduates have worked on BBC and ITV productions (such as A Midsummer Night's Dream, Coronation Street, Casualty, Grantchester and The Durrells), films (such as Beauty and the Beast), theatre productions at the Royal Shakespeare Company, musicals (such as Wicked, The King and I, Matilda and Priscilla Queen of the Desert), and at Leavesden Warner Brothers and Pinewood Studios.
The make-up artist is an important member of any production team and you'll have the chance to work with students who are studying Acting, Film Production, Costume and Performance Design, Commercial Photography, Visual Effects, Fashion and Fashion Branding and Communication to create 'live' collaborative projects. On this course, you'll learn a diverse range of make-up skills. You'll study make-up and hair design for drama, ballet, opera and music. A different perspective will give you the skills for fashion and photography shoots. You'll also construct wigs and hairpieces, and create prosthetic make-up FX for film and television. In short, you'll develop skills that are a real asset to a wide range of performance industries, from theatre to TV, and from the music business to the world of fashion and film.
| | |
| --- | --- |
| Course duration | 3 or 4 years (full-time) |
| Placement | Option of a 1-year placement |
| UCAS course code | W45G |
| UCAS institution code | A66 |
Placement year
All undergraduate courses at AUB offer an optional placement year, to be taken between your second and third years of study.
If you're unsure about this optional placement, you don't need to decide now. Once you're here and studying with us, the course team will discuss the placement options with you, so when the time comes, you can make a decision that's right for you.
If you're required to have a Student Visa to study in the UK, it won't be possible to undertake the one-year placement option; there'll be other opportunities for you to engage with industry during your study at AUB.
Level 4 (first year)
The first year (Level 4) of the course is designed to teach you the fundamental creative, practical, analytical and critical skills needed by make-up artists working in various media and performance industries.
Workshops and practical projects will help you to extend existing skills in make-up, wigs and hair design and application through learning about postiche. Interpersonal, communication and employability skills are developed through these units since you will carry out practical make-up and hair projects on one another, models and performers under direction and supervision.
The units will also introduce you to formally recording your work through developing a professional make-up portfolio.
The development of analysis, critical thinking, research, reflection and writing skills are an important part of the course and link with the development of your practical and creative work.
Level 5 (second year)
The second year of your course enables you to build upon the skills and knowledge that you have gained at Level 4 and gives you the opportunity to consider the specialisms and career pathways that you would like to explore in more depth during Level 6 study.
Employability and professional skills are developed through exploring professional make-up contexts, digital technology in make-up, industrial links and collaborative engagement.
You'll refine your technical abilities and knowledge of the place of the make-up artist within the creative team. You'll work on a variety of live projects including live performances, shoots and make-up events – an important aspect of the course.
You'll develop a contextual understanding of the art of make-up transformation and performance work though research.
Level 6 (third year)
Your third year provides the opportunity for you to formulate and identify your particular professional and academic interests.
Risk and ambition within the field will be crucial to your individual development and intellectual and academic integrity will be further encouraged through written work and 'thinking through practice'.
The structure of Level 6 is made up of units that will further develop your potential to become intellectually motivated and increasingly autonomous professionals.
There is a strong emphasis on balancing conceptual thinking skills, research methods, practical and technical skills, working independently and as part of a team and acquiring lifelong learning skills.
You'll develop your specialist areas of interest such as prosthetic transformation. You'll extend your portfolio of work within a range of professional contexts through live projects and collaborations.
You'll investigate your own practice and develop a philosophical understanding of key critical and contextual issues.

All students are registered for the award of BA (Hons); however, exit awards are available if you leave the course early, having successfully completed one or two levels. If you successfully complete a level of the course, you will automatically be entitled to progress to the next level.
For the award of a Certificate of Higher Education (CertHE), you must have achieved a minimum of 120 credits at Level 4. This qualification may be awarded if you leave the University following successful completion of the first year of your course.
For the award of a Diploma of Higher Education (DipHE), you must have achieved a minimum of 240 credits of which a minimum of 120 must be at Level 5. This qualification may be awarded if you leave the University following successful completion of the second year of your course.
For the award of a BA (Hons) you must have achieved a minimum of 360 credits of which a minimum of 240 must be at Level 5 or above, of which a minimum of 120 credits must be at Level 6. This qualification will be awarded upon successful completion of your course.
A BA without Honours may be awarded if you have achieved 300 credits, at least 180 of which are at Level 5 or above, and at least 60 of which are at Level 6.
International Beauty Industry Awards (2023) – Global Student Winner
The Prosthetics Event (2023) Body Art – Winner, Rachel Hawkins
The Prosthetics Event (2023) Prosthetic Application – Winner, Zoe Pyne
Grand Prize Stan Winston Character Make-up Competition – Winner
BBC Three, Glow Up, Series Three – Winner
TikTok Creative Revolution – Winner
Illamasqua 'Distinction in Make-up Artistry' – Finalist
Warpaint Make-up Championship, London – Winner
Body Paint Pro at the North Make-up Championships
National Make-up Awards – Winner
Brush Wars Fashion Make-up competition – Runner-up
'The Art of Body Painting', Olympia
Student gallery
Ready to be inspired? Browse our gallery of student work to see some of the projects that our current students have been working on.

Course team
On the BA (Hons) Make-up for Media and Performance course, you'll benefit from the expert guidance of our experienced teaching staff. You can read more about their specialisms by exploring their profiles below.
Make-up is about transforming identity and becoming the other whether it's for stage, screen or photographic purposes. You will need to be determined, creative, adaptable and resilient in order to be innovative in constantly changing industries. Working with the next generation of filmmakers, photographers and performers develops your contextual and interpersonal skills making you responsive and sensitive when working collaboratively.
Watch our course video
Course leader Sara Taylor explains more about what can be expected from studying BA (Hons) Make-up for Media and Performance at AUB, and what some of our graduates have gone on to do.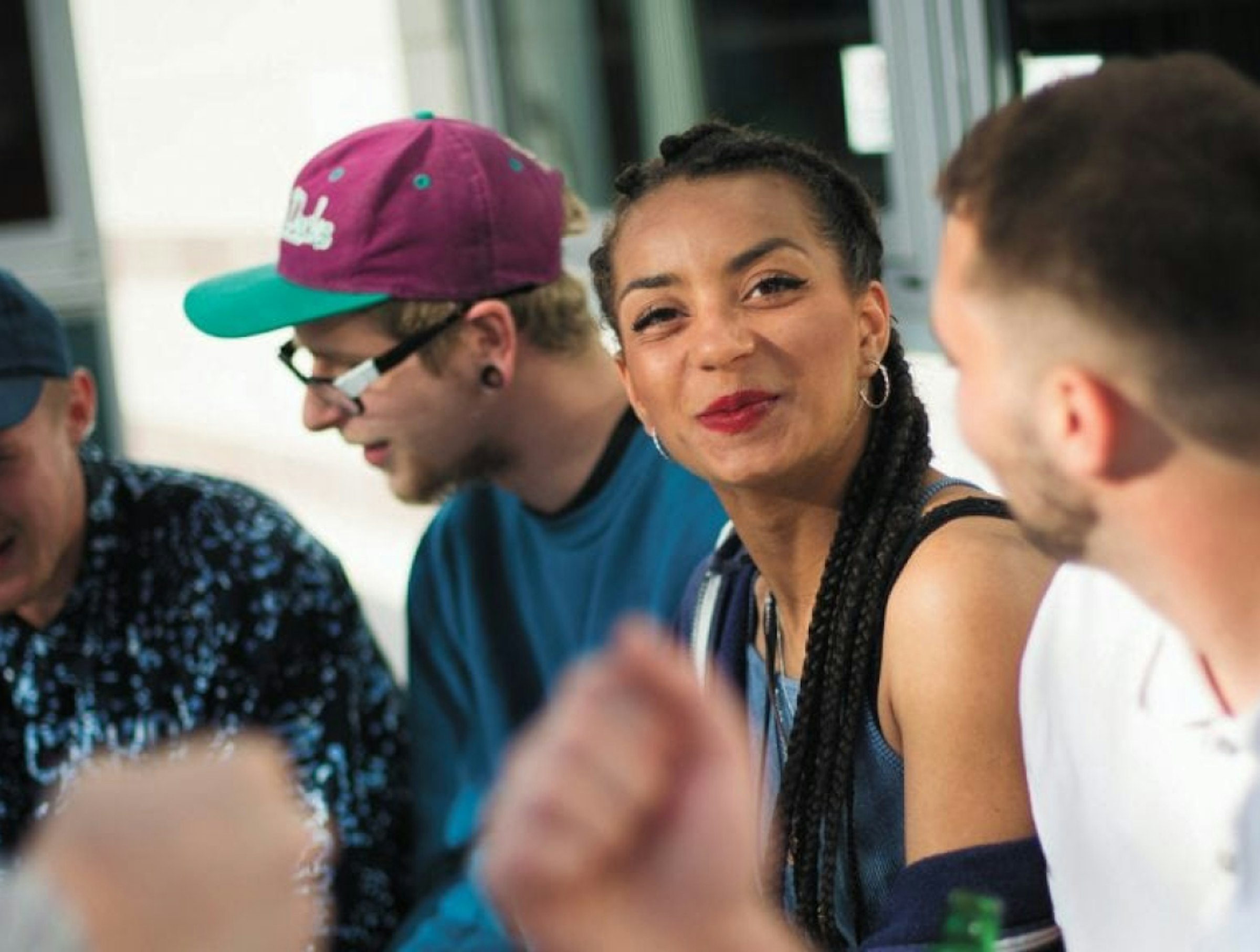 Chat to a student
Our student ambassadors are here to answer any questions you might have on university life, our courses and all things AUB.
Chat on Unibuddy
Application process
Once you've found the perfect Undergraduate course, you can apply to study via UCAS, including direct entry applications to second and third year.
When applying through UCAS, use the institution code A66 for courses taught at Arts University Bournemouth. For courses based at Bournemouth and Poole College, use code B49. We'll then use your completed UCAS form to make decisions about your application. You can find out more on entry requirements in our apply section.
When you apply to one of our courses, it's important that you help us get a good picture of both you and your work – so you'll need a great personal statement. We want to know more about why you're interested in the course, your key influences, and what you hope to do after your studies.

If you're invited for an interview, many of our courses will ask to see a portfolio of your work so we can get more insight into your ideas and abilities. To help you, we've created guidelines outlining what we expect from your portfolio for each course.
The fee that you pay the Arts University Bournemouth provides the necessary equipment and training for you to complete your course.
You may also choose to buy some items of personal equipment such as a laptop or tablet computer, but this is not required; desktop and laptop computers are available for you to use in common study areas, including a loan system in the Library.
For the majority of our courses, we'll ask you to digitally submit a portfolio as part of the application process.

Portfolios should show examples of your work – both finished and work in progress – that demonstrate your interests and skills. We expect to see around 20 slides/images in your portfolio that shows your identity as an artist
If we ask for a digital portfolio then we'll give you 30 days to submit it. Sometimes we'll need a portfolio submitted quickly if there's a UCAS set deadline approaching, but if you need more time, just let us know and we'll try to help.

We've created specific portfolio guidelines for each of our courses, you can take a look at these below.
If you've applied to study an online postgraduate (MA) degree, please refer to the AUB Online portfolio guidelines.
None of our courses currently require an interview.
The only course requiring an audition is BA (Hons) Acting and if you're invited to one you'll have at least 10 days notice.
Studios and resources
AUB has three state-of-the-art make-up studios, which provide a realistic, professional and comfortable working environment. Formally opened by Nick Dudman himself, our make-up studios offer large flexible spaces for lectures, demonstrations, and practical workshops for all creative make-up and hair work.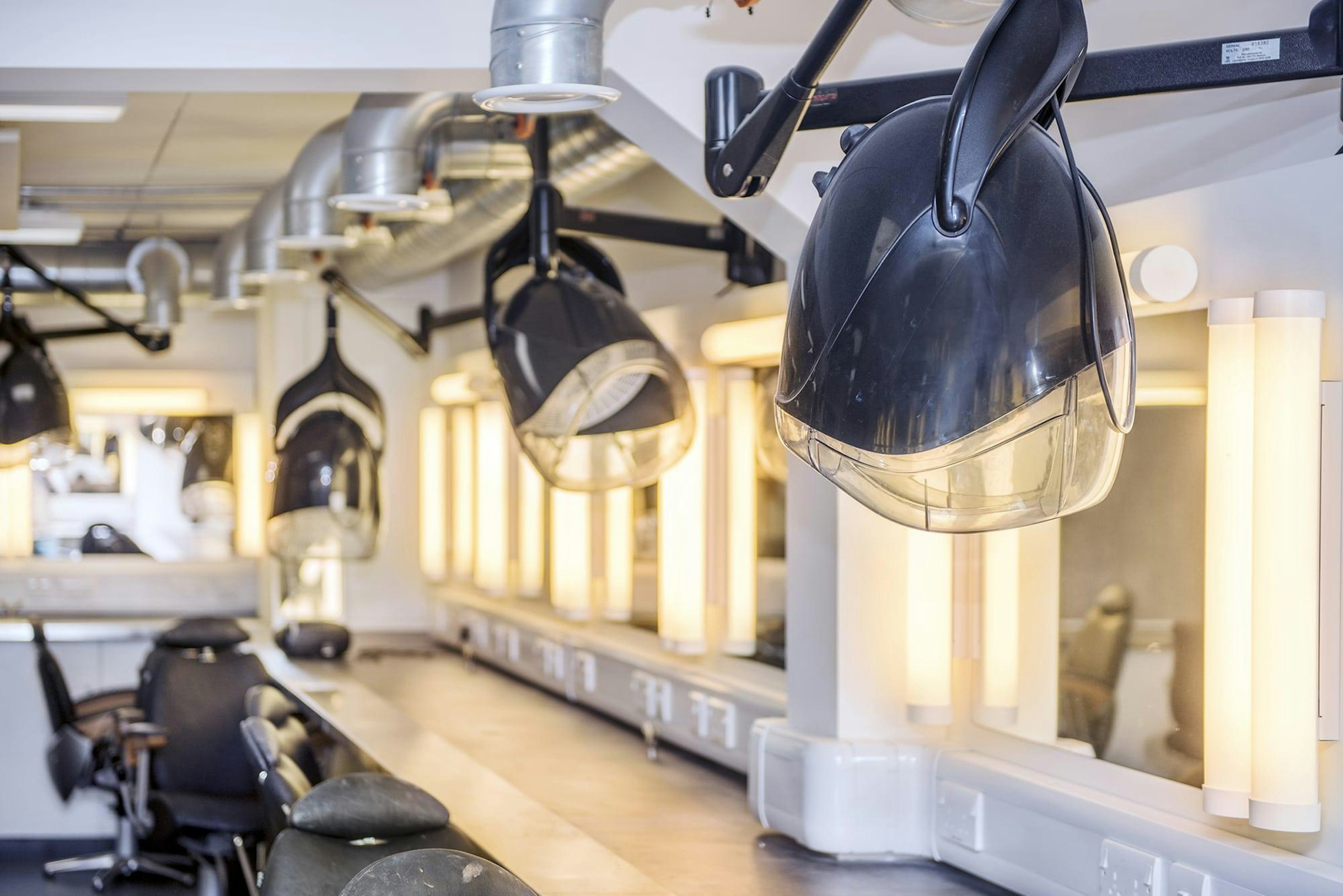 Make-up Studio
Our studios have individual workstations with make–up chairs, mirrors, lighting, and much more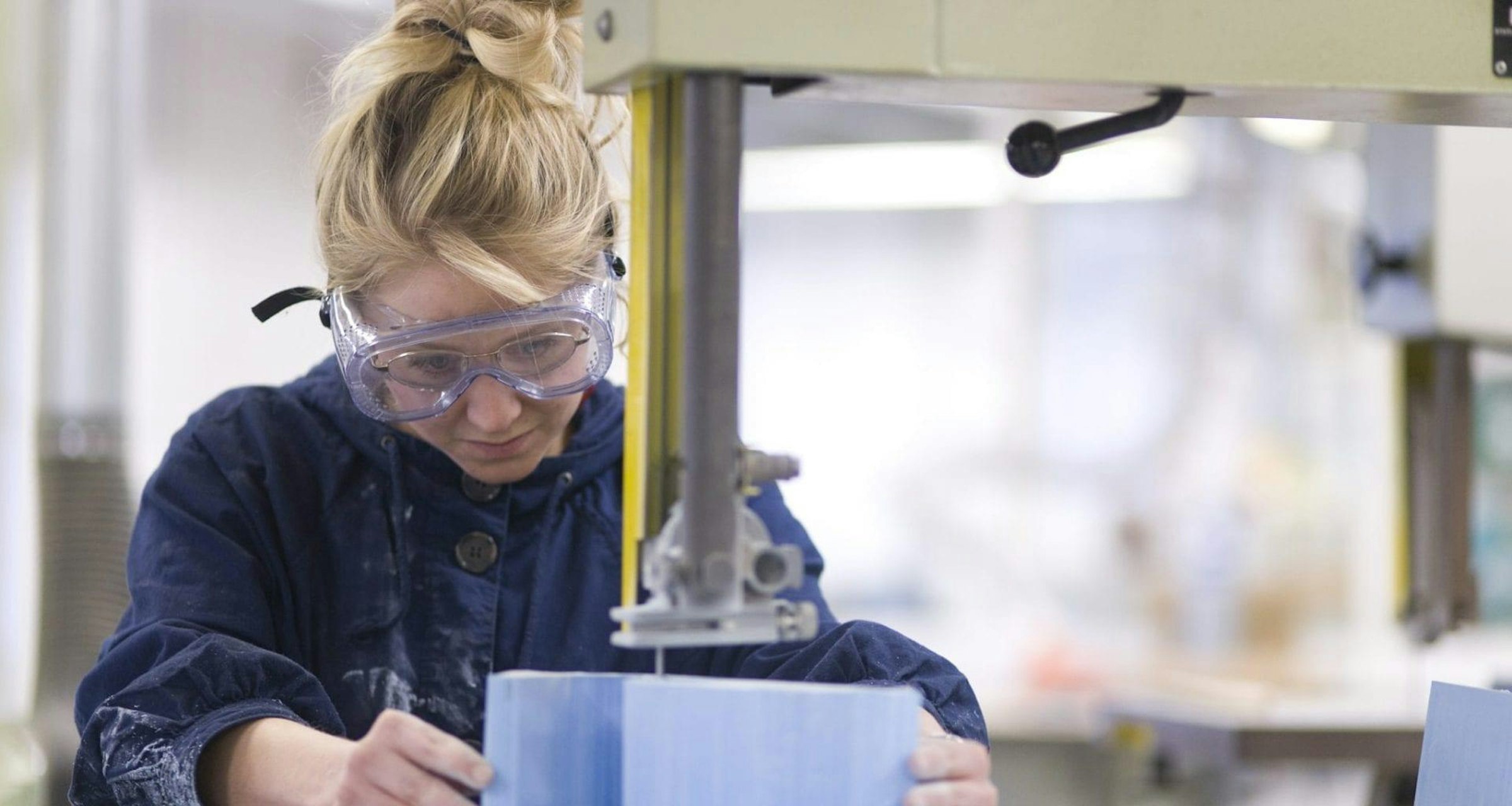 3D Workshop
Our 3D workshops with manual and digital manufacturing equipment and computers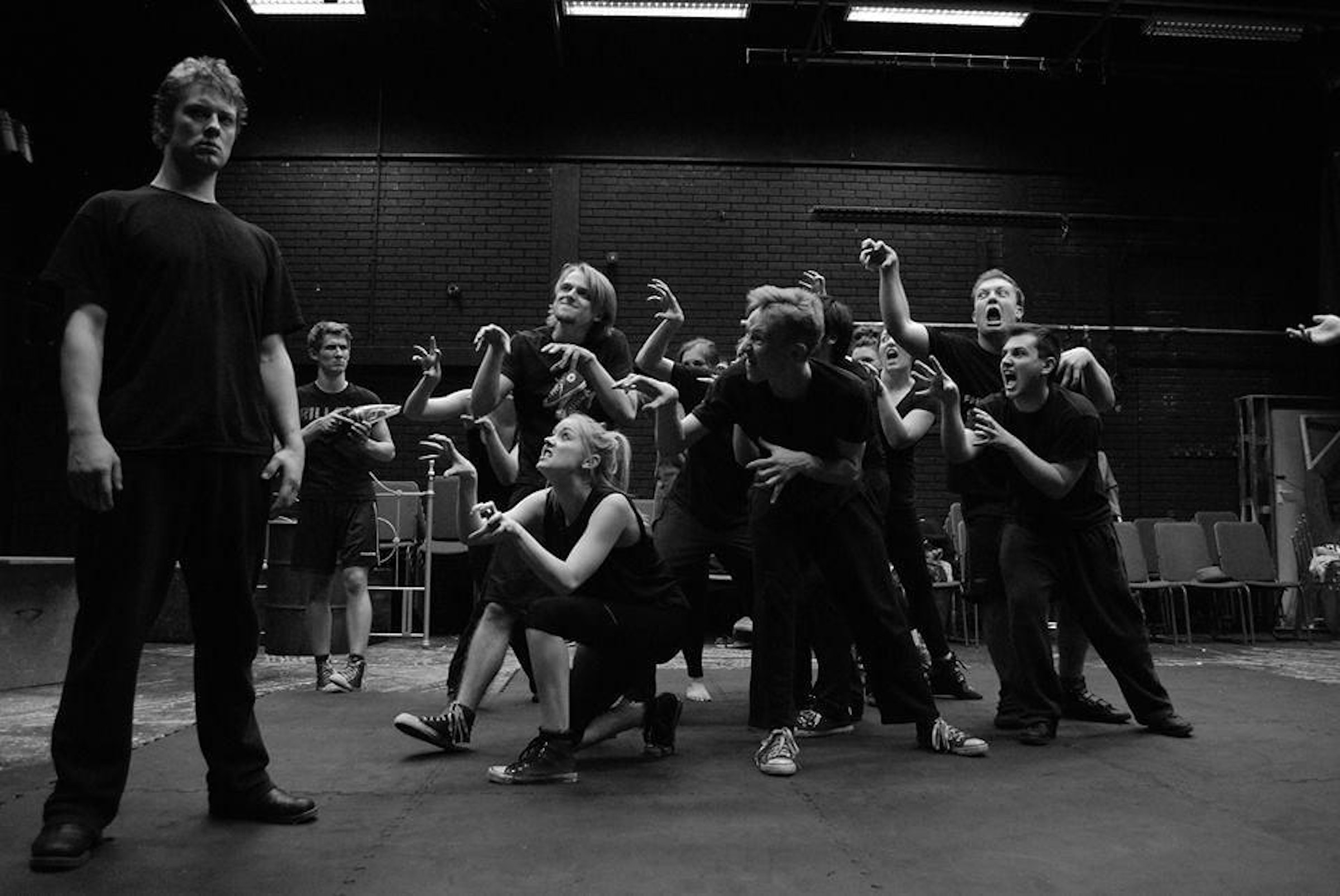 Black Box Theatre
Our versatile 'Black Box' style theatre is a space for performers and set designer to test their mettle for real
Teaching, learning and assessment
The teaching and learning within the BA (Hons) Make-up for Media and Performance studio environment is structured so that you can make the most of the opportunities that arise within and beyond the curriculum structure. This multidisciplinary manner of teaching is characteristic of the nature of the subject and individual development, as well as collaborative engagement, is strongly encouraged and supported.
Each unit is assessed separately, and the assessment forms part of the unit. Assessment both provides a measure of your achievement, and also gives you regular feedback on how your learning is developing.
The course will encourage you to explore the notion of make-up as an interface within the creative community with a particular focus on the media and performance contexts of stage, screen, film, fashion promotional and editorial, special effects and prosthetics. Projects will encourage you to investigate, test and challenge the critical and theoretical ways in which contemporary, historical, cultural, psychological and anthropological attitudes inform and impact upon our perceptions of identity. Opportunities to consider the importance, significance and invention of faces and the representation of make-up on the body provide an exciting environment for producing creative work. You will be encouraged to relate your theoretical research to your practical development of make-up transformation through design thinking and technical skill development in hair styling, wig making, body painting, prosthetics and character design.
We are interested in a convergent and divergent approach to thinking, through research development, design thinking, ideas generation, and problem-solving for make-up transformation, from conception to the final outcome, be that a live performance, film, video recording, photographic evidence, digital images, installation or artefact. The integration of theory and practice is promoted and reinforced through a team teaching approach. Lectures, seminars and tutorials will be delivered by team members and visiting guests in the creative environment of the make-up studios.
The course objectives will be met by deploying a wide variety of teaching and learning methods including studio workshops, simulated and collaborative projects, lectures, seminars, group critiques, guided reading and tutorials. The course is structured progressively to provide increasing opportunities for autonomous learning. The methods deployed will, whenever possible, lead you into the disciplines required of a creative make-up designer and practitioner and promote the transferable skills of self-management and self-reliance. The progressive promotion of student-centred learning reflects your maturity as a student and provides the opportunity to focus learning towards individual goals.
Contact hours include all scheduled teaching sessions, but also supervised time in the workshop or studio. In line with national guidance, we include in our calculation of contact hours all the time which is scheduled in the studio for independent study which is also supported by staff (either academic staff, or technicians).
The information provided below gives the proportion of your study time which constitutes contact hours. Where there are optional routes through the course, we have used the figures for the most popular option.
| Year 1 (% time) | Year 2 (% time) | Year 3 (% time) |
| --- | --- | --- |
| 71 | 76 | 73 |
For every unit of your course, we will inform you of what you are expected to learn; what you have to submit; how your work will be assessed; and the deadline for presenting your work for assessment. This is made available through Unit Information, which is on your course blog.
You will receive a final mark for each unit in the form of a percentage, which will be recorded on your formal record of achievement (transcript). Each component of assessment is graded using a notched marking scale, whereby only certain marks are used within each grade. The only marks available within any ten-point band are *2, *5 and *8 (e.g. 62, 65, 68). These marks correspond to a low, mid, and high level of achievement within each grade band.

All learning outcomes must be passed to successfully complete the unit.
On successful completion of your Honours degree course, you will be awarded a degree classification based on your unit marks. The final classification is determined using all unit marks at Levels 5 and 6 using two different algorithms, which are detailed in the HE Student Regulations. If the two algorithms produce different results, you will be awarded the higher class of degree.
If you have joined Level 6 through either the Recognition of Prior Learning (RPL) route or having completed a Foundation Degree (FdA), the final classification is determined using only your unit marks at Level 6.
For further information on assessment, progression, awards and classifications, please visit https://viewpoint.aub.ac.uk
What our graduates are doing
Successful completion of this course means you'll have acquired the accomplished, discipline-specific and transferable skills needed in order to enter a highly competitive and sometimes unpredictable make-up industry, which requires graduates with a robust work ethic.
Career opportunities will focus on working closely with directors, designers and other creative departments in film, television, live performance and fashion which could include CGI technicians, photographers, model makers, sculptors, animatronics designers, visual effects artists and fashion stylists.
As graduating make-up artists from AUB, your professional options are wide and varied. With this in mind, the course has been designed to prepare you for a professional career in a diverse range of specialist roles thus giving you the necessary skills to take full advantage of an inspiring and exciting career.
Our Careers and Employability Service is dedicated to supporting you in turning your creativity into a great career. You can read more about this here.
Opportunities that our recent graduates have undertaken include:
Make-up trainee – Fantastic Beasts: The Crimes of Grindelwald (film); The Durrells (ITV); Beauty and the Beast (film)
Make-up assistant – The Secret (ITV)
Deputy Head of Wigs – La Cage au Folles (musical)
Wig assistant at The Wig Store
Wig technician at Pete Own Wigs, Bristol
Wigs and make-up assistant for the Royal Shakespeare Company
Wigmaker and dresser at Banbury Postiche
Mould-making technicians for the Harry Potter tour
Ministry of Masks, London
Shepperton Film Studios – Thor 2; John Carter of Mars
Millennium FX prosthetics studio, London
Pinewood Film Studios – Les Misérables
Palace Theatre, London – Singin' in the Rain
Dominion Theatre, London – We Will Rock You
BBC – Children in Need; Doctor Who
Channel 4, Gok's Clothes Road Show
Previous graduates have gained employment on the following projects:
Films – Paddington 3 (2024), The Gentlemen (2019), Maleficent II (2019), Fantastic Beasts: The Crimes of Grindelwald (2018), Redcon-1 (2018), Beauty and the Beast (2017), Star Wars: The Last Jedi (2017), The Mummy (2017), Star Wars: Rogue One (2016), Spectre (2015), Cinderella (2015), Pan (2015), War Machine (2014)​
Television – Bridgerton (Netflix), Ted Lasso (Warner Bros., Apple TV), Wheel of Time (Amazon Prime TV), Carnival Row (Amazon), Coronation Street (ITV), Rellik (BBC), The Durrells (ITV), A Midsummer Night's Dream (BBC), The Secret (ITV), Little Boy Blue (ITV), Three Girls (BBC), Casualty (BBC), The Keith and Paddy Picture Show (ITV), Episodes (Channel 4) ​
Fashion Promotion and Editorial – MAC cosmetics, Charlotte Tilbury, Illamasqua, Bobbi Brown and London Fashion Week​
Theatre Wig Department and wigmakers – The Royal Opera House, Shrek the Musical, English National Opera, Royal Shakespeare Company, Miss Saigon, 42nd Street, Hairspray, La Cage aux Folles, Cabaret, Mary Poppins, Hairspray, Mamma Mia, Dirty Dancing, Peter Owen Wigs, Welsh National Opera and The Wig Store​
Prosthetic makers, designers, waxworks – Square Peg Studios, BGFX, Mark Coulier, Millennium FX, Kristyan Mallett Make-up Effects, Altered States FX, KMFX, Harry Potter Studio Tour and Madame Tussauds
Trips and visits
As part of your course you may also get the opportunity to take part in course trips. Previous trips have included:
New York
London
Venice
Budapest
*These trips are optional and some may incur additional costs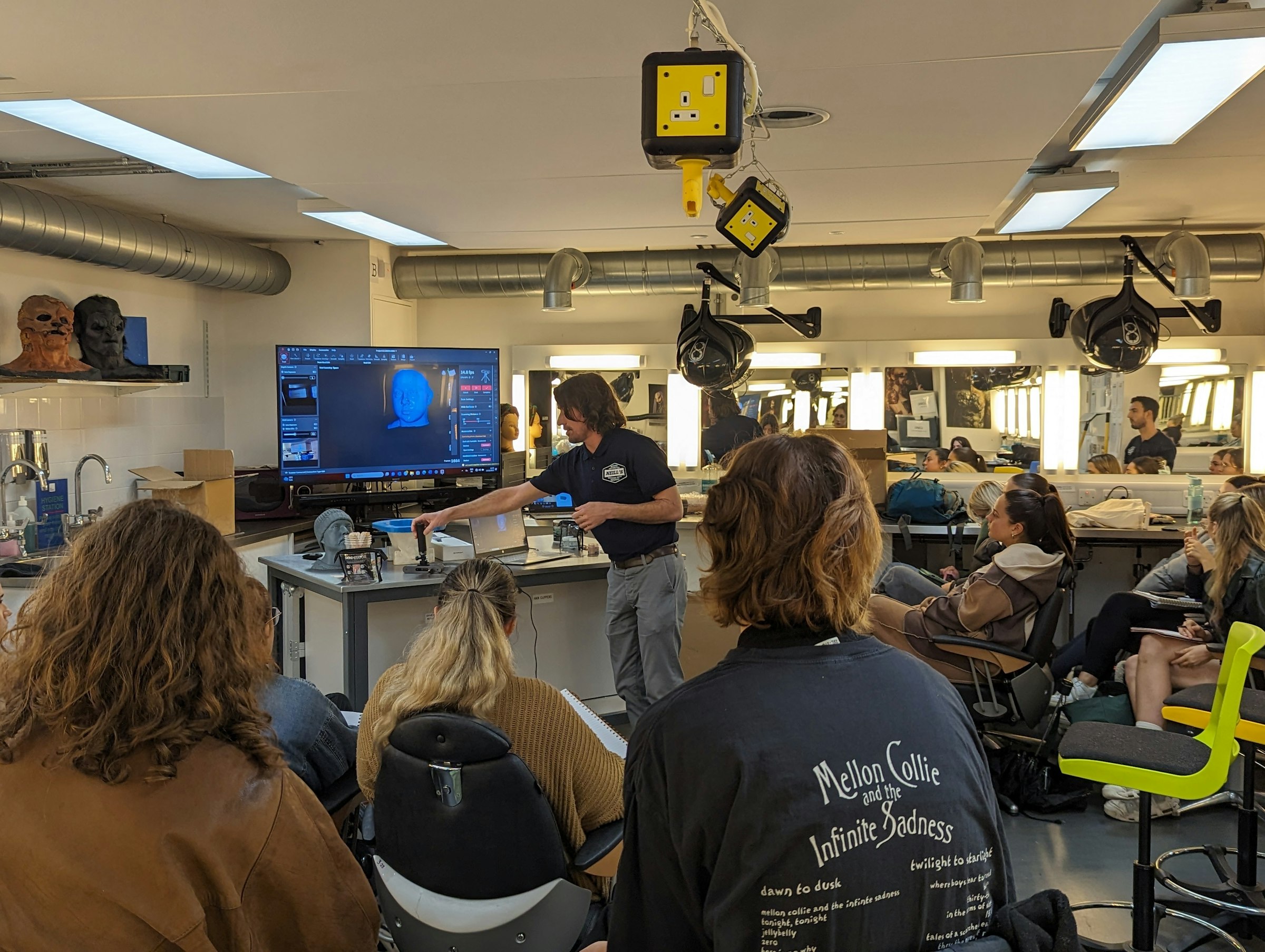 Neill's Materials – prosthetics workshop
We were delighted to welcome SFX company Neill's Materials to talk with our Level 6 students. Tom and Matt gave a fantastic presentation...
Latest from BA (Hons) Make-up for Media and Performance
---