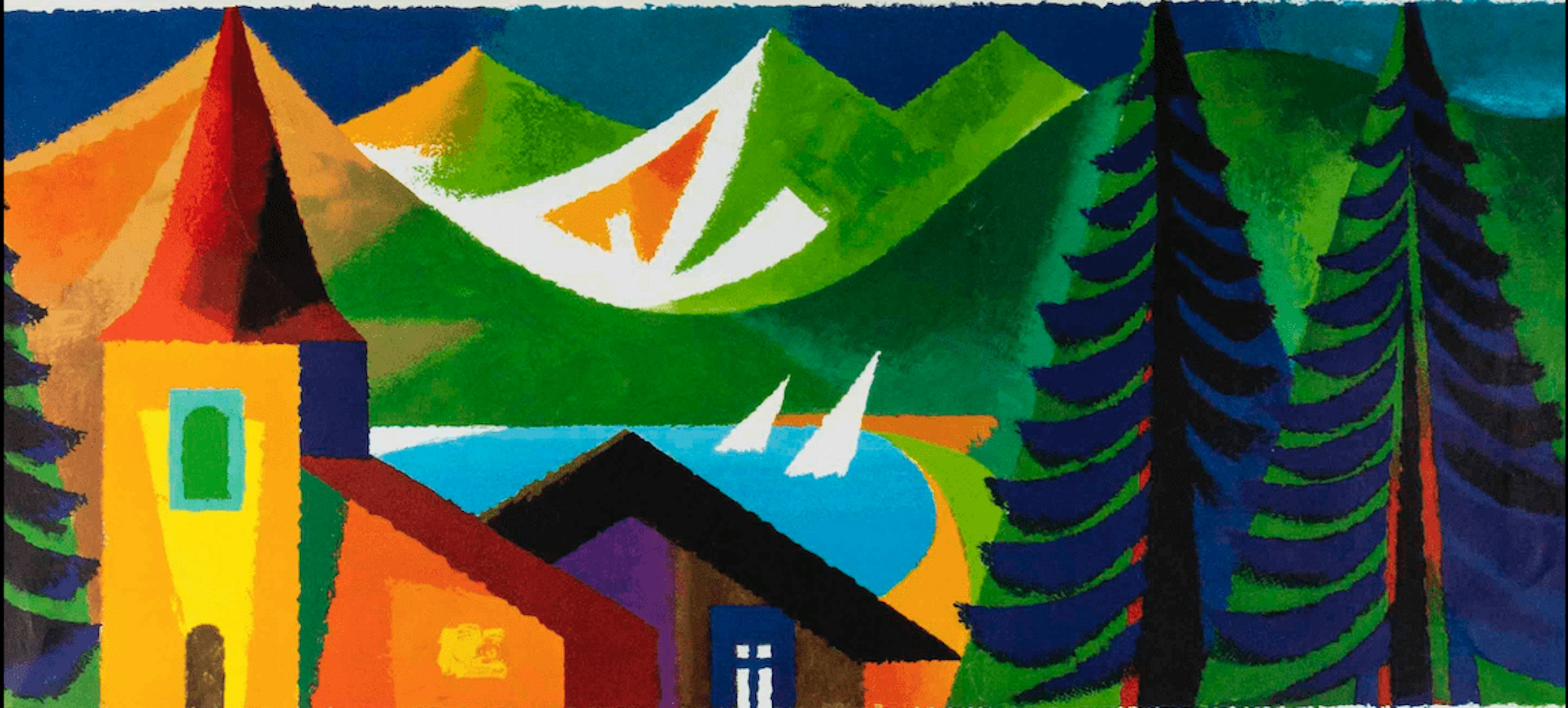 Dates: 11 March – 20 April 2022
Location: Northwest Gallery, AUB
A selection of posters from the Poster Collection of Mary V. Mullin, AUB Honorary Fellow of 2006.
Mary V. Mullin is Chairman of the Sir Misha Black Awards Committee for Distinguished Services to Design Education, Trustee of the Robin and Lucienne Day Foundation, other Trusts and Regional Adviser to the World Design Organisation. She has served on numerous professional bodies including, as Secretary-General of the International Council of Graphic Design for fourteen years, Vice President of the International Council of Societies of Industrial Design, Founder Member of the Crafts Council of Ireland and National Chairman of DIA. She ran her own consultancy in design and special event management in London from 1981 to 1998. Clients included the Conran Foundation's Boilerhouse Project at the precursor of the Design Museum. In 2017 she was awarded the Bi-Centennial Medal of the RSA for 'Encouraging and Promoting Design across Education and Industry'.
This exhibition shows posters from the eclectic collection acquired in the course of Mary V Mullin's career. They contrast a wide variety of styles from countries as far apart as Japan and Ireland, Uruguay and Sweden and date from 1905 to 1999. There was never an intention to form 'a collection' as such, it came about entirely by happy serendipity. The posters were presented, gifted, inherited, donated and acquired. As a result, there is no particular theme or subject matter, no geographic grouping or medium emphasis. They come in many styles formats and languages.
The striking variety of posters reflects many aspects of social, political and cultural change throughout the twentieth century. Some were for public display –cinemas, theatre, opera, ballet, exhibitions, festivals, events. Others were created for competitions or peer approval. They showcase many different graphic and print styles. Cultural nuances are captured in the interpretation of universal themes. The exhibition informs, inspires and provokes the viewer and reminds that, as social media today imitates, posters essence succinct storytelling and the art of communication in its most immediate and universal form.
Meet The Curators: Mary V. Mullin and Hannah Byles
Mary V. Mullin was a founding Trustee for the ICOGRADA Foundation. She is also the first woman to be elected to the Board or the International Council of Societies of Industrial Design and served as Vice President. (Now the World Design Organisation or WDO). She developed the Interdesign Programme for ICSID and advised on events in both the Republic and Northern Ireland, Serfaus and Vienna (Austria), Belgium, Canada, Mexico. She is a Trustee of the 'Inspire Foundation' for research into spinal injuries.
She was and remains as a Founder Member of the Crafts Council of Ireland. She has been a consultant for UNIDO in Latin America and was National Chairman of the Design and Industries Association in the UK. She was a Director of the British Professional Conference Organisers Association. She worked on the Corporate Foundation of W R Grace & Co in New York and in Kilkenny Design Workshops in Ireland. She was Founding Director of the National Centre of Culture and Arts in Dublin (now the Museum of Modern Art) She ran her own consultancy practice in design and special event management in London from 1981 to 1998. This included working with the V&A's 'Boilerhouse ', the precursor to the Design Museum, Science Museum, Design Research Unit and other leading design practices and commercial clients.
She is an Honorary Fellow of the Royal College of Art London, Arts University Bournemouth the International Society of Typographic Design and Honorary Life Fellow of the RSA (Royal Society of Arts), London
She has served as a Trustee of Wexford Festival Opera Trust UK since 1982. She was made a Life Friend in 2005. She is a Committee Member (since 1982) of Irish Heritage, which helps, through bursaries and concert performances, young Irish musicians and composers studying in London… She was London Chairman for the 'Sense of Ireland' (1981) – the six-week multi-cultural, multi venue Festival of Irish Arts.
In November to 2017 she was Awarded the Bi-Centenary Medal of the RSA "for encouraging and Promoting Design Across Education and Industry", the first Irish person to receive this Medal.
Hannah Byles is a Senior Lecturer on BA (Hons) Visual Communication at Arts University Bournemouth.
Hannah completed her MA in Communication design at Central Saint Martins, which focused on the unspoken word and the communication through gestures and paralanguage. Her research Interest continues to be in the format and sequence of books and experimental binding techniques and structures. On completion of a Graduate Diploma in Bookbinding and Book Conservation she has worked on bespoke projects, and has work in public and private collections.
With a keen interest in Letterpress and the use of letterpress within contemporary design Hannah's exploration is focused on developing the letterpress facilities within the course, cataloguing the typefaces and constructing new typeface collections. Collaborative projects in this subject area have enabled the collection to merge with new technologies.
TheGallery and AUB
TheGallery works with courses right across the university on a variety of exhibitions, events and projects. Posters: The Original Social Media? is another example of a collaborative project, this time with BA (Hons) Visual Communication. TheGallery provides advice and support for the curatorial and technical aspects of the exhibition, as well as advice on event and project management as well as providing a national and international public platform for the arts within the sub-region as we promote the University's shared passion for excellence in education, industry and the sector.
Academic Project Partners: BA (Hons) Visual Communication at Arts University Bournemouth
Visual Communication is a broad discipline, encompassing graphic design, image generation, typography and screen-based design and combines skills in illustration and digital design to create images that persuade or inform. The course focuses on hand-drawn imagery to develop a feel for the shapes and styles that connect with audiences.
Communication underlines the importance of good ideas, with graduates working as freelancers in small design companies and with larger firms, both locally and internationally.
AUB Honorary Fellows
AUB Honorary Fellowship is a highly prestigious award that is bestowed upon persons who have connected with Art University Bournemouth and made a significant contribution to the field of arts, design, media or performance in a professional capacity or an educational role
Posters: The Original Social Media? - Panel Discussion
Join us for a conversation with Mary V. Mullin and Hannah Byles who will be discussing with Professor Paul Gough, the concept and context...
Posters: The Original Social Media? - Formal Opening and Private View
Open event – No booking required. A formal opening and private view of a selection of posters from the Poster Collection of Mary V. Mullin.