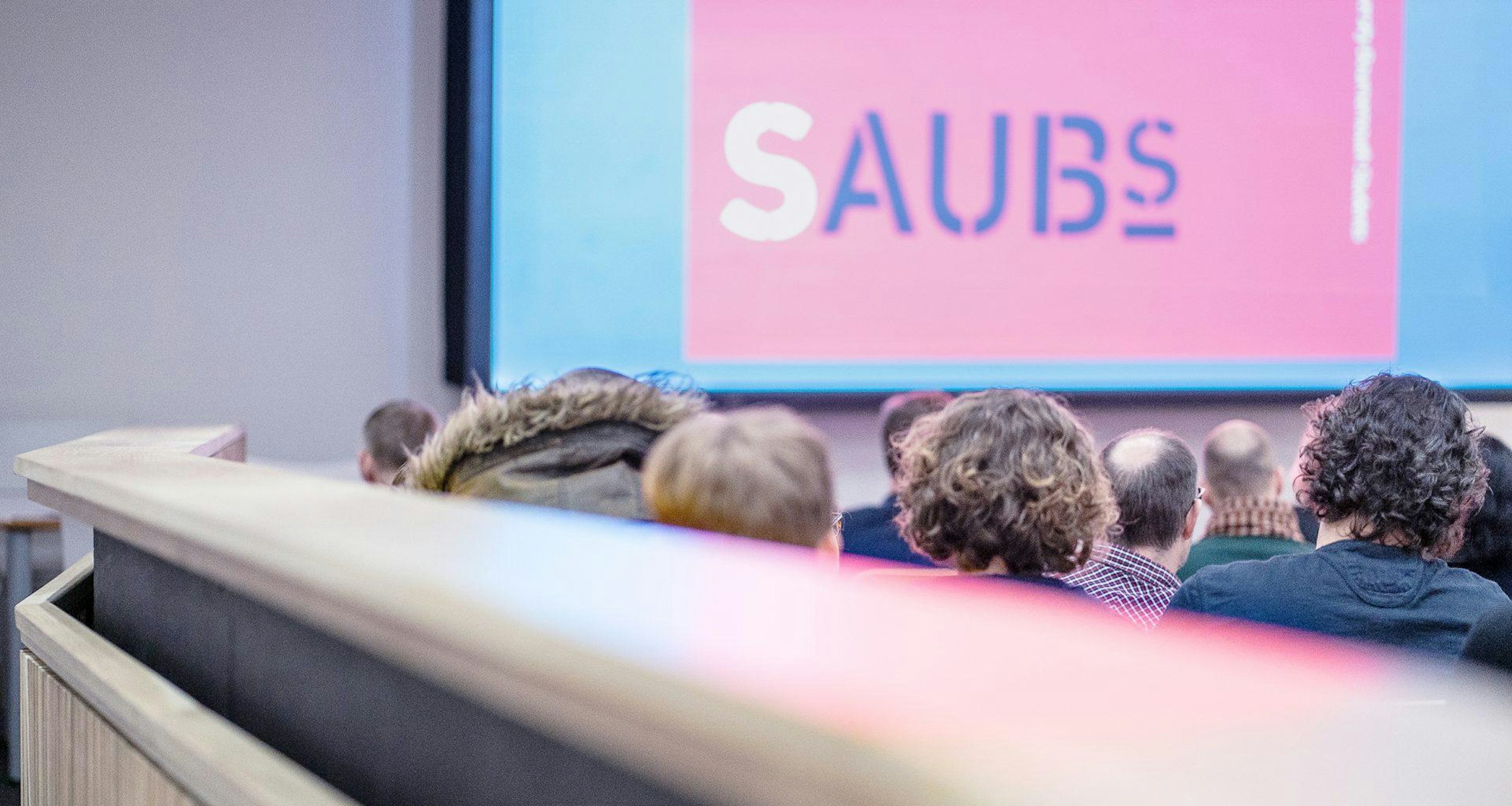 AUBRIETA (AUB Recognition for Innovation and Excellence in Teaching Awards)
The Second year these awards have been celebrated, to recognise the exceptional dedication and commitment our innovative teaching staff provide to the AUB community.
AUB is proud of its achievement in teaching and learning and the AUBRIETA awards furthers the support and recognition of individual and team innovation and excellence in teaching. The purpose of these awards is to increase esteem in teaching and to recognise those who contribute and develop the teaching environment at AUB. These annual awards recognise outstanding contributions to the learning experience of our students and are awarded to staff who demonstrate academic and pedagogic innovation in support of the teaching environment and can evidence real improvements and change in student learning.
SAUBS (Supporting AUB Students)
The launch of the SAUBS awards in 2019 celebrates the efforts and excellence of non-academic staff who offer front line support in their work with AUB students. The awards recognise excellence in the work of those who provide outstanding contributions to the student learning environment at AUB.
AUBSU Thank You Awards
The Thank You Awards are in place to recognise outstanding contributors, whether they are professional services, technical or academic members of staff, voted by students themselves.
This year was also the inaugural Student's Union Sustainability Thank You Award, to acknowledge staff who have dedicated their time and efforts into sustainability for the university and surrounding community.
The SU Thank You Awards were presented by AUBSU Student President, Gio Garancini, and Vice President, Chloe Harty, to recognise the hard work across academic and professional services staff.
The AUBRIETA and SAUBS awards were presented by Deputy Vice-Chancellor, Professor Emma Hunt.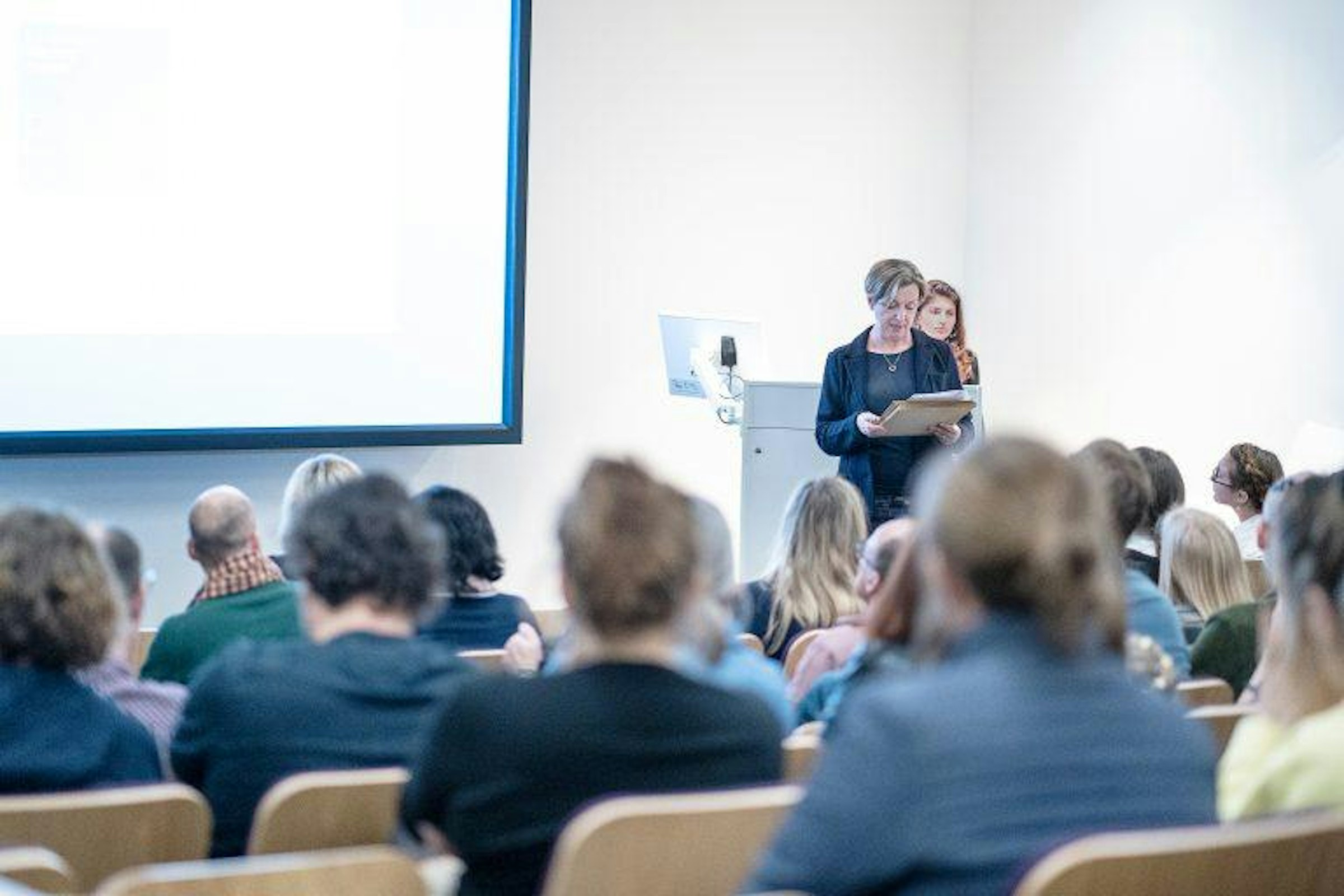 AUBSU Thank You Awards Winners
Highly Commended
Jeremy Jacobs, Workshop Technician
"I would like to nominate Jeremy Jacobs for his consistent enthusiasm and impressive problem-solving skills which he so willingly shares with all students, pushing them to reach their maximum technical abilities. His approachability, integrity and diligence justify this nomination for the Thank You Awards." – Student nomination
Third Place
Jenna Hubbard, Lecturer, BA (Hons) Dance
"To put it simply Jenna Hubbard is what you'd call #lifegoals. We all look to Jenna in awe of her pure intelligence and mindfulness. She is such a strong female figure for us, advocating feminism within a group of girls who are about to venture into the big bad world. She is rational, resourceful, creative, wise and just an all-round brilliant woman. We all dream of having her drive to succeed whilst juggling and maintaining 101 other things at the same time and hope we can do so in the near future." – Student nomination
Second Place
Lisa Richardson, Course Leader, MA Illustration
"She stretches and challenges me whilst championing my strengths and she sparks off so many ideas with her imagination. At the same time, she is able to constructively make each of us consider the real-world contemporary scenarios for our work and creates opportunities for us each to explore industry standard practice. A kind, highly creative and very personable course leader who manages to get the very best out of her students." – Student nomination
First Place
Rhiannon Evans, Senior Technician, BA (Hons) Photography and BA (Hons) Commercial Photography
"Being able to come to University and have someone you fully trust and confide in is great, Rhiannon has pushed me in my technical and studio practice, giving a lot of her time to help me learn new things and improve myself as an artist and creative. I thank Rhiannon for everything she does for all the students at AUB, and for pushing us to our full potential." – Student nomination
Students' Union Sustainability Thank You Award
Alice Stevens, Senior Lecturer, BA (Hons) Graphic Design
"We truly believe that a thank you is necessary, for this person has been a true catalyst in putting sustainability and social impact on the academic map. Pushing all of us here within the AUB community to really evaluate and consider our role as creatives within our wider global context. Projects of this kind have the potential to make AUB a pioneering institution that equips students to critically address environmental, sustainable and social impact in the creative industries. This year we are pleased to award it to for all of the work that went into AUB Human." – Student nomination
AUBRIETIA Winners
Gold Award
BA (Hons) Costume with Performance Design
The award was given to the Costume team, with Course Leader, Rebecca Pride collecting on their behalf.
The BA (Hons) Costume and Performance Team have been selected for the AUBRIETA Awards because of their wide range of initiatives in teaching and learning, from the introduction of an effective assessment matrix, to a new level 6 pilot project in alternative modes of assessment. The team are recognised as experts in their field, judged by the range of world leading specialists that they regularly collaborate with and as External Examiners – the majority of the team undertaking these roles. As academic researchers they have grown their research activities and outputs exponentially over the last five years with several published key texts in circulation on this specialist subject area. They have shown an outstanding record of results from consistently having the highest NSS results in the University to receiving The Queen's Anniversary Prize for their contribution to the teaching of Costume in 2018. The students are always at the centre of their vibrant learning environment in which they regularly celebrate their successes in what are called 'Ministry of Fun' days.
Silver Award
Anne-Marie Howat, Course Leader, BA (Hons) Textiles
Anne-Marie has led the BA (Hons) Textiles degree course for several years and has made a significant and sustained contribution to the AUB student learning journey. The Textiles teaching team is fairly small with only two full time members of staff, however despite this the student experience has been maintained at the very highest level as shown through the students journey and consistently excellent NSS results. The curriculum both challenges the students and gives them the opportunity to develop their skills and build their confidence. The Textiles students are regular competition winners and have high employment successes as graduates.
Anne-Marie has personally developed new learning initiatives to enhance the students experience, developing strong links to external innovation and industry. Anne-Marie has recently been awarded Senior Fellow of the Higher Education Academy and in 2018 was awarded the Embroiderers' Guild Beryl Dean Award for Teaching Excellence in Embroidery and Design.
Bronze Award
Mark Osborne, Lecturer, BA (Hons) Graphic Design
Mark has been an evangelical advocate for the importance of computational media both within the subject area that he teaches but increasingly across the University as a whole. Following on from a regular extra curricula Digital Workshop which he ran in the evening for level 4 and 5 students, Mark devised a series of workshops that took place in September entitled Not-Yet-Invented. For this he assembled three notable practitioners from the field, and together they worked with 12 undergraduate Graphic Design and Architecture students exploring such topics as: noise, glitch, code, interaction, and prototyping. Students responded well to the sessions and were surprised with the extent of the learning that could be achieved in such a short and intensive course of study.
SAUBS winners 2019 (joint first)
Frederick Holdsworth and Harry Barnett, Workshop Technicians
"Due to the outstanding contribution towards the sourcing, installation and running of multiple new machines based in the Innovation Centre which is housed within the Workshop. The project was partly funded by an ERDF grant to help local SMEs develop innovative new products which they both continue to support alongside working closely with students and staff to develop the production of course work using our new technology SLS 3D Printer, 8×4 Table Router and the 5 and 3 axis CNC machines."
Will Shutt and Julie Tanner, BA (Hons) Film Production and MA Film Practice Production Managers
"These courses involve a heavy production element and would not function without Will and Jules's hard work and dedication to the student learning experience."
Annie Hill, Technician Demonstrator, BA (Hons) Fine Art
"Annie goes over and above her roles and duties, to ensure that students are able to achieve their am­bitions whilst studying at AUB. Annie is really popular amongst the students, she is very approach­able, supportive, kind and also has a great sense of humour – all of these qualities enable her to create really good working relationships with staff and students alike. She most certainly exemplifies AUB's core values of innovation, connectivity and collaboration."
After such an inspiring and influential night, Deputy Vice Chancellor Professor Emma Hunt thanked everyone's combined staff efforts throughout the year and the celebrations ensued with a drink reception in TheGallery AUB.