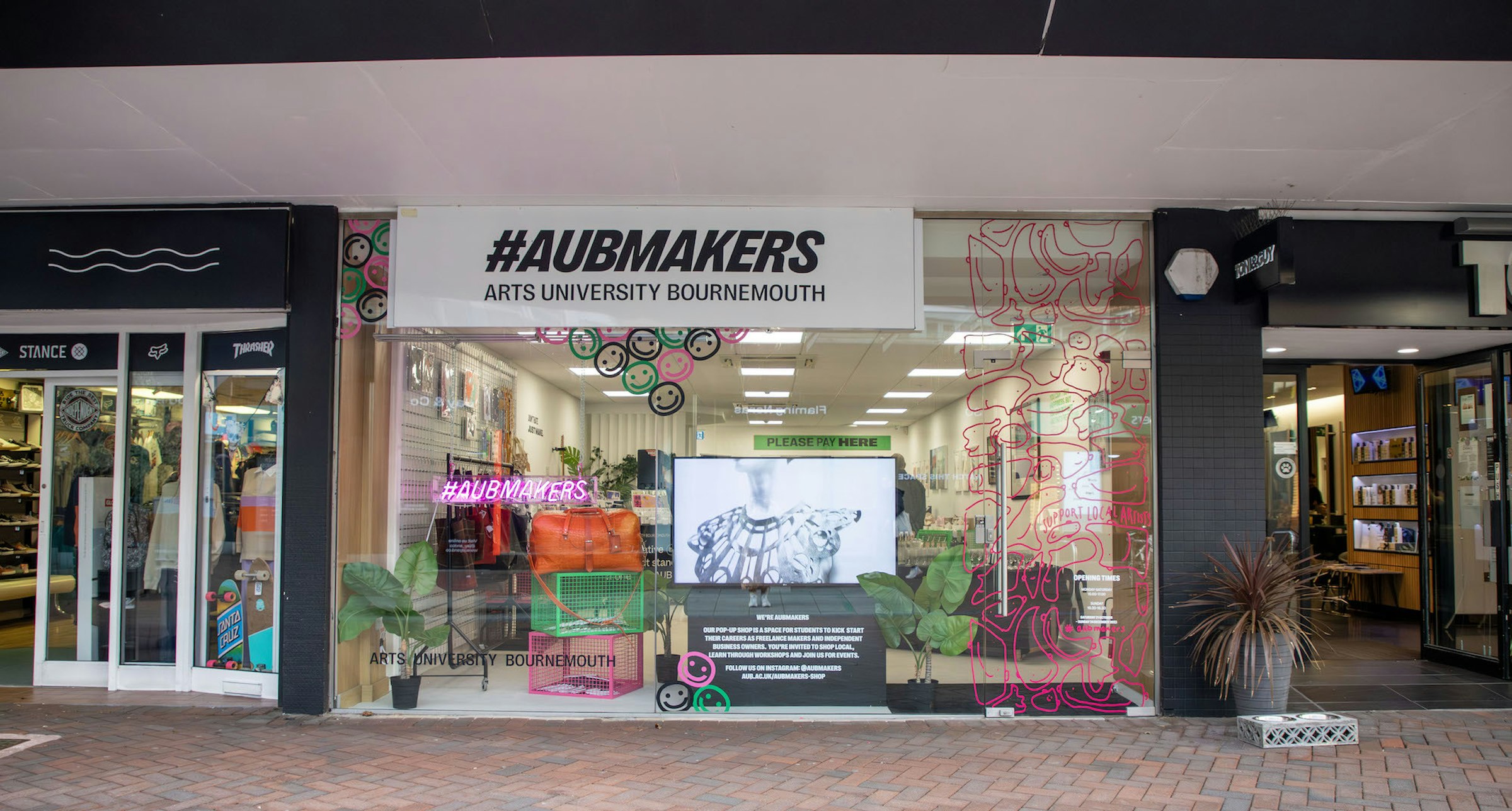 Arts University Bournemouth (AUB) has made its latest mark in Poole town centre with the opening of its pop-up shop, #AUBMAKERS.
The shop, which opened in Kingland Crescent outside Poole's Dolphin Centre on 21 October, will be stocked and staffed entirely by AUB students.
"The #AUBMAKERS pop-up shop initiative is a brilliant opportunity for inspiring creatives to set up shop and sell their wares," says Ed Earl, President of AUB's Student Union (AUBSU).
"Not only does it provide an opportunity for students across all courses and cohorts to gain industry experience and spread awareness of themselves as creative professionals, but it acts as a hub that reflects the talent and proactiveness of the AUB community."
Alongside the creations of current students, the #AUBMAKERS store will also sell products created by graduates and staff.
Students also plan to run in-store events, workshops and promotions from the store, with the space serving as a showcase for everything that AUB does.

The store is also the latest AUB innovation to encourage students towards entrepreneurial mindsets and behaviours.
Lately, AUB has received recognition for its efforts in championing creative entrepreneurship.
Recently, the Knowledge Exchange Framework (KEF), which identifies and evidences areas of expertise for universities in key areas, highlighted AUB's work in developing graduate businesses, as well as the University's work with local businesses to support growth and regeneration.
In KEF's report, AUB found itself in the top 15% when compared to other participating specialist arts institutions.
Also, in another study, conducted by leading financial services company Novuna, the University was ranked 16th in the UK, as well as one of the top specialist universities outside London, for entrepreneurship.
Lisa Mann, AUB's Executive Director of Academic Innovation, says:
"The pop-up shop provides AUB students a platform through which they not only become small business owners and freelance artists, but also take on the task of running the shop. This real-world experience allows the students to put into practice the creative and management skills that form the core of a business – everything from designing, to making, to understanding preparing stock and profit margins."
#AUBMAKERS opened on Saturday 21 October and will remain open until 24 December.