You are using an outdated browser. Most of this website should still work, but after upgrading your browser it will look and perform better.
BA (Hons) Film Production
BA (Hons) Film Production
Duration:

3 or 4 years full-time

Placement year:

Optional 1 year

Course code:

W610 (UCAS)

Institution code:

A66 (UCAS)
Overview
We have an international reputation in the film business. Recent graduates have worked on Oscar-winning productions, BBC documentaries and dramas, and for major studios like DreamWorks.
Film Production course information
Communication, passion, creativity, technical ability, vision, research, commitment, respect and professionalism – these are all essential characteristics of those who work in film.
The course is designed to foster these skills and abilities through a wide range of exciting and challenging film production experiences – from the moment of a film's inception to its final distribution to cinema, streaming platforms or other media to be viewed by the audience.
Reflecting the central ethos of the University, this course emphasises practical learning within an academic environment. The programme is hands-on from the outset, and students gain a solid grounding in fundamental, traditional practices, such as shooting on film, as well as exploring the complex creativities of digital production and modern filmmaking protocols. The specialist and focused nature of the course helps you to develop your understanding of the creative and commercial realities of film production.
As well as learning practical filmmaking, students study cinema in its various forms to achieve a working knowledge of eclectic practices within fiction and non-fiction filmmaking. Your practical skills are informed by an understanding of the cultural and historical contexts of film practice.
Making films is a collaborative process and teamwork is a key part of the course. You won't only work with your peers, lecturers, and technicians on the course, but with contemporaries and staff from other subject areas across the University too. We're closely aligned with the Visual Effects (VFX) programme and enjoy formal and informal linkups with Costume, Acting, Make-Up, Animation and others. These collaborations help foster a strong film community throughout the University, with Film Production at its core.
| | |
| --- | --- |
| Course duration | 3 or 4 years (full-time) |
| Placement | Option of a 1 year placement |
| UCAS course code | W610 |
| UCAS institution code | A66 |
Placement year
All undergraduate courses at AUB offer an optional placement year, to be taken between your second and third years of study.
If you're unsure about this optional placement, you don't need to decide now. Once you're here and studying with us, the course team will discuss the placement options with you, so when the time comes, you can make a decision that's right for you.
If you're required to have a Student Visa to study in the UK, it won't be possible to undertake the one-year placement option; there'll be other opportunities for you to engage with industry during your study at AUB.
First year (Level 4)
At this level, you're asked to consider how film production relates to the current media environment and our course of study. You're introduced to the core principles of film production through technical tuition, practical application and historical and contextual study. You're also encouraged to experiment with your practice and back up your decision-making with informed research and reflection.
Units include tuition related to set protocols, effective collaboration and health and safety, all of which are essential within the film industry, and which continue to be reinforced throughout the course. Through practical workshops you engage in many aspects of the production process, enabling an informed and guided choice of specialism at the end of the year.
Second year (Level 5)
During Level 5, your specialist skills are developed, your practical and critical abilities are enhanced, and you become further accustomed to the teamwork that's an essential feature of the film production process. You deepen your specialist learning and develop your ability to reflect on and evaluate your work. Your contextual knowledge and understanding are extended, and you become prepared for the more rigorous pace and scale of work demanded by Level 6.
Relevant health and safety practice continues to be emphasised throughout the year of study. Specialist skills training, some of which is certified, is offered as part of the curriculum and will continue into Level 6.
Third year (Level 6)
Final year students demonstrate their abilities within their respective specialist roles and their commitment to the collective responsibility for the pre-production, production and postproduction of graduation films. Level 6 enables you to develop and consolidate your specialist production roles, building on your previous learning. You're required to undertake significant independent study while also contributing effectively as a team member to the production process.
Successful fulfilment of the demands of Level 6 will allow you to demonstrate your professional knowledge, including current health and safety practice, your creative and technical abilities, and intellectual maturity, all of which are necessary for effective operation in the film and media industries, or for progression to postgraduate study.
All students are registered for the award of BA (Hons), but exit awards are available if you decide to leave the course early. If you successfully complete a level of the course, you're automatically entitled to progress to the next level.
For the award of a Certificate of Higher Education (CertHE), you must've achieved a minimum of 120 credits at Level 4. This qualification may be awarded if you leave the University having successfully completed the first year of your course.
For the award of a Diploma of Higher Education (DipHE), you must've achieved a minimum of 240 credits, a minimum of 120 of which must be at Level 5. This qualification may be awarded if you leave the University having successfully completed your second year on your course.
For the award of a BA (Hons), you must've achieved a minimum of 360 credits, of which a minimum of 240 must be at Level 5 or above, and of which a minimum of 120 credits must be at Level 6. This qualification will be awarded upon successful completion of your course.
A BA without Honours may be awarded if you've achieved 300 credits, at least 180 of which are at Level 5 or above, and at least 60 of which are at Level 6.
NAHEMI Kodak Awards (2023) – Overall Winner, Best in Brief (Bag of Bags); Best in Brief (Jack and the Edamame); Best Animation (The Wrong Choice); Third in Brief (Nothing to Wear); Third in Brief (Plastic Fan)
RTS Southern Awards (2023) – Best Student Drama (The Cubicle); Best Student Factual (P is For Paradise)
RTS Awards (2020) – Best Student Drama; four further nominations

Regional RTS Awards (2019) – Best Student Drama (Zebra)

21st Madrid Experimental Cinema Week – The Audience Award

The Cambridge International Student Film Festival

Waterspite Festival - Best Cinematography
The National Student Film Festival

Exposures Film Festival Manchester – Best Screenplay (nominee)
Screentest Festival Best Sci-Fi Fantasy – Best Performance (Ensembles) (nominee); Best Production (nominee)

Kodak Student Commercial Awards (winner)

New York City International Film Festival

Saatchi New Director's Showcase
Toronto International Film Festival exhibition
Course team
Our staff are industry professionals who are passionate about their craft. You'll learn more about the latest developments in the industry from respected visiting tutors and specialists from our Industry Liaison Group. You can read more about their experience by browsing their staff profiles below.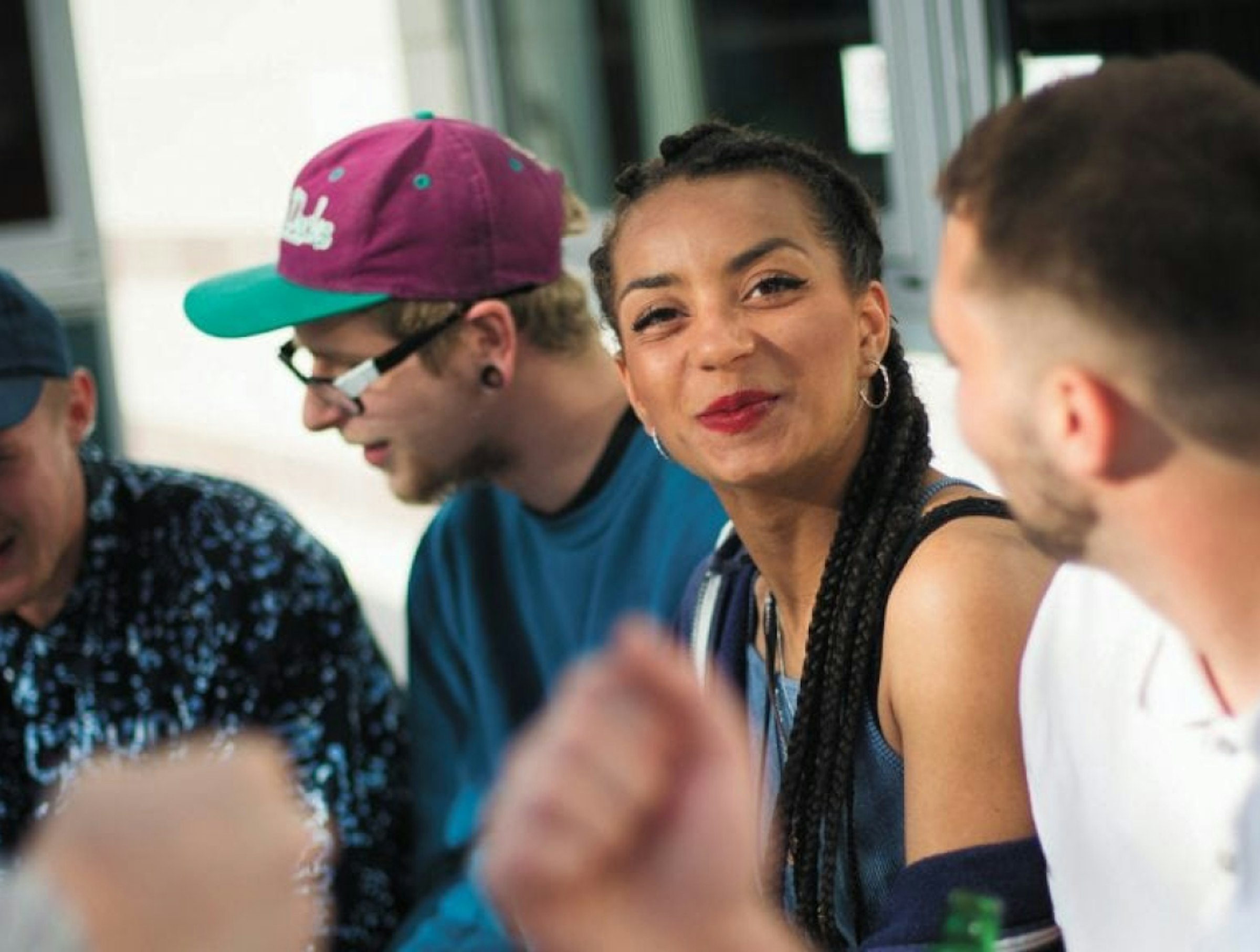 Chat to a student
Our student ambassadors are here to answer any questions you might have on university life, our courses and all things AUB.
Chat on Unibuddy
Application process
Once you've found the perfect Undergraduate course, you can apply to study via UCAS, including direct entry applications to second and third year.
When applying through UCAS, use the institution code A66 for courses taught at Arts University Bournemouth. For courses based at Bournemouth and Poole College, use code B49. We'll then use your completed UCAS form to make decisions about your application. You can find out more on entry requirements in our apply section.
When you apply to one of our courses, it's important that you help us get a good picture of both you and your work – so you'll need a great personal statement. We want to know more about why you're interested in the course, your key influences, and what you hope to do after your studies.

If you're invited for an interview, many of our courses will ask to see a portfolio of your work so we can get more insight into your ideas and abilities. To help you, we've created guidelines outlining what we expect from your portfolio for each course.
The fee that you pay the Arts University Bournemouth provides the necessary equipment and training for you to complete your course.
You may also choose to buy some items of personal equipment such as a laptop or tablet computer, but this is not required; desktop and laptop computers are available for you to use in common study areas, including a loan system in the Library.
For the majority of our courses, we'll ask you to digitally submit a portfolio as part of the application process.

Portfolios should show examples of your work – both finished and work in progress – that demonstrate your interests and skills. We expect to see around 20 slides/images in your portfolio that shows your identity as an artist
If we ask for a digital portfolio then we'll give you 30 days to submit it. Sometimes we'll need a portfolio submitted quickly if there's a UCAS set deadline approaching, but if you need more time, just let us know and we'll try to help.

We've created specific portfolio guidelines for each of our courses, you can take a look at these below.
If you've applied to study an online postgraduate (MA) degree, please refer to the AUB Online portfolio guidelines.
None of our courses currently require an interview.
The only course requiring an audition is BA (Hons) Acting and if you're invited to one you'll have at least 10 days notice.
Studios and resources
As a film student at AUB, you'll have access to state-of-the-art equipment, three well-equipped studios, editing and grading suites, sound suites and high-end ARRI camera systems.
We have professional filmmaking equipment for each part of the process, from pre-production to delivery of completed films.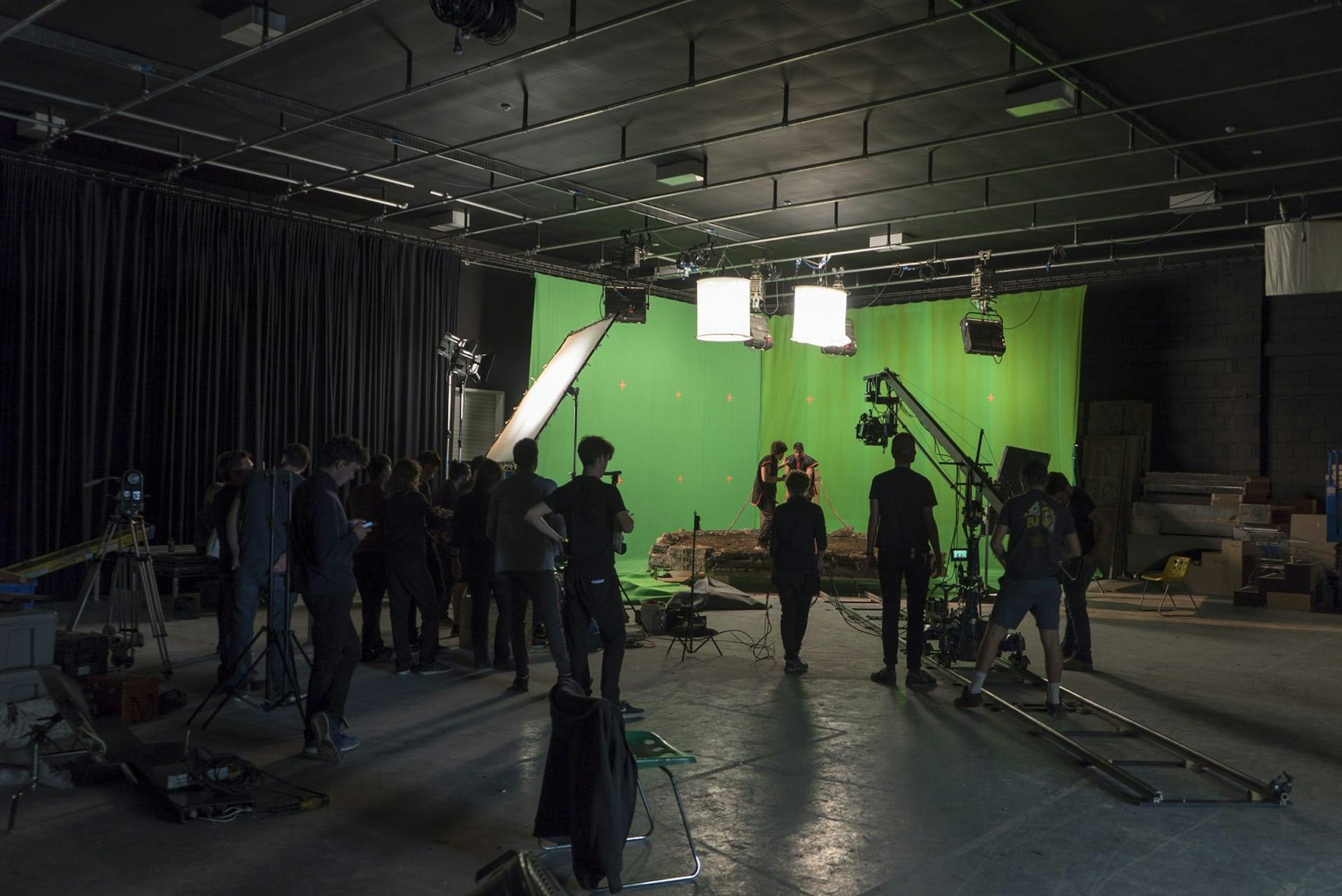 Film Production Studios
Students have access to 4 bespoke studios including our Elliott Road Studio Complex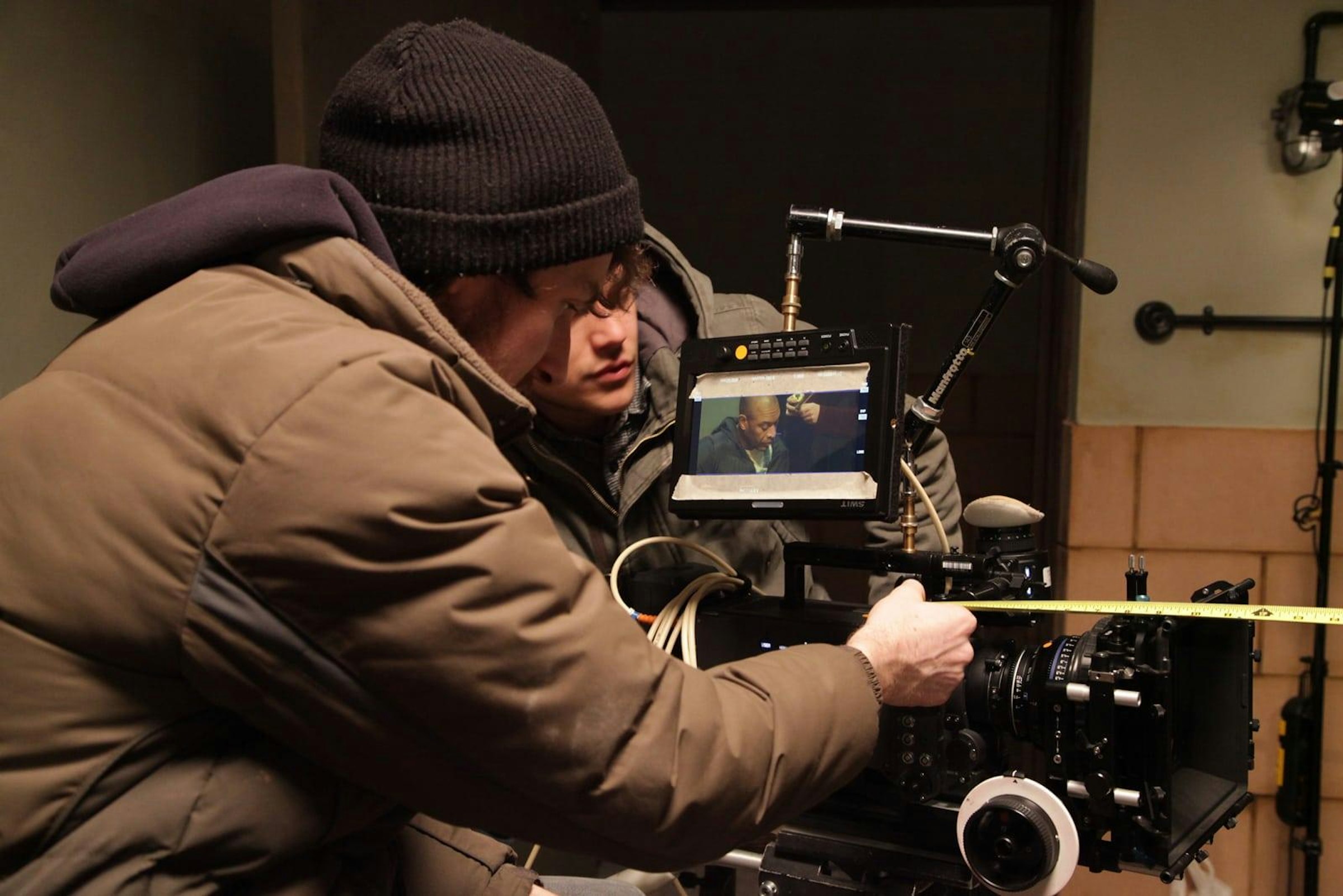 Filming Equipment
Students will have access a range of industry equipment, including cameras, lighting, sound and much more
Teaching, learning and assessment
The course objectives are met by deploying a wide variety of teaching and learning methods. These include productions, exercises, lectures, seminars, workshops, certified training, tutor and peer-led critiques, discussion groups and tutorials, and both directed and independent self-studies.
Each unit is assessed separately, and the assessment forms part of the unit. Assessment both provides a measure of your achievement and gives you regular feedback on how your learning is developing.
In consultation with the Course Leader, staff are responsible for co-ordinating individual units of study, and for selecting appropriate methods of delivery according to subject matter and student experience.
The methods employed introduce you to the disciplines required of a creative practitioner and promote the development of transferable skills.
The study time allocated to each unit on the course incorporates a balance of formal teaching, directed self-studies and independent self-studies. The course is structured progressively to provide increased opportunities for self-directed study as you reach the later stages of the course. At Level 4, your work will be closely supervised, and you'll work to set briefs. At Level 5 there'll be a mix of specialist teaching and independent study. At Level 6 you'll work primarily on self-directed projects, with tutorial and workshop support.
Teaching supports individual learning, but there are ample opportunities for you to work in teams, enabling you to learn the value of peer co-operation and collaborative working. At Level 4, there's a positive emphasis on the acquisition of research and academic writing skills, and students are encouraged to work with the Subject Librarian. These skills are sustained and developed further at Levels 5 and 6.
Contact hours include all scheduled teaching sessions, but also supervised time in the workshop or studio. In line with national guidance, we include in our calculation of contact hours all the time which is scheduled in the studio for independent study which is also supported by staff (either academic staff, or technicians).
The information provided below gives the proportion of your study time which constitutes contact hours. Where there are optional routes through the course, we have used the figures for the most popular option.
| Year 1 (% time) | Year 2 (% time) | Year 3 (% time) |
| --- | --- | --- |
| 68 | 68 | 68 |
For every unit of your course, we'll inform you of what you are expected to learn, what you'll submit and how you'll be assessed, and the deadline for presenting your work for assessment. This is made available through Unit Information on your course blog.
Formal feedback on assessed work is given to students not more than four weeks after work has been handed in. However, feedback is also provided on a rolling basis through individual and group critiques.
A minimum of one unit at Level 4 will be assessed on a pass/fail basis, with written feedback but no numerical grade. Details of this will be clearly expressed on the Unit Information Sheet. All other units will be given a percentage mark.
The final mark for each unit will be recorded on your formal record of achievement (transcript). Except for the pass/fail unit, each component of assessment is graded using a notched marking scale, whereby only certain marks are used within each grade. The only marks available within any ten-point band are *2, *5 and *8 (e.g. 62, 65, 68). These marks correspond to a low, mid, and high level of achievement within each grade band.
All learning outcomes must be passed to successfully complete the unit.
On successful completion of your Honours degree course, you'll be awarded a degree classification based on your unit marks. The final classification is determined using all unit marks at Levels 5 and 6 using two different algorithms, which are detailed in the HE Student Regulations. If the two algorithms produce different results, you'll be awarded the higher class of degree.
If you've joined Level 6 through either the Recognition of Prior Learning (RPL) route or having completed a Foundation Degree (FdA), the final classification is determined using only your unit marks at Level 6.
For further information on assessment, progression, awards and classifications, please visit https://aub.ac.uk/regulations.
Assessment components include practical exercises and film productions, e-portfolios, written essays, and presentations, as appropriate to the student and unit. The course uses both formative and summative assessment and fosters inclusivity.
What our graduates are doing
Graduates have gone on to work on such productions as Harry Potter, Gravity, Sherlock Holmes, and a host of BBC dramas. Other graduates are employed at companies like Framestore, DreamWorks and King Rollo.
Alumni
Our alumni include: Simon Beaufoy, writer of 127 Hours and Slumdog Millionaire; Chris Dickens, editor of Slumdog Millionaire and Submarine; Chris Jones, co-author of The Guerrilla Film Makers Guide; Mark Blaney, producer of Africa United; and Nick Love, writer and director whose recent credits include The Firm and executive producer of Monsters.

Latest from BA (Hons) Film Production
---