You are using an outdated browser. Most of this website should still work, but after upgrading your browser it will look and perform better.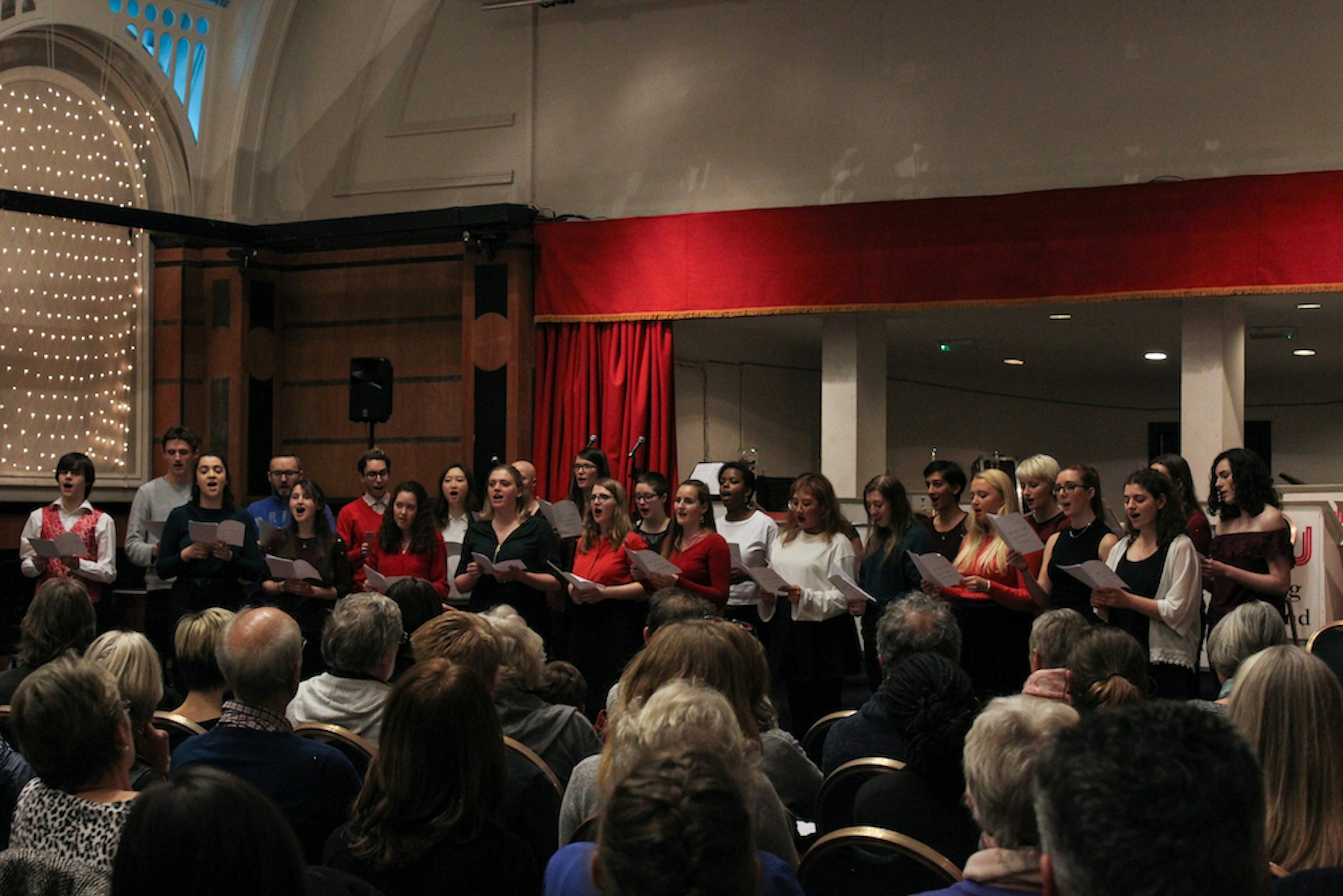 Our Campus
University Music
This is AUB. A place to shape and build your work; to learn, share, provoke and collaborate.
University Music
University Music is a joint AUB and BU department that offers a wide range of musical opportunities to students and staff of both universities. We have a concert band, three choirs, a string orchestra and various other ensembles, all of which rehearse weekly and give regular performances both on campus and in the local area. All students can join our ensembles free of charge.

Tuition and scholarships
University Music recognises the role that music and culture play in the development of the individual and the benefits cultural activities bring to the wider University community.
Individual tuition
With our team of well-qualified, friendly tutors is available, in person or via Zoom, on all instruments and voice. Theory tuition for grades 5 to 8 and diploma level is also available. Lessons cost £33 (1 hour), £24.75 (45 minutes) or £16.50 (30 minutes) and can be taken weekly or fortnightly. Fees will be payable directly to the tutors, who will provide more details of their payment system. Please see below for details of music scholarships. For more details, or to be put in touch with a tutor, please email music@aub.ac.uk
Our tutors:
Piano – Janine Forrester
Clarinet, Saxophone and Piano – Dr Natalie Burton
Flute – Hannah Jennings

Oboe – Phil Gibbs
Violin – Stefan Defilet
Cello – Laura Reid
Double Bass and Bass Guitar – Lee Marchant
Percussion – Graeme Thew
Guitar – Pete Hibbit
Singing – Jonathan Prentice
French Horn – Ed Lockwood
Trombone – Kevin Morgan
Harp – Ruth Faber
What's a University Music scholarship?
University Music scholarship scheme is intended to encourage excellence and development both in performance and academic musical study. Scholars receive instrumental/vocal tuition with highly qualified and experienced teachers and enhance their ensemble skills through membership of our orchestras, choirs and bands. University Music offers a full programme of concerts and recitals featuring both students and visiting professional musicians.
Should I apply?
Award recipients must be prepared to contribute to the cultural life of the University by participating in selected activities and events as designated by the Head of Music. Applicants will need to have passed ABRSM grade 8 in their main instrument or voice, provide evidence of academic musical qualifications such as A-level music or grade 8 theory and provide evidence of their recent musical activities.
If you are interested in applying for a University Music scholarship you should in the first instance email Ian Davis (Head of University Music) via music@aub.ac.uk
"I've sung in Chamber Choirs since about year seven, and I considered pursuing music after my school studies. I'm currently working with musician and tutor Jonathan Prentice and my lessons are fully funded by the university – it's made such a difference to me in the past few months."
Choirs and instrumental ensembles
University Choir is a large-scale Choral Society, which is open to students and staff of AUB and BU and to members of the local community. There are no auditions and all are very welcome. We rehearse and perform major works from the choral repertoire with orchestra and have the following concerts planned for our 2023/2024 season:
Wednesday 1 November 2023 – Monteverdi's Beatus vir and Mozart's Solemn Vespers in Christchurch Priory
Sunday 10 December 2023 – Finzi's In terra pax, Britten's Ceremony of Carols and Vaughan Williams' Fantasia on Christmas Carols in St. Ambrose Church, Westbourne.
Saturday 17 February 2024 – Beethoven's Mass in C in Christchurch Priory
Saturday 18 May 2024 – Monteverdi's Vespers (Venue to be confirmed).
Rehearsals: Thursdays, 19.00-21.00 (occasionally 18.30-21.00), starting from Thursday 14 September 2023.
Venue: Student Hall, Talbot House, Talbot Campus, BH12 5BB. Ample free, floodlit parking directly outside the rehearsal venue.
Annual subscription: AUB/BU students – Free. BU/AUB staff – £48.75. Community member – £97.50.
For further information and details of how to join us please email musicadmin@bournemouth.ac.uk, or come along to any rehearsal.

Our student Chamber Choir has gathered an enviable reputation and offers singers with some experience and sight-reading ability the chance to rehearse and perform challenging repertoire from the Renaissance to the present day. We regularly sing in prestigious venues such as Salisbury and Winchester Cathedrals, Christchurch Priory, Wimborne Minster and St. Peter's Church, Bournemouth, as well as on our own campuses.
Rehearsals: Wednesdays, 17.00 - 18.30
Annual subscription: Free to all AUB students.
For further information please email music@aub.ac.uk
Our contemporary choir is open to AUB and BU students and staff. No previous experience is required, and you don't need to be able to read music. Just come along and enjoy singing well-known songs.
Rehearsals: Wednesdays, 13.10 – 13.45
Annual subscription: Free to AUB students
For further information please email music@aub.ac.uk
An ensemble which gives regular performances both on campus and in the local area. Ideally, you'll need to have reached a standard roughly equivalent to ABRSM / Trinity grade 5, but don't worry if you haven't passed the exams.
Rehearsals: Tuesdays, 17.30 – 19.30 in the Student Hall, Talbot House.
For further information please email music@aub.ac.uk
This ensemble welcomes all wind and brass players including saxophonists. Percussionists and bass players are also very welcome.
Rehearsals: Wednesdays, 19.00 - 21.00 in the Student Hall, Talbot House.
For more information please email music@aub.ac.uk