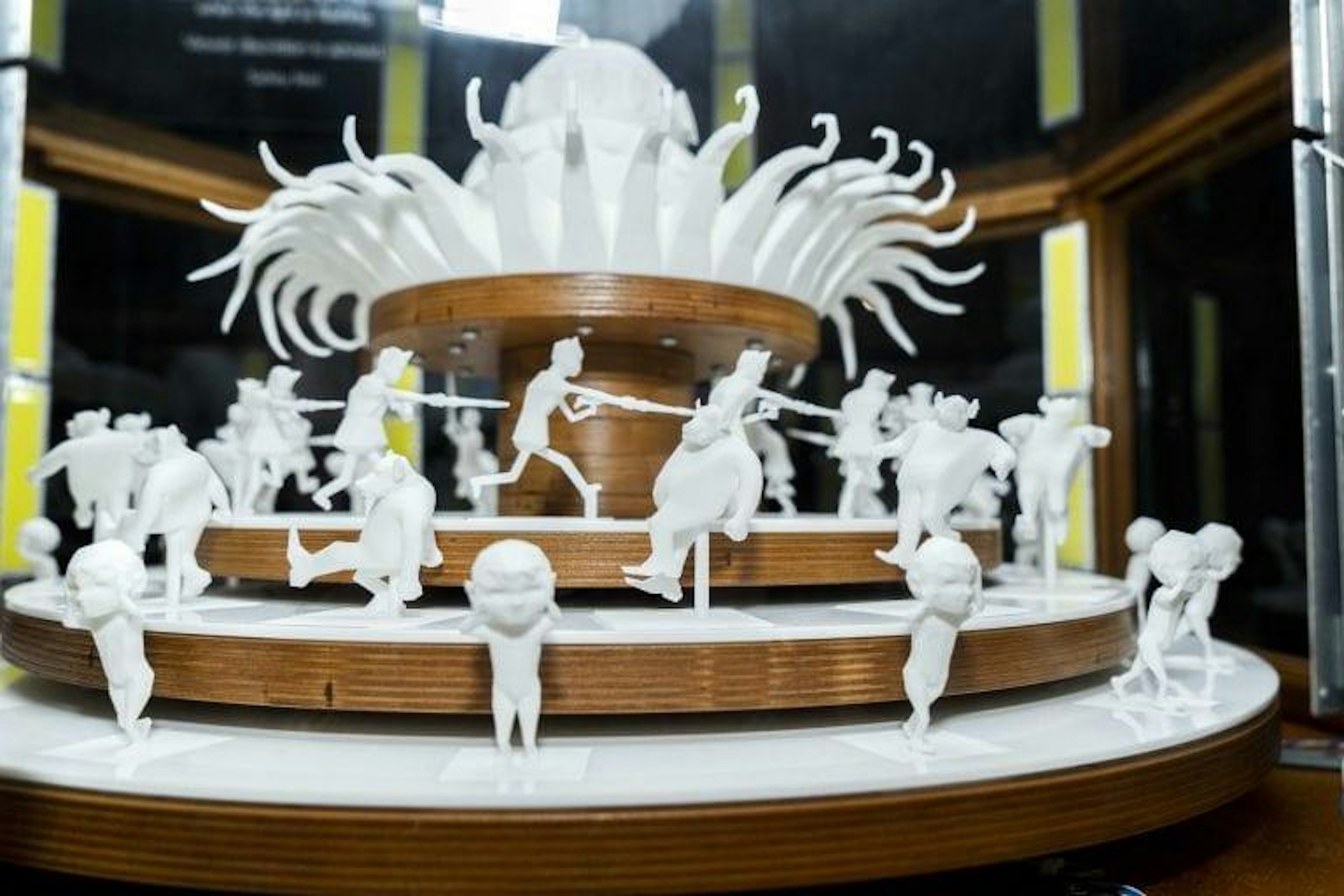 Eight students studying BA (Hons) Animation at Arts University Bournemouth have created a Zoetrope device as part of their studies into the building of puppets, models and the 3D printing of figurines to create a physical and working 3D artefact.
A zoetrope portrays the mechanics of animation to an unfamiliar audience through an intrigue of the magic of movement, character and life. Modelled and animated within a computer with animation, illustration and 3D rendering software, these characters are caught within a perpetual enactment of chaos and delivered with clarity into the physical world.
The third-year students, took on the project to develop further awareness and analysis of how the idiosyncrasies of physical craft might embed a more emotional response through the tactility of the experience.
By simultaneously exhibiting the 3D computer model behind the screen of an exhibition monitor alongside the same characters and animations as a physical model, the audience can directly compare their emotional response to an experience where only the tactility and the craft of the presentation has changed.
Animation student Mae Cagampang, who led the team, said: "This was very different from anything I'd worked on before, and as a team we learned a lot through technical challenges that we didn't expect. We've been used to digital working, so this has been very different and unique. Our 3D skills were still so fresh at the time as we started working on this in September alongside our developing our 3D CG work.
She added: "It's really cool to have our work looked by visitors to TheGallery – we're quite a quiet group so it came as quite a surprise to our coursemates as they didn't really know what we were working on at the time!"
Supervising the project, AUB Animation Lecturer Ian House said: "Animation is about characters moving through time, and the stereotypical output for this is film. But, you can pour the same feeling that goes into a film into an artefact. This project is all about creating simplicity out of chaos, through a mechanism that really explains animation."
Production houses like Pixar continue to create zoetrope to showcase the physical mechanics of animation movement popularised digitally in films like Toy Story and Cars.
The 3D zoetrope will be available for public view in AUB's TheGallery art exhibition space until 26 February.