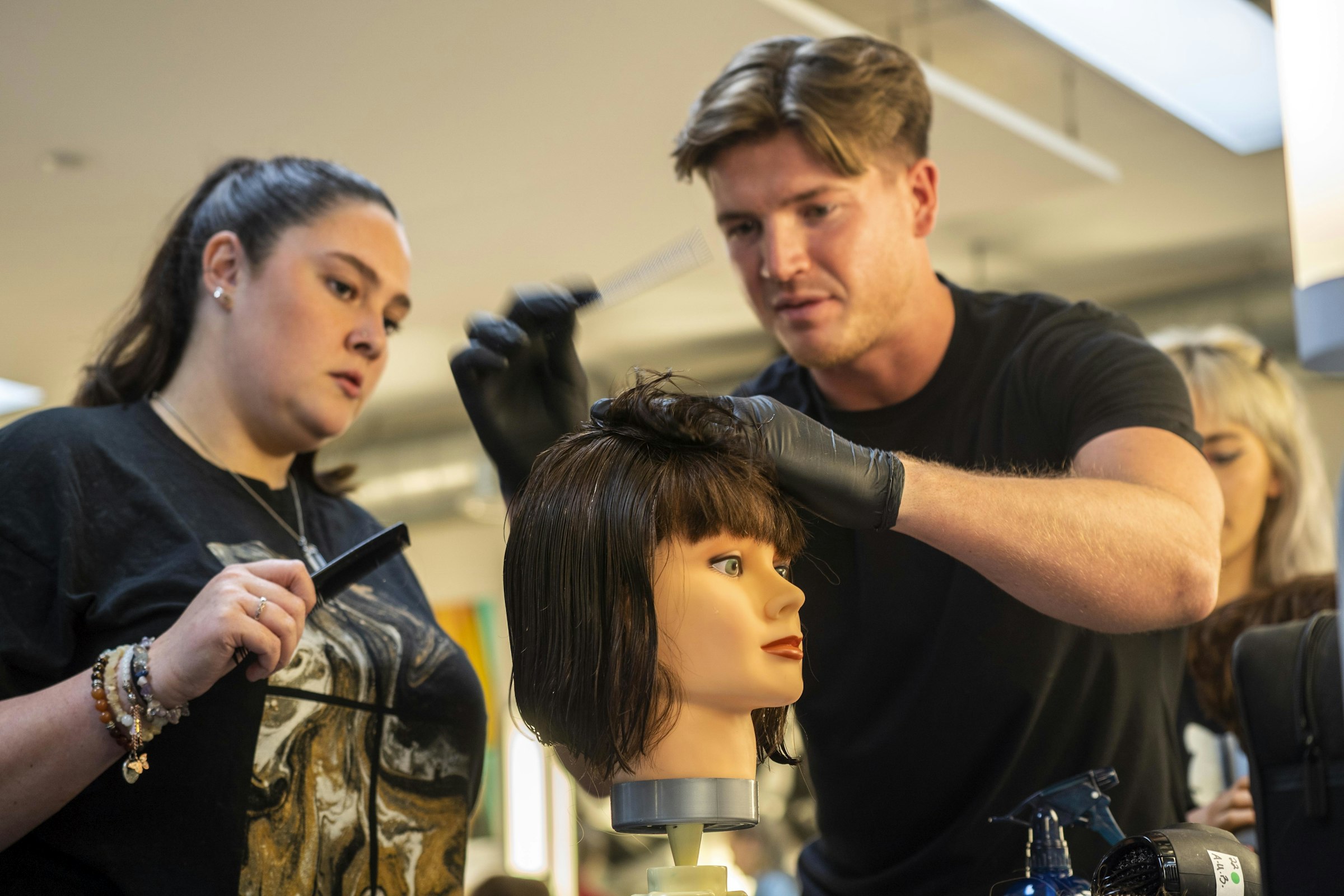 Professionals from Boss Barbering in Winton have held a hairdressing masterclass for first year BA (Hons) Make-up for Media and Performance students at Arts University Bournemouth.
The session, which focussed on iconic looks popularised by television shows like Gentleman Jack and Peaky Blinders, saw barbers from Boss Barbering in Winton teach more than 70 students how to prepare, cut and style a range of vintage-inspired looks for film and TV.
Boss Owner Lyle Maher, alongside colleagues Matt Dare and Josh Butcher launched into the session, held in AUB's Make-up Studios, by delving into the skin fade, a men's haircut with a longer top and shorter back and sides.
After the Boss team demonstrated particular hairdressing techniques, the students were tasked with replicating the work with clippers on a set of mannequin heads.
Matt Dare, Manager at Boss Barbering, said: "It's been refreshing to have a day outside of our shop, and good to work with students who're so interested in barbering, so we've had a bit of a different day today working with Make-up at AUB.
"The skin fade is a fashionable look that is still as popular today, but there's a lot of detailed work in barbering, and it's not as simple as it can appear. Myself and the team have been learning for years, and that's how long it takes to get to a good level."

While many make-up study programmes choose only to focus on traditional elements of make-up artistry, AUB's course teaches a wide range of skills associated with the face and its features, including prosthesis, hair design, and basic barbering.
Carolyne Hinds, Senior Lecturer in BA (Hons) Make-up for Media and Performance, said: "We met the Boss Team at neighbouring Bournemouth University, while they were doing some student cuts for an Open Day.
"The team were really great, and we thought that we could use their skills to demonstrate to our students for our first-year History and Representation Unit, which is all about the historic side of hairdressing and make-up, including iconic period looks from film and TV, shows like Downton Abbey and The Crown.
"Our course is really diverse in order to prepare students for a wide range of professional industry roles, and this is a difficult unit for our first years, who'll take mannequins home to hone their skills, as well as practise on willing friends and family members, before deciding a specialism later on in their studies during their final year here at AUB."
AUB's Make-up for Media and Performance course has had multiple recent graduate successes, including TikTok star Sarah New SFX and BBC Three series Glow Up: Britain's Next Make-up Star winner Sophie Baverstock.